Bigdog's Sine Qua Non Tasting
Tasting Notes on the "other" wines
By George Heritier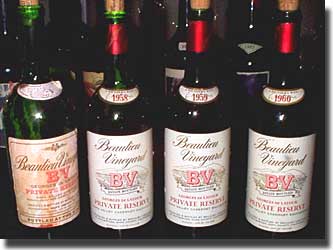 1942 Beaulieu Vineyards Georges de Latour Cabernet Sauvignon Private Reserve, 13% alc.: This old soldier still has good color, being a rusty dark garnet; it has a remarkably sweet nose featuring sweet sherry/raspberry/cherry aromas with slightly yeasty qualities. The flavors are more sub-dude, but have some nice bass notes of cassis, a little chocolate and a reflection of the bouquet to boot. Lisa noted some nutty Oloroso, and more chocolate comes out with air. Like velvet on the palate, this amazing wine has a nice finish and was one of the highlights of the weekend.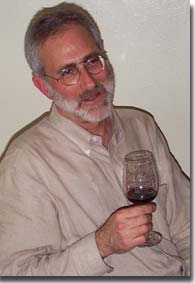 1958 Beaulieu Vineyards Georges de Latour Cabernet Sauvignon Private Reserve, 13.5% alc.: I found it hard to describe a wonderfully mature wine like this rusty dark garnet; it had velvety cassis on the palate along with what Richard Leland (left) described as "figs, prunes and raisins." George mentioned a certain "herbaceous" quality. These brief notes simply don't do this wine justice, and it was almost perfect.
1959 Beaulieu Vineyards Georges de Latour Cabernet Sauvignon Private Reserve, 12.5% alc.: Richard agreed with me that this dark garnet was ever so slightly corked, but it still showed somewhat raisined cassis character and perfect maturity.
1960 Beaulieu Vineyards Georges de Latour Cabernet Sauvignon Private Reserve, 12.5% alc.: Richard remarked that this rusty garnet is " a mature wine that picks up that sweet patina of age, more fruit and less sherry" and "a little simple, my only complaint." I got lovely velvety sweet nutty cassis/chocolate from this, but none of the green pepper that Russell noted.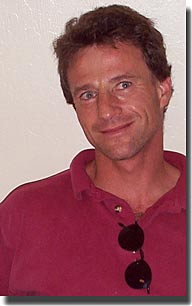 Ken Rosenfeld
Three of these four wines were just a very special treat to get a taste of, and everyone was most appreciative that Lisa brought them along. There were also some vintages from the underachieving '80s represented, but they were a far cry from the older models. And we weren't done yet, as five more beauties magically appeared.
1985 Chateau de Beaucastel Chateauneuf du Pape, 13.6% alc.: This ruby garnet has just a hint of rust, and it's all Chateauneuf, with flavors and aromas of plum/prune/leather, and some barnyard on the nose. Doggie added impressions of "grilled meat," Kim mentioned "celery seed," and Larry remarked upon its "lovely texture and balance." George put an exclamation point to these, saying "it's really silkened up!" Great stuff, and still on the way up.
1989 Domaine du Vieux Telegraphe Chateauneuf du Pape, 11-14% alc.: This inky garnet shows hints of violets over a deep dark Grenache/plum/strawberry bouquet; the flavors features big plum/prune, some still chewy tannins and a slightly astringent finish. All in all, this is a very fine CdP, and only suffers in comparison to the Beaucastel.
1996 Torbreck Run Rig Barossa Valley, 97% Shiraz, 3% Viognier, 14.5% alc.: This inky garnet is an exuberant puppy with a Play Doh nose, according to Kim and Russell; I tasted it after it had been uncorked for a few hours, and George and Russell said it had opened considerably. Deep, dark and dense, it shows big oak, big dark berries, plenty of tannins and good acidity.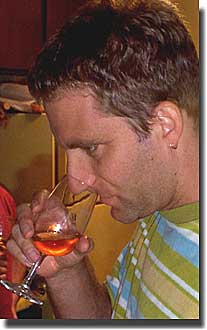 Russell Briggs with the '59 Auslese
1959 Deinhard Oestricher Lenchen Riesling Auslese, 11% alc.: This amber/golden beauty was one of my wines of the night, and because it was strangely neglected, I appropriated two generous glasses, which I savored before and after the last selection noted here. It exudes huge aromatics apricot/honey/ caramel that not only followed through on the palate, but sang loudly. Rich and intense, with a definite unctuous quality, this is at the same time soft, beguiling and fully mature. I LOVE petrol in a great German white, and if it's not there, something else damned well better be, and here was a case where I didn't miss the gasoline one bit. Brilliant wine!
1997 Domaine Cady Coteau du Layon Saint-Aubin Cuvee Volupte Grains Nobles, 12% alc.: Medium gold in color, this is not nearly as effusive on the nose as the Deinhard, with apricot/vanilla/honey/powdered sugar aromas. These follow through on the palate, but it's like syrup now. It's lovely syrup, but it's just way too young, almost cloying. This has a wonderful future ahead of it, but the future is definitely not now. I sipped a small glass and then poured myself more of the '59 Deinhard.
This was a killer tasting, with six decades worth of fabulous wines represented.

Link to Gang of Pour Home Page

Link to Gang of Pour Site Index (Table of Contents)
September, 2000 © Gang of Pour