BREE'S
MONTELENA
VERTICAL

PARFITS' BBQ

MR. WALT'S WILD RIDE OR
ABOVE THE CLOUDS AT FLOWERS
PLUMPJACK AND OTHER TASTING NOTES

Mr. Walt's Wild Ride
Or -- Above the Clouds at Camp Meeting Ridge
By George Heritier
Patience with hangtime
Pick by taste and not by brix
On Camp Meeting Ridge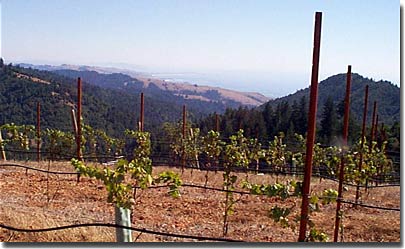 Our last day out left was a special one. Larry Meehan had made arrangements to visit Camp Meeting Ridge, and asked if we'd like to tag along with Mary and him. Talk about a no-brainer question! Jon Cook joined in as well, and after a quick lunch in Bodega Bay, we were retracing our route from last summer north on Highway 1 to Meyers Grade Road and on up to Flowers Vineyards and Winery. We were no less in awe of the stunning vistas this time than we were the last, and as we pulled up to Walt and Joan Flowers' beautiful home, we could feel the magic all over again.
Walt, Joan and Charlie the Golden Retriever were there to greet us once again, and after chatting for a few minutes, Walt asked if we'd like to take a drive up to the new ranch. We were anxious to see how it was coming along, so of course we said yes. After a twisting, turning, bucking bronco ride, we were back among the crowns known as Mt. Baldy and Upper Heavenly. The progress was obvious, as we stood among the year old Pinot Meunier vines on Baldy. Then, as we drove on up Heavenly, we noted that the water level in the reservoir seemed fairly low, but Joan assured us that there was an ample amount for their needs. As co-winemaker Greg LaFollette (who will be cutting back to consulting status at year's end) puts it, they walk the edge, giving the vines just enough water to keep them going. I resisted the urge to ask if we could stop and take a swim, knowing that it was not an option.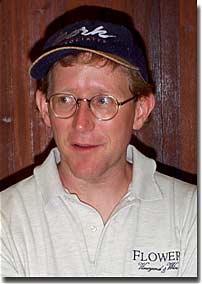 Then, it was back down to Camp Meeting Ridge, where we watched the bottling process taking place. Joan told us that no pumping took place in this procedure; it was very gentle so as not to beat the wine up. As we reported last year, the winery is state of the art, and no expense is spared to produce the best product possible. While we were watching, we were introduced to co-winemaker Hugh Chapelle (left), who now runs the day-to-day activities at the winery. Hugh is a good friend of Greg's and has spent the last seven years at Madrona in the Sierra Foothills. The arrangement with Flowers has LaFollette serving as Consulting Winemaker the equivalent of one day a week in 2001.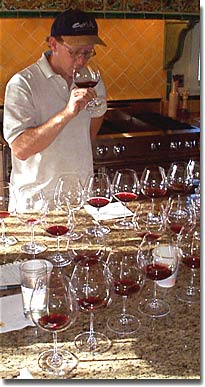 After that, we adjourned to the house, where Walt said there would be some wines to taste. There were wines to taste all right, five of the brand spanking new '99s, all bottled within the previous three weeks! We took seats around the central island in the Flowers' spacious kitchen, with five Riedel Burgundy stems each, and our host poured a nice sample of each wine in consecutive glasses, while Joan served slices of toasted baguette spread with goat cheese and a sun dried tomato/pesto blend. Then we began to taste the wines.
1999 Flowers Perennial, 14.2% alc.: This pinky ruby garnet is a blend of Pinot Noir, Pinot Meunier, Zinfandel, and just a splash of Chardonnay, and shows pretty berry/cherry character with spice and chocolate nuances. Richer, more intense and much better than the '97 version that we tasted in January of '99, Walt said, "Don't analyze this to death, just drink it and enjoy." That we did, and it is delicious!
1999 Flowers Sonoma Coast Pinot Noir, 14.2% alc.: This dark garnet contains fruit from Nobles, Keefer, Sangiacomo and Camp Meeting Ridge Vineyards; it exhibits deep spicy, smoky black cherry/plum flavors and aromas with medium full body, good acidity and unobtrusive tannins. It has the most oak of the bunch and that's not a bad thing. Probably the best Flowers Sonoma Coast Pinot I've tasted.
1999 Flowers Sonoma Pinot Noir Sangiacomo Vineyard, 14.1% alc.: Dark garnet with even deeper, spicier smoky black cherry/plum/chocolate than the previous selection, as well as "earth and minerals" according to Bigdog; huge character here, and again good acidity, unobtrusive tannins and a long finish. We'd heard from Russell Bevan aka Bacchus that Flowers has come a long way with their tannin management, and the proof was right here in what we were tasting. Just a wonderful wine.
1999 Flowers Sonoma Pinot Noir Van der Kamp Vineyard, 14.3% alc.: Kim commented that this dark garnet is "sweeter, fruitier," and we were told that it was because it was made by a different process, being gently pressed and then finished fermenting in barrel. It shows big chocolate over black cherry, with some cedar box according to Joan. This is a lovely wine, more immediately accessible that the '98.
1999 Flowers Sonoma Coast Pinot Noir Camp Meeting Ridge, 14.3% alc.: Not as effusive on the nose as the others, this dark garnet "will take longer to come around, will need more time," according to Walt. It is a bit tighter, but still the spicy, smoky black cherry/cola flavors are expressive and lovely, though not as concentrated as the Sangiacomo or Van der Kamp. However, one only needs to consider that the vines on Camp Meeting Ridge are six years old, while those at Sangiacomo are thirty, and it is not hard to understand why. Pretty maple syrup emerges on the nose with air, adding appeal.
Walt got a devilish look in his eye as we sipped and savored this last wine, and disappeared into the cellar, returning shortly with a "mystery wine." All we could tell for sure was that it WAS a Flowers red, and it WAS dark garnet! It has an almost menthol aspect to the bouquet, and the fruit isn't as bright as the first five we tasted; it seemed a little stemmy by comparison, with black cherry flavors and aromas and plenty of acidity. Larry mentioned "incense and chamomile," while Jon noted "cardamom and a juniper thing goin' on." Jon then nailed this, based on what he called the similarities of bouquet, and it was revealed to be the 1998 Flowers Sonoma Coast Pinot Noir Van der Kamp Vineyard, at 13.9% alcohol.
It was getting late and the Meehans and Kim and I had to think about catching the red eye back to the Third Coast or there abouts that evening, so we began to say our goodbyes and thank Walt and Joan for their warm hospitality, but Walt disappeared into the cellar again, returning a minute later with two more bottles that he insisted we enjoy with our dinner.
Just like our last time at Camp Meeting Ridge, we were sorry to have to leave. The Flowers are two of the nicest people you could ever hope to meet, and they're so very fortunate to be making their dream a reality and so very generous to share some of it with us. We made our way back down to Bodega Bay, dining at the Tides Wharf. The food was forgettable, but the two bottles of wine were very special, and we oohed and aahed over them both.
1996 Flowers Sonoma Coast Pinot Noir Camp Meeting Ridge "Moon Select", 13.5% alc.: Dark garnet in color, this is deep, dark and delicious, with smoky black cherry/plum/ chocolate flavors and aromas with a splash of cola to jazz things up. Dense and velvety, the acidity is at the perfect level for this taster, and tannins are resolved to the point where this is eminently drinkable, and continues to open and improve as long as there is some left in the glass. Just a lovely, lovely Pinot Noir.
1998 Flowers Talmage Bench Mendocino Zinfandel, 14.8% alc.: Very much as we remember it, this dark garnet shows big spicy overripe extracted raspberry/plum/pomegranate character with acidity that continues to mellow as the months roll by, and a long, lingering finish. One of the very best '98 Zins we've tasted.
With that, we bid the Meehans and Jon a warm so long 'til next time, making our way back to SFO, and eventually Day-twah.

Link to Gang of Pour Home Page

Link to Gang of Pour Site Index (Table of Contents)
September, 2000 © Gang of Pour