For years now
, we've been telling people that
Wine Probation
doesn't have to suck. Just because you're on a tight budget, that doesn't mean you can't find good wines at reasonable prices. For the most part, we've been drinking some of the QPR All Stars detailed in a couple of recent Trade Tasting reports we've filed (
Rosé Olé
and
Wines of Distinction from Madiran, Bordeaux & more
), but a couple of times in the last month or so, I just had to say screw it and pony up for some things that needed tasting.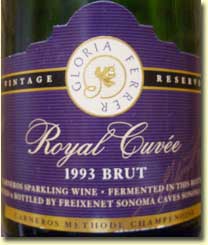 In early August, I spent a week with my daughter Jessica Rose aka Dolphin Girl in Key Largo, Florida. I only bought one bottle of wine the entire week, because despite a reasonably good selection that was available, there were no real bargains to be found. That wasn't a problem, because the micro-brews were good. There was one bottle that caught my eye however, and I couldn't resist picking it up, based on the raves it has received from our good friend and colleague,
Champagne Warrior Brad Baker
. Here's what I posted on my
Facebook
page as I sipped on it over a few hours during my last night in the Keys:
1993 Gloria Ferrer Sonoma Cuvee Royale Brut
This baby isn't just hangin' in there, it's struttin' its stuff! No wine for a week, and to enjoy this after that is a special treat. Do I have to take notes or can I justease back and groove with it? (Some habits are hard to break and I ended up recording these impressions.)
Medium straw color ~ ample mousse and active bead ~ expressive hazel nut and pear, with nice minerality and what seems to be an interesting note of well integrated oak ~ excellent presence, concentration and acids ~ beautiful stuff ~ ~ no wonder the Champagne Warrior loves this so much!
Find this wine