2005 Wyncroft Lake Michigan Shore Pinot Noir Avonlea, $45.00, 14% alc.: It's been over a year since the last time we tried this, and it too is doing very nicely. There's some slight bricking to the pretty ruby color, and it exudes lovely, almost Ridge-like perfumed aromatics (is there a theme developing here?) pretty black cherry and plum accented with "brown spice going towards roasted coffee," according to Jim, and we wouldn't disagree in any way. Flavors echo beautifully and our initial impressions from the spring of 2008 were echoed in that the fruit is somewhat sweet and savory at the same time. More than medium bodied, with excellent depth and acids, this is a lovely expression of Pinot Noir that has several years of enjoyable drinking ahead of it. Find this wine
2006 Wyncroft Lake Michigan Shore Pinot Noir Avonlea, 13% alc.: Last tasted on the same occasion as the Chardonnay noted above, and seeming in need of time then, this has come along some, but it's best days are still ahead of it. Slight bricking to the pretty ruby color, with notes of lavender, green peppercorn and rosemary over smoky black cherry in both flavor and aroma. The fruit is starting to mature, but the green tannins still need a few years to turn brown, according to Jim. Smooth, medium bodied and deceptively well structured, this certainly has the stuffing to go those years and then some, so patience is still advised with this. It's especially interesting to compare with the '05, which was a warmer vintage, because the cooler growing year is readily apparent in the character of the wine. Find this wine
We turned Jim on to one of our beloved Domaine Tempier Bandols a few years ago, and he returned the favor by bringing this next one along.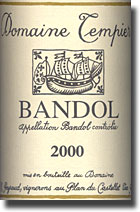 2000 Domaine Tempier Bandol, 11-14% alc.: Deeply, darkly colored, with some horsey barnyard over earthy black currant and blackberry on the pungent nose, and the flavors echo beautifully. Jim remarks that this "is so silky, I would drink it for the texture alone," calling it "a sensual wine." Kim chimes in with, "It's the kind of wine that you just want to take in a back room and have a relationship with, and if there's someone else there, well..." However one wishes to describe it, it's fine, textbook Tempier and still on the way up, pure sensuality in a glass, and Mr. Lester says he knows where there might be more. Bonus!

Find this wine

Imported by Kermit Lynch Wine Merchant, Berkeley, CA

We needed something else to finish off the night, so I pulled this because the crew at Wine Berserkers was doing a group Dusi tasting that weekend and it just seemed right.

2001 Ridge Dusi Ranch Zinfandel ATP, $25, 15.2% alc.: Deep, dark color and not quite funky on the nose at first, with subtle tar over black fruit on the nose that carries over onto the palate. Black raspberry, blackberry and black plum flavors are accented with just a hint of Draper-esque character, and lavender dominates the overtones. Savory and not at all an over-ripe fruit bomb, this is the dark side of Zinfandel, deep, dark and mysterious. Eminently drinkable, and best of all, still not at its peak. Find this wine

Finally, Jim brought along a new Riesling, so new it didn't even have a label yet. We love Wyncroft Riesling, but every one we've ever had is bone dry. This one is gloriously sweet.

2008 Wyncroft Lake Michigan Shore December Harvest Riesling Wren Song Vineyard: Clean pale to medium straw color, with effusive aromatics that evoke a ripe mélange of sweet apple and apricot playing counterpoint to pungent lime in both flavor and aroma. Sweet, but not cloying, and the citrus offsetting the sweet fruit is dazzling. Medium bodied, beautifully balanced with excellent acidity and good length. Great on the 1st and 2nd day and almost as good on the 3rd. A real eye opener from Michigan's master of dry reds and whites. I'm thinking spicy Asian food here, baby... Find this wine

The enigmatic Madame Mystery showed up at our door recently with red Burgundy in tow, and while she is always welcome at Gang Central with or without wine, bottles of Premier and Grand Cru Vincent Girardin are a special treat. To show our appreciation, we regaled MM with one of our favorite Champagnes.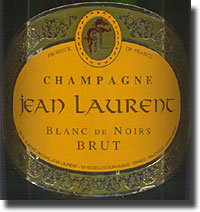 Champagne Jean Laurent Blanc de Noirs Brut NV: Disgorged October, 2007, from three vintages aged a minimum of five years; 100% Pinot noir. Disgorged a month later than the last one we enjoyed so much, and every bit as delicious as that and every other one we've ever had. Showing a tinge of peach to the medium straw color, with big mousse and a very active bead; flavors of rich mineral, yeast, dry apple and subtle cherry. Full, rich and round, with excellent acids, great intensity and a long finish, where Kim notes an impression of "old wood." We love all things Jean Laurent! Find this wine
Imported by Hand Picked Selections, Warrenton, VA

2003 Vincent Girardin Maranges Clos des Loyeres Vieilles Vignes, 13.5% alc.: Clean rich ruby garnet color, with hints of the barnyard over plum and cherry on the nose; flavors of plum and black cherry are quite dry and shaded with Asian spices and a subtle earthiness. Medium bodied and them some and quite accessible, despite being structured for several years of further development. Solid and enjoyable, turning richer and riper with air, so a little time in a decanter won't hurt this in the least. Never quite loses that slightly funky aspect, and that a good thing. Find this wine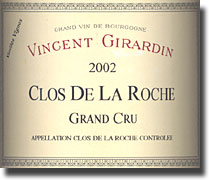 2002 Vincent Girardin Clos de la Roche Grand Cru Vieilles Vignes, 14% alc.: Clean ruby garnet color, with forest floor and cherry on the nose, accented with subtle notes of cedar and oak. The rich flavors echo and expand, being very smooth, restrained and harmonious, with a nice long finish, and of course, it only gets better and better with air. One might expect this to develop more complexity with further cellar time, but what's here is so good already, it might be hard to keep hands off of it now. Find this wine

2002 Vincent Girardin Gevrey-Chambertin "Lavaux Saint-Jacques," 13.5% alc.: Clean medium dark color, with subtle smoke and cedary oak over cherry and plum flavors and aromas, all anchored with a subtle earthy base. Smoothly textured, yet deceptively well structured for several more years in the cellar, and like the other two, it really opens with air, singing after about two hours. Very harmonious and very food friendly, with good length on the finish, this makes a great match for grilled Cornish hens. Find this wine
Vincent Girardin imported by Vineyard Brands, Inc., Birmingham, AL
1979 Bodegas Toro Albala Don Pedro Ximenez Gran Reserva, 17% alc.: We reprised this after reporting on it at red Necks & Red Rhones 2009, our observation that it "resembles nothing so much as a blend of 30 weight motor oil, molasses and balsamic vinegar" was amended by Madame Mystery, who opined that "...it's so raisiny, it's like a box of raisins that melted in a hot car." Good call, MM, and delicious stuff, this! Find this wine
Imported by Classical Wines, Seattle, WA
The remainder of the wines listed here were tasted at two or three other gatherings, and have been grouped by place of origin for expediency's sake. With some, I failed to record importers' names due to animated conversation and the rapidity with which corks were being pulled. In the end, I'm comfortable that what's in the bottle is more of interest than who brought it across the water, so hopefully, the reader will forgive these minor omissions.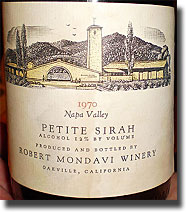 1970 Robert Mondavi Napa Petite Sirah, 12% alc.: Slightly cloudy, almost inky dark garnet color, and little rust as of yet; lovely aromatics of sweet spices and red and black berries carry over onto the palate with some earth underneath it all. Perfectly balanced, with fully resolved tannins. Not quite up to the 71 Ridge and Freemark Abbey York Creek Petty Sarahs that we so enjoyed at Ridgestock in '02, but pretty darned close. Many thanks to our friend Jim Brennan for opening this beauty from his birthday year. Find this wine
2001 Ridge Dry Creek Valley Zinfandel Del Carlo ATP, $25, 14.3% alc.: Clean dark color, with a reticent nose and not much of what you'd call "Draper perfume;" just pure "100%" Zinfandel black raspberry and blackberry character, rich, just ripe enough and somewhat earthy. Somewhat old school, not yet at its peak, but in a good place right now; in short, my kind of Zin. Shows none of the oak and cream that it did in August of '05.
Find this wine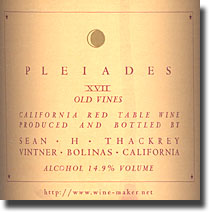 Sean Thackrey Pleiades XVII, 14.9% alc., $24: Clean dark color, with sun baked red and black fruit shaded with coffee, cola and mint; Shar Douglas comments on some "chocolate and marjoram, saying it "smells like candy." Medium full to full bodied, with good structure, more dense and intense than the last several vintages and rather different in character, especially with regard to the sun baked element. Enjoyable, even if it does stray from the usual mold.
Find this wine
2002 Marqués de Cáceres Rioja Reserva, 14% alc.: Clean dark color, with ash, black cherry and red currant flavors and aromas shaded with earthy undertones; some oak emerges with air but it's balanced and never becomes intrusive. Full bodied, but not heavy and while structured for several more years of life, drinking quite well right now. Find this wine
Imported by Vineyard Brands, Inc., Birmingham, AL
2006 Artadi Rioja Vinas de Gain, 13.5% alc.: Clean dark color; restrained nose and showing a more refined character in the mouth than the de Cáceres Rioja Reserva noted directly above, offering subtle earth and even subtler oak over black cherry and a melange of red and black currants and berries. Medium full to full bodied, with good structure for several years of development (at least 5), and if it's not quite as smooth as past vintages I've sampled, it doesn't suck by any means either. Nice stuff. Find this wine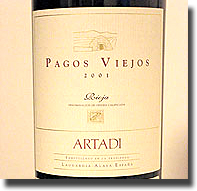 2001 Artadi Rioja Pagos Viejos, 13.5% alc.: Slightly cloudy garnet color, with rich black cherry and black currant flavors and aromas accented with a hint o' mahogony; elegant, lovely and deceptively well structured, this wine is all about balance and still on the way up. Yumm! Find this wine
Artadi wines are Eric Solomon/European Cellars Selections - Imported by European Cellars LLC, Charlotte, NC
2001 Remirez de Ganuza Rioja Old Vines, 14% alc.: Clean dark color, with a hint o' the barnyard over tart black cherry and black currant character; a touch of maple syrup from oak emerges with air. Good structure and intensity and still on the way up. Drink or hold. Find this wine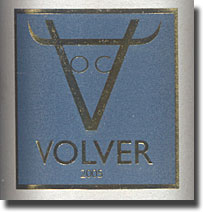 2005 Bodegas Volver La Mancha, 14.5% alc., $17: Deep dark color, with blackberry, black cherry and black plum aromatics that follow through boldly on the palate with licorice and bacon, according to Scott "The Geek" Tobias and Kim respectively; full bodied, well structured, rich and earthy. If there's any oak here, it's under control and well integrated. This likes some air, and 5 years in the cellar wouldn't hurt either. Find this wine
2001 Finca Sandoval Manchuela, 14% alc.: Good dark color, with a tarry, perfumed nose; tar, earth , black cherry and black currant in the mouth. Has a very nice balance and presence to it, with power at the same time. Well structured and still on the way up. Predominantly Syrah with a splash of Mourvedre. Find this wine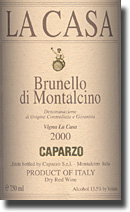 2000 Caparzo Brunello di Montalcino La Casa, 13.5% alc.: Clean dark color, with earthy, sticksy black currant, dried cherry and hints of licorice; full bodied, well structured, very well balanced and years from it's peak. Tons of promise here, and very nice already.

Find this wine

Imported by Vineyard Brands, Inc., Birmingham, AL

2001 Zind Humbrecht Herrenweg de Turkheim Pinot Gris, 14% alc.: Pale gold color, with effusive ripe apple and a hint of apricot on the nose; flavors echo and expand with a honeyed character and what Errol Kovitch describes as "maple syrup tirage." Rich and oily in the mouth, with just enough acidity; not really sweet, but certainly ripe and fruit forward. Typical Zind Humbrecht personality. Find this wine


1995 Albert Bichot Corton Charlemagne, 13.5% alc.: Pale gold color, with a soft, pretty pear and hazelnut nose that follows through on the palate; medium full bodied, with low acidity. Not really oxidized as some opined and still very much alive, but probably past its prime. Find this wine

1995 Paul Pernot Bienvenues Batard-Montrachet, 13.5% alc.: Rich golden color, with faint hazelnut on the nose; the pretty flavors pick things up with apple, pear, hazelnut, some well integrated oak and subtle mineral. Has a lovely balance to it and holding up very nicely. Find this wine

2007 Domaines Ott Les Domaniers de Puit Mouret Cotes de Provence, 13% alc.: Pale peach color, with dusty strawberry, watermelon and mineral character; smooth, elegant and very nice, if perhaps just a little less substantial than the 2004 model we so enjoyed in the spring of 2006. Find this wine

Reporting from Day-twah,

geo t.

Other Recent Wine Explorations
Building a Better Wine List - Part 1
Building a Better Wine List - Part 2
Red Wings & Red Rhônes Playoff Diary 2009-Round 2

© George Heritier June, 2009