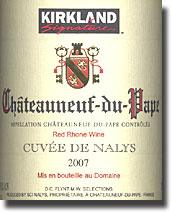 2007 Kirkland Chateauneuf du Pape Cuvee de Nalys, 60% Grenache, 30% Syrah, 7% Vaccares, 3% Mourvedre-Muscardin, 14.5% alc., $19.99: Deep dark color and deep dark flavors and aromas of briar-bramble, rich black plum, black currant, black olive, coffee and earth. Fairly ripe for Chateauneuf du Pape, but then it's very young and primary; full bodied, balanced and well structured. Pretty good for so youthful a wine, with plenty of promise for future development. The more it opens with air, the more I like it. A great value, all things considered.
Imported by DC Flynt MW Selections (Master of Wine), Lake Charles, LA
We picked this up during the same Costco visit with the thinking that if it's a red Rhône variety, it's fair game for Red Wings hockey. The price tag was also very hard to resist.
2006 Las Rocas de San Alejandro Garnacha Vinas Viejas Calatayud, 14.5% alc., $10.99: Clean dark color, with earth, tar and black fruit shaded with restrained balsa-like oak in both flavor and aroma; not one of the all-too-usual oaky fruit bombs coming out of Spain, but a wine with big earthy bass notes. Medium full to full bodied, with solid structure for 5 years or so of cellaring. Seems to tail off a little on the finish, but that is likely due to the ample tannins. A solid buy at this price, but not a "great" wine at this point. Time will tell. Find this wine
Imported by European Cellars, LLC, Charlotte, NC
2001 M. Chapoutier Saint-Joseph, 12.5% alc.: Clean dark color, with an earthy black plum, black currant and beetroot personality accented with a note of black olive; slightly tart in a good way. Still well structured and in a good drinking window right now. Not great Syrah, but certainly very good Syrah. Find this wine
Imported by Paterno Wines International, Lake Bluff, IL
2005 Domaine du Grand Tinel Chateauneuf du Pape, 14.5% alc.: Clean medium dark color, with an earthy, tarry nose that carries over on to the palate with a deep, dark black fruit core. Big and chewy; very well structured, with a fine future ahead of it, so be patient and see what it's like at around 10 years of age. Find this wine
Imported by J et R Selections, Mount Pleasant, MI
2001 Château Fortia Châteauneuf du Pape Cuvée du Baron, $38.99, 14% alc.: Dark color, with a slight tinge of rust; sun baked nose follows through on the palate with smoky black currant, blackberry, stewed tomato and a little funky old wood. Full bodied, big and chewy, well structured and still on the way up. Give it some air and it's really good now but it'll be even better with at least 5 more years in the cellar. Find this wine
Imported by Wines of France, Inc., Mountainside, NJ
1997 Ridge Napa Petite Sirah York Creek Dynamite Hill Vines ATP, 13.5% alc.: Much as we remember from tasting it at Fall Fest in the Cleve; a little green and a little thin. Not "bad," but not what one expects from Mr. Ridge. A little barnyard and a hint of Draper perfume over dusty cocoa, black plum and blackberry, and Kim mentioned a "minty" quality. Very smooth and probably in its peak drinking window; doesn't seem to show a lot of promise for long aging like so many of these. Find this wine
Plan Pegau L: 2006, 13.5% alc., $17.99: Good dark color, with earthy briar-bramble and a hint of cola on the nose; flavors more or less echo, with more cola and some beetroot and forest floor as well. Rich and very earthy; full bodied and well structured, and yet with a certain sleek quality about it. Solid southern Rhône character here, and you can lay it down for 5 years or so, or twist off the cap and enjoy it tonight with or without food or the Red Wings.
Find this wine
Imported by Hand Picked Selections, Warrenton, VA
And finally, the wine we enjoyed with the Game 7 clincher just couldn't have been much better.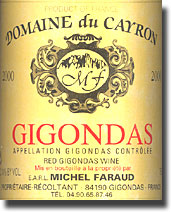 2000 Domaine du Cayron Gigondas, 14% alc.: Deep dark garnet color, with some initial funk on the nose that blows off to reveal deep dark plum, berry and beetroot, all of which echoes beautifully on the palate with some added cola and black olive on a solid, earthy base. Full bodied, still well structured and on the way up and already drinking beautifully. Great Gigondas now and for several years to come. Find this wine
Imported by Kermit Lynch Wine Merchant, Berkeley, CA


Reporting from Day-twah,
geo t.

Other Recent Wine Explorations
Red Wings & Red Rhônes
Playoff Diary 2009-Round 1
More Holiday Hijinx with Mr. Ridge (and Ravenswood too!)
More Red Wings & Red Rhônes 2009
Kermit Lynch's Traveling Roadshow
The Wines of Charles Hendricks
Wines of Distinction from Madiran, Bordeaux & more

Back to the May 2009 Index
Back to the Underground Index

Back to the Top



© George Heritier May, 2009