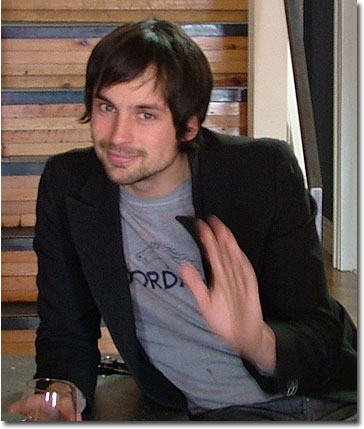 We met in Phillip's loft for the tastings, and a series of distributor reps were invited to bring samples that might make good matches for the specific kinds of food that Slows' serves. Our first appointment was with a sales rep and a district manager from one of the area mega-vendors. The names are omitted here to protect the guilty and innocent alike. The rep was fairly new to the wine industry and didn't know much more than what she got out of her sales meetings, which means she told us what she was instructed to tell us. The manager had been in liquor for most of her career and didn't know much more than the rep, which made things very interesting, to say the least. They started us off with some whites.
2005 Peninsula Cellars Old Mission Peninsula Semi-Dry Riesling: Putnam had asked to taste the 2006, which is the current vintage of this wine, but the warehouse pulled the previous version and nobody noticed until the cork was pulled. Unfortunately, the wine showed its age a bit, although that may have had more to do with distributor storage conditions than the wine itself. Pale straw in color, it shows good varietal character, with fairly ripe apple flavors and aromas underscored with some smoky minerality. This wine is quite drinkable, but undeniably a little tired. Find this wine
2006 Donnafugata Anthìlia, 13% alc.: Medium straw color, with a pungent nose of slightly oxidized almond and dry mineral and flavors to match; slightly oily, with good acids. Interesting, but again, perhaps a bit past its prime.
Find this wine
2004 Teruzzi & Puthod Rondolino Vernaccia di San Gimignano, 13% alc.: Medium straw color, with oily mineral, quince and citrus character. Has decent acids and good presence; I like it more than Putnam, who finds it "a little past fresh," but not enough to recommend it. Find this wine
2007 Novellum Vin de Pays des Côtes Catalanes Chardonnay, 13.5% alc.: Medium straw color, with a toasty nose and too much oak in both flavor and aroma. The wine is "processed" with Viognier lees being stirred in, and shows it with its ripe pear and honeysuckle character. Good acidity can't save this from itself, and while it will probably appeal to international palates and non-wine drinkers, I'd be hard pressed to finish even one glass.
Find this wine
2007 Ironstone Obsession Symphony: Here's one for those who don't like dry whites, and I sold a boatload of the stuff at retail for just that crowd. Floral, semi-sweet honeysuckle and apricot flavors might make a good match for spicy food if it had a bit more acidity, which it doesn't. Putnam likens it to "bar syrup." Find this wine
Mionetto Il Prosecco NV: 100% Prosecco, with no false idols added; throws a pretty perfume and offers off-dry apple flavors underscored with some subtle mineral, all with a nice spritz. This one made the cut and I like it well enough to pick it up occasionally at Costco for 8 bucks and change. Find this wine
2007 August Kesseler Rheingau Spateburgunder Weissherbst, 12.5% alc.: Rose of Pinot Noir here; peach pink and off-dry, with an earthy strawberry and watermelon personality that plunks along with moderate acidity. Putnam wonders if it might not be chaptalized, and as much as we might want to like this in principle, no one does that much. Find this wine
2007 Coastal Vines Pinot Noir: This was offered as a candidate for an inexpensive pour-by-the-glass selection, and it certainly comes off as cheap, with almost candied smoky cherry flavors. The epitome of industrial plonk and worthy of a warning label of a different kind. DNPIM. Find this wine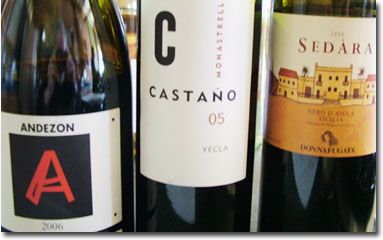 2005 Castano Monastrell: This trumps the Coastal Vines for inexpensive (and it should at a couple more dollars or so wholesale), and would match well with much of the food Slows serves. It didn't quite make the cut, but it was well received for its toasty black fruit character; not too ripe and not too hot. Find this wine
2006 Domaine d'Andezon Cotes du Rhone: We've never met a d'Andezon we didn't like for easy drinking and solid QPR, and this one carries on nicely with good dark color, spicy, peppery black plum and berry flavors, decent structure and good depth. Another worthy contender that eventually just missed the cut. Find this wine
2005 Paringa Shiraz: Smoky, tarry, peppery black plum and berry flavors and aromas with good structure and depth. This would make a decent match for much of what Slows serves, but in the end was passed over for better things. Find this wine
2006 Donnafugata Sedara: Dark color, with dry black fruit and tobacco flavors and aromas. Forgettable. Find this wine
As we tasted through these wines, Phillip, Tara and Putnam endeavored to explain to our earnest vendors the kind of wines they wanted to offer to their customers, focusing as much as possible on natural wines crafted without excessive manipulation. To demonstrate, bottles were retrieved from Slows' cellar and uncorked. I was delighted to see these, because although I'm a big fan of Louis/Dressner Selections, I had never tried either of the following two wines, both of which are VERY impressive and something of a revelation to me.
2007 Clos du Tue-Boeuf Cheverny, 11% alc.: Slightly cloudy ruby color, with an earthy Gamay nose (although this is actually blended with Pinot Noir) reminiscent of cherry, pomegranate and fennel seed, the latter element really setting the tone for the wine's character. The perfumed aromatics are beautiful, following through most expressively on the palate. Medium bodied, with fine balance, good acidity, moderate tannins and nice length. I can imagine many an international palate that wouldn't care for this wine, but I was knocked out by it. One taster remarked that it is "a feminine wine with a beard." Find this wine
This next wine was still fermenting when the Cheverny appellation committee met to evaluate 2006 Cheverny, so the terms in parentheses were not allowed to be listed on the label.
(2006) Vin deTable Francais (Cheverny) (Clos du) Tue-Boeuf Rouillon, 13% alc.: Clean garnet color, pretty raspberry and cherry flavors and aromas shaded with some subtle herb. Rich and fairly ripe, without going over the top, this is a bigger wine with more depth than the previous wine. Structured for at least a few years in the cellar, and maybe as many as 5 or more. Another lovely Gamay-Pinot Noir blend, and I'd like to get to know both of these a lot better. Find this wine
After the vendors left, Phillip decided to open some Oregon rose from one of our mutually favorite producers from that fine state, and it was refreshing and delicious. He graciously gifted one to me, so I took it home and shared it with Kim. You can buy this at Slows', but you have to ask for it because it's not on the list.
2006 Evesham Wood Eola - Amity Hills Pinot Noir Rose, 12.5% alc., $30 per bottle, $7 by the glass: Strawberry pink; clean, rich and earthy, with fruit forward strawberry and raspberry character, being pungent and expressive. Medium to medium full bodied, with very good depth and intensity, this is earthier than many Euro models that we've had, but it's also richer and riper. One of the best domestic roses we've had the pleasure to enjoy. Find this wine

Reporting from Day-twah,
geo t.

Other Recent Wine Explorations
Building a Better Wine List - Part 2
Red Wings & Red Rhônes Playoff Diary 2009-Round 2

© George Heritier June, 2009