We celebrated the Wings' 4-1 victory with a couple of Left Coast numbers.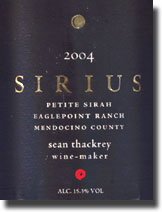 2004 Sean Thackrey Mendocino Petite Sirah Sirius Eaglepoint Ranch, 15.3% alc.:

Clean dark color, with a little mint and dill over black plum and blackberry in both flavor and aroma; rich and a little tart at the same time. Still a young wine; smooth, full bodied and structured for many years of aging and improvement.

Find this wine 2003 Carlisle Russian River Valley Syrah, 15.5% alc.:

Deep dark color, not quite opaque, and throwing a tarry black fruit nose with a little oak and a hint of balsa showing through; all of these impressions echo and expand on the palate. Sleek, smooth and somewhat creamy, this is in a very good drinking window right now, but by no means in any danger of fading any time soon.

Find this wine Shar Douglas

and

Ken Hebenstreit

joined us for dinner and Game 2, bringing along a pair from Chateauneuf du Pape.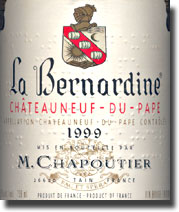 1999 M. Chapoutier Chateauneuf du Pape La Bernadine, 13.5% alc.:

Just a hint of rust to the garnet color, with effusive, aromatic smoke, mahogany and beetroot on the nose; earthy flavors echo beautifully, and this is a little funky in a good way. Full bodied, well structured and yet to peak, this is big, rich and more than just approachable, it's downright impressive. My wine of the night, and there's no reason the thing that it won't keep going up for at least another 5 years, maybe 10.

Find this wine

Imported by Paterno Imports, Lake Bluff, IL

2000 Domaine du Pegau Chateauneuf du Pape Cuvée Reservée, 13.5% alc.:

Smoky dark garnet color, with a classic Pegau personality of smoke, iron, cedar, black fruit and earthy beetroot. Still very well structured and in need of further time in the cellar, this actually

drank better on release

with its youthful exuberance. Certainly drinkable and even enjoyable, but its best days are well ahead of it; try again in 5 years and see where it's at.

Find this wine

Imported by J et R Selections, Mt. Pleasant, MI

Since it was Chateauneuf du Pape theme, and we had 4 of the following in the cellar, I decided to take a chance and sacrifice one, despite all I'd read about it being in need of some serious cellar time.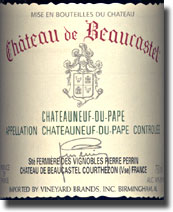 2005 Chateau de Beaucastel Chateauneuf du Pape, 14% alc., $89:

Clean dark color, and somewhat shy on the nose, giving only a little earth, iron smoke and beetroot; with big flavors of earth, iron, smoke, dark chocolate and black fruit, this is full bodied, very well structured with good acids and dusty tannins and very different in style from the Chapoutier and Pegau. Smooth in texture and very much more approachable than reports had led me to expect, this was very well received by all four of us, but don't think that I'm recommending popping corks liberally on these. I'd put them away for a good 10-15 years for them to start showing everything they'll have to offer.

Find this wine

Imported by Vineyard Brands, Inc., Birmingham, AL

Domaine la Garrigue Vacqueyras has been a favorite of ours for many years now, so it was no great leap to pick the following youngster up and see where it is at, especially considering how well we liked their

'06 Côtes du Rhône Cuvée Romaine

.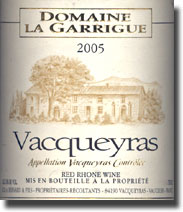 2005 Domaine la Garrigue Vacqueyras, 14% alc., $20.99:

Clean dark color, with earth, iron, black fruit and leather flavors and aromas; big, rich and chewy, with huge structure for many years in the cellar, and the astringent finish puts a big exclamation point on that fact. Very big on promise, but needs a minimum of 5 years; extended air helps, but…

Find this wine

Imported by European Cellars, LLC, Charlotte, NC

I've read a little about the following producer, but this was our first crack at tasting what they have to offer, and based on this one, we'll be looking for more from them.



2005 Domaine Phillipe & Vincent Jaboulet Crozes Hermitage, 12.5% alc., $27.99:

Deep dark color, with rich, earthy black plum and blackberry shaded with hints of black olive and bacon in both flavor and aroma; full bodied, but without excess weight (check out the alcohol content). Almost ripe by Rhône standards and quite tasty, this has the structure to develop for at least 5 years, but it's already in a nice drinking window.

Find this wine

Imported by Wilson Daniels, Saint Helena, CA

And finally, I found the following late model version of an old friend at Costco, and had to give it a try, even if I do remember when we paid around $9.99-12.99 for it back in the day…

2005 Paul Jaboulet Aine Crozes Hermitage Les Jalets, 12.5% alc., $17.99:

Deep dark color, almost opaque; flavors and aromas of earthy black plum and blackberry shaded with a note of smoke and hints of black olive and barnyard. Very dry and somewhat astringent; full bodied and well structured. Wants some time in the cellar, though it will serve well now with some air and grilled red meats or a hearty stew. As always, a solid, if not particularly distinguished or complex Crozes Hermitage, and we expected that when we bought it.

Find this wine

Imported by Frederick Wildman and Sons, Ltd., New York, NY
geo t.