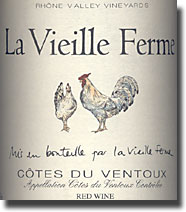 We started our Red Wings & Red Rhônes features back in 1997 as a lark, and with tongues planted firmly in cheeks, so I can't help but shake my head a little in wonder when I stop to consider that we've continued them for 12 years now. Opening and enjoying a good red Rhône with a Detroit Red Wings hockey game has become standard practice here at Gang Central, and as we transition from the 2008-09 NHL regular season into the playoffs, it's time to take a look at what we've tried since our last report.

We're always up for trying anything from the Perrin family of Chateau de Beaucastel fame, and recently, we got our hands on five new wines and one old friend, including a white and a rose that are noted here for purposes of continuity. (All prices listed are average retail per bottle as listed by Perrin et Fils importer Vineyard Brands, Inc., Birmingham, AL.)

2007 La Vieille Ferme Côtes du Ventoux Rouge, 50% Grenache, 20% Syrah, 15% Carignan, 15% Cinsault, 13.5% alc., $7.99-8.99: Clean dark color, with a tight nose at first, showing only a little black fruit, leather and underbrush. More generous on the palate, with pretty red and black plum and berry flavors underscored with earth, leather, underbrush, spice and mahogany. Medium full to full bodied, with moderate depth, structure and length, making for a drink-me-now kind of red Rhône, and a pleasant one at that. Find this wine

2008 La Vieille Ferme Côtes du Ventoux Rosé, 50% Cinsault, 40% Grenache, 10% Syrah, 13% alc., $7.99-8.99: Strawberry pink color, with pleasant, straightforward strawberry and raspberry flavors and aromas shaded with a little mineral. Medium to medium full bodied and fairly rich, with good concentration and cut; has a subtle oiliness to its texture. A fine, enjoyable everyday rosé. Find this wine

2008 La Vieille Ferme Côtes du Luberon Blanc, 30% Grenache Blanc, 30% Bourboulenc, 30% Ugni Blanc, 10% Roussanne, 13% alc., $7.99-8.99: Clean medium color, offering flavors and aromas of yellow apples and pears, neither over- nor under-ripe; these impressions are accented with undertones of mineral and lanolin. Medium bodied, with good depth and cut. As always, a solid, straightforward everyday white that gives good bang for the buck, and if I'd like a little more minerality, I can't complain about what IS here. Find this wine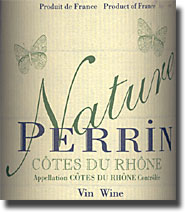 2007 Perrin Crus Côtes du Rhône Nature, 95% Grenache, 5% Syrah, 13% alc., $13.99: Showing good dark color, with earthy underbrush over red and black plum and berry on the nose that follows through in the big, chewy flavors with a rich core of fruit and leathery undertones; this is a big mouthful of red Rhône enjoyment. Full bodied and well structured for several years in the cellar, but approachable now and then some; Kim likes this a lot and so do I. Find this wine

2007 Perrin Crus Côtes du Rhône Villages, 50% Syrah, 50% Grenache, $14.99, 13% alc.: Clean dark color, with a pretty red and black fruit perfume, more berry than plum. On the palate, just a hint of chocolate over red and black currant and berry, just a little plum and undertones of earth and underbrush. Smooth, rich, full bodied and well structured for at least a few years in the cellar, but don't be afraid to open one for dinner tonight, especially with some grilled red meat or a hearty stew. Find this wine

2005 Perrin Crus Côtes du Rhône Villages Vinsobres Les Hauts de Julien, 50% Syrah, 50% Grenache, $49, 14% alc.: It's been a year since we last tried this, and it's showing rather differently now. Still deeply, darkly colored, but with a smoked stone, sun baked red and black fruit character in both flavor and aroma that doesn't remind us of what we tried before. At its heart is plenty of big, chewy, smoky, ripe dark plum, berry and currant fruit. Full bodied and well structured, with several years of development ahead of it, but also a lot of interesting qualities about it right now. I didn't like the $45 price tag last year, and while it's jumped another $4, it also gives more to come closer to justifying the tariff. Find this wine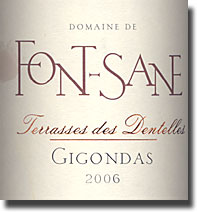 Back in January, we reported on a couple of wines from two new producers to us, Domaine de Font-Sane and Domaine des Pasquiers. We liked them well enough to obtain a couple more bottles from each, and here's what we thought of them.

2006 Domaine de Font-Sane Gigondas Tradition, 15% alc., $23.99: Deep and dark in color, with big earth and iron on the nose and a rich beam of black currant and blackberry that comes to the fore on the palate. Full bodied, well structured and very primary, with several years of development and improvement ahead of it, but approachable now with extended air. The rich fruit carries the day here, and the earth and iron provide great support. A blend of Grenache, Syrah and Mourvedre. Find this wine

2006 Domaine de Font-Sane Gigondas Terrasses des Dentelles, 15% alc., $34.49: Good dark color, with a dusty, sun baked plum and berry nose that doesn't give a lot at first, but becomes more generous with air. Flavors echo and expand, with burry tannins and zippy acids; the sun baked character sets the tone of the wine's personality. With its rich core of fruit, all this needs is 5-8 years in the cellar to smooth out the rough edges. A blend of Grenache, Syrah and Mourvedre. Find this wine


2006 Domaine des Pasquiers Côtes du Rhône Villages Sablet, 14% alc., $18.99: Clean dark color, with earth, iron, black and red fruit on the nose; fleshes out on the palate with a mélange of plum, berry and beetroot, and a note of lavender lends a subtle touch that makes this distinctive. Full bodied, with solid structure and good length; very nice now with air, and promises further development over the next five years and beyond. Find this wine

2007 Domaine des Pasquiers Côtes du Rhône, 14% alc., $13.99: Deep dark color, with sun baked plum and berry with a little chocolate on the nose; plenty more of the same on the palate, with a solid earthy anchor and a note of cola with air. Full bodied, with big structure and presence; a solid wall of earthy tannins vie with the rich core of fruit for dominance of the wine's personality. There's at least 3-5 years of development ahead for this, but with air, it's already rich and flavorful. Find this wine

Imported by AHD Vintners, Ltd., Warren, MI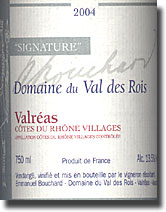 We also tried another wine brought in by our friends at AHD Vintners in Warren, Michigan, and liked what we tasted.

2004 Domaine du Val des Rois Côtes du Rhône Villages Valréas, 13.5% alc., $19.99: Deep dark garnet color, and all earth, iron and tar on the nose; more of the same on the palate, with a solid core of black currant and blackberry fruit. Full bodied and structured for many years in the cellar, but tannin pigs will love it now with two hours or more in a decanter. Better yet, give it five years and try it then. Find this wine

Imported by AHD Vintners, Ltd., Warren, MI

How did the following northern Rhône find its way into this collection of wines from the south?!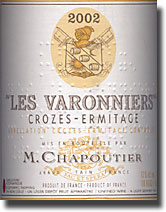 2002 M. Chapoutier Crozes Hermitage "Les Varonniers," 13% alc., $47.99: Good clean dark color, with dry, earthy black plum and black currant shaded with leather; rich, but not at all fruit forward. Full bodied, well structured and drinking very well right, with no danger of fading any time soon. Made from organically and biodynamically farmed grapes. Find this wine

Imported by Paterno Wines International, Lake Bluff, IL

2005 Eric Texier Côtes du Rhône, 12.5% alc., $18.49: Clean dark color, with a slightly sun baked nose of smoky red fruit that doesn't exactly jump out of the glass at first; the echoing flavors pick things up nicely, however, not restrained or austere, but rather rich and very dry at the same time. More in the red spectrum than the black, with earthy, smoky, peppery plum and currant shaded with a note of leather. Medium full to full bodied, with a certain leanness to it, but well structured and seemingly more backward than the 2006 Texier Brezeme we tried last December. A nice wine that likes air and drinks better for it, but five years in the cellar would be best for this. Find this wine


2003 Chateau Pesquie Côtes du Ventoux Quintessence, 80% Syrah, 20% Grenache, $13: Deep, dark color, with a sun baked smoked stone character that is probably the by-product of the intense heat of the mutant vintage; rich, ripe and earthy, with a solid core of black plum, berry and currant. Big, chewy and well structured, this likes some time in a decanter for drinking now, but would like five years or so in the cellar even more. This was a clear out from the distributor and our friends at Cloverleaf took everything they had, creating a feeding frenzy that I got in on the tail end of. Regularly priced at around $19; at $13, this is a tremendous value, but alas, it's all gone now.
Find this wine

Imported by European Cellars, LLC, Charlotte, NC

2007 Kermit Lynch Vin de Pays du Vaucluse, 13% alc., $12.99: Good dark color, fading at the rim; hints of animal, Provencal herb and cocoa over earthy plum and red berry in both flavor and aroma. Medium full bodied, fairly rich, but dry , with medium structure and depth for drinking now and over the next few years. Solid everyday red with good QPR. Find this wine

And last but certainly not least, we have the one that almost got away. Somehow, the empty bottle of the following selection was put out with the rest of the recyclables before we extracted the label image or any pertinent information, such as alcohol content or varietal percentages. Fortunately, I do have my notes and it's one of the best wines we've tasted for this report.

2006 Domaine "La Garrigue" Côtes du Rhône Cuvée Romaine, $17.99: Showing good dark color, with earth, iron, black currant, blackberry and cola flavors and aromas; the Vacqueyras character is obvious here. Big, rich and chewy, with dusty tannins and excellent acids, and while it's structured for at least five years in the cellar, it drinks well already with some time in a decanter. Interestingly, it shows none of the "international" flair that the 2003 version did, which is a good thing! A blend of declassified Vacqueyras grapes from the Estate's oldest head pruned vines; a blend of Grenache, Syrah and Mourvedre. Find this wine

Reporting from Day-twah,

geo t.

Other Recent Wine Explorations
Kermit Lynch's Traveling Roadshow
The Wines of Charles Hendricks
Wines of Distinction from Madiran, Bordeaux & more
Wine with Friends

Back to the April 2009 Index
Back to the Underground Index

Back to the Top



© George Heritier April, 2009