Not long ago

, we received an email from Burke Owens, Director of Communications at Bonny Doon Vineyard, which read:


Hello fellow terroirists,

I am writing to say how much we enjoy your inspired ravings here at Bonny Doon.

How can we participate in the glorious fun that is Gang of Pour?

Please illuminate me as to appropriate protocols and points of entry.

Best,

Burke

In reply, I thanked him for the conspiratorial words, and told him that we are always happy to receive samples for review, and we rarely turn down perspective advertisers, especially from the likes of the wacky crew at Bonny Doon! Sure enough, a few weeks later we received two boxes with three bottles each, which we wasted no time in trying. We were very impressed with all six of these wines, which hasn't always been the case in the past.

When I interviewed Bonny Doon owner/winemaker/clown prince Randall Grahm in 2005, he indicated some dissatisfaction with where the winery was at in its "long strange trip." He told me then, "...I think that I built the winery kind of backwards. In other words, I, and especially my colleague John, are really good at marketing, I mean we're so good, it just isn't fair to other people. And so, because we're so good, you do what you're good at, and we're really good at marketing, so that's what we did, and I think as a result, Bonny Doon grew somewhat out of synch with itself. I think, in retrospect, we should have paid more attention to the real foundation of the business, which are the grapes that you work with, and that should have taken logical precedence over the whole marketing schtick."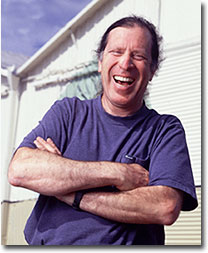 Grahm wasn't just blowing in the wind for the sake of the tape recorder. Feeling that the winery's focus was seriously diluted by the success of the Big House, Cardinal Zin and Pacific Rim brands, in 2006, he sold the first two to The Wine Group and spun the latter into an independently run operation located in Washington. Where once production was at 450,000 cases per year, that has been trimmed down to 35,000. Grahm's vision was to channel all the knowledge and expertise developed over the previous 20+ years into "the discovery/creation of true vins de terroir, wines expressive of a sense of place." Negotiations are now well underway to purchase property in San Juan Bautista, California, with the intent of establishing a biodynamic estate vineyard to complement the Ca' Del Solo vineyard near Soledad in Monterey County, which is Demeter Certified Biodynamic. Experiments are being conducted using quartz impregnated cement lined tanks for fermentation and glass carboys for aging. The winemaking philosophy is devoted to a more hands-off, natural method, and in turn, they are turning out wines that are strikingly old world in style.

We started our tasting with three of four from the Bonny Doon "Cigare" lineup, inspired by the wines of the southern Rhone in France.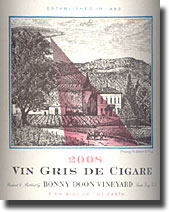 2008 Bonny Doon California Vin Gris De Cigare "Rose' Wine of the Earth," 58% Grenache, 18% Cinsault, 10% Roussanne, 7% Mourvedre, 4% Syrah, 3% Grenache Blanc, 13.6% alc., $15: Pale peach pink in color, with flavors and aromas reminiscent of dusty under-ripe strawberry, watermelon and mineral. Medium bodied, with good intensity, ample acidity and a nice finish, where the minerality lingers. This is solid, tasty dry rose' in the southern French style, and that's just fine by us. The red varieties are bled off in modest volumes from freshly processed grapes destined for Le Cigare Volant and Central Coast Syrah. Find this wine

2007 Bonny Doon Arroyo Seco Le Cigare Blanc Beeswax Vineyard, 64% Roussanne, 34% Grenache Blanc, 14.6% alc., $22: Pale straw color, with white tree fruit and mineral on the nose, fleshing out in the mouth to take on elements of white peach and pear, along with hints of banana, lanolin and beeswax. Medium to medium full bodied, with excellent cut; rich round, well balanced and very appealing, with great presence. Find this wine

Last time we had one of Bonny Doon's flagship red Le Cigare Volant, it was much more in the new world style than old. Happily, that has changed with the latest vintage.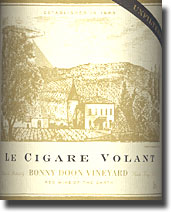 2005 Bonny Doon California Le Cigare Volant "Red Wine of the Earth," 50% Grenache, 24% Mourvedre, 22% Syrah, 3% Carignane, 1% Cinsault, 13.5% alc., $32 (September 2009 release): Clean dark garnet in color, and very southern Rhone-ish in style, with earthy forest floor, beet root, black plum and blackberry character shaded with hints of coffee, cola nut and more and more briar bramble as it opens. Full bodied, with a solid tannin and acid backbone that bodes well for at least five to eight years in the cellar. Had I tasted this blind, I daresay I would have thought this to be from the southern Rhone or the Languedoc. Very nice indeed, this provided some very fine Red Wings & Red Rhones mojo.
The new labels for the Ca' Del Solo sport the image created through the use of a biodynamic technique called sensitive crystallization. A little wine is mixed with a solution of copper chloride, evaporated, and the resulting crystal pattern is said to leave a unique imprint of the vineyard, or a "fingerprint" of the wine in the bottle. The addition of the string below the pattern creates a whimsical "wine balloon," very much in keeping with the Bonny Doon tradition of off-beat labels, if a little more toned down.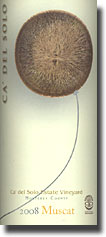 2008 Bonny Doon Monterey Albarino Ca' Del Solo Estate Vineyard, 75% Albarino, 21% Loureiro, 4% Treixadura, 12.8% alc., $20: Medium straw in color, with mineral, a hint of detergent and grapefruit-citrus flavors and aromas; bone dry and yet fairly rich at the same time. Medium to medium full bodied, with crisp acidity, this begs for some fresh seafood (oysters come readily to mind) and makes for more than a fair approximation of something originating in Rias Baixas.
Find this wine

2008 Bonny Doon Monterey Muscat Ca' Del Solo Estate Vineyard, 88% Moscato Giallo, 12% Loureiro, 12.5% alc., $18: Pale to medium straw in color, this exudes that unique perfumed character that can only come from Muscat, with effusive honeysuckle and orange blossom aromas that suggest a sweeter wine than it actually is; it certainly is rich and ripe, but ultimately dry. There's some citrus beneath the floral qualities that play a nice counterpoint and relate back to the orange blossom component, like a lime and orange combo, both tart and ripe at the same time. Medium bodied, with a very smooth texture that belies ample acids and good length on the finish. In some ways, I find this to be the most intriguing of these six wines, if only because we don't drink Muscat regularly and it pleases on a number of levels. Clean and refreshing, it will pair well with a variety of seafood and spicy Asian dishes. Find this wine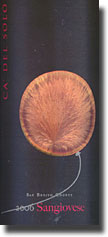 2006 Bonny Doon San Benito Sangiovese, 77% Sangiovese, 16% Freisa, 6% Syrah, 1% Grenache, 14.2% alc., $12: Showing good dark color, with flavors and aromas of dried cherry, black cherry, licorice, earth and a little leather; it's funky in a good way, with a hint of the barnyard, and also "sticksy," like so many of its Italian counterparts, but riper as well. Full bodied, balanced and well structured, this is not exactly sleek, but it is without any excess. All in all, a very nice expression of Sangiovese, one of the best we've had from California (what ever happened to the Cal-Italia movement, anyway) and one that offers tremendous QPR at the price listed.
Find this wine

We're very impressed with the results of Bonny Doon's new direction and would enthusiastically recommend these six wines to any and all who care to try them. We're looking forward to tasting other things in their lineup, happily secure in the knowledge that there will be nary a Chardonnay, Cabernet or Merlot among them.
Reporting from Day-twah,
geo t.

Other Recent Wine Explorations
Building a Better Wine List - Part 1
Building a Better Wine List - Part 2
Red Wings & Red Rhônes Playoff Diary 2009-Round 2

© George Heritier June, 2009