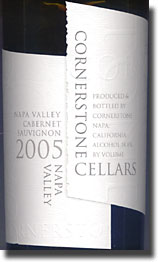 Napa Valley's Cornerstone Cellars has never been a big blip on our wine radar, but then, they're not exactly a large operation or a household name. (There were only 1,870 cases combined made of the two wines noted here.) They ARE highly regarded, however, generally recognized as one of the elite in Napa Valley/Howell Mountain boutique/cult producers.

Cornerstone's creation in 1991 was serendipitous, to say the least. Co-owner David Sloas lucked into 4.8 tons of premium Howell Mountain Cabernet during a visit to Randy Dunn; he made a call to fellow Memphis physician Michael Dragutsky to see if he would join him in taking the plunge and the next thing they knew, they were in the wine business. From the beginning, the intent was to make produce the best wines possible from the best grapes, using the best barrels, in the best facilities. Celia Welch Masyczek now makes the wines in a collective winery, in order to minimize the operation's carbon footprint.

We've only tried two wines previously from Napa's Cornerstone Cellars; a '94 Howell Mountain Zinfandel Cuvee Mysterieuses made from Park-Muscatine fruit that had the misfortune of being tasted after three delicious Ridge Zins at Toledo 5 and a Rhone-like '98 Howell Mountain Cabernet that was rather interesting, if a bit of an oddity. A few weeks ago, Cornerstone General Manager Craig Camp sent us their two current releases for review, and after giving them ample time to rest from their journey, we tried them side by side with food to see what they were all about.
2005 Cornerstone Cellars Napa Cabernet Sauvignon, 14.8% alc., $65: Purple garnet fading to pink at the rim in color; cedar and dill inflected toasty oak dominates black currant-cassis on the nose and follows through nicely on the palate. The fruit shows beautiful balance and isn't too ripe, but the oak is more up front at this point in the wine's evolution. Very smooth in texture, yet well structured for several years of cellaring, this has all the stuffing to develop into a lovely Napa Cabernet; I'd give it five years to see where it's at. The oak should integrate with time in the bottle, but if you like some wood in the Napa Cab, it's more than drinkable right now. The wine was sourced from Howell Mountain, the west edge of Oakville and the southeast corner of Napa. It spent 21 months in French oak. Find this wine