a





es, it's about that time again, when we give a rundown on the latest batch of wines we've tasted from Ridge Vineyards over the past few months, so let's get right to those TNs without further ado or wasted bandwidth.
2003 Ridge Santa Cruz Mountains Chardonnay $30.99, 14.9% alc.: Yes, Ridge is mostly known for their Monte Bello Cabernet Sauvignon and Zin based reds like Geyserville and Lytton Springs, but we've never had a Ridge Chardonnay that we didn't like, and this medium straw to pale gold colored beauty is another fine example of why. It exudes toasty sweet oak over rich, ripe pear, pineapple, sweet pea and even a pat of butter on the nose, all following through excessively and emphatically on the palate; Kim mentions an impression of "canned peas, in a good way." Medium full bodied, with a nice density to it, this is almost thick, but not quite unctuous, and yet it has excellent acidity to keep everything moving along so well. Very much like previous versions that we've had, this should age well for at least five years, and yet it's hard to keep hands off already. Kim and I like this one a lot. One-third of the wine was sourced from three neighboring vineyards, which Ridge farms, while two-thirds came from the estate.

2002 Ridge Santa Cruz Mountains, 50% Cabernet Sauvignon, 48% Merlot, 2% Petite Verdot, 13.7% alc.: Made from eight blocks of Monte Bello that winemaker Paul Draper describes in his notes as "the well – defined, more approachable ones," this dark garnet Bordeaux blend spent two years in air – dried American oak (40% new, 45% one and two years old and 15% three and four years old), in order to soften tannins. The wood is well integrated, however, as the nose shows a little Draper perfume and bubble gum over deep, dark black currant, black plum, iodine and as it opens, a little aquarium. In the mouth, the wine is very plummy and very primary, with what Alan Kerr describes as chalky, silky tannins, and when I described the sensation of the wine washing across the palate, he expanded upon that, saying "it lacquers the palate and leaves a residue," but having said that, the finish is only decent, and not overly long. Though not austere, the wine is in a drier, somewhat Bordeaux style, making it a very nice match for a thick, grilled lamb chop. Drinking well already, this will continue to develop for at least five years

2003 Ridge Lytton Springs Dry Creek Valley, 76% Zinfandel, 18% Petite Sirah, 6% Carignane, $27.99, 14.3% alc.: I had the chance to try this dark garnet colored Zin blend with the boys at Cloverleaf Fine Wines, and I liked it well enough to take three home with me. While not as big as many Lytton Springs of the past, it has excellent balance and that classic "Draper perfume," with a seamless blend of raspberry, black raspberry, blueberry and some subtle chocolate both on the nose and in the mouth. Unlike some recent Zin – related efforts from Ridge, the oak is in perfect proportion to the fruit, and doesn't dominate the character of the wine in its early years. Not too tannic, and not too ripe, this is almost claret – like, and seems to be missing just a little of the concentration and intensity that these usually have. All in all, a nice light heavyweight Lytton Springs. After twelve months in air - dried American oak, the wine was fined with nine egg whites per barrel, "balancing firm structure and sensuous fruit."

2003 Ridge San Luis Obispo County Zinfandel Paso Robles, $27.99, 14.8% alc.: This deep, dark garnet colored Zin shows briar – bramble right off the bat on the nose, and Alan Kerr was reminded of "tulip." On the palate, it offers rich black raspberry and black plum, with earthy undertones and the briar – bramble relegated to the background; Scott "The Geek" Tobias added an impression of prune. With silky tannins, on a medium full to full bodied frame, this isn't as sun – baked and over ripe as the past several vintages, being drier than usual, and not as overtly fruit forward, which is just fine with me. Very well – received by all, and so approachable; my last entry into my notes reads, "What would anybody not like about this?!" Fully crushed fruit was fermented with a floating cap of skins, increasing juice circulation to maximize tannin extraction; more than eighty percent comes from the north and south blocks, the balance from the back of the Dusi Ranch. Thirteen months in air - dried American oak.

2003 Ridge Russian River Valley Zinfandel Ponzo Vineyards, 85% Zinfandel, 14% Petite Sirah, 1% Carignane, $27.99, 13.5% alc.: Dark garnet, fading to pink at the rim, this shows more wet dog fur on the nose than "Draper perfume" on the nose, with blackberry and black raspberry flavors shaded with undertones of earth, dog fur and a little ash. Not as intense as most Ridge reds, with moderate tannins, good acidity and a decent finish, this is a solid, if unexceptional light heavyweight Zinfandel. One year in air-dried American oak barrels, then "a late egg white fining to focus the rich fruit and balance the still firm tannins."

2002 Ridge Sonoma Three Valleys, 76% Zinfandel, 13% Carignane, 8% Petite Sirah, 3% Mataro, $16.99, 14.3% alc.: Deep dark garnet, fading to pink at the rim, this is one of the most un – Ridge – like Ridges we've ever had. While it does show a little of that signature Draper perfume on the nose, it shows a lot more coffee, toast and root beer, with flavors to match on a medium full bodied frame. Medium tannins, with good acidity and a decent finish, and as it opens, it shows some chocolate underneath the breakfast menu. It reminds me a little of a Carlisle with less muscle, and while it's not a rough wine, it's not as smooth as I'd like it either. Kim remarked, "This is flat and insipid, and you can quote me," and while I feel a little more kindly towards the wine, I'd like it better for $14 – 15; it retails for as much as $20 around here. Fermented on their natural yeasts, pressed at eight days, with natural (uninoculated) malolactic fermentation five weeks later. Aged in air - dried American oak barrels (twenty percent new, the remainder two to six years old).

2002 Ridge Sonoma Mazzoni Home ATP, 66% Zinfandel, 32% Carignane, 2% Petite Sirah, 15.3% alc.: This wine is so dark, it looks like ink, and while it doesn't give much more than a little Draper perfume over black raspberry on the nose, it's downright jammy on the palate, with black raspberry, black cherry and blackberry flavors. Creamy smooth, with an almost suede – like texture, this has unobtrusive tannins that show mostly on the finish. All in all, a nice bottle of wine, even if it doesn't scream "Ridge" like the next two. 40 barrels produced.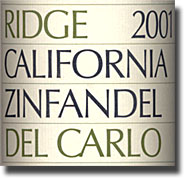 2001 Ridge Dry Creek Valley Zinfandel Del Carlo ATP, $25, 14.3% alc.: An almost opaque purple garnet in color, this one shows big oak on the nose, with notes of bubble gum, raspberry, black raspberry and cream, along with some blueberry and lilac with air. These impressions follow through on the palate, with some earthy bramble and briar, and while the creamy oak softens the silky tannins, that same oak has a slightly green, somewhat hard edge to it that needs a few years of bottle age to mellow. Still, it's a nice wine, one that went well with a corned beef, Montgomery Cheddar and Maille Dijon Mustard sandwich on Zingerman's Rye bread. The vineyard is owned and farmed by Ray Teldeschi, with one acre of pre – Prohibition vines, five acres of 50 – 70 year old vines and 2 ˝ acres of 10 year old vines.

2002 Ridge Dry Creek Valley Zinfandel Teldeschi Ranch ATP, $25: Dark garnet, fading to pink at the rim, this gives up a sweet kiss of Draper perfume over big, earthy black raspberry, blackberry and even black plum, with overtones of blueberry and lilac; the creamy flavors more than echo, with a few years of tannins that show mostly on the finish. A nice wine here as well, but Kim and I both like the Del Carlo a little better for its brambly qualities; as she puts it so well, "It's more like an old – styled Ridge Zin." Fermented on natural yeasts for twelve days, pumped over twice daily; natural malolactic fermentation, then wine was racked to air - dried American oak barrels, 25% new, 75% two to six years old, and aged for fifteen months.
Many thanks to Steve Kolody for samples of the '03 SCM Chardonnay, '02 SCM red blend and the '03 Ponzo Zinfandel.
~
After relating our less than enthusiastic first impressions of the ultra – ripe and sweet 2002 Ridge Pagani and Geyserville to Alan Kerr, I decided to open a couple of 2000s with him, just to see how they were coming along, and considering what we found, perhaps my qualification that we should reserve our judgment on those '02s for a few years was correct.

2000 Ridge Lytton Springs Dry Creek Valley, 80% Zinfandel, 20% Petite Sirah, $30, 14.8% alc.: Alan's first comment refarding this dark garnet blend was, "You're right, this IS sweet." But while it's slightly overripe, it's not excessively so, and although tight at first, it opens to show more Draper perfume in the way of creamy smooth raspberry, black raspberry, some blueberry and overtones of lilac. Allan uttered impressions of blackberry, toffee, caramel, milk chocolate, a little mineral and iron, adding that some "dusty tannins were the only thing that's retarding it." To me, those tannins are silky, showing mainly on the finish, and combined with the balanced acidity, bode well for at least a few years of further improvement, but make no mistake, this is a pleasure to drink right now.

2000 Ridge Geyserville, 66% Zinfandel, 17% Carignane, 17% Petite Sirah, $30, 14.9% alc.: Dense dark garnet in color, this shows less of the signature Ridge aromatics than it did when we first tasted it, and it only gives some of the cream found in the 2000 Lytton Springs after it's had some aeration. Alan described it as "so much more fruit driven without the sweetness" of the LS, and in fact it has that classic Geyserville claret – like character, with earthy blackberry, black raspberry accented with a bit of the bramble fruit that we so miss in most Zinfandels these days. Although it opens dramatically with air, this is a deep wine that shows none of the ripe qualities of the current model, and needs three to five years minimum to begin to show its best. While it may not be the greatest example of what Geyserville is all about, it's a fine Geyserville nevertheless.

Happily, we have more than a few of each of these to open during the coming years (as is the case with the following selections), so we're all set on that account. Fast forward a week; we'd already had a few nice bottles with Shar Douglas and Ken Heibenstriet when I got it into my head that we should see how the '99 models were faring, so I descended to the cellar from heck and returned with the following numbers.

1999 Ridge Geyserville Sonoma County, 68% Zinfandel, 16% Carignane, 16% Petite Sirah, $30, 14.8% alc.: Kim got "a ton of coconut and dill" from her first few whiffs of this deep, dark garnet Geezer, and as it opened, she amended her impressions to "toasty coconut, like a macaroon." I get a rather different take on this, finding big barnyard over Draper perfume in the way of bubblegum, raspberry, blackberry and yes, a little coconut. Fairly earthy, and yet creamy smooth in the mouth, where it emphasizes the darker berries, this opens to show more Draper perfume, some bramble and briar, root beer and a hint of chocolate; the more it opens, the more appealing it becomes. Still it's pretty tannic, needing five years to really show its best, but it has all the stuffing to go the distance, so patience will be rewarded.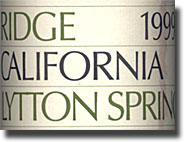 1999 Ridge Lytton Springs Dry Creek Valley, 70% Zinfandel, 17% Petite Sirah, 10% Carignane, 3% Mataro, $30, 14.5% alc.: This is perhaps the darkest Lytton Springs I can ever remember having, and I don't just mean the color, even though it's almost opaque in its density of purple and garnet. The most recent bottle, enjoyed on August 7th, was much more attractive than one tasted over the winter holidays; it shows the essence of Draper perfume right on the nose right from the start, with a lovely kiss of sweet oak and an almost floral quality over dark berries and black plums and currants. Flavors echo loudly on a very nicely structured and balanced full bodied frame, and while somewhat jammy, it's not at all over done; there's a claret – like character that gives sweet and dry impressions at the same time, and successive sips coat the mouth for what seems like minutes. It's very much like the '99 Geezer in that it needs some serious time, probably as much as five years, and yet this is really starting to strut its stuff. I'd be hard pressed to name a better Lytton Springs going back to at least the 1990 version.

~

And finally, a most welcome taste of an old friend...

1993 Ridge Sonoma Valley Zinfandel Pagani Ranch, 82% Zinfandel, 12% Mataro, 4% Alicante Bouschet, 2% Petite Sirah, 14.9% alc.: Errol Kovitch pulled this out of his cellar at a recent gathering, and I'm happy to report that it's still going strong. Showing just the vaguest hint of rust to its dark garnet color, it exudes luscious "Draper perfume" over rich raspberries and black cherries in both flavor and aroma, with what Kim describes as a lot of bittersweet chocolate in the background. The wine is fleshy, but not jammy, and there're still some tannins to burn here, along with good acidity and a long finish. Paul Mann, Jr., who surprisingly had never had a Ridge Zin, marveled at the long lazy legs that this left in the glass, and described it as "like a mouthful of berries," calling it "just amazing." This particular bottle could have gone another five years easily, but I'm sure glad that it didn't.

Reporting from Day-twah,

Bastardo