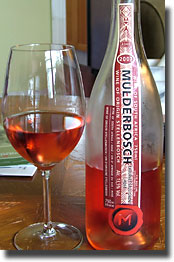 So, once again it's time for our latest compilation of random tasting notes, and we've had the good fortune to be drinking some pretty decent stuff lately. True, not everything we've tasted has been palatable but we're not going to talk about the plonk this time out. Nope, no flotsam, no jetsam and no damn scuppernong here, folks.

True, there were a couple that didn't quite live up to the other 10 noted here, but in the end, there were no real dogs, and we have our reasons for including them all, so here's what caught our attention over the last month or so, starting with some pink stuff.

2007 Mulderbosch Cabernet Sauvignon Rosé, 13.5% alc., $12.95 Can.: Salmon pink, offering strawberry and raspberry flavors and aromas with good intensity, acidity, subtle mineral undertones and a nice finish; Alan Kerr aka Canadian Zinfan mentioned an element of "tart cranberry," and he wasn't wrong. Yet another reason why the more good rosé we drink, the more good rosé we want to drink. Find this wine

And speaking of rosés, we like 'em with bubbles too...
Yves Lambert Cremant de Loire Rosé Brut NV, 12.5% alc.: Strawberry pink, with fine, ample mousse and an even finer, very active bead; sports an under-ripe strawberry and cherry personality with a good dose of mineral on a medium to medium full bodied frame. With excellent intensity, zippy acids and great balance, this is very good bubbly that we paid somewhere in the neighborhood of $17 Canadian for, and it's well worth it. Find this wine
1997 Trimbach Riesling Alsace Cuvee Frederic Emile, 13% alc., $17.99: Pale gold in color, with river stones on the nose and more of the same in the mouth, along with quince, under-ripe apple and a certain "mature sherried" aspect to it. Still rich, intense and well structured, but probably a year or two past what I would consider its prime. I know folks who would beg to differ, but the sherried character doesn't sit entirely well with Kim or Kerr. I can get past that, but still, I'm sorry that we waited a little too long to open this. Find this wine

We're always game to try any of the latest releases from Jim and Rae Lee Lester's Wyncroft winery in Buchanan, Michigan, and their new Chardonnay is yet another in a string of winners going back to 1998.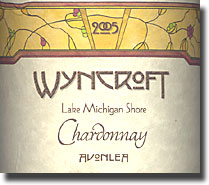 2005 Wyncroft Lake Michigan Shore Chardonnay Avonlea: Medium straw to pale gold in color, and double decanted 10 hours earlier because Jim said it still showed a little sulfur, this exudes pungent pear with a hint of pineapple on the nose, but happily, none of the SO2 we were warned of. Lots more of the same on the palate, with an added note of butterscotch, being very rich, ripe and full bodied, with excellent acids and length. An absolutely delicious wine, one that our old friend Kris Engelhardt aka Mr. E was amazed could come from Michigan soil. He's not alone in that regard, as we've reported in the past. Find this wine

The Lesters' latest Pinot Noir didn't quite make the same positive impression on either Kris or Kim and I, but that's not to say it's a bad wine by any means.

2006 Wyncroft Lake Michigan Shore Pinot Noir Avonlea: Smoky ruby red color, with smoky black cherry flavors and aromas underscored with earthy undertones and a little tobacco and leather; a middleweight at best, and somewhat lighter than the other Wyncroft PNs we've had. It's well structured for some years in the cellar, and Jim and Rae Lee both feel that it will put on some weight in the interim. We shall see how it develops and report back in due time. Find this wine

We thoroughly enjoyed spending a little slice of time with Au Bon Climat chief cook and bottle washer Jim Clendenen back in 2002, and we've been fans of his wines every since. We found the opportunity to try a couple of his "better" Pinot Noirs recently, and were not disappointed in the least.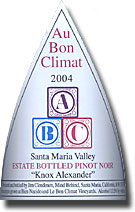 2004 Au Bon Climat Santa Maria Valley Pinot Noir "Knox Alexander," 13.5% alc.: Clean ruby red color, with a beautiful Cali-Pinot nose of rich, smoky black cherry shaded with hints of mushroom, earth and licorice. Flavors echo, not too rich and not too ripe (I'm loathe to use the "B" word these days, so I won't call it Burgundian), with great balance on a medium full-bodied frame. With good acids, unobtrusive tannins and ample concentration, this should do well with another three or four years down the road, but I want more right now! Find this wine

2003 Au Bon Climat California Pinot Noir "Isabelle Morgan," 13.5% alc.: Clean ruby red color, with a pretty Pinot perfume of smoky black cherry and plum along with hints of earth, all of which echo and expand on the palate. Medium full bodied, with good weight, concentration and structure, this is in no danger of fading any time in the next few years. While it's a little less complex than the Knox Alexander, it's no less substantial in any other way, and like that wine, I would not characterize this so much as "Burgundian" as I would restrained, and avoiding the excesses of weight and alcohol that seems to be the trend with so many California Pinot Noirs over the last several years. This wine is given the California designation because it is a blend of the best barrels of single vineyard of Pinot Noirs in the Au Bon Climat cellar from 2003. Find this wine

Of course, no Underground anthology would be complete without at least one specimen of Mr. Ridge, and here are three that are drinking really well right now. We last reported on the '01s back in the summer of 2004.

2001 Ridge Lytton Springs

Dry Creek Valley

, 76% Zinfandel, 17% Petite Sirah, 7% Carignane, $30, 14.7% alc.: This baby looks like ink in the glass, and it throws a deep, earthy nose with an overlay of that distinctive character known to some as "Draper perfume." It offers flavors and aromas of black raspberry, blackberry and a little black plum and blueberry; big, dense and impressive, it opens and loses an initial funky note with as little as 15 minutes in a decanter. This is a big, muscular Lytton, structured for another 10 years of aging and development, and as fine as it is already, I'd be in no hurry to open another in the next three years, anyway. Find this wine

2001 Ridge Geyserville Sonoma, 74% Zinfandel, 18% Carignane, 8% Petite Sirah, $30, 14.4% alc.: Showing deep color, but perhaps surprisingly, not as big and dense as the '01 Lytton, nor is it as bright. It offers an initial whiff of the barnyard on the nose, giving way to reveal earthy blackberry, black raspberry and a hint of blueberry, all shaded with some briar and bramble and toned down Draper perfume. In 3-5 years, this is likely to take on a "Rhône-ish" character, while still retaining it's Ridge personality. It's still a young wine, that though drinking well with some air, really needs about as much time as the Lytton Springs. Find this wine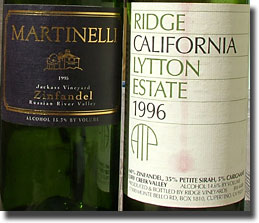 1996 Ridge Lytton Estate

Dry Creek Valley

ATP, 60% Zinfandel, 35% Petite Sirah, 5% Carignane, 14.6% alc.: We last tried this back in the fall of 2000, and while it was good then, it was also in need of further time in the cellar. Happily, it turns out that we gave it just the right length of rest, because it's a joy to drink right now. It's showing good, dark color, with no bricking as of yet, and it exudes aromas of Draper perfume, red raspberry, lavender and a hint of the barnyard. In the mouth, you get smooth, rich red raspberry and lavender, with almost completely integrated oak, and just the barest hint of dill. Elegant, lovely and perfectly balanced, this is truly great Mr. Ridge, and ready to drink right now. The only problem is that there was so little of it made, you may have a very hard time finding any of it. Find this wine

1995 Martinelli Russian River Valley Zinfandel Jackass, 15.3% alc.: With good, dark color, this delivers cranberry and red raspberry flavors and aromas, with no secondary character as of yet. It's a decent glass of wine, if fairly one dimensional, with good intensity and structure, but not in the same league as the '96 Ridge Lytton Estate, which was tasted on the same occasion. Find this wine

1998 Chateau de Lancyre Coteaux du Languedoc Pic St. Loup Grande Cuvee, 14% alc.: We've been fans of Chateau de Lancyre for years now, so when we saw this standing in Alan Kerr's cellar just begging to be uncorked, we prevailed upon him to do so. It's inky in color, and big, rich and earthy in flavor and aroma, offering a solid core of black currants, berries and plums with some subtle undertones of leather. Even at 10 years of age, this still comes off as a young wine, with plenty of structure and promise for further development and improvement. It can use another five years in the cellar, maybe more, so there's no need to be in a hurry to drink this one. Find this wine

Reporting from Day-twah,

geo t.

Other Recent Wine Explorations
New Rieslings from Chateau Grand Traverse & more…
Colorado Dreaming

Back to the October 2008 Index
Back to the Underground Index

Back to the Top



© George Heritier October, 2008