Rednecks & Red Rhônes 2009 was a little different this time around. Oh sure, it still made for yet another day and two nights of the most unlikely of pairings – fine wines from France's Rhône Valley and Nascar racing. Normally, this event coincides with the Super Bowl of stock car racing, the Daytona 500, but this year, so many schedules did not allow for attendance that an alternate date had to be chosen, and what could be better that the April 26 race at Talladega? It turned out to be perfect. The weather was summer-like, most of the usual suspects were able to attend (although Brown Councill and Michael and Adair Ross were sorely missed) and the food, wine and camaraderie were all first rate.

But wait; there was one other notable change of pace as well. At Col. Bob Cuozzi's suggestion, the focus was on northern Rhônes on Saturday night and (gasp) California Syrah on Race Day. All Syrah, all the time. Of course, I had to be obstinate and bring Chateauneuf du Pape for Saturday, but this is a laid back crew, and nobody gave me too much grief.
Saturday Night Qualifying
We got things started on Saturday with some whites. Greg's freshly baked bread and a variety of cheeses provided a fine counterpoint. The cast of characters included hosts Greg and Tami Ellis, Col. Bob Cuozzi, Boyce Brannock, Steve and Barbara South, Jeff and Dena Morris, Kim Adams and this taster.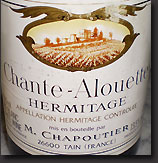 1998 M. Chapoutier Hermitage Blanc Chante-Alouette, 13.5% alc.: Slightly murky gold color; beeswax, butterscotch, mineral nose, pungent and funky in a good way. Flavors echo with an added note of lanolin, very dry and somewhat earthy. Full bodied, oily and enough acidity to keep things moving along nicely. Rich and flavorful, this likes air, opening and evolving. Perhaps a year or two past peak, but still delivering the goods. Find this wine
1998 Nicholson River Semillon Victoria Nicholson River, 13.9% alc.: Medium straw; funky on the nose when first poured, almost urine-like. More of the same on the palate, with steely green apple, green bean underneath. Full bodied, almost oily and good acidity. Better than the description would lead one to believe, especially with air. The intense Semillon character really emerges with air; richens and ripens, and some lanolin reveals itself as well. Find this wine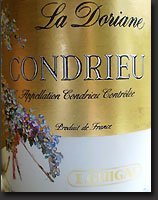 2005 E. Guigal Condrieu La Doriane, 13.5% alc.: Medium straw; stingy on the nose and gives little indication of the flavors to follow. Great anise, orange peel, white pepper and honeysuckle, according to Bob & Boyce. It shows the oak it was aged in, and while it's not excessive, it lends a smoky quality to the wine. Full bodied, almost opulent in texture, and very smooth, with deceptive acidity. Really good, and has some years of promise and development ahead of it. The oak shows more and more with air, and Boyce comments on a note of almond as well. Find this wine

2005 JL Chave Crozes-Hermitage Blanc, 13% alc.: Medium straw color, with a little lanolin on the nose and not much more when first opened. More generous on the palate, with dry white peach and lanolin; not exactly restrained, but not terribly expressive either. Probably suffers in comparison to the earlier wines more than any deficiency of its own. Good weight and balance, & nice on its own terms. Boyce comments that this is typical of white Crozes-Hermitage. Find this wine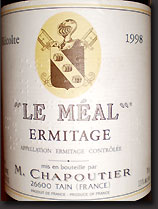 1998 M. Chapoutier Ermitage "Le Meal," 13% alc.: Good dark color, with an explosive nose, but not in a good way. No consensus as to whether it's corked, cooked or suffering from VA, but all agree that it's somehow flawed. My take is cooked. Find this wine

1998 Dom. Des Remizieres Hermitage Cuvee Emile, 13% alc.: Corked! Find this wine

With the two flawed reds out of the way, we sat down to dinner and got on with the good stuff. The victuals consisted of D'Artagnan sausages, mushroom saffron risotto and a spring salad.

1988 E. Guigal Cote-Rotie Brune et Blonde, 13% alc.: Slightly cloudy dark color, with a nice, funky old wood and black olive nose; not quite as impressive on the palate, but pretty much the same character, and Col. Bob mentions some big time lavender. Still big and well structured, this is a good wine, but not a great one. Find this wine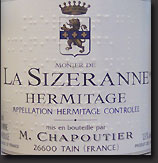 1997 M. Chapoutier Hermitage La Sizeranne, 13% alc.: Smoky garnet color, with an earthy, smoky black plum & berry nose, and plenty more of the same on the palate. Still a young wine, big, intense, rich and earthy, with many years of life left in it. We retasted this at the end of the night and it had come around nicely, eliciting impressions of iodine and chocolate from Mr. Brannock. Find this wine

1998 Domaine Bois de Boursan Châteauneuf du Pape, 13.5% alc.: Showing great color and an earthy, smoky black fruit and cola nose that echoes and expands in the big flavors with great vigor. One taster described this as gamey, with meat, garrigue and tobacco. Full bodied, well structured and still on the way up with a long life ahead of it, this is classic Bois de Boursan. Find this wine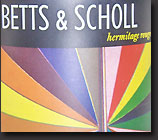 2002 Betts & Scholl Hermitage Rouge: Clean dark color; slightly hot and rather international in style on the not-terribly-expressive nose. Seems to show a kiss of oak over the rich deep smoky, dusty, somewhat sunbaked black fruit flavors. Big, rich & powerful, with many years of development ahead of it, this was made from de-classified Chave grapes, and had we tasted it blind, it may have been a toss-up as to whether we would have guessed old world or new.
Find this wine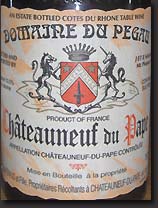 1995 Domaine du Pegau Châteauneuf du Pape, 13.5% alc.: Still clean and dark in color, with classic Pegau character of slightly musty, earthy, smoky black fruit and beet root shaded with lavender and leather. Soft, yet still well structured, with plenty of life left in it. Find this wine
1998 J.L. Chave Hermitage, 13% alc.: Hold? OK! Drink now? Why wait!! Good dark color, with glorious aromatics of lavender and black fruit; soft and balanced, with a great mouth feel, and as good as it is now, it's in no danger of fading any time soon. Find this wine
2004 E. Guigal Saint-Joseph Vignes de l'Hospice, 13% alc.: Inky color; almost smells and tastes Californian, all green and international. Boyce referred to it as nondescript. Find this wine


The 2 wines still left at evenings end were the 2 internationals, Guigal Saint-Joseph & Betts & Scholl. There you go, that should tell you what you need to know about this crowd.
Race Day
Boyce pulled the cork on a bottle of Muscadet shortly after 11 in the morning, and we were off to the races before the green flag was ever waved! I posted periodic updates on Facebook and Twitter throughout the day, and got some lively back and forth from all over the country.

There was a flurry of activity in the kitchen as Col. Bob prepared lamb-sickles for the grill, Kim made a lovely onion tart and Boyce demonstrated how one goes about making the heart-attack-inducing, but ever-so-delicious "B'causage." (see gallery photo with additional photos here) Greg got his baking done early, so there was plenty of bread and another great spread of cheese and charcuterie to nosh on as we began our festivities all over again. The attendees included the previous night's crew, as well as John and Laurie Cole.

2002 Luneau-Papin Muscadet Sèvre & Maine Sur Lie Le L d'Or, 12% alc.: Col. Bob liked this one so well, he poured his glass back in the bottle and moved on to some good Michigan Riesling, which left more for the rest of us who "get" this stuff. Lots of river rocks and limestone dominate the understated white grapefruit without being at all overbearing; heck, that's what these are all about! A few years in the cellar has really done nice things for this, and it's in a beautiful place right now. Find this wine

2002 Wyncroft Lake Michigan Shore Riesling Madron Lake Vineyard: This is much more to the Colonel's liking, who commented that it doesn't have the attack of the Muscadet, but is a little fuller and rounder; he added impressions of lanolin, beeswax, mulberry (?!) and a little petrol. We've been fans of this wine for some time now, and it's really coming in to its own, with plenty of life left in it, so if you have any, drink or hold. Find this wine

2006 Hidden Bench Beamsville Bench Riesling Estate, 11% alc.: Pale to medium straw color, with a reticent rainwater and petrol nose; shows a little more intensity of flavor and acidity than the Wyncroft, with pucker-y under-ripe green apple and mineral, but it's not necessarily a better wine. Boyce added impressions of stony grapefruit. Good Niagara Riesling here, but then we already knew that. Find this wine

2006 Ampelos Santa Ynez Viognier, 14% alc.: Medium straw color, with peach and mineral on the nose; in the mouth, it's big and rich, but not blowsy, offering pretty peach accented with honeysuckle, almond and anise. Everything about this wine is good except for the label, which can use a redesign. Boyce smirks and calls this a California Viognier that can rival Virginia Viognier. Find this wine

Steve South and I had discussed both Luneau-Papin and Domaine Tempier the night before, and he and Barb showed up with these two in tow.

2002 Domaine Tempier Bandol Rosé, 11 - 14% alc.: When I posted on Facebook that we were enjoying this quite a bit, our buddy Putnam Weekley shot back quickly (and somewhat incredulously) that he was surprised it's still alive. If this one is any indication, these have plenty of life left. We drank several of these about five years ago, and this one was as fresh as if it was from last year's vintage. Rosé starts here, folks. Find this wine

1995 Luneau-Papin Muscadet Sèvre & Maine Sur Lie Le L d'Or, 12% alc.: A testament to just how well these critters age, this is all river rocks, rainwater and a hint of anise on the finish. Smooth, harmonious and full of life. Find this wine

We were disappointed that our amigo Florida Jim Cowan couldn't make this year's event, but we were very geeked that he sent a sample of his unreleased Syrah. Jim has followed on the heels of that Rodney Dangerfield of New Wave California winemakers, Russell Bevan, and here is our first impression of how he's doing.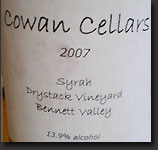 2007 Cowan Cellars Bennett Valley Syrah Dry Stack Vineyard, 13.9% alc.: This wine is pretty in every way, from the dark color to the nose and right on through the flavors. Polished and floral, it exudes a lovely perfume of rich sweet plum and violet that follows through so nicely on the palate; Boyce added impressions of brown sugar and blackberries. Smooth, balanced and elegant, it shows no rough edges or bumps in the road, although a few thought it showed a little heat. Steve South opined that this "is like walking through a field of perfectly manicured violets." (Label is temporary - wine is not yet released) Find this wine when it's released



The next selection was another novelty, in the fact that it was made by another one of our buddies, Pinot Noir specialist Brian Loring.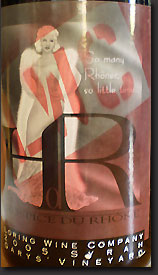 2005 Loring Syrah Garys' Vineyard, 13.8% alc.: Shows deep, dark color and deep, dark plum and berry shaded with some subtle earth. A little hot and a little unbalanced, but air might help to smooth it out, and I never did get back to it. I found more to like than otherwise, and there's all kinds of wacky things written on the label, like: The Loch Ness Monster, the Bigfoot Loring Syrah;" "20 cases produced for 2006 Hospice du Rhone;" "There will NEVER be another Loring Syrah. EVER. Never, ever again." Find this wine

2001 Tensley Santa Barbara Syrah Thompson Vineyard, 13.8% alc.: Even more northern Rhone in style than the Alban, with earthy, sticksy black fruit. Find this wine
1998 Araujo Napa Syrah Eisele Vineyard, 13.5% alc.: Medium dark color; a clean, rich claret-styled Syrah that doesn't rise to the top on this occasion, but is undeniably tasty on its own terms, being neither blowsy nor particularly international in style. Find this wine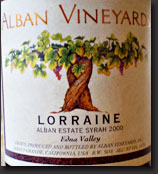 2000 Alban Edna Valley Syrah Lorraine, 14.7% alc.: Deep, dark color, with earthy flavors and aromas of black plum, blackberry and subtle briar bramble; Steve mentions notes of cocoa and chocolate, while Boyce adds lavender and herbs. Dryer and not as fruit forward as some of these, and the most northern Rhone-like so far, and a joy to drink. Find this wine

2001 Dehlinger Russian River Valley Syrah East Face, 14.4% alc.: Deep, dark color and not nearly as fruit forward as so many of these; slightly green, slightly astringent and somewhat Crozes-Hermitage-like. Smooth, sleek and taster friendly; a pleasant change of pace from many of the rest. Find this wine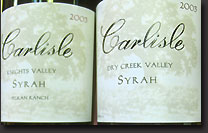 2003 Carlisle Knights Valley Syrah Pelkan Ranch, 15.5% alc.: Deep, dark color, with a deep, dark perfume; flavors and aromas of sleek black plum and blackberry shaded with subtle violet and dark chocolate. Rich, lovely and very expressive; in a great drinking place right now. Find this wine

2003 Carlisle Dry Creek Valley Syrah, 15.8% alc.: Almost ink, with toast, coffee, black plum, blackberry and subtle earth and sticks in flavor and aroma; not as voluptuous as the Pelkan Ranch, but nice on its own terms. Good structure, can use at least a few more years in the cellar. Find this wine
2003 Saxum Paso Robles Syrah Broken Stones, 80% Syrah, 12% Grenache, 8% Mourvedre, 15.3% alc.: Inky color, and throwing a lovely perfume of sweet black fruit and violets; rich, extracted flavors echo loudly, stopping just short of going over the top. Smooth, harmonious and in a beautiful drinking window. Find this wine

1999 Ojai Syrah Roll Ranch, 14.5% alc.: Subtle toast over deep, dark, rich black plum and blackberry; I got the last little pour of this, but what I tasted is impressive indeed. Find this wine

It was time for another surprise, as someone pulled out a wine made by the afore-mentioned Russell Bevan. This would be the first chance for Kim and me to try anything that Russell has had his hands on and I was very pleased with what I found.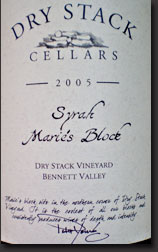 2005 Dry Stack Bennett Valley Syrah Marie's Block, 13.9% alc.: Inky color, with a lovely nose of deep black plum and blackberry; northern Rhone-like flavors of black plum and berry shaded with a subtle green streak and slightly astringent on the finish. Lots of promise here, and a wine I'd happily drink while enjoying a good Red Wings hockey game. Find this wine

2000 Eric Texier Hermitage, 13% alc.: Someone decided to uncork a bottle of the real thing, and there was an immediate difference of opinion as to whether it was corked or not. I fell into the latter camp, but whatever the case, this impressed me as middle of the road Hermitage, showing mostly stewed tomato character. Find this wine

1979 Bodegas Toro Albala Don Pedro Ximenez Gran Reserva, 17% alc.: This thick inky desert libation resembles nothing so much as a blend of 30 weight motor oil, molasses and balsamic vinegar. Find this wine

There were more things opened after that. I saw at least one empty Turley something or other the next morning, but I was done taking notes. Beyond that point, it was fade to black. At the end of the big race, Carl Edwards got wrecked in a spectacular airborne crash. At the end of the tasting I was a bit of a wreck myself, though in a less-than-spectacular fashion.
Thanks again to our hosts, Greg and Tami Ellis for a wonderful weekend!