Turn the grill on 'High'. Come back in and turn every radio and television to the race with the volume all the way up. Run back out and dump 10 pounds of rubber bands on the grill. Bring the grill inside. Sit in front of the television with chicken wings and longnecks. Throw chicken bones at the screen for full effect.
If the smell of rubber ain't enough for us to find our way back to Chez Ellis, home of Rednecks & Red Rhônes, then following the line of tanker trucks and sireens to the column of smoke from the grill sure as hell is.

It might be Speed Week, but with Jimmie on the pole and Gordon along side, our only enthusiasm came from the idea of having an American made car blow the doors off the Gibbs team's rice guzzlers.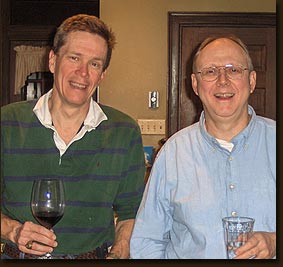 Just as the Great American Race has a week's worth of qualifying with speed and gearheads, Rednecks & Red Rhônes has developed its own brand of qualifying. And just as rac'n accommodates a unique perspective on cheat'n, it wouldn't be Rednecks & Red Rhônes if someone didn't try to condition their liver ahead of the real event in order to out-last the other track-watchers. This year Col. Bob Cuozzi descended on Greg and Tami Ellis for a Friday qualifier consisting of, among other things, Kongsgaard Chardonnay Napa 2005 and Araujo Cabernet Sauvignon Eisele Vineyard Napa 1994. They proclaimed the latter "real good," but, I had serious suspicions that they'd suffered impaired judgment. Had this been that political love-fest of the Democratic primaries, you would hear Hillary - that lifelong NASCAR fan - say, "I have no personal knowledge of excessive drinking by these two fine men, but they are free to wantonly imbibe as they please in the privacy of their own home, not that there's anything wrong with that." But this weren't politics, this is RAC'N, and a damn sight more important.

With four bottles under their belts from their Friday Happy Hour session, I join them on Saturday for the final qualification round. But it seems I arrive a squinch late, for what is left of the Kongsgaard is a'running on fumes:

Kongsgaard Chardonnay Napa 2005 (2nd day)
Deep gold with a coconut nose and a rich, brioche-like quality with a pineapple-tropical fruit finish. It's rich; it's over the top; it's delicious.... and about as fat as Tony Stewart at a BBQ. If it were any fatter, it would be more like Fat Albert say'n - "heeey, heeEY, HEEEY!" 14.1% alc. ... I don't want to say it is too hot with alcohol like jet fuel, but Michael Waldrup was seen siphon'n out the last drops from the bottle. Find this wine

To keep the lap averages up high, we need to build a good base. Between Greg's bread and goat cheeses of Fleur Verte (chevre), Le Chevrot (chevre), Montenebro (chevre) and Tomme du Laveron, we line up: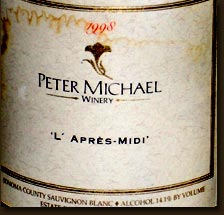 Peter Michael Winery L'Apres-Midi Sauvignon Blanc Sonoma County 1998 (from magnum)
Color of honey comb or pale lemon. Nose of marmalade, petrol, "grapefruit with a waxy component," says the Colonel. White peaches and apricots and ....and ...some creamed corn. We cannot find any notes suggesting that Semillion is in the mix, but we strongly suspect it's in there. This is balanced and elegant with not a hint of the 14.1% alc. Two and a half hours after opening it, it hasn't moved a bit; just as solid as it ever was. It matches well with all of the chevre cheeses and Tomme du Laveron, but is best with the Fleur Verte. Find this wine


Arietta "On the White Keys" California 2005
Another white "Bordeaux-inspired" (per the website) blend of Sauvignon Blanc and Semillon; the first ever white wine for Arietta. With fruit from Sonoma Mountain and old vine Semillon from Carneros. A blend of stainless and cask fermented wine resulting in about 350 cases. At any rate, a pale lemon yellow with a muted or tight nose of beeswax, gooseberry and cut grass. 14.1% alc. It goes a'want'n for company. Find this wine

Steve and Barb South arrive just in time to join us for some of Bob's "salmon helper" consisting of shredded salmon with white sauce, penne pasta, mushrooms etc. It might not be as good as the ole lady's tuna helper, see'n as how it weren't as greasy, but it fills the pot.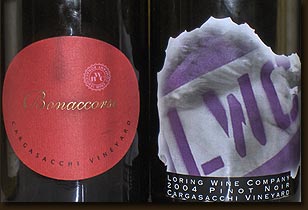 To keep from runn'n outta gas, we decide to open up on the qualifying theme for the evening . . . Cali Pinots! What with all the talk on the boards over the past 18 months of Cali Pinots being more like Syrah, we decide to take an ed-je-da-kate'd approach to the issue to see if the Left Coast vignerons might have been bogart'n a touch while practic'n their punch downs. We power'd up with:

Loring Wine Company Cargasacchi Pinot Noir Santa Rita Hills 2004
The color is not as deep as the Bonaccorsi, but its royal purple provides ample flash and gilt. The cola and vanilla flavors dominate the palate, but the mouthfeel is much, much lighter than the Bonaccorsi; not that it's a lightweight by any stretch of the imagination, not with 15.1% alc....gulp! But it slips down pit road and onto the track without a bit of hotness. Brian's other wines may suffer hot flashes, but the Cargasacchi is balanced. Find this wine

Bonaccorsi Pinot Noir Santa Rita Hills 2004
Deep, dark red fruits with brown sugar/molasses and cola, vanilla and chocolate. Greg says herbaceous... but, the Colonel and I disagree. House rules being what they are, however, ... allowances are made. This is a rich red, with incredible fruit, well structured....maybe a bit hot, but as time goes by it carries it well. A bit too well, as the bottle is quickly drained.. 14.3% alc. Find this wine

That we devised to enjoy two Cargasacchi Pinots from the same vintage from two different producers is no coincidence. We done thunk it up by ourselves even. A fairly solid, but not blockbuster vintage as the '04 allows us to see just what these two producers can do, and "do" they did. Both are wines we highly recommend, but for two of us, the edge goes to the Bonaccorsi for its structure and fruit that will give this wine a long life.

Kistler Kistler Vineyard Russian River Valley Pinot Noir 1996
Stewed tomatoes, plums, chocolate in the finish. This wine is in d'Cline. While it is by no means dead, it's about like Kenney Wallace's career ....it's sooner to be over and not at all likely to be on the upswing in the next... kinda like we wish Kurt Busch's career would soon be. 'Bout the only comparison this wine has to Kurt, however, is that he's more likely to take flight successfully. Some sediment. 14.1% alc. Find this wine

And then some yahoo, who clearly didn't read the memo about CALI-FOUR-NAH Pinot, mistakenly pulls out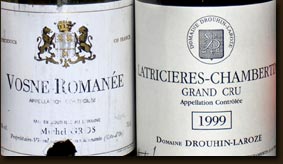 Michel Gros Vosne-Romanee 1990
This is much lighter bodied than any of the Calis, but the nose, ... man, it's got a bigger nose! Strawberry and mushrooms... if the two flavors could be folded into a omelette, this would be it. Maybe it's not as balanced as it could be, but since this group of Rednecks is already unbalanced, no one complains. No ma'm! 12.5% alc.
Find this wine


Domaine Drouhin-Laroze Latrichieres-Chambertin Grand Cru 1999
A deeper color than the Gros Vosne-Romanee. Tight nose and palate, but showing mushroom, raspberry, earth and eventually, a bit of strawberry. This is a wine that needs food. And see'n as how we'd already bellied up plenty and let our belts out a notch, no one angles over to the stove. 13% alc. Find this wine

Well, ya can't compare the idea of Cali Pinot being LIKE Syrah, without actually DRINK'N some Syrah. Sacrificing one from the box he'd just liberated, the Colonel leads the charge into: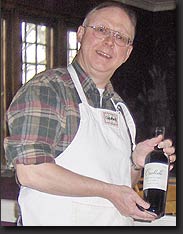 Carlisle Papa's Block Syrah Russian River Valley 2005
A very Cote-Rotie styled wine. Not that this is copying another style, for it is distinct unto its own good self. But the fragrance of bacon, grilled meat and lavender reminds us of the Cote. The only problem with this is that it is waaaay too young. Mike Officer's distinction as a winemaker shows through the nuance and depth of the flavors. 155 cases. 15.2% alc. It is one fine Pinot, uh, Syrah.
Find this wine

We declare ourselves a right more ed-je-da-cate'd on the topic of Cali Pinot and proclaim that as big and smack-daddy bold as they might be, they ain't Syrah; no way, no how (which if you type real fast comes out: "no wy, no ho" which reminds us of both Don Ho and rap songs at the same time ... sorta....) But the room fills with the music of Joe Henderson "Double Rainbow" and Pat Metheny "Still Life Talking" just about the time we are about saturated.

Well, if Trace Adkins had a-been play'n in the parlor, he'd be sing'n "Slap your grandma; there outta be a law," 'cause 'bout this time The Greg came saunter'n in with:

Araujo Cabernet Sauvignon Eisele Vineyard Napa 1994 (2nd night)
Deep and plummy, in fact, almost inky in color with a nose of cassis, mushroom, raspberry. But then, on the palate....big, oaky dill pickle and more oak. 13.5% alc. This stuff is about as close to qualify'n as A.J. Allmendinger! Find this wine

The Colonel brought order back to the ranks when he doses everyone with: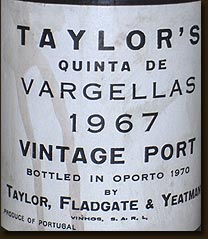 Taylor's Quinta de Vargellas Port 1967
Not a declared year. A "single quinta" or single vineyard port. Atypical for the Taylor style in that it's lighter in color and body. Fully resolved and a robust wine. An after dinner coffee without the coffee with added elements of smoke and mulberry. The Colonel proclaims this has "No heat." According to him, and who better should know, this is one of the better Taylors, bested only by the 1955. Alcohol level: "high" Find this wine

Now, that last note does not reflect your scribe's point of view. But it's a scooch hard to jot down descriptors when your perspective is the underside of the dinin' room table, especially when it's spinning like pasties at the Velvet Club on Coyote Ugly Night when the General Assembly is meet'n, bless their hearts. At some point, the pit crew delivers me home.

Nine o'clock this Sunday seems to come earlier than most days. Lying in bed watching CMT videos of Reba with the one eye that would focus, I realize the lessons of the previous night's events are learned at great cost. Thirty minutes later, I manage to move the remote enough to change the channel to find something to lift me up and brighten my outlook. The middle portion of the movie "A Beautiful Mind" - when Nash's world is collapsing all about him - is as cheery as I hope to aspire.

But with daylight burn'n on race day, I know'd The Walmarts Super Store would be hop'n with eager Rednecks making a last minute run on the best Chinese imports of NASCAR knock-off shlock that the collapsing dollar can buy. Remembering my uncle who would travel I-81 visiting every Walmarts at every exit between Salem and Bristol, Virginia because, "they're all so different," I want to shop another Walmarts. But see'n as how my coupons allow for only a bag of pork rinds and a super size, jumbo jar of peanut butter (which would be nice as an appetizer to some anticipated chicken wings), I step out of Redneck Bazaar (The Walmarts, that is) and high-tail it to Chez Ellis. Greg appears disappointed at the prospect of missing out on some pork rinds. Thankfully, I'd unloaded a mess of stinky cheese the day before consisting of Gorgonzola Dolce (blue), Valdeon (blue), Morbier (cow), Appalachian (cow), Fleur Verte (chevre), Le Chevrot (chevre), Montenebro (chevre), Pont L'Eveque, Tomme du Laveron and Pinve Vecchio. Throw in some of that Batali Salumi Mole and as good as the rinds and PJ mighty be, they'll just have to wait for another race, like Bristol perhaps.

Making my way back to Chez Ellis weren't hard. Why, with a regular appearance of an empty bottle along side the road, most any GPS mapper would have been proud to use 'em to leading the pack to trackside. Despite the numbness in my head, I arrive a bit earlier than most, but apparently not early enough. Bob is hankering for a rac'n preview. By 10 we couldn't hold him back any more. The corks flew fast and soon we are into:

Kongsgaard Viorous Napa Valley 2006
A blend of Viognier and Rousanne loaded with the fragrance of peach, apricot and leechee nuts. Different, however, on the palate with almonds, ginger. A wine that cries for food and with the ginger sausage, it is spectacularly wonderful. 14.1%. Find this wine

Next up, we interview a rookie.




Stolpman L'Avion Santa Ynez Valley 2005
A blend of Rousanne and 2% Sauvignon Blanc producing a stunning wine reminiscent of a Beaucastel Vielles Vines, but juicer and bigger. Apple, leechee nut, smoke and white flowers continuously roll out of the glass. A poor man's Rousanne . . . only as long as we keep word of this wine to ourselves. The color shows a tinge of green on the edge of the yellow apple core. 14.1% alc. This is one fine drive. Sashi and the rest of the gang at Stolpman are a Rousanne team to watch. Mark my words on that. Find this wine

But as good as these are, they are about like hearing the Seldom Scene when Ralph Stanley is the act you came for. "Urban bluegrass" ain't the real thing, just like Cali Rhone look a-likes ain't Chave. With Quicksilver Messenger Service singing "Happy Trails..." in our background, in front of us on the tube Junior Johnson marshals the crowd, then, as Richard Petty waves the green flag, we are off as if on a mission from God Hisself:


Jean-Louis Chave Hermitage (Blanc) 1989
100% Marsanne. Greg, the Colonel and I threw it into high gear. Coming out of the first corner, the Colonel took the lead and pronounces the wine "Sublime." Greg pulls up into second with the comment of, "I don't think I drink enough white Hermitage." But the wine became a bit controversial with others subsequently liking it and others thinking it's done. Somewhat reductive on the nose, but not nearly as much as the '96 (see below). Those that like the wine find it to be clean, balanced and fully mature with lanolin and muted floral notes with focused flavors of apple and ginger in the palate. Bob sums it up with, "This is why you age a great white Hermitage." 13% alc. Find this wine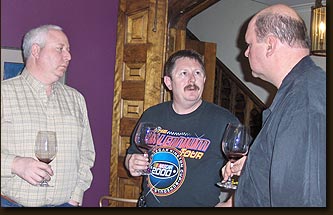 As we enjoy this first Chave Blanc, Steve and Barb South rejoin us. Soon follows: Bill Hampton, Jeff and Dena Morris, Brown Councill, Michael and Adair Ross and John Rousso. Just like watch'n and tailgat'n from the infield, these rednecks get right down to it, reach'n for glasses, pos'n in their NASCAR best and discuss'n pit strategy.

Jean-Louis Chave Hermitage (Blanc) 1996
100% Marsanne. Decanted for 5 hours. Smoky oxidation on the nose or is that just a reductive quality .... or is there a difference? But for the abundance of other Chave present, we would've discussed this for a long time. The wine may not be off in any way, but the funkiness never quite goes away. The color is light yellow. The palate is full, but not as big as most of the other Chave Blancs, save for the '02. Flavors of baked apple, beeswax, wild flower/orange blossom and lanolin shine through the funk. It's a lighter bodied wine than the '04 and perhaps the '02 as well. The lines are crisp and clean with the palate showing more acidity than you'd expect.....if you didn't drink Chave Blanc weekly. Long in the finish with great viscosity. 13% alc. Find this wine

Jean-Louis Chave Hermitage (Blanc) 2002
100% Marsanne. The biggest and bestest nose of all the Chave Blancs, with a bright yellow apple color. Fully approachable with lychee nut, beeswax, locust blossoms and citrus notes. If this is an academic exercise, then it is just another chapter of a textbook example of why producer trumps vintage in a bad vintage. Probably a wine to enjoy anytime over the next 10 years. 13% alc. Find this wine

Jean-Louis Chave Hermitage (Blanc) 2004
100% Marsanne. An inviting but reticent wine with white flowers, citrus notes with distinct tangerine and an "oiliness" (meant in a good way.) (Jeff gets a little chicken wing in the nose.) The acidity is not as sharp as the '96, but sharper than the '89. The depth, length and fruit are showing only a hint of what this will someday become. A solid Chave, that will outshine most any white it encounters sometime in the future. In short, it's just way too early to open this wine. A fairly intense wine that has a looong life ahead of it. 14.5% alc. Find this wine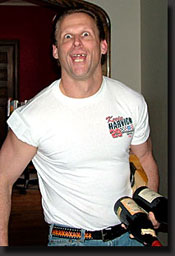 As the pit stops start to occur, we turn what's left of our minds to the abundance of Chave Rouge collect'n on the table. After all, while we may stand up when we hear the name "Petty," we don't plan on lollygagging around the track the way Kyle seems to be do'n in every race. But before we take a hold of the glassware with both hands, we find a surprise on the table. That fellow NASCAR aficionado Cletus (left), (who joined us in '05), but is somewhat new to wine, has sent, by way of couns'n Brown, a wine he hopes might fit the theme. Poor Cletus, he know'd that we'd had some conversations 'bout Cali Pinots being like Syrah and he meant well enough, but the boy sent the following to a Chave-fest!

Martinelli Pinot Noir Reserve Russian River Valley 2000
A Helen Turley made wine, bespeaking of classic California Pinot. Cherry, cola, (but not cherry-cola), vanilla... truly New World style with loads of Dolly Parton fruit. Some earth, but clearly New World. Bold, clean, fun and ....well, ... it - like Robbie Gordon - just won't last a long time. Drink now. Find this wine

In honor of Cletus, we drink it as an intermission palate cleanser.

The race is now well under way with few yellow flags. Trying not to duck when viewing from the "Gopher Cam" feature Fox has added is hard when your grip on reality is already a might loose. Gordon slips out of view and contention. The room has a warm glow. With only 50 laps to go, on lap 178, Johnson gets loose in the corner and Steve South, ..well, Steve gets loose in the corner too. Johnson slams into the wall, while Steve crashes a glass into the floor and is heard to say, "Oh, well, it's only a Spiegelau."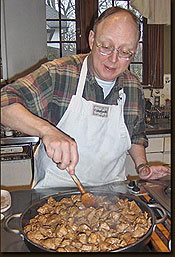 As the Colonel's lamb stew comes to the table, the Chave Blancs are a lap down behind the Chave Rouges, for after tasting the Martinelli, we shove it to the wall and ramp up the speed with:

Jean-Louis Chave Hermitage (Rouge) 1988
100% Syrah. Bricked on the rim, but the core has a deep, pleasing maroon. It throws the biggest garrigue-filled nose of all of the Chaves present. An old school syrah if ever there was one. From a big and tannic vintage, this wine shows how Syrah can hang and hang well for years. Black olives, smoke, smoked meats, ox tail and blood elements flood the palate. Much bigger than the '89 and possessing more future than the '89. Bob says this needs to be paired with osso bucco or ox tail soup. A decidedly old school wine reflecting the demarcation between the older style and the newer style Chaves. 13% alc. Find this wine

Jean-Louis Chave Hermitage (Rouge) 1989
100% Syrah. Bricked from the rim to the core. A perfect example of Hermitage and a classic example of Chave. Iodine, lavender, smoked meats, bacon, black olive and a hint of saddle leather all come through. Balanced, complete and very much at peak with only a bit of raisin on the ever so long finish. No reason remains for holding this unless you just want to see what its lifespan might be. Drink now, enjoy now and never look back. Some sediment exhausts out. 13% alc. Find this wine

Jean-Louis Chave Hermitage (Rouge) 1996 (in mag)
100% Syrah. Not as evolved as the 750 ml, proclaims those in the know. The rest of us nod in ignorant agreement. A huge wine with a sweet nose. Like the '98 (see below), it's just waaaay too young to open now, but we are thankful that Steve takes one for the team by opening this. Cedar, black olive and bacon; all in big, bold flavors. A big, chewy wine. 13% alc. Find this wine

Jean-Louis Chave Hermitage (Rouge) 1998
100% Syrah. Incredibly young to be 10 years old. For all intents and purposes, this is just too young to open .... but we are glad Steve sacrifices one. Full bodied with loads of iodine, black olive and dark fruits. Big tannins that are not yet resolved; loads of structure. 13% alc. Find this wine

Jean-Louis Chave Hermitage (Rouge) 1999
100% Syrah. Almost clear on the rim shading to a deep black olive core. It's a big and young wine with loads of fruit and fragrance. Interestingly, it's not tight and much more than "merely approachable." Sure, it's tannic, but not overly so. Flavors of iodine, lavender, bacon and black olive. A wine that will go on for years and years to come. Looking at this is like looking at a wine early in its evolution. This is like looking at the '89, but only ten years into its development. Throwing some sediment. A wine for the ages. 13% alc. Find this wine

Jean-Louis Chave St. Joseph 2003
100% Syrah. Much sweeter and New World than the Hermitage wines. Despite its youth, it is bricked on the rim, but with a black olive core. Excellent from a fruit forward, overly exuberant perspective; a plushy kinda wine. If it had ears, it would look like Kurt Bush. 12.5% alc. Find this wine

With the next wine, the crowd becomes a bit touchy, for while the label says "Chave" it lacks the requisite "Jean-Louis." Grumbles that someone is getting a little "legalistic" with R&RR rules rumble about the room. Who in SamHill, a shirt-tail cousin of TomHill, would substitute a $50 Yann for a hun'rd-plus dollar Jean-Louis, for cry'n out loud?! Someone trad'n on trust and understanding, that's who! Someone who knows how to manipulate words and understand'n. Now why the room's eyes settle on me, I do not know, but a damn curious cold feeling takes a hold. But hell, they drink it dry nonetheless.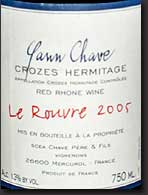 Yann Chave Le Rouvre Crozes Hermitage 2005
100% Syrah. This is an odd juxtaposition of Old and New World showing its cigar, tobacco, cedar on the one hand, but also candy apple. A velvety, sexy mouthfeel. Very young, but not too young to open. Someone remarks that, "This is a classic Brad Harrington wine; rich, warm, somewhat California-like Syrah." (Damn, that boy is good 'cause Brad had picked out this wine!) A bit of heat on the finish, but not so much as to make it off putting. This will last 5 years easily, but 15 would be only a hope. 13% alc. Find this wine

Well, if someone got "legalistic" on the name of "Chave" then Steve South got a-right smart with this next wine. Wrapped in foil, he presents the bottle and teases us with a bit of info. Yes, it fits this year's theme. Yes, it is wine. And yes, it has alcohol, which is all we really care about. As we sip and think, to the extent anyone at this point could put two sentences together, we agree it's Syrah. Turns out it's: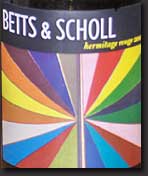 Betts & Scholl Hermitage (Rouge) 2001
Made with fruit from Chave Hermitage by some profit-seeking Aussies, not that there's anything wrong with that. This wine confounds the crowd with half calling it New World and the other half crying Old World. And why not? It's Old World "declassified" Chave fruit from a New World winemaker. Most guess it is Syrah, but that is as far as the consensus goes. The fruit is sweet, but not extracted and shows nice depth and length. A bit too much vanilla, but iodine and smoked meats are clearly here. 13.5% alc. The exercise is most interesting for the academically inclined. But seeing as how none of us are so inclined, we polish off the other wines and return to watching the race. Find this wine

With 42 lead changes and Elliot Sadler making a respectable show'n, the race is gett'n interest'n. Mears takes out Johnson and the final restart is a shoot out with 17 million dollars at stake. Burton is hung out to dry, Stewart dips low (fat boys don't hang high on 30 degree banks - gravity be'n what it is), Black-eyed Kyle goes high just in time to give, of all people, Newman a nudge. With that final push, Penske Racing takes a first and second finish. Newman! In Victory Lane? And a second place finish for Black-eyed Kyle is sweet justice, for he also pushes Fat Boy Tony from a 1st to 3rd finish. Seinfeld hisself couldn't have written an ending like that!

Feeling a flushed sense of fulfillment at the Hendricks Teams being shut down and Gibbs Teams' rice guzzlers denied a victory, not to mention flushed from a belly full of the best damn Rhone wines the American dollar USED to be able to buy, we hold a little celebration ourselves with:

M. Chapoutier Vin de Paille Hermitage 1999
The color is a deep gold. Baked apple pie and yeast aromas. Balanced and long in the finish with a richness that goes on for hours. Wonderfully viscous, with a filling mouthfeel without being overly done in the least. Delicious. 14.6 % alc. Find this wine

And see'n as how enough is never enough when Rednecks get wound up, we find ourselves opening:

M. Chapoutier Vin de Paille Hermitage 1997
Not as clear and clean as the '99, but with more honeyed tones, marmalade and citrus notes. Deeper and richer than the '97, but with a cloud of sediment floating around in it. The hell with the cloud, this is damn good sweet wine. 13.5% alc. Find this wine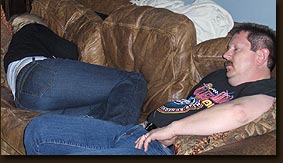 Neither of these wines need another thing, but Rednecks rarely get an opportunity for conspicuous consumption like this, so we use 'em for washing down a mess of mighty fine cheesecakes handmade by Barb South her own fine self. After a slice of one of those beauties, you're most like to develop a case of dun-lops syndrome (where yur belly has done lopped over yur belt).

As we look around with the satisfaction of bears at the start of hibernation, we revel at the start of another race season and plan for next year's Rednecks and Red Rhônes as the funky sounds of the Texas Tornados' album "Live in Austin" waft in the distance. But for now, we reminisce about the Chaves that were.