2002 Domaine Tempier Bandol Rose, $22.99, 11 - 14% alc.: Salmon pink, with a dusty watermelon nose, this follows through and fleshes out in the flavors, gaining some strawberry over a moderately earthy base. It's not bright fruit here, but I like it for what it has to show, with medium intensity, fairly low acidity and a so - so finish, where Scott and Lowell commented on a Vaseline ® petrolium - like element. Our two guests weren't much taken with this, while Kim commented that it "needs a hot summer day on the beach and a good chill," but in fact, we both quite enjoyed a glass on the following day, when it seemed to have perked up some. Maybe we should have decanted it? Different strokes…
Imported by Kermit Lynch Wine Merchant, Berkeley, CA

With that, we moved on the clarets, which had all been decanted an hour before hand.

2001 Château Cantemerle Haut - Medoc, $18.99, 12.5% alc.: A coffee - like essence comes across immediately on the nose of this dark garnet, causing Lowell to exclaim, "Rich coffee; I've never smelled anything like this before!" Kim added an impression of "…bacon… fabulous, huge nose!" The flavors echo, with youthful, hard black currant and cassis character, along with what Lowell described as "raw chocolate, bittersweet, like molé." It goes well with some nice Spanish "Drunken Goat" cheese, and despite some serious tannins, opens nicely with air, except for the finish, which really dramatizes the tight young nature of the wine. Give this at least five years in the cellar, but there's no reason to think that it isn't a 10 year wine and more.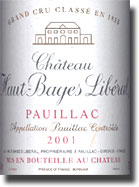 2001 Château Haut - Bages Liberal Pauillac, $18.99, 12.5% alc.: With his first whiff of this deep dark garnet, Lowell exclaimed, "I can tell this is better already!" And indeed, it's all about sweet, refined cassis, black currant, blackberry and chocolate flavors and aromas, with a pretty kiss of restrained oak. Silky, dry and delicious, it also shows a certain woody aspect, from older barrels, perhaps? Elements of tobacco leaf and fine leather emerge as it opens, and it becomes ultra - smooth, almost luxurious in texture; it wears its elegant veneer so well, with the substance to back it up, definitely being a step or two up from the Cantemerle. Although drinking pretty well for so young a Pauillac, it will certainly benefit from seven to twelve years of cellaring.

2001 Château Carruades de Lafite Pauillac, $29.99, 12.5% alc.: An almost inky garnet, with a stingy nose of woody black currant and cassis that carry over and expand in the flavors. Silky, yet tight, this doesn't show the same kind of opulence as the Haut - Bages Liberal at first, but it opens to show a reserved, refined elegance of its own, and a classic, traditional Bordeaux character. Notes of plum, dry leather and a hint of chocolate emerge with air, and the "woody" aspect shows more as well, but it's not corked; again, I wonder if it might not be from the use of older barrels. I bought two more of these, and based on this taste, I won't open one until 2011, to see how it's coming along.

Château Cantemerle Haut - Medoc, Château Haut - Bages Liberal Pauillac and Château Carruades de Lafite Pauillac are imported by Wine Warehouse, Los Angeles, CA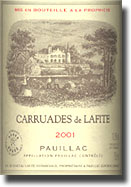 It was fun tasting these strapping young clarets (all three went quite well with brown rice, seaweed and dirty hot dogs), and of course, it's always good to get together with Lowell and Scott. Initially, the consensus seemed to favor the Haut - Bages Liberal, but Mr. Boileau found that coffee - like aspect of the Cantemerle most intriguing, and ultimately named that as his favorite of the evening. Interestingly, our friendly neighborhood Costco ran out of the Haut - Bages Liberal very quickly, so I couldn't pick up a few more of those, which would have been my obvious first choice.


~


The following wines were initially sampled by a small select group, then gassed and capped for two days. Each bottle had a substantial quantity remaining when I finally got to taste them, and most were showing quite well. With the exception of the Château Haut - Bailly, they will retail for $25 and under in the Detroit market.

2001 Château Lascaux Bordeaux Supérieur, 13% alc: Deep dark garnet color, with cassis, black currant and subtle sweet, toasty oak on the nose; flavors echo with added hints of tobacco leaf, cream and vanilla. Very dry, with plenty of tannins, good acidity and a nice finish. Quite enjoyable.

2001 Château Haut - Bailly Pessac - Leognan Grand Cru Classe de Graves, 12.5% alc.: Deep dark garnet color, with a beautiful perfume featuring a perfect kiss of oak over cassis, black currant, plum, a hint of chocolate and a certain floral element; these impressions follow through on the palate with additional red and black berries, hints of cedar and wood, silky tannins and a very nice finish. Drinking very well right now, but better prices can be found around the country than $45, which it will retail at or around in the Detroit market.

2001 Château Beynat Côtes de Castillon Cuvée Léonard, 13% alc.: Dark garnet, with straightforward wood, black currant and cassis flavors and aromas; a fellow taster described notes of eucalyptus and tea. Deep, dark and dense, this has the tannins to go ten years no sweat. Sturdy, structured and well put together.

2001 Château Les Grands Chénes Medoc, 13% alc.: Inky garnet in color, with a lovely bouquet featuring sweet oak, blackberry, cassis, plum, and hints of blueberry and eucalyptus; it could almost be mistaken for a Californian Cab, based on the nose, which may or may not be a prime selling point, depending on the taster's persuasion. Flavors generally echo the aromatic qualities, though a little less expressively, finishing with drying tannins. Good structure, good presence, good future.

2001 Château Rozier Saint - Emilion Grand Cru, 12.5% alc.: Dark garnet color, with aquarium aromatics right away, followed by berries, plum, black currant and some nice sweet oak; these follow through on the palate, but this isn't as dense or as structured as the others. Medium bodied, and medium intensity at best, and not too strong on the mid - palate or finish. A middleweight pretender, this is pleasant enough for early drinking and every day fare, but that's all.

All wines imported by A.H.D. Vintners, Ltd., Warren, MI

Reporting from Day-twah,

Bastardo