To commemorate this testament to unabashed American corporate sponsorship or perhaps in hopes of getting a chest flash themselves, the Southern contingency of WCWN gather at Chez Ellis for what has become known as Rednecks and Red Rhones. We might be Rednecks and damn proud of it, but like any good NASCAR redneck, juiced up with too much track-side carbon monoxide and no shortage of alcohol, not to mention thinking a bit higher of ourselves than our grandma would have thought prudent, we'd carved our own notch on this weekend. No disrespect to Junior or nuth'n, but t' hell with Bud and Old Mill. Preparation for this weekend was like one week-long revival: instead of digging down deep where the big bills are as the televangelists like to have us do, we dug down deep in our cellars and pulled Rhones. Rouge or Blanc, didn't make no difference 't'all. But a good stinky, garrigue filled Rhone was almost like being at track side.
NASCAR might go to California, and rednecks might even watch the race, but Rednecks and Red Rhones for the California race? Nah. No way, no how.


L: John Rousseau, Boyce Brannock (scribe), Greg Ellis (host), Steve South and Michael Ross
But when I arrived on Saturday, while the place had the same high hills look, the characters were a might left coast-like, if ya know what I mean. Usually, we meet to enjoy the hospitality of Greg and Tami Ellis and company, the likes of which include Bob Cuozzi (the Colonel) along with Steve South, John Rousseau, Michael Ross and his new bride, Kelly Adair. But pulling up this day, the hairs on my neck felt funny, 'bout like a porcupine in a balloon factory.
In the driveway of Chez Ellis sat a '53 butterfly winged 300SL 'Benz. Greg had a decidedly different outlook. "The hell with the kid's college fund. They can create their own image. Besides, it's the car culture, man!," explained Greg. "You simply must get with it," he said turning up his nose to my well worn Jeep. And that was just the start. He'd abandoned a successful practice in the healing arts for a business of importing organic coffee beans. His wife, Tami, usually a rather well read individual, inquired of my views on American Idol and Anna Nichol Smith. Tivo, it seems, had been embraced by the household in full. "Every once and awhile," Greg and Tami harmonized, "if we feel the need to watch something intellectual, we'll look for David Andreozzi on HGTV."
But as I looked around, other oddities abounded. Although the usual suspects were expected to gather, something wasn't right. No, something was decidedly wrong. Someone looked like the Colonel, but he sported a long pony tail and everyone called him "Professor." And what was with the Birkenstocks and cutoffs? This was not the look of a warrior. Steve South soon arrived with a cup of herbal tea. Quietly settling into a corner, he seemed more interested in "green" cars and alternative fuels. To all other topics Steve responded, if at all, with "Whatever; it's all good."
The Saturday preliminaries to the Sunday race have always been of a decidedly different theme from the main event. This, at least, was consistent again this year. The Saturday shoot out would be Chardonnays and Pinot Noirs. Greg and the Professor had started off with a pacing round of a Dehlinger Chardonnay that had finished its trip around the track prior to my arrival. I pulled a Linden Hardscrabble Chardonnay, but got about as much respect as Ward Burton. Both failed to qualify and were sent home. These might not be the Greg and Bob I knew, but they sure had the same hard nosed views when it came to wine. "Here," said the Professor throwing a glass in to my hand, "let this liberate your mind."
Peter Michael Cuvee Indignee Sonoma County 2002 From Magnum courtesy of Bob 14.5% alc.
The name Indignee is taken from the fact that the inoculation is from indigenous yeast. This has the color of deep yellow straw. Baked apple and apple tart with some toast and just enough to taste like toast and not oak. A lanolin oiliness coats the palate. This just keeps opening and evolving. After 3 hours a yeastiness kicks in. This is rich and unctuous. Pineapple works its way up from the rear, kinda like Stewart after a penalty. The toast in it takes on a coconut flavor. It hangs on the oh-so-long finish. Eventually, it occurs to us that this is what Krug would taste like if it were finished as a still wine. It's great with the cheeses of goat Gouda and Affine au Chablis and great with the salmon dinner Bob and Greg prepare. Find this wine
Music by Hot Tuna filled the first floor.
Kongsgaard Chardonnay Napa 2004 courtesy of Steve 14.1% alc.
Lighter and crisper than the Indignee, but no less a wine. Brighter and with citrus elements like orange and orange marmalade that carries from the attack to the finish of apple tart. A pretty wine with youthful elegance. This is the wine for a shoot out off the pole. Gordon musta been dosing his 24 Dupont Chevrolet with this to take the pole. Find this wine
Patz and Hall Hyde Vineyard Pinot Noir Carneros 2000 in magnum courtesy of Bob 14.2% alc.
Bob proclaims this to be Burgundian on the nose. Yet it has a funkiness on the nose also; a funkiness "that is as funky as James Brown." (Attribution withheld to protect the guilty.) It might be funky on the nose, but the color is a beautiful ruby. The nose is something between Cali Pinot and old world. The funkiness and garrigue weave in and out with the earthiness that dominates the nose. A bit of clove makes its presence known. It evolves in to a rich, deep, expressive wine after being decanted for two hours. Find this wine
Dehlinger Octagon Vineyard Pinot Noir Russian River Valley 1997 14.5% alc.
A deep ruby, darker than the Patz and Hall then shading to clear on the rim. Gorgeous in the glass. The nose is strong with cola and crammed with dark fruit, black cherry and more cola. Mushroom and black tea hang above the glass like octane in the in-field. Sweet fruit on the attack. The depth of fruit is astonishing, layers and layers of the stuff. Every element of the nose is mimicked on the palate. Eventually, it gives way to a finish of brown sugar. Bob declares this to be of the caliber of a Marcassin. WOTN. Find this wine
Domain de Chateau de Chorey Beaune Vignes-Franches Premier Cru Vieille Vignes 1999 13% alc.
Ruby, but a shade deeper yet in color. Some earth and mushroom and something medicinal. Oh yeah, we gots Burgundy, but ... it's tighter in the corners than Carl Edwards. This is unmistakably honest to goodness Burgundy, but its just too young although it was decanted for an hour before being served. It lacks depth initially, but after three hours it decidedly deepens. If this were on its own, it would show better, yet against all of these sweetly fruited Cali Pinots, it doesn't show as well. It would be wrong if it did. Find this wine
Loring "The Llama" Pinot Noir 2003 14.4% alc.
A purple core with ruby on the rim. This is big. This is unmistakably Cali Pinot. No, this is unmistakably LORING. Sweet fruit knocks on the nose and palate; big, huge fruit. It's like go'n in one of those places where the women dance nak'd; a vinous lap dance so to speak or, depending on your time in life, one of those Cialis four hour long problems. As nice as it might seem at first, it's just a bit much. Or so I've been told, not having any personal experience with either. Cola, bing cherry, blueberry, toast and vanilla and a sharpness that says, "Yeah, I'm a Loring." And not a bit hot on the finish at all! This is a gorgeously voluptuous wine. It's not the total package that the Dehlinger is, but no one kicked it out of the glass. However, had Florida Jim been present, I suspect he'd have hurt someone. But then, given the weirdness of this day, he might just have ordered a case. Find this wine
Bryce Vineyard Willamette Valley Pinot Noir 2004
Steve announces that the crop is limited to produce only about 1.5 vines per bottle. Purple, but not as deep as the Loring. A dirty nose with mineral and earth. Really a surprise in that it is an old world nose .... but not quite. Something is off on the finish, something like tar or rubber. We're not sure what it is, but it's not a good thing; rather reductive. Although it shows fruit, earth and mushroom underneath the rubber thing is off putting. The Bryce scores a DNF. Find this wine
By now it was apparent that if we didn't cross the finish line soon, we'd crash and burn. But despite the high octane coursing through our veins (and soon to be felt in our heads) the table blends commenced to be made. One moment the Loring bottle is half empty, the next it's full again. What the .....? Apparently, Bob had the instinct. The half and half blend of the Loring with the Patz and Hall was oh, so good. My Lands, what an improvement. Deep and rich with flavors of sautéed cherries. A smokey, seamless wine. But by this time, it could have just been our imagination; we couldn't be sure. After all, nothing up to this point seemed as it was.
If there's one thing worse than a drunk redneck, it's a drunk redneck wired on a caffeine buzz from fancy-assed coffee brewed in a Technivorm. But if I didn't already know I'd crossed into a parallel universe, I knew it when Greg advised that Rod Schiffman had sent some cinnamon to be added to the burr grinder. Well, I would have known it if my head hadn't been awash and besotted with a mess of damn fine wine.
Race Day!
Geared up in our Walmart best and trying to remember why our heads functioned as well as melons left a week too long in on the vine, we collected at mid-morning at Chez Ellis and were joined by the Ross and Rousseau crew.
Strange as this weekend had shaped up, some things are just downright wrong: Kevin Costner as the grand marshal of a NASCAR race. Slap my grandma! Too bad he went all soft with the likes of Danc'n with Wolves and Field of Dreams. Who the hell ever heard of a baseball field without a beer in sight. Yeah, like that's gonna happen. And he'd a helped himself a sight more if he'd just shot those damn flea-bitten wolves. Now, if he made westerns again, like that Silverado, he have a heap more rednecks cheering for him.
But we had better things on our minds - at least to the extent the synapses were firing at all. Rhones and rac'n was what we'd gathered for, even if it is that wide-assed, cookie cutter track in Fontana. We all know'd that Popeye's chicken wings ain't good for much more than throwing at the TeeVee, so Greg and the Professor grilled up a mess of lamb-sickles. They couldn't cook fast enough for while they sizzled, we suffered through a lecture from Holistic Harv about the cruelty the lambs suffered and how we'd be so much better off if we all lived on bean sprout cakes like the ones he brought. I was afraid he'd about convinced the Professor until I tossed him some of the roasted cauliflower. Between Steve and the Professor they cooked up some boiled potatoes with a ripp'n good gravy. Someone tried to explain to me that the potatoes were "sauced." 'Bout the only thing "sauced" at that table was me - 15 hours earlier. Eventually, we dug into two cheesecakes. In between, we had ourselves a mess o' wine.
Marie Paule Dumazet Cuvee Rouelle Midi Condrieu 2002 15.5% alc.
With alcohol that high, it could have almost fueled some of the cars on the track. But this doesn't show the alcohol at all. A brilliantly golden color that invites the eye again and again, kinda like the way a good man looks at his wife ... or his chain saw. Gorgeous, rich and ripe. Apricot, tangerine, mineral, honeysuckle and a smoky, toasty elegance. A very floral wine. If a wine came out of left field for the afternoon, this was it. Find this wine
M. Chapoutier Les Granits St. Joseph Ermitage 1999
Corked! California or not, a universal "Damn it!" rose from the kitchen. A couple of folks cursed George Bush for good measure. This California race had an ugly effect on the crowd. Find this wine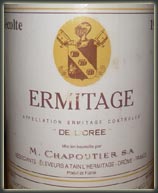 M. Chapoutier De L'Orée Ermitage 1991 14% alc.
An oily, straw color coats the glass. White pepper, honeysuckle, lanolin and orange notes rose from the glass. And it was a bit light in body. At least, that's how we thought of this wine when it was first opened. But as this was a tad too cool, we set it aside. With time it becomes so much more and expands into an elegant wine; a much bigger bodied wine and a much more floral wine with white locust, honeysuckle, lanolin, white pepper, orange. "Rock'n!," says Bob in a decidedly non-professorial tone. Find this wine
M. Chapoutier De L'Orée Ermitage 1994 13.9%
The color of apple juice. Unfortunately, it's oxidized. Like Junior who spectacularly spins out and with grace, this wine, while done for, still reflects a quality personality. Find this wine
M. Chapoutier De L'Orée Ermitage 1995 13.9% alc.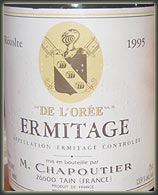 Bigger bodied by far than the other Chapoutier whites. Banana, white pepper, orange, honeysuckle. Bigger flavors than the '91. Crisper and more focused than the '91. This is some serious wine. The first white wine emptied. Find this wine
M. Chapoutier De L'Orée Ermitage 1996 13.5% alc.
Oxidized. We started to wonder if Teresa Earnhart might not have some involvement with Chapoutier's production. Find this wine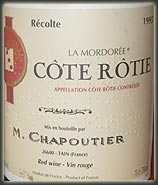 M. Chapoutier La Mordorée Côte-Rôtie 1995 12.8% alc.
A very floral wine with violets and lavender complimented with mineral, graphite, black pepper and iodine. Yet it delivers fruit also of cherry and cherry pits. The aroma goes on forever; a very inviting wine. It might not deliver as much on the palate as on the nose, but it doesn't suck. Find this wine
It was a Chapoutier kinda of day. Ray Charles woulda been proud.
Jamet Côte-Rôtie 1991 12.5% alc.
What can be said about this wine that most don't already know or expect to know? Classic Cote-Rôtie flavors of plum, iodine, quartz, smoked meats and just outright smoke; sheer elegance, just as you would expect from Jamet. An old school Cote-Rote that is both full and balanced. "Hitting its stride in all respects," explains Bob. A full throttle syrah, or rather, a full throttle Jamet. Find this wine
Rene Rostaing Côte-Rôtie 2001 12.5% alc.
Sitting in the glass, this has the look of refinement and elegance. A refined, restrained nose of red fruits and red fruit pits. A toasty nose and a toasty finish. To be so young, it's nevertheless a very approachable wine with plum, cherry, pancetta and a touch of pepper melange. A gorgeous wine that shows very well. Balanced and well structured. Drink or hold; either way you won't be disappointed. The first bottle of red wine emptied. Just then an announcer comments that "Patience and Kurt Bush are two things that don't go well together." Fortunately, this wine is nothing like Kurt Bush; this wine has real class. But for the next wine, this would have been WOTN. Find this wine
Paul Jaboulet Côte-Rôtie 1953 12% alc.
Yikes! What is in this time capsule?! The cork is soaked to the top all the way around. Each pour is brown with sediment even though it sat up for a week. "The color of baby shit brown," Steve states matter of factly. No light getting through there! But after an hour and three quarters, it actually cleans itself up. The nose is a bit funky, but it shows the decided presence of fruit, black olives, leather, smoked meats, cranberry. At some point it morphs in to another layer by adding chocolate. A medium bodied wine with everything in place, nothing falling through the floor, so to speak. "It's a specter of a wine," says Bob. It's there, but it's hard to put your hands around it. A silky wine. Two hours later it's still evolving and still alive. It's all good. This is a wonderful gift of a great older wine. Hold for another 5 years - Not! And yes, the tannins are resolved. Clearly the surprise wine of the day if not the WOTN. Find this wine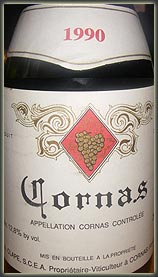 Clape Cornas 1990 12.8% alc. (image altered to show vintage)
Holistic Harv turns to his bride and is heard to say, "This isn't the first time that I passed the clape." Regardless of the left coast veneer, deep down, that boy is a hard-wired redneck. You just can't assimilate that kind of breeding. A good dose of fruit with cranberry, rosemary, violets, lavender, iodine, mineral, meat, tobo (tobacco) and leather. A sweeter syrah than Cornas might otherwise produce. A "cleaner" syrah than most old world syrahs. It's a country wine. A bit of a hot finish, that may diminish with age. Debate ensues as to whether it should be held for another 5 years or not. This deepens and evolves over an hour, softening a bit. A coffee flavor is added to the list. An expansive wine to say the least. It throws a fair amount of sediment with a deep shadow of sediment on the shoulders. Find this wine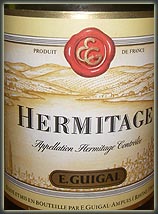 E. Guigal Hermitage 1989 13% alc.
A weeper, but it doesn't seem to have hurt it at all. Great nose, but the palate doesn't deliver as much. Not that "as much" isn't bad. Distinct, full and complete rosemary, violets, smoked meats, red fruits and tobo. It might be pretty, but it's a very soft wine. "Given its age," says the Professor, "it doesn't have the secondary bottle sweetness that one might expect. A perfectly good wine, but not a wine for hard core collectors." A rumor circulates the room, "BEB must have brought this wine." These characters - left coast or not - carried some of the same strong suspicions as their East coast counter parts. It was eerie. A bit of sediment is found. If you have this wine, drink it; it's ready. Find this wine
E. Guigal Côte-Rôtie 1995 13 % alc.
Ok, no one needed this to be opened, but it didn't open itself. The nose on this announces itself as unmistakable Côte-Rôtie. A rich and developed nose of black olives, rosemary, lavender and smoked meats, coffee and mineral. An inviting nose and very pretty wine, if not as distinctive as the Jamet and Rostaing. Find this wine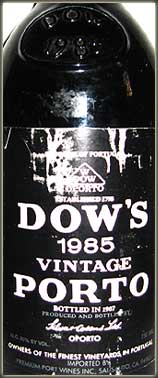 Dow's Porto 1985 20% alc.
Burnt caramel/molasses-like, with some sweet plum in there. Ok, when the octane gets this high I'm more accustomed to something clear in the glass offer'n up the sweetness of corn. Find this wine
At this point some of us were at risk of being a lot like the cars on the track where less than half the field held on to the lead lap and the others were fading back fast. So we stretched our legs a bit just in time to see Biffle tap off Reutimann in the Domino's Toyota taking him out and cleaning his clock in the process. This set the stage for a red flag delay. So another port was pulled, a vintage Fonseca of some such.
"Yo, dude, wake up; you'll miss the finish." Michael Ross sat in a chair ripping off the end of a lamb-sickle. "Hey, if you need any duck, I've got a freezer full from my last hunt," he graciously offered.
"Yeah, thanks. The, um, port must have put me under. No loss I guess as the California race always is a bit of a snoozer." I got an odd look.
"Yeah, you were California dream'n, dude. You were mumbl'n some weird stuff 'bout Kevin Costner." Continuing, he directed my attention back to the race, "This will be a heck of a shoot out between Harvick and Martin to the finish."
"Sure," was all I could muster. If he only knew. And I dumped my glass of Fonseca.