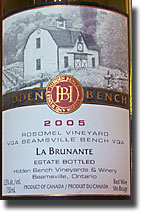 We missed the turnoff to Hidden Bench Vineyards and Winery on our first pass along the Niagara Peninsula's Highway 81, so perhaps the place is aptly named. After a mile or so, our navigator, Alan Kerr aka Canadian Zinfan, had us do a quick reverse of direction, and we doubled on back to Mountainview Road, where we headed south and made our way to the winery and tasting room. Kim and I had never heard of the operation, but Kerr assured us that it is one of the premier producers on the Beamsville Bench, and not to be missed. That must have been why they were closed when we arrived.

As it turns out, we were expected. Hidden Bench is only open to visitors on weekends, but Alan's colleague at the Niagara Culinary Institute, Peter Blakeman, had scheduled a private tasting, and joined us shortly thereafter. Peter is extremely knowledgeable on the local wine industry, so if both he and CZ say that this artisanal winery is one of THE places to go, it must be so. After a pleasant lunch of Alan's brilliant homemade "butties" (British for sandwiches) on the patio, we entered the attractive tasting room, where Sally Gfeller poured us pretty much the entire range of everything currently available that the winery produces. We didn't get a chance to tour the 6,000 square foot winery, with its state of the art technology, nor did we get to meet founder Harald Thiel or winemaker Jean-Martin Bouchard. We did get to know a bit about the sustainable farming, the non-interventional winemaking and the three unique estate vineyards (Locust Lane, Rosomel and Felseck) that produce the fruit for Hidden Bench's wines, thanks to Ms. Gfeller's informed commentary. But, when all is said and done, the best way to get to know what a winery is all about, in my not-so-humble opinion, is to taste the wines, and these wines are very, very good. Here's what we tried.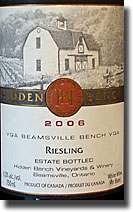 2006 Hidden Bench Estate Riesling, $24 Can.: A three-vineyard blend, this pale to medium straw delivers tart, pungent, piney Granny Smith apple flavors and aromas underscored with good minerality. With excellent intensity and lively, bracing acidity, this is some very fine dry Riesling indeed. Find this wine

2006 Hidden Bench Roman's Block Riesling, $32 Can.: Pale to medium straw in color, and ever so slightly less intense than the '06 Estate, yet more nuanced, a little rounder and less angular; otherwise, the flavor profile is similar, with piney Granny Smith apple shaded with a little bit of mineral and buoyed nicely with very good acidity. Another very nice dry Riesling. Find this wine

2007 Hidden Bench Estate Riesling, Fall Release: Pale to medium straw color, with a little less pine and a little more green apple character than the previous two; excellent intensity and acids, with some subtle mineral, and Peter commented on a note of "Buckwheat honey," which I found intriguing. Find this wine

They seem to have dry Riesling down at Hidden Bench, in a way that very few of our Michigan wineries can match. (Chateau Grand Traverse, Wyncroft and Left Foot Charley come the closest.) My only reservation might be with prices, now that the US and Canadian dollars are more or less on par. Still, you can't argue with the quality here.
At the bottom of my page of notes, I wrote two words. "Brilliant wines!"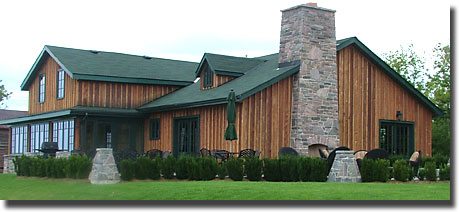 Hidden Bench Tasting Room & Offices
2006 Hidden Bench Estate Fumé Blanc, $28 Can.: The smoky character of this medium straw colored Sauvignon is the only real indication that it was partially fermented in French oak (with the rest in stainless steel) before spending 9 months in barrel. It gives a smoky nose, followed by smoky bitter almond and grapefruit on the palate, with good weight, depth and acidity. Definitely not one of your "grassy" Sauv Blancs. Find this wine

2006 Hidden Bench Nuit Blanche, $40 Can.: A blend of Sauvignon Blanc and Semillon, this medium straw offers rich, round grapefruit, green apple and a subtle hint of toffee in both flavor and aroma. Alan added an impression of "candied citrus," and Peter refined one of my descriptors into "grapefruit rind." Another wine with good depth, weight and cut. Find this wine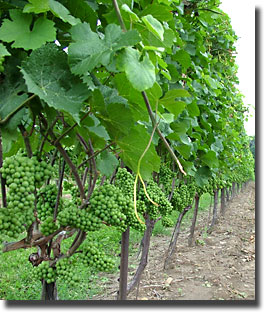 Pinot Noir in Locust Lane Vineyard
2005 Hidden Bench Estate Chardonnay, $30 Can.: Medium straw to pale gold in color, this 3 vineyard blend is a big hit with everyone, with its subtle oak and smoky apple and pear personality. With what by now is the requisite good weight, depth and acidity, this also has a certain creamy quality to it, according to Kerr, and a lovely balance and lingering finish as well. More than one taster was heard to utter "world class" about this one, and it proved worthy of the compliment. It saw 10 months in new and 2-year old French oak, and also stainless steel. Find this wine

2006 Hidden Bench Pinot Noir, Not yet released: Ruby red color, with a smoky, somewhat candied, creamy black cherry nose; flavors echo on a medium to medium full bodied frame with a hint of rhubarb and subtle minerality. Young, bright, deceptively well structured and drinking well already, with a long, lingering finish and a fine future ahead of it. Find this wine

2005 Hidden Bench Terroir Caché, 60% Cabernet Sauvignon, 25% Cabernet Franc, 15% Merlot, $40 Can.: Kim called out the following impressions in quick succession: "very raspberry in color; huge cherry stick candy; really wants food." This is rich, dense and very tasty, with deep, dark black currant and black cherry shaded with smoky, earthy undertones and some subtle chocolate. Well structured, delicious and its best days are yet to come. Find this wine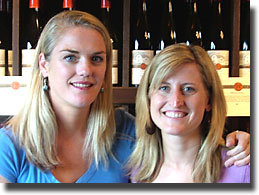 Meg McGrath and Sally Gfeller
2005 Hidden Bench La Brunante, 60% Merlot, 20% Malbec, 18% Cabernet Sauvignon, 2% Cabernet Franc, $70 Can.: Deep, dark garnet color, with a smoky oak and black fruit nose; rich, creamy texture, big structure, deeper and darker on the palate, with black currant, blackberry and a little dark chocolate. A big wine, but balanced, and not at all heavy or ponderous; this can use several years in the cellar. Again, my only reservation might be the price, but if they can get it, more power to 'em. Find this wine
At the bottom of my page of notes, I wrote two words. "Brilliant wines!" Don't really know what more I need to add to that, other than many thanks to Sally Gfeller and Retail Manager Meg McGrath, who joined us midway through the tasting, for their kind attention and warm hospitality, and to Peter for setting it all up. If you should find yourself in the neighborhood, don't miss making a point of stopping in and tasting. There's a map on their website so you don't miss the turnoff like we did.

Reporting from Day-twah,
geo t.


Other Recent Wine Explorations
New Rieslings from Chateau Grand Traverse & more…
Not So Random Samples: 6 From Cameron Hughes
All the Notes That Fit

Back to the September 2008 Index
Back to the Underground Index

Back to the Top



© George Heritier September, 2008