Rednecks and Red Rhônes - the Daytona 500 paired with the likes of Chateâuneuf du Pape and St. Joseph, as unlikely a combination as could be imagined by most motor sports fans or wine aficionados, but it all makes perfect sense to a group of Dixie yahoos who have a hankering for the roar of the speedway and the fruit of the vine. These people know all about the drivers, they know all about the cars, they know all about the crews, some of them even admit with pride that, hell yes, they drink Miller Lite ® and they like it!

There's something seriously twisted about geeks like these, and I finally got a firsthand look at the goings - on last year. The inaugural event, held four years ago at the home of Greg (aka Vin Pays Doc) and Tami Ellis, had been chronicled in these pages, and it's since become a must-attend for an extended family of friends and winos. I was unable to make it down to North Carolina this year, but happily, my better half, Kim Adams, stepped right in to serve as "redneck for a day" her own bad self.

The main event was, of course, the Big Race, NASCAR's Super Bowl and kickoff to another grueling eight months of racing in 2006. The private grandstands were once again the family room of Chez Ellis, and the wine list was predominantly, though not exclusively, Chateâuneuf du Pape. (Kim reports that she actually spent less time watching the race and more time in the kitchen rubbing elbows and greasing pans with such culinary stalwarts as Col. Bob Cuozzi and Brown Councill.) Early arrivals also gathered at Greg and Tami's on the eve of the race for a special pre-nuptial dinner in honor of Adair Sigmon and that latter day Nimrod, Michael Ross hisself.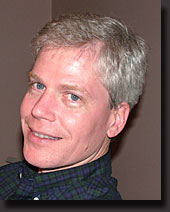 Many thanks to Greg and Tami for once again opening their house to host this great gathering of oenophiles, gourmands and grease monkeys. A triple thanks to Michael, Boyce Brannock, Bob Cuozzi and Steve South for tossing in several vintages of legendary First Growth Chateau Haut-Brion, both Blanc and Rouge, and other delights as well. An extra special thanks to Boyce (left), the weekend's elected scribe for providing such excellent coverage of both Saturday night and Sunday's festivities for these pages and Steve for picking up an idle camera here and there to take some terrific photos.
On to the preliminary event ====>>>
Intro | Saturday Night Qualifying | Race Day | Gallery