LEFT COAST DIARY
DAY SIX
JULY 6
D-CUBED CELLARS
The Gang received the following email on May 30th, 1998:
Hello,
Just visited your page!! Very interesting, I like the lightness with which you treat wine. After all wine is a wonderful thing to enjoy with friends, and some good food.
Cheers
D-cubed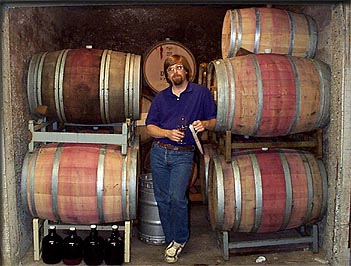 Duane Dappan in his "cube"
The email address was in the name of one Duane Dappen. I replied to Duane, thanking him for his positive comments and wondering if I recognized the name of an occasional Wine BB poster.
Boy, did I feel dumb a week or so later when I read a nice review of his '96 D-cubed Napa Valley Zinfandel…
I emailed Duane again telling him just that, and after exchanging a few more messages, I wondered if we might not visit him during our pilgrimage. He said sure, we set a date, and here we were (The Director, Bree and me) on Monday morning, driving up Highway 29 to Calistoga.
Duane Dappen is the affable young winemaker at Hans Kornell, a rather large winery in actual size that specializes in bubbly. It's not a new place either, so it has this "old winery" feel to it that I found intoxicating. He also makes the Frank-Rombauer Cellers line of wines, which is produced at the same facility.
Duane has been making his own D-cubed Zinfandels since 1993, and while it was these that we'd come to taste, we were treated to a tour of the winery and samples of the Frank-Rombauer Cellars lineup as well. (We had to pass on the bubbly, due to time constraints.)
Duane worked for Grgich and Storybook Mountain before moving to Rombauer and now, Kornell/Frank - Rombauer. His first vintage of D-cubed Howell Mountain Zin was '94; the first Napa was '96. The Howell Mtn. fruit comes from Black-Sears Vineyard; the Napa comes from Chiles Valley, where temperatures are "5 degrees warmer in daytime and 5 degrees cooler at night" than your average Napa vineyard. He described his Napa Zins as having a "more cherry component," while the Howell Mountain had "more blackberry." His philosophy is "develop a style of wine, find people who like them, and sell to them."
Eventually, our tour took us to the two old cement chambers that are essentially "D-cubed Cellars." There, he keeps his barrels and inventory, and this is where we got our first taste of D-cubed Zinfandel. (They were made at Rombaur for the first few vintages.)
1997 D-cubed Napa Zinfandel barrel sample
1996 Frank-Rombauer Larkmead Cellars Cabernet Sauvignon
Snowden Vineyard barrel sample
1996 Frank-Rombauer Larkmead Cellars Cabernet Sauvignon
Winston Hill Vineyard barrel sample
1996 Frank-Rombauer Larkmead Cellars Napa Chardonnay
1996 Frank-Rombauer Larkmead Cellars Gewurztraminer
1996 Frank-Rombauer Larkmead Cellars Napa Sangiovese
1994 Frank-Rombauer Larkmead Cellars Napa Cabernet
Sauvignon
We tasted 2 versions of the '97 D-cubed Napa Zin; one from a new barrel and one from a '93 barrel. Both were very tasty, with the new barrel showing even brighter qualities to the beautiful bing cherry/vanilla flavors. Duane called this "bright fruit with some oak around it."
Then, he took us to another part of the winery, where he gave us samples of '96 Frank-Rombauer Larkmead Cellars Napa Cabernets from the Snowden Vineyard and the Winston Hill Vineyard. He said the two are a mile apart and rather dissimilar. Both are aged 28 months in barrel, and were delicious to taste. The Snowden showed nice focus, smoke and vanilla, while the Winston Hill was lush, with brighter fruit.
Some of the Winston Hill will be a vineyard designate Cabernet; the rest will be blended with the Snowden. (Winston Hill fruit has been going to Conn Creek Anthology and Cabernet Reserve, but more will be coming to Frank-Rombauer.)
A short walk to an adjacent building took us to the F-R tasting room, where we tasted some of their available wines. The '96 Chardonnay is fat and oaky, with rich fruit. Not my style, but undeniably tasty.
The '96 Gewurz shows beautiful floral fruit, with spicy complexity and aromatics. Duane said it was given some malo and stirred a few times. Again, I'd have preferred more acidity, but liked this anyway.
The '96 Sangiovese is made with fruit from 3 year old vines that Duane described as "so vigorous," and "planted on lousy rocky mountain soil" which is "very good for vines so young." The predominant characteristics are pleasant cherry cheesecake/vanilla.
We finished with the '94 Cab, which is 70% Snowden. It has nice deep color and lots of sweet oak/cassis/red currant fruit. Very nice, this was my favorite of the four.
All in all, we spent about an hour and a half at Hans Kornell; Duane Dappen is a cordial, friendly host, and a winemaker to keep your eye on. He's making some very good stuff.
Since our meeting, we've enjoyed the '96 D-cubed Napa Zin on two occasions. A pinky/purple/ruby garnet with a sweet oak/aquarium/hint o' maple syrup nose that also shows nice black cherry/plum/mint/bit o' bramble/briar. The flavors show plenty of candied cherry cough drops, with soft tannins, good acidity and a hint of dust on the nice finish. Not a blockbuster, but a very well made, satisfying Zinfandel.
Inquiries: D-Cubed, Duane D. Dappen, winemaker/proprietor, PO Box 771, Angwin, CA 94508. Tel: 707-965-1003
Fax: 707-965-1337