LEFT COAST DIARY
DAY SEVEN
JULY 7
SADDLEBACK CELLARS
We started our last full day on the Left Coast by repeating our drive of the day before; we had a 10:30 appointment to meet Nils Venge and Mary Pisor at Saddleback Cellars. After a quick stop at the Oakville Grocery to get a little something to put in our stomachs, we took the short drive over to Money Lane. We pulled up to the unpretentious, nondescript winery, where Nils and his trusty Golden Lab, Toby, greeted us. califusa was already acquainted with him and Mary through participation in various Bacchus tours and tastings, which was a good thing. These are very busy folks, and while they were prepared to meet us, Bree's presence helped lend some relaxed familiarity to the time we spent with them. (It also gave Mr. Venge a point of reference to share a HILARIOUS anecdote regarding the aforementioned Bacchus/Russell Bevan, which will NOT be passed on here!)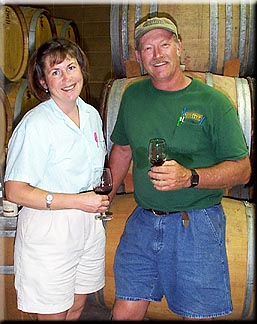 Mary Pisor and Nils Venge
Nils is a big man with a powerful presence; he reminded me a little of John Wayne, for some reason. His background is fairly well known; he was the first winemaker at Villa Mt. Eden; the first winemaker for Groth Vineyards; and the first American winemaker to ever receive a score of '100' from Robert Parker for the 1985 Groth Reserve Cabernet Sauvignon. Then, of course, there's Saddleback, which he started in 1982. Over the years, it has been one of the best kept secrets among small Napa Valley wineries, only lately achieving larger recognition. (This taster would argue that their expanded reputation owes a good deal to many positive notes posted on various internet wine bulletin boards.)
Nils took us through a tasting of some of his red wines, all of which were delicious. Mary joined us shortly after he started. Outgoing, and full of energy, she enlivened things even more, and was especially taken with our business cards, and this taster's Gang name.
1996 VENGE Sangiovese Napa Penny Lane Vineyard
1995 Saddleback Cellars Cabernet Sauvignon Napa
1996 Saddleback Cellars Zinfandel Napa
The Venge Sangiovese is a delight, with nice spicy red currant/black cherry flavors and aromas. The Cab wowed us with its rich spicy sweet oak/cherry/red currant flavors and aromas. (I've since read opinions that this would be best to sit for a few years, but it sure is tasty now.) It was my favorite of the three wines that we tasted.
None of my notes on these were too detailed; all I wrote about the '96 Saddleback Zinfandel was "sweet oak/spicy zinberry," but it's so much more than that. A recent tasting gave much more in depth impressions:
In a word, the wine is stunning. A dense, almost inky garnet, it shows smoky sweet oak/raspberry flavors and aromas that fan out to include notes of
black raspberry/black cherry/milk chocolate/bramble/briar/ginger/hint o' pepper.

It has good acidity, a creamy mouthfeel, and despite 14.5% alcohol, shows no heat to speak of. It does show a bit of sweetness that has been noted and criticized by some, but we found no fault with that. CZ described this as "almost like a reduced concentrated black raspberry/currant sauce," and he was right. Very impressive stuff…
These were the only wines that we'd taste on this occasion, which was a bit of a disappointment. I'd have liked to try a few whites, especially their Pinot Blanc that I've heard good things about. Nevertheless, we were thankful for the time Nils and Mary were able to give and purchased several bottles of the Cabernet and Zinfandel.
These folks make KILLER wines!!!
(While we tasted the Zinfandel, Judy Malloy, a virtual colleague of The Director's arrived. Though they had worked (in a virtual office setting) for the same organization in the past, this was their first actual meeting. Afterwards, we all returned to the Oakville Grocery, picked up picnic provisions, and had a nice lunch at Niebaum-Coppolla. The historic old Inglenook mansion attracts lots of tourists, but the stuff they charge you to taste is rather forgettable.)
Inquiries: Saddleback Cellars, PO Box 141, 7802 Money Road, Oakville, CA 94562, Tel: 707-944-1305,
Fax 707-944-1325

WINES:
1996 VENGE Sangiovese
Napa Penny Lane
Vineyard

1995 Saddleback Cellars
Cabernet Sauvignon
Napa

1996 Saddleback Cellars
Zinfandel Napa
[../lcdiary_index.htm]