LEFT COAST DIARY
DAY TWO
JULY 2:
MILAN OF SANTA CRUZ
and THUNDER MOUNTAIN WINERY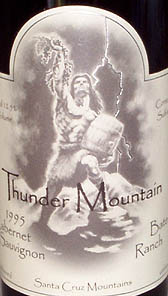 A few weeks before our trip, I'd contacted Milan Maximovich regarding the possibility of visiting his Thunder Mountain Winery operation. Milan is a virtual friend of ours through the various wine boards, and having heard that he'd moved his base of operations, I wondered if this was a good time for him. He replied:
"We should be able to work something out, but life is more complicated these days. You've heard correctly; with the exception of labeling our '96 reds, we've moved completely out of Byington (which is a lovely, scenic location high in the Santa Cruz Mountains).
So literally 80 full barrels of 1997 wines, along with the empty barrels from our '96s, barrel racks, extra bottles, corks, labels, capsules, bungs and miscellaneous other goodies have been physically moved.
We've also placed orders for our own new equipment: three glycol-cooled stainless steel fermenters (2-2,500 gal, 1-1,000 gal), a new destemmer/crusher, and a state-of-the-art membrane press, all to be installed in the next 100 days. Talk about chaos.
The new location is NOT in the Santa Cruz Mountains, but at Mirrasou Winery in San Jose. Quite a change…"
1997 Thunder Mountain Santa Cruz Mtns. Chardonnay Bald
Mountain barrel sample
1997 Thunder Mountain Santa Cruz Mtns. Cabernet Sauvignon
Doc's Vineyard barrel sample
1997 Thunder Mountain Santa Cruz Mtns. Cabernet Sauvignon
Bates Ranch barrel sample
1995 Thunder Mountain Santa Cruz Mtns. Cabernet Sauvignon
Bates Ranch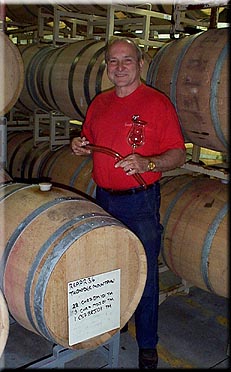 Milan with wine thief
We agreed upon the afternoon of the 2nd, so The Director and I found our way to San Jose, where we were met not only by Milan, but also his wife Sue and daughter Kira.
After a quick walkaround tour, he took us to his little corner of the winery, where we tasted some very nice barrel samples. (This was Sue and Kira's first visit to the new location, as well. Milan calls Kira his "winemaker in training," saying she has a very adept nose.)
We started out with his '97 Bald Mountain Chardonnay, a big, rich delicious white that showed pretty spicy vanilla overtones to its impressive flavors. His '97 Matteson Vineyard Chardonnay had just undergone batonage, so unfortunately, it wasn't in a condition to be tasted at the time.
We moved on to two samples of his '97 Doc's Vineyard Cabernet Sauvignon made from fruit that comes from a vineyard (replanted in 1945 with clones from Bordeaux) in the Cienega Valley appelation on a plateau about 600 ft above Tres Pinos Creek near Hollister. The first was from an American oak barrel. It was a dark purple pink that, despite being slightly closed, still showed rich concentrated flavors that almost reminded me of a kind of reduced cassis. The second, in French oak, had higher toned fruit that was simply luscious. The sum of these should make one helluva fine Cabernet!
(Milan noted that he only uses barrels twice. French oak costs $550 per barrel, while American oak costs $275-300 per barrel.)
Next came a taste of the '97 Bates Ranch Cabernet. (I've often wondered if the grapes were farmed by someone named Norman, or if there was a motel on premises…) The wine is spicy, racy, fruity and concentrated, and left long lazy legs descending ever so slowly down the inside of the glass. Made with endemic yeasts, its smooth rich flavors belied its 14.7 %alcohol. Milan said this is "so easy to make, it almost makes itself," whereas his Beauregard Ranch bottling takes some work.
Milan says his three '97 Cabernets reflect their vintage and terrior, and from the samples we tasted, we think they do so quite nicely, thank you very much!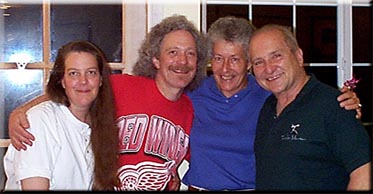 The Director, geo t., Sue and Milan Maximovich
(photo courtesy of califusa)

He also brought along a bottle of his '95 Bates Cab, and poured us all a glass afterwards. We sipped it leisurely over the next hour or so, and watched this dark garnet open into a luscious array of cassis/red currant/plum flavors and aromas, with silky tannins and a soft mouthfeel. With air, it shows definite notes of ripe black olives, which Milan says is a signature of Bates Ranch fruit. It also gained hints of chocolate and blueberry. Though lovely now, this will age gracefully for years, and when I finally ran into two bottles four days later, I snatched one up immediately ($37.50), and strongly suggested that

9-Ball do the same before I grabbed the other as well. She did.

Milan was extremely gracious to take time from his busy schedule to meet with us and let us sample some of his wares. Sue and Kira were delightful as well, and we couldn't have asked for a better start to our series of visits with California winemakers.

Inquiries: Thunder Mountain LLC, 1717 Vine Hill Road
Santa Cruz, CA 95065. (831) 439-8716



WINES:
1997 Thunder Mountain
Santa Cruz Mtns.
Chardonnay Bald
Mountain barrel
sample

1997 Thunder Mountain
Santa Cruz Mtns.
Cabernet
Sauvignon Doc's
Vineyard barrel
sample

1997 Thunder Mountain
Santa Cruz Mtns.
Cabernet
Sauvignon Bates
Ranch barrel
sample

1995 Thunder Mountain
Santa Cruz Mtns.
Cabernet
Sauvignon Bates
Ranch

LEFT COAST DIARY
INDEX OF CHAPTERS AND WINE LIST
DAY 2 - Thunder Mountain Winery
DAY 3 - Pagani & Alegria Vertical Tasting
Dispatches from the Left Coast
A fever dream