LEFT COAST DIARY
DAY FOUR
JULY 4
RIDGE VINEYARDS
The Director and I drove up the torturously slow, winding Monte Bello Road singing, "Heaven, I'm in heaven…"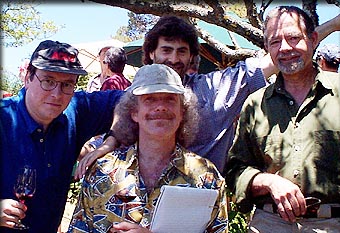 SFJoe, geo t., Mark Ellenbogen, Paul Draper aka: Mr. Ridge

We were heading up to Ridge, of course, to attend our first Day in the Vineyard celebration, a three day event that the winery throws for its Advanced Tasting Program (ATP) subscribers. califusa and

9-Ball are also members, and volunteer every year to help out in various ways.

We passed by the

Picchetti and Jimsomare Ranches without taking advantage of the obvious photo opportunities, finally arriving at the top of Monte Bello Ridge just past noon.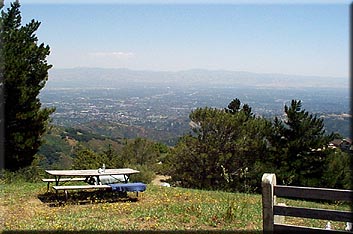 A view of Silicon Valley atop Monte Bello Ridge

Our first move was to find our friends and make our presence known. Our second was to have breakfast, which consisted of Mesquite-grilled skirt steak (anointed with garlic, vermouth, olive oil, thyme, 30-yr old zinfandel vinegar), Potato salad, Siena (enlivened with olive oil, roasted shallots, arugula, pancetta, cracked pepper, fresh herbs), accompanied by a glass of 1982 Ridge Cabernet Sauvignon Santa Cruz Mtns. We enjoyed these at the picnic area with an incredible view of the entire Silicon Valley spread out before us in a breathtaking panorama. Certainly the best steak and potato breakfast this taster has had the pleasure to savor, and the Cab was terrific, as well.

There was no Monte Bello made in 1982, so this one got those grapes. A rusty garnet with a mature nose of aquarium/tobacco/red currant/leather that echoes nicely in the flavors, this was only the first of many wonderful wines sampled that day.

"Heaven, I'm in heaven…"

We then visited califusa's pouring station, where we met Paul Draper, who was kind enough to allow Madame to take a few pics of him, SFJoe, Mark Ellenbogen, and this taster. Bree must have thought he was in heaven as well, sharing the station with Mr. Ridge himself!

We tasted two more wines here, a barrel sample of the '97 Monte Bello, and the '89 Monte Bello. The '97 is purple-pink, with rich, lovely red currant/vanilla flavors and aromas that are remarkably soft and approachable for such a baby. The '89 is a slightly rusty garnet with hints of leather /tobacco over red currant that is soft and beautiful. Bree described a "wonderful spice that comes with older wines from Ridge." (Paul Draper said this wine was "soft to start with.")

Would you believe that these were the first tastes of Ridge Monte Bello that The Director and I had ever had? Seems strange, considering how many of their Zins we've loved over the years…

We had lunch shortly after 1PM. It consisted of Modesta's marinated pork loin (olive oil, garlic, lemon, fresh herbs), seared Belgian endive with a balsamic vinaigrette, and a glass of 1993 Ridge Evangelo Mataro. The food was great, but I didn't note the wine for some reason. I do remember liking it a lot more than the '92 model tasted a few years ago.

After short tastes of the '96 Lytton Springs, Geyserville, and Pagani Zins (which I thought showed well in their yout', though SFJoe felt otherwise), I took the opportunity to re-hydrate. There's something quite wonderful about drinking spring water from a wine stem that still has the bouquet of Mr. Ridge lingering in it.

(Interestingly, Mr. Draper described the '96 Ridge Zins as having the biggest structure of any vintage in the '90s. He said the Lytton Springs was the most tannic, followed closely by the Pagani. He pronounced the Geyserville the most sensuous confessing to having had it with dinner the night before.)

It was about that time that Madame and I found some chairs, and planted ourselves firmly in a shady spot on the winery side of the picnic area, where we were joined by Joe and Mark, who started pulling out some very special bottles for the tasting. (Mr. Ellenbogen is a sommelier who's designed wine lists for some very fine restaurants in San Francisco, including The Slanted Door.)

The 1996 Brundlmayer Gruner Veltliner Alte Reben (Old Vines; Austria) is a medium straw-pale gold that shows plenty of pink grapefruit/mineral with floral nuances and good acidity. A wonderful white for a warm summer day.

The 1995 Lucien Crochet Sancerre Cuvee Prestige is a lovely Sauvignon; pale straw with pretty rich pear/subtle vanilla/hints of herb and spice/slightest touch of grass. This shows a very deft use of oak that doesn't intrude on the fruit like so many New World models. Mark said this is produced in miniscule amounts and runs about $50 per. Wish I had a line on this around Day-twah.

The 1996 Brand Muscat Grand Cru Boxler Alsace is a pale to medium straw with a floral nose that is a lovely thing to behold. Crisp and refreshing, Mark said this has no sugar, but it did hint at slight sweetness in the bold rich apple/pear flavors and aromas.

There is something deliciously ironic about relaxing at The Temple of Zin (as Jason calls it), drinking beautiful French and Austrian whites. Many thanks to Mr. Ellenbogen for sharing these remarkable wines.

The final culinary offering of the day (served between 2:10 and 3:00 PM) was a delightful Mesquite grilled Sicilian sausage (with sun dried tomato, fennel seed, garlic, and red pepper) and Grilled Italian polenta (basil and parmesan), accompanied by the 1996 Ridge Barbera Dry Creek. The Director's immediate pronouncement regarding this dark garnet wine was "vanilla cherry cheesecake." It did show plenty of bright sweet oak/dark fruit flavors, and had good acidity. If it finished a little short, it was still very easy and enjoyable to drink.

We spent the next hour or so re-hydrating, listening to the Cajun sounds of "Frog Legs," and chatting with Joe, Mark, and

9-Ball, who had finished with her assigned duties for the day. Before too long, the crowd had pretty much cleared out, and Joe and Mark had left to attend other functions. califusa came walking down the line, pouring for the staff and these lucky tasters from a magnum of 1990 Geyserville.

This is a slightly rusty garnet, with mature flavors and aromas of red currant/black cherry/soft leather, with the slightest hint of barnyard on the nose. My notes read "soft, smooth and beautiful;" Bree described it as "sublime." The wine is at its peak now, and I'd have a hard time holding on to it, if there were any in "the cellar."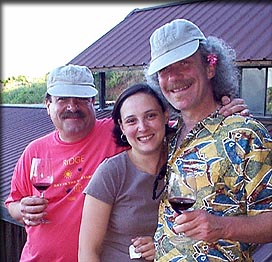 Ridge's Delia sandwiched with califusa and geo t.

We then joined the staff on the deck of the main office building for the post DIV gathering. This happens only once during the three-day event, and we happened to be in attendance on the right occasion. One by one, special treats started to appear from the cellar as well as from attendees.

The Director and I got our first taste of a Katherine Kennedy Cabernet Sauvignon, the '91 model. Purple garnet, with rich cassis/red currant/hint o' leather, this is still rather tannic and in need of some years of cellaring, but it will definitely reward patience.

A stained old bottle of 1962 Chateau Lynch Bages Pauillac appeared, and was carefully decanted. Ridge used to import this in barrel, FOR THE BARRELS! Then they'd bottle it under license and market it on the left coast.

The wine was still alive; the color was brick all the way, with very mature flavors and aromas that were dominated by a leathery quality. Though this was still drinking fairly well, no one was raving about it.

Next came a

1980 Ridge Picchetti Zinfandel (poured from a magnum), a very good example of how well the varietal can age, if it has the right stuff. Rusty colored, with good acidity still, this has a leathery nose with a hint of Brett, and dried tomato/raisin/prune flavors.

It was about that time that a fellow named Mike served his absolutely delicious proscuitto/mushroom risotto that was the best I've ever had. There were also three treatments of pork loin laid out that was perfect for the wines we were enjoying.

After these, we took great interest in trying the brand spankin' new 1996 Ridge Lytton Estate Syrah ATP that contains 5% Viognier., which added to its floral qualities. A big purple/pink with Paul Draper's signature all over it, this shows plum/black cherry/ chocolate/hint o' violet on the nose and palate. There are plenty of tannins here, with "lemon squirt acidity," so it needs time, but it's gonna be one fine Syrah some years down the road. (This hasn't been released yet, and will only be available to ATP subscribers.)

The hits didn't just keep coming, they were jacked up several notches. The Director and this taster watched with rapt attention as a 1970 Ridge Jimsomare Zinfandel was decanted, and then took our turns in gratefully accepting some into our glasses. (Milan and Jason have both described this as the best Zinfandel they've ever tasted, and it is surely the stuff of legend.)

The brick red wine has a leather/barnyard nose, and the fruit is still sweet, with dried cherry/leather/prune/hint o' raisin flavors. I was shocked at how much acidity it still retains. These sketchy notes simply do not do this wine justice; it was a very special taste treat. But, there was a lot going on, with lively conversation taking place between the wonderful folks in attendance, so it is hoped that this reporter will be forgiven for not delving more deeply into its subtle complexities.

An interesting comparison was made with the next selection, an '88 Ridge Jimsomare Zinfandel ATP. Showing the barest hint of rust to the dark garnet color, this still tastes young, with sweet oak/raspberry/black cherry/hint o' leather and is absolutely lovely.

I try to keep an eye out for Sean Thackrey's wines when in the Promised Land, because they never come to Day-twah, so one can understand my pleasure in seeing an '89 Taurus being set down on the table for consideration. This is from the constellation Mourvedre, and is a dark garnet with the barest hint of brick. Showing nice plum/boysenberry/chocolates on the nose and palate, it still has some tannins to resolve, but is very tasty nevertheless.

Interestingly, Madame and I asked about the crested birds we'd seen on the grounds all day at that time, and were told that they were "Stellar Jays." Based on the wine we were drinking at the time, I took the leap and referred to them as Inter-Stellar Jays…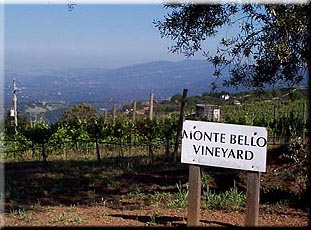 The pic speaks for itself
It was then that a magnum of 1978 Ridge Monte Bello Cabernet Sauvignon was brought up from the cellar.
Now, we'd already tasted a LOT of wines on this day, and most had been the kind that one strives to stock the cellar with. However, this stood out from the crowd. It was certainly the best wine of the day for this taster, maybe the best wine of the trip. Rusty garnet, with leather/tobacco/prune on the nose, it had lovely red currant/black cherry flavors, accompanied by echoes of the bouquet. Bree described this as "perfectly mature, and in its golden years." I snuck a second glass, and maybe a snitch of a third as well.
I'm married to the greatest gal in the world, the Red Wings have won two consecutive Stanley Cups, and now we had tasted three vintages of Monte Bello in one day. I can die an even happier man.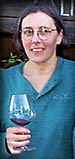 Kathy Martinich
After that, we thanked Kathy Martinich and Delia profusely, then drove back to Cloudy Bay. Other wonders may have been opened, but how could they have surpassed what we'd already experienced?