LEFT COAST DIARY
DAY FIVE
JULY 5
STORRS WINERY

The Director and I drove into Santa Cruz around noon, singing "We are the Goon Squad, and we're coming to town, beep beep!"

We were meeting Jason Brandt Lewis at Storrs Winery, and we were running a little late. Ever the staunch champion of the Santa Cruz Mountains appellation, he'd agreed to spend the day introducing us to some friends of his who just happened to be very gifted winemakers, Pam and

Stephen Storrs, and Salamandre Cellars' Wells and Sandy Shoemaker.

We pulled into Storrs at about 12:05. The winery is located in Santa Cruz' Old Sash Mill, an old lumber mill dating back to the 1880's. It has been reconditioned to be a pleasant collection of shops, studios and a restaurant or two.

We found Jason in the warehouse located one building over from the winery itself, helping

Stephen Storrs bring some cases back to the tasting room, where we met staff-person Narcisa. (Pam would join us shortly.) Stephen and Jason provided us with an overview of not only the SCM appellation, but of specific vineyards and the difference in terrior between the east and west sides of the mountains.

Jason provides background on this family owned and run winery: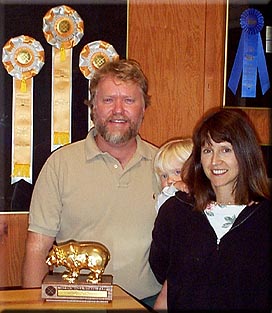 Stephen and Pam Storrs (with Morgan and the Golden Bear)

Written by Jason Brandt Lewis

Stephen and Pamela Storrs both graduated from UC Davis, Steve with degrees in both enology and viticulture; Pam in enology. Steve worked for Domaine Chandon, before joining Felton-Empire Winery in the Santa Cruz Mountains in 1980. Pam did an internship at Felton-Empire prior to graduating (when she and Steve met, fell in love, etc.), and following graduation, became the red wine enologist for Almaden at their Holister facility. She later joined the winemaking staff at F-E and, as she began work on her MBA, shifted to the marketing side of the winery. In 1988, they started Storrs. They began at 3,000 cases, and are now up to 10,000. (They are also up to two boys, Aaron [4] and Morgan [2].)

Dedicated to Santa Cruz Mountains wines and Chardonnay, they also regularly produce Zinfandel and Petite Sirah from the SCM appellation, as well as Merlot from the San Ysidro district (the foothills on the eastern side of the Santa Clara Valley), and Riesling and Gewurz from Monterey. Recent additions include SCM Pinot Noir, Central Coast Grenache and Sangiovese, and Sauvignon Blanc from Monterey.

(By the way, Storrs is the BIG exception in the Santa Cruz Mtns. -- owners who are UC Davis-trained winemakers! Salamandre, Ahlgren, Thunder Mtn., Zayante, River Run, Woodside, David Bruce, Santa Cruz Mountain Vineyard, P&M Staiger, Bear Creek Vineyard Co., and others all started out as home winemakers -- even, to a certain extent, Ridge Vineyards started that way: a bunch of Stanford professors who were home winemakers.)

He also noted the winery used to be Frick; the owners lived in San Francisco, and finally realized that it was dumb to drive down to Santa Cruz to do Sonoma grapes, so they sold out and moved north.

The Wines:

1996 Storrs Santa Cruz Mtn. Chardonnay Christie Vineyard
1996 Storrs Santa Cruz Mtn. Chardonnay Vanumanutage
Vineyard
1997 Storrs Santa Cruz Mtn. White Riesling Viento Vineyard
1996 Storrs Santa Cruz Mtn. Gewurztraminer Viento Vineyard
1996 Storrs Central Coast Zinfandel
1996 Storrs Santa Cruz Mtn Merlot San Ysidro
1996 Storrs Santa Cruz Mtn Merlot Mann Vineyard
1996 Storrs Contra Costa Sangiovese San Luca Vineyard
1996 Storrs Santa Cruz Mtn Petite Sirah

We tasted some wonderful wines for breakfast, and in true Gang tradition, we didn't spit, but we did dump a little. (The crackers were good too!)

Telling us they'd made six different Chardonnays this year,

Stephen started us out with their '96 Christie Vineyard, a lovely medium gold that featured pretty spicy oak that dresses up nicely, but never overwhelms, the tropical fruit flavors. It has good acidity and will probably be a good example of why Jason insists that SCM Chards age better than those from most other California appellations. I liked it so much, I bought the winery…; uh, make that a few bottles.

(A subsequent taste of this gave me the opportunity to flesh out these notes a bit: medium gold; smoky/toasty oak; overripe pear/tropical fruit/good acidity/creamy mouthfeel; hints of canned green beans and asparagus add to, rather than detract from the complexity and charm of the wine.)

The '96 Vanumanutage shows nice varietal character, with less spice than the Christie.

While we tasted this, we browsed in the tasting room, taking in the various ribbons, awards and other displays. Of particular interest was their latest vest button popper to date, the Golden Bear given to the 1994 Storrs Petite Sirah as Best of Show in the California State Fair's Commercial Wine Competition.

Next

Stephen opened a '97 Viento Vineyard White Riesling. This is a fine example of what can be done with the varietal in California, showing pretty floral qualities, while avoiding the excess sugar of some. Stephen noted that this had cold fermented at 52 degrees, with Steinburg yeast. An extended fermentation brings out added complexity.

Their '96 Viento Vineyard Gewurz has nice spice and again, great varietal character. It is also a Gold Medal Winner at the Orange County Fair. I picked up one of each of these for Dolphin Girl, who has a special affinity for the Alsatian/Germanic whites.

The '96 Storrs Central Coast Zin is made from fruit from two old vineyards; initially Pam and Stephen were going to make two wines, but liked the blend so well they opted in that direction. It shows lovely spice, perfume and proportion. Calling it "refined," Narcisa added, "Less is more."

While we tasted two Merlots, Pam arrived with sons Aaron and Morgan in tow, and The Director took advantage of an excellent photo opportunity. An old friend of Pam, Stephen and Jason, Kay Guffy, showed up at about the same time, joining us for a taste and offering more insight into this fine family winery. Meanwhile, I continued to consider the wines.

Madame described the '96 San Ysidro Merlot as having a "canned peas" element to it. I found this three vineyard blend to have nice red fruit.

A hint of sulfur blows off of the nose of the '95 Mann Vineyard bottling, revealing a more concentrated wine than the San Ysidro, one that might boost my opinion of Merlot, if I were to linger over a few bottles for a few nights.

After the photos, we walked through the winery itself, taking in fermenting tanks, barrels, the lab, and in back, the Europress, just like the one that Milan was waiting for. We learned that Pam is always tinkering with yeasts, using a different one in each barrel. They use a variety of barrels as well, always striving for that next subtle nuance.

The final wine we tasted was the '96 San Luca Sangiovese, which Madame immediately fell in love with. Rich, concentrated and delicious, this was awarded a Gold Medal at the Orange County Fair and we bought four to bring home.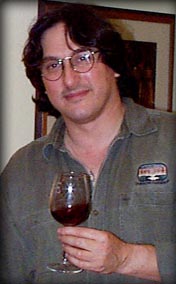 Jason Brandt Lewis
At that point, the Storrs had to leave for a birthday party, so we expressed our appreciation for their time and the terrific wines that they make, bid them adieu, and went off with Jason and Kay to enjoy a nice lunch at Gabriella's Café in downtown Santa Cruz.
Storrs wines are available at the winery and are sold in 18 states. Storrs Winery, Old Sash Mill, 303 Potrero St. #35, Santa Cruz, CA 95060; 408.458.5030, 408.458.0464 (fax).
After lunch, we said goodbye to Kay, who had places to go and things to do. Then we hopped on Highway 1 south to Aptos, and Jason gave us some background on our destination.

WINES:
1996 Storrs Santa Cruz
Mtn. Chardonnay
Christie Vineyard
1996 Storrs Santa Cruz
Mtn. Chardonnay
Vanumanutage
Vineyard
1997 Storrs Santa Cruz
Mtn. White Riesling
Viento Vineyard
1996 Storrs Santa Cruz
Mtn.
Gewurztraminer
Viento Vineyard
1996 Storrs Central Coast
Zinfandel
1996 Storrs Santa Cruz
Mtn. Merlot San
Ysidro
1996 Storrs Santa Cruz
Mtn. Merlot Mann
Vineyard
1996 Storrs Contra Costa
Sangiovese San Luca
Vineyard
1996 Storrs Santa Cruz
Mtn. Petite Sirah
[../lcdiary_index.htm]