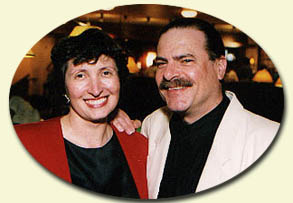 photo courtesy of califusa
Gang of Pour
Left Coast Diary
Storyline By: Bastardo
Photos and HTML By: The Director

Dedication: This tale wouldn't have been possible without the incredibly warm, generous hospitality of 9-Ball and califusa.


Sure, The Director and I still would have gone to California wine country, and most likely would have had a fine time. But we wouldn't have had the opportunity to forge friendships with two wonderful people, and that was so much of what this trip was about.
While we worked with califusa on his Zap/Not Zap feature in the Gang Pages, as well as having exchanged lots of email and notes on the wineboards, the closest we'd gotten to actually meeting were two or three phone calls. Still, he and 9-Ball opened up their home to us, giving us leave to come and go as we pleased, for our entire stay. This gave us the luxury of being able to set up meetings with winemakers on a (sometimes) next-to-last-minute-notice basis.
They also threw a fabulous offline tasting that was as fine a wine event as we've ever had the pleasure to attend. What's more, because we are recent Ridge ATP (Advanced Tasting Program) subscribers, and Bree/Backman are longtime members and volunteers, we not only attended our first Day in the Vineyard on Monte Bello Ridge, but also had the rare opportunity to stay afterwards for a small staff gathering. (Very special thanks also go to Ridge's Kathy Martinich and Delia Montesinos for making us feel so at home!)
On top of all that, you'll notice that Bree was pulling some particularly fine wines from "the cellar." We enjoyed several wonderful bottles that we'd only read about (and drooled over) before.
I could go on and on, but why get maudlin? You get the picture. These are two very special people who gave us a very special gift.
We can't thank them enough!!!