LEFT COAST DIARY
DAY 5
SALAMANDRE WINE CELLERS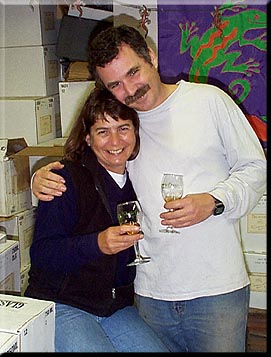 Wells and Sandy Shoemaker

Written by Jason Brandt Lewis

Wells and Sandy Shoemaker came to Salamandre Wine Cellars via a different route (than Pam and Steve Storrs). I'm not sure how they met or anything, but Wells is a medical doctor -- pediatrician -- by training. He was a professor at Stanford University's medical school, and set up the first neo-natal ICU in the Monterey Bay area. He recently left private practice, and is the director of a private, non-profit organization that runs the Medi-Cal services for Santa Cruz County (and soon Monterey County as well). He and Sandy have three daughters. Like many Santa Cruz Mountain wineries, Wells was a home winemaker who turned pro, starting Salamandre in 1985.

Salamandre produces about 2,500 cases of wine, primarily Chardonnay and Pinot Noir (Santa Cruz Mtns.) and Arroyo Seco Merlot. He also makes two Zinfandels (one labeled Primativo), Gewürztraminer, two "house blends" (Long Toed Red and Long Toed White, after the beloved [and endangered] Santa Cruz Long-Toed Salamander), and a bit of sparkling wine. He also plays around with Carignane and an occasional something else for fun. Wells is also one of the leading lecturers in the country regarding the affects of alcohol and health, specifically breast cancer risks and beneficial aspects.

After negotiating a twisting, winding road somewhat off the beaten path (well, it WAS paved), we arrived at the Shoemakers, where we were greeted by Wells, Sandy and Shasta, the wonder retriever. (One look at her tennis ball was proof enough that dogs will put almost ANYTHING in their mouths!)

The winery is literally a good-sized garage, with fermentation tanks out back. Inside are various barrels and cases of wine stacked almost to the ceiling. No Ferarri-Carano this, and who'd have it any other way?

We were being treated to a rather special occasion, because Salamandre is only open to the public four weekends a year, but thanks to a request to stop by from their old friend Jason, an exception was made. And within the first twenty minutes, we felt as if we were with old friends of our own, as Wells let us taste wines from both bottle and barrel.

THE WINES:

1996 Salamandre Santa Cruz Mtns. Dry Gewürztraminer
Matteson Vineyard
1996 Salamandre Santa Cruz Mtns. Chardonnay Clos D'or
Plise
1996 Salamandre Chardonnay Hunter Moon Reserve Arroyo
Seco
1997 Salamandre Chardonnay Arroyo Seco Barrel Sample
1995 Salamandre Santa Cruz Mtns. Pinot Noir Matteson
Vineyard
1997 Salamandre Santa Cruz Mtns. Pinot Noir Matteson
Vineyard Barrel Sample
1995 Salamandre Merlot Arroyo Seco
1997 Salamandre Merlot Arroyo Seco Barrel Sample
1997 Salamandre Primitivo Monterey County Barrel
Samples
1997 Salamandre Syrah Barrel Sample
1990 Salamandre Santa Cruz Mtns. Late Harvest
Chardonnay

We started off with a glass of '96 Gewürztraminer, which has lovely dry, spicy varietal character, with nice touches of cinnamon and nutmeg. As good as the Storrs is, this might be a titch better. Maybe the best domestic Gewurz I've had the pleasure of meeting.

Next, we tasted some Chardonnays. The '96 Clos D'or Plise (!) Chardonnay is rich, ripe and fat, with good acidity and nice subtle spice. Wells thinks this will age nicely. The '96 Hunter Moon Reserve is just a lovely expression of pure Chardonnay fruit, with the oak in the background. I preferred the first slightly, and am sorry that we brought none home…

The

'97 Arroyo Seco barrel sample was just finishing malolactic fermentation, showing spicy oak and rich fruit which bode well for its future.

Then came the '95 Matteson Pinot Noir which Wells described as his "yummiest yet." I don't know about past vintages, but this was one hell of a gorgeous wine, and is the reason that we didn't buy anything else here, because we bought some of this! (I opened one
for

califusa and 9- Ball the following night; notes are as follows: Ruby garnet, with good acidity and a slightly creamy mouthfeel, this has smoky black cherry/rose petal/hint o' chocolate flavors and aromas that give much pleasure. Good work, Wells!)

The '97 barrel sample of the Matteson Pinot seemed a little lighter that the '95, but was also lovely.

The '95 Arroyo Seco Merlot contains 5% Cabernet Sauvignon, and shows an interesting earthy component to its nice fruit. A '97 barrel sample of this shows the same earthy character; Wells says it's fruit comes from clone #3 and clone #9. (There's a song there somewhere; I just KNOW it.)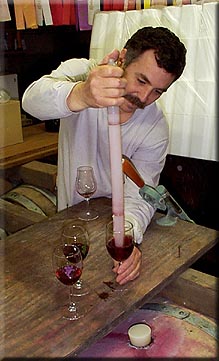 Wells blending a taste
Wells' '97 Primitivo (Zinfandel) from southern Monterey County was quite interesting, and tasty! It came in two pickings, segregated in separate barrels. The first was a little lighter in color than the second, with lotsa nice red fruit. The second, picked three weeks later, showed more tannins and substance. When blended together in the glass, they made a wine that was perfumed, fresh and fruity. I'd like to visit this blend again when it's bottled.
(While all this was going on, Wells was literally having to climb atop wine cases and/or crawl over barrels, wine thief in hand, to draw us some of the samples. Sandy, Jason and these tasters watched and happily discussed a wide range of subjects that included the guttural vocal qualities of Tom Waits' voice, the disgusting nature of Shasta's "fetch" tennis ball [you kicked it to her instead of throwing it], local political gossip and of course, the wines.)
Their '97 Syrah barrel sample was true to the varietal, with delicious smoky plum flavors, and was, as Wells put it, "pretty puckery."
By this time it was pushing 5, and Wells and Sandy had dinner plans. The Director and I were expected back at Gang West as well, so we made our purchases, again gave many thanks, and departed somewhat ruefully. Before we did though, Wells said we had to taste one more, and poured us a bit of their '90 Late Harvest Chardonnay. Sweet and lovely, this showed big-time caramel apple flavors and a hint of oxidation on the nose. Very nice stuff!
We dropped Jason off at Storrs, and hopefully let him know just how much we appreciated him taking the time to introduce us to these two very special family wineries that get little recognition or notice beyond their home territory, yet produce such high quality wines.
He IS one of the untiring champions of the Santa Cruz Mountains Appellation, afterall…
Salamandre is available via the winery and in retail in California, plus only a few other states. Salamandre Wine Cellars, 108 Don Carlos Dr., Aptos, CA 95003; 408.685.0321, 408.685.1860 (fax).

WINES:
1996 Salamandre Santa Cruz
Mtns.
Dry Gewürztraminer
Matteson Vineyard
1996 Salamandre Santa Cruz
Mtns. Chardonnay
Clos D'or Plise
1996 Salamandre
Chardonnay Hunter
Moon Reserve Arroyo
Seco
1997 Salamandre
Chardonnay Arroyo
Seco Barrel Sample
1995 Salamandre Santa Cruz
Mtns. Pinot Noir
Matteson Vineyard
1997 Salamandre Santa Cruz
Mtns. Pinot Noir
Matteson Vineyard
Barrel Sample
1995 Salamandre Merlot
Arroyo Seco
1997 Salamandre Merlot
Arroyo Seco Barrel
Sample
1997 Salamandre Primitivo
Monterey County
Barrel Samples
1997 Salamandre Syrah
Barrel Sample
1990 Salamandre Santa Cruz
Mtns. Late Harvest
Chardonnay
[../lcdiary_index.htm]