a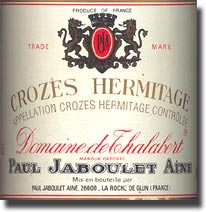 itual is important to the lives of wine lovers and sports fans alike, so it was a bitter winter and spring for this taster, what with no Detroit Red Wings hockey. The Stanley Cup should have been fought for and won by one team or another weeks ago, but sadly, such was not to be the case. Without going into personal feelings regarding the politics of the situation, I can tell you that we haven't ignored our Red Rhônes due to the NHL work stoppage; we can ALWAYS find a good excuse to pull the corks on some of those, whether it be a visit from a new friend, or just getting reacquainted with an old one. Here's the Rhône - down on the rest of what we've sampled over the last three of four months, starting with the latest renditions of a couple of wines we've gotten to know well over the years.

2001 Paul Jaboulet Aine Crozes Hermitage Domaine du Thalabert, $26.99, 13% alc.: While not bad wines by any means, these late model Thalabert Crozes Hermitage just don't seem to fly as high as they once did. A deep, dark garnet, fading to purpley pink at the rim, this one gives a little chocolate and wet dog fur over plenty of dark plum, blackberry and black cherry on both the nose and in the mouth, with some garrigue emerging as it opens. It features a smooth, creamy mouth feel, soft tannins, balanced acidity and a decent finish, but unlike many of the older models ('91, '94 and '95 come to mind right away), it's accessible with minimal air, and no decanting is required. The newer style offers brighter fruit and chocolate at the expense of the deeper, darker, more brooding qualities of the past, and while I still prefer the more rustic versions, it'll be interesting to see how these youngsters age.

Imported by Frederick Wildman and Sons, Ltd., New York, NY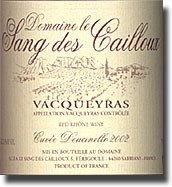 2002 Domaine le Sang des Cailloux Vacqueyras Cuvée Doucinello, $23, 13.5% alc.: This dark garnet colored Vacqueyras is a little leaner than usual, due no doubt to the problematic vintage, but otherwise it gives pretty much everything you'd expect from Sang des Cailloux. Typical flavors and aromas of leather, tar, underbrush, blackberry and black currant are tight at first, since we didn't give this any air before drinking, something it definitely needs (try decanting for an hour if you open one of these soon). Kim found it to be "chalky and gritty," while Alan Kerr aka Canadian Zinfan added impressions of "tarry balsa, graham cracker crumbs and toasty chocolate." Five to eight years worth of tannins will take this well down the road, but if there's one weakness, it shows a little less concentration in the transition from the mid - palate on back through the finish. Still, it's a success for '02, and a solid, if not great, wine.
Imported by Kermit Lynch Wine Merchant, Berkeley, CA

2000 Domaine de la Tourade Gigondas, $19.99, 14% alc.: I can't say why it's taken us so long to try one of these, because although we've been fans of J.C. Mathes' portfolio for years, we've never had a Domaine de la Tourade Gigondas until just recently, and that's too bad, if this one is any indication, because it's a nice glass of wine. Dark garnet, fading to pink at the rim, it shows straightforward earthy black plum, black currant and blackberry character, shaded with leather and a little smoke. There are still significant tannins to shed here, and it finishes with plenty of earth, but the wine opens quite nicely with air, becoming smoother and more harmonious. Thick, rich and pretty, it drinks pretty well now, but give it another five years to really show its best.

Imported by J et R Selections, Mt. Pleasant, MI

2001 Domaine de la Janasse Châteauneuf du Pape Vieilles Vignes, $150, 14.5% alc.: Bill Schwab aka The Psychopomp gave us a taste of this ruby dark garnet Châteauneuf, and it is an angry young wine, but one with all the stuff to go quite a way down the road. It gives up massive flavors and aromas of chocolate, spice, garrigue, smoke and licorice over deep, dark black fruit, and Bill described a certain "stinky cheese finish." While the wine does open dramatically in the glass, gaining even more chocolate, it really needs another ten years minimum in the bottle. A wine that has everything you need for a 98 Parker - point rating, I guess, but I don't know about all that chocolate...

2001 Domaine la Soumade Rastau Côtes du Rhône Villages Cuvée Prestige, $35.99, 14.5% alc.: Deep dark garnet, fading at the rim, with black currants and berries, plums and nice leathery notes; medium full bodied, with good presence and medium tannins, slightly drying on the finish. Good wine, but way over priced for what's in the bottle.

2001 Domaine la Soumade Rastau Côtes du Rhône Villages Cuvée Confiance, $45.99, 14.5% alc.: Dark garnet, with floral overtones and hints of dog fur underneath the red and black fruit bouquet; flavors echo with medium tannins on a medium full bodied frame, offering black currants and berries, plums, even a hint of red berries, all with an earthy base and some nice leathery accents. Very harmonious, especially with air, but $46?! I don't think so.

2003 Domaine "La Garrigue" Côtes du Rhône Cuvée Romaine, $13.99, 13.5% alc.: Dark garnet, shading to pink at the rim, with an almost Ridge - like bubble gum, sweet oak red fruit bouquet which Kim describes as "almost floral." Deeper and darker on the palate, while maintaining overtones of what resembles American (?!) oak; black currants and black plums, with earth and leather underneath, but where's the garrigue? Nice, if atypical, and like nothing we've had from this producer before; well priced, but purists may not like it.

Domaine de la Janasse, Domaine la Soumade & Domaine "La Garrigue" Imported by European Cellars Direct, New York, NY

2003 Château de Segries Côtes du Rhône, 13.5% alc.: Ruby garnet, with a smoky tinge, giving up red plums, red berries and black cherries on the restrained nose; flavors echo, with more raspberry, strawberry and hints of smoke and cola on a medium bodied frame. Fairly rich, not very tannic, and a nice enough finish. Pretty good for what's in the bottle, with what seems to be a fair amount of Grenache; not a big CdR, but a big improvement over the '02 model.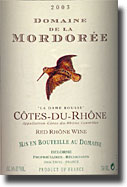 2003 Domaine de la Mordoree Côtes du Rhône, $13.99, 14% alc.: Deep, dark garnet, pink at the rim, with a red plum, black cherry, strawberry and rhubarb nose shaded with notes of wet dog fur and underbrush; these impressions follow through in the medium full bodied flavors with a solid earthy base, a little chocolate, a few years worth of tannins and more and more underbrush - garrigue as it opens. A step up in body and substance from the Segries, with a nice earthy finish, this is a solid CdR, and doesn't seem too ripe, despite the hot vintage.

2003 Grand Veneur Côtes du Rhône Reserve, 13.5% alc.: Dark garnet, pink at the rim, with plum, red berries, a subtle note of chocolate and a little wet dog fur on the nose; flavors echo and expand with a more refined personality than the other three from Kysela noted here, being not quite silky, but not chunky either. Rich, round and eminently drinkable, this medium full bodied CdR is good to go, now and for the next few years at least.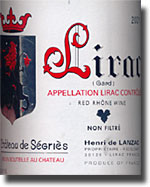 2003 Château de Segries Lirac Reservee, 13.5% alc.: Dark garnet, with a smoky tinge, and not giving much at all on the nose at first, but this is a wine that needs time to open and show what it has. With a few hours of air, what at first seemed a somewhat dull, clunky wine evolves to exhibit some real depth, with earthy dark plum, blackberry and black currant flavors and aromas that are accented with a little tobacco and underbrush. Medium tannins will take this at least a few years down the road, and bottle age should allow this to develop nicely. The best wine of these four from Kysela, for my tastes.

Château de Segries, Domaine de la Mordoree & Grand Veneur Imported by Kysela Pere et Fils, Ltd., Winchester, VA

2001 Santa Duc Rasteau Les Blovac, $24.99: Deep dark garnet color, with a very expressive deep, dark black currant, blackberry and iodine nose, and a little menthol lurking in the background. Big flavors echo, with a streak of leather throughout and tannins that don't intrude on tonight's drinking pleasure, but it will certainly improve with 3-5 years in the cellar. It turns a bit earthy on the finish, where the tannins show the most. I really like this, and so does Kim; it turns more and more leathery with air, and that's fine with us!

Imported by Robert Kacher Selections, Washington, D.C.

2003 Saint Cosme Côtes du Rhône, $18.99, 13.5% alc.: This wine is a poster child for the "international" styled wines that are more and more coming out of southern France. A deep, dark garnet fading to translucent at the rim, it shows chocolate first and foremost, with plenty of plum and black cherry in support, along with bacon and a little garrigue in the background. Rich, very ripe and a little fat in the mouth, with a good dose of tannins and some astringency on the finish, this is definitely not typical CdR, although it IS in the same style as the '01 model. It seems to show the effects of the scorching vintage, and while I enjoy it for what it is, it's not what I want from the Rhône; I'll spend a buck more for something like the Domaine de la Tourade Gigondas.

Imported by The Stacole Company, Boca Raton, FL



Reporting from Day-twah,

Bastardo