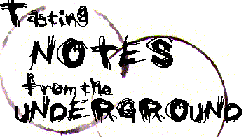 A Chat with J.C. Mathes
of J et R Selections, Ltd.
by Bastardo
Part 1 | Part 2
Take a look on almost any page of our Tasting Notes from the Underground - Red Wings and Red Rhônes features, and you're likely to see "Imported by J et R Selections LTD., Mount Pleasant, MI." at least once. That's because they've been bringing some of our favorite wines into the US for as long as we've been drinking them. Think Domaine du Pegau Châteauneuf du Pape, Domaine Bois de Boursan Châteauneuf du Pape, Domaine Le Mas des Collines Regis de Taxis Gigondas and Domaine des Amouriers Vacqueyras, and you'll get an idea of what I'm talking about.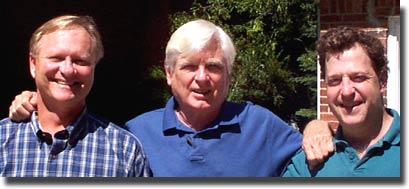 Jim Kenley, J.C. Mathes and Steve Rosoff

J et R Selections is run by retired University of Michigan professor J.C. Mathes, and is known first and foremost for the wines of the southern Rhône that they import and distribute. However, the company portfolio has gradually expanded to include domains in the Languedoc, Burgundy, Beaujolais, Champagne, Alsace and Bordeaux. I first ran into J.C. some years back; he was delivering cases of his wines to a local retailer, and I engaged him regarding certain wines from Vacqueyras. Then, I had the opportunity to chat with him at a gathering last summer, and found him only too happy to talk not only wine, but Red Wings hockey as well, scoring big points with this taster. Unfortunately, we were only able to speak briefly, and knowing that I'd have liked to find out more about the man and his business, my friend Mark Smith took it upon himself to set up an afternoon interview with the help of J et R Detroit area rep Steve Rosoff in mid-June, at Mark's home in Ann Arbor. Besides J.C., Steve, Mark and myself, also present was Jim Kenley, J et R Southern rep and heir apparent to run the company when Mathes decides to step back from it all.

J.C. was born in Toledo, Ohio, but lived in Ann Arbor, Michigan until he was 3 or 4, when his family moved to Midland, Michigan. During World War II, they went to California, where his father worked in the aircraft industry. J.C. came back to Ann Arbor to attend college, and has lived there since 1948.

geo: J.C., tell us a bit about your background, and how you got into wine.

Underground Index

Wine Probation © Defined
A Chat with J.C. Mathes of J et R Selections
More Red Wings &
Red Rhones '02-'03
Red Wings & Red
Rhones '02-'03
Playoff Diary '02
Welcome Home Stanley!!!
A Dandy Rhône and a Night at the Joe



J.C.: My PhD is essentially in Contemporary French Drama. I taught European Literature at San Diego State for two years. Then I came back here to the (University of Michigan) College of Engineering Literature Department, and taught Great Books, European Literature, and Composition. In 1968, we expanded our technical and business writing program; the first textbook in technical writing was written here in the College of Engineering English Department in 1906. And so I retrained myself and my career became technical writing.
But my training IS in French Literature, so during my first sabbatical (you get a sabbatical every seven years at the university), I headed right to France, to the Vaucluse. I'd never been there, even though that was my degree. So, we took a Polish freighter, we landed in La Havre, where we had a car waiting for us; we bought a Volkswagen. Then we drove down through a snowstorm (it was the second week in January), and went down into the Ardeche, in Aubenas, and there were palm trees!
First, we toured the Bouches-du-Rhone hunting for a place to live, and our favorite place there was Salon de Provence. And then we ended up in the Vaucluse, north of l'Isle sur la Sorgue in Velleron, and that's where we settled in. Living there for half a year, we just toured around, and did the markets, and the antiques and the crafts, the pottery and metalwork that's all in Provence, and we just fell in love with the place.
But, I couldn't stand the wine. One of my friends there gave me a bottle of Gigondas, and I thought it was the worst wine I had ever had. I hadn't tasted much wine, but it tasted like crank case oil! Oh, Jesus, it was terrible! My favorite wine was a nothing red wine from Aix en Provence. We visited some domaines, but I wasn't looking to get into the wine business. I didn't even like wine much, I drank a lot of beer back then.

geo: So what brought about your wine epiphany?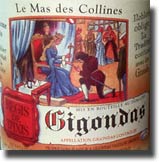 J.C.: Four years later in '76, we spent six weeks in the Vaucluse, and we found a five-bedroom farmhouse and rented it, because two other couples were coming for two weeks, so we needed a big farmhouse. It was on the side of the Dentelles, and the name of it was Le Mas des Collines. And this is the wine (holding up a glass of the '95). This is an old family farmhouse; they lived at the foot of the Dentelles in another house, where the domaine was. And so, every day, we got a six-pack of Le Mas des Collines, and I got hooked on it, and it's still my favorite wine. I never had a bottle of beer after that.

Then, we started going back every other year for a couple of weeks, because living there the second time, you're much more familiar with the culture, and by then, we'd developed a lot of friends. I've lived on three domaines besides Le Mas des Collines; I've lived on a Vacqueyras domaine, I've lived on another Gigondas domaine, and drinking one, we'd visit various other domains and get the wine and I got to know a lot of the growers, and socialized with some, and so that's when the seed was created, "Well, it might be an interesting retirement business.


geo: Which leads right into my next question; how did you get into the wine biz?

J.C.: I knew the growers; they became friends. The owner of Montmirail, Maurice Archambault was the Mayor of Vacqueyras, and he helped me get established there. I lined up six or eight domains in 1984, and started importing in '86, once I got all my licenses. And these were people that were either referred to me by Mas des Collines or Archambault, and that was before Rhônes were popular, so I got in on the ground floor. That's why I have all these domaines. If I weren't there, Lynch or someone would have them.

I was importing fifteen or sixteen domains by the time (Robert) Parker got to publicizing the Rhône. But then, I was established with my growers, that's the main thing. Almost all the domains I have are references from my growers, like Laurence (Féraud of Domaine du Pegau). Laurence went to wine school with Valerie, from Chaume-Arnaud, and I tasted their wines, so now we have Chaume-Arnaud, it's a great domaine. And she (Laurence) went to wine school with Jean Raphet's son, and she said," We have some good family friends in the Cote d'Or, you ought to see about importing their wines," and so I went up there and I got Raphet. Jean Raphet said, "My best friend is Patriarche in Meursault, why don't you see if you can import his wines." And Jim (Kenley) has Fortières in Beaujolais and different connections and that's how it happens. I have 109 labels right now, and twenty-nine or thirty estates.

Anyway, that's how my business has grown, by word of mouth. I don't deal with any negociants. My growers come; I take them around and do the marketing. Laurence has been here twice, and Jean-Paul from Bois de Boursan has been here four or five times; he married an American girl who lived in Traverse City. Bernard's been here three times from l'Espigouette, Thibert has been here, Francoise from Girasols has been here.

Jim: Jean

Francois Bordet, from Chablis, and Philippe Lamarque, from Montagnes St Emilion were here in March, when they were voting on Iraq in the UN, and guess where I had them? Austin, Texas! They were wondering if they were going to get out alive! (Laughter.)

geo: What is the extent of your distribution?

J.C.: Well, it expands by… it seems to be a state a year. I'm in all the major wine markets now, except the West Coast and the Northeast Coast. Jim is in Sarasota, Florida; he's essentially my Southern Sales Manager. He does Texas, Georgia, Florida and Indiana too! And I'm licensed in three other southern states. Gary (Kahle of Hand Picked Selections and Classic Wines) is getting us into Connecticut. And this hasn't been worked out, but if we never get a warehouse on the East Coast, then we won't be able to handle the Northeast, New York and so on, or be able to ship to the West Coast! Shipping wine across country, east to the West Coast, that's the wine route. It costs four dollars a case to ship that way; it costs me seven or eight dollars a case to ship elsewhere, and it costs me twelve to ship to California, and it's not competitive from Michigan. It's just not a regular wine route.

geo: Why is J et R Selections listed as being located in Mount Pleasant, Michigan, when in fact you live in Ann Arbor?

J.C.: One of my best friends, who's been to France with me many times, owns concrete, construction and paving companies in Mt. Pleasant, and he has all these buildings there, so I rent my warehouse from him at a very reasonable price. It's convenient.

geo: Can I safely assume that the "R" in J et R is your wife, Rosemary?

J.C.: Yes, it's a mom and pop business! It always was, until Jim got involved. I did it all myself. Here I am, a full-time professor, I'm the salesman and the delivery person; I was the only person involved with the business! My wife did a little bit of the paperwork, but it was just like a small corner grocery store.



Jim: He's got the energy of five men!

Steve: The guy works harder than I EVER worked!

While we talked, we sipped on some of J et R's selections.

Copyright © 2003 George Heritier