a





e had originally intended to call this feature "Winter Whites," because we drank a good deal more of the pale stuff than usual from December through late March. New vintages of old friends turned up at our door, and of course, we're always looking for different things to try, especially from Chablis. We just love Chardonnay when it gives you a mouthful of wet stones, chalk and a little bit o' swamp water, and no region does it better, in our not - so - humble opinion. However, time has run out on us, Spring has sprung, and so much the better, because all of the wines reviewed below will be even more enjoyable as the weather gets warmer.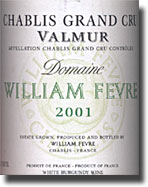 The more I drink the wines of Chablis, the more I like them. I'd been eying these from William Fevre for a while, but kept hesitating because of the price. Finally, curiosity got the better of me, and I went for a couple of 375s. Fevre had been a tireless champion of Chablis, particularly with regard to maintaining the traditional boundaries of the appellation to include only vineyards located on the classic Kimmeridgian rocks of that region, and to restricting the use of the word 'Chablis' to describe only wines from, where else, Chablis. He upgraded standards and practices, and expanded the domaine to become the largest single holder of Grand Cru vineyards, as well as a significant number of Premier Cru and regular Chablis sites. Then, in 1998, he sold it all to Henriot Champagne, who in turn installed the winemaking team from Bouchard Père et Fils, another of their holdings, to run the operation. William Fevre himself is now involved in a number of winemaking ventures around the world, particularly in Chile. I can't say what the wines were like before he left, but based on the following three, there certainly seems to be a high level of quality maintained since.

2000 William Fevre Chablis Les Clos, 375 ml, $29.99, 13% alc.: Kim didn't much care for this medium straw colored Grand Cru Chablis, saying that it reminded her of "burnt peanut butter," and indeed, when I first stuck my nose in the glass, there was something a little peanut butter - ish going on, but it quickly gave way to show a funky wet stone over quince and green apple, with some bees wax on the tail. A few of my friends might refer to the funky quality as "swamp water," but it's really GOOD swamp water, if you ask me. If it was a dominant factor in the wine's flavor profile, it might be unpleasant, but being in the background as it is, it simply makes for one of those irresistible "dogshit French wines," to quote one crazy Canadian. Crisp and fairly rich, despite the funk and stones, with good length on the finish, this is a wine I could get to know very well over the next five years and beyond.

2001 William Fevre Chablis Les Clos, 375 ml, $29.99, 13% alc.: Medium straw to pale gold in color, this one gives up bees wax, butterscotch and wet stones on the nose, and following through on the palate with a certain earthiness and a hint of that "swamp water" underneath. The wine has good presence, acidity and finish, but seems to need some bottle age to tone down the dominant bees wax and butterscotch, which I'd gladly trade for a little more swamp water and wet stones.

A week after trying those two, I ran into the '01 Fevre Valmur, and couldn't resist, especially with a preferred customer discount on the price listed.

2001 William Fevre Chablis Valmur, $45.99, 13% alc.: I enjoyed this medium straw rather more than the '01 Les Clos; it's all about chalky wet stones and honeycomb - bees wax, with some underripe apple underneath it all in both flavor and aroma. It shows nice balance and good presence, opening more and more with air, becoming ever richer as long as there's some left in the glass. I'd like these wines from Fevre even more if they cost just a little less, but we do what we must to drink what we like, do we not?

Imported by Clicquot, Inc., New York, NY

~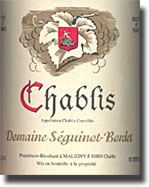 We loved the 2000 S

é

guinot Bordet Chablis when we had it last year; in fact we still have a few in the cellar from heck for future reference, so when a stash of '99s turned up, we didn't hesitate to check them out, and we really liked what we found. The same goes for the 2002 model, the current vintage available here in Day-twah. S

é

guinot Bordet is one of the oldest vignobles of Chablis, with vineyards that have been in the family since the 1830s. J et R Selections is the exclusive importer of this estate for the US.

1999 Domaine S

é

guinot Bordet Chablis, $17, 12.5% alc.: Medium straw, with soft wet stones, chalk and green apples dosed with more than a splash of lemon in both flavor and aroma; crisp and clean, with just the right amount of acidity and a long finish. Very nice with Kim's delicious chicken pot pie, and a wine that I could drink on a regular basis, winter, spring, summer or fall. A second bottle tasted showed an herbaceous quality and a little bees wax at the expense of some lemon, while the mineral took on a decidedly limestone character, but still, the wine was delicious, receiving positive comments all around among a group of friends. Great QPR; made with fruit from 25 year old vines.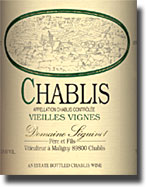 1999 Domaine S

é

guinot Bordet Chablis Vieilles Vignes, $19, 12.5% alc.: Medium gold, with slate and flint on the nose, and little fruit to speak of, but that's all right, because there's nice green apple and a splash of lemon on the palate, with the flint and slate in support. Crisp, clean, and still a bit tight at this point; certainly drinkable, and even enjoyable, but it needs more time to show its best. Lots of promise, so be patient; again, great QPR. Vinification is longer with the Vieilles Vignes than with the regular Chablis, and the juice has longer contact with the lees. It sees 7 - 10 days in steel, with malolactic fermentation after 30 days.

2002 Domaine S

é

guinot Bordet Chablis, $17.99, 12.5% alc: A medium straw, with flavors and aromas of wet stone, chalk, apple, pear, a little bees wax and some detergent on the finish. With good presence, density and zippy acidity, this is certainly drinkable now, and then some, but I'd like to come back to it in three to five years.

And finally, from Chablis, we happened to run into this one from Joseph Drouhin a few months back, and we weren't going to pass up a Grand Cru bottling of any kind, much less Les Clos.

2002 Joseph Drouhin Chablis Les Clos, 13% alc.: Medium straw, with restrained green apple, pear, wet stones and little hints of citrus on the nose as it opens; flavors echo and expand nicely, blending fruit and mineral seamlessly, with zippy acidity and a nice finish. This makes a fine match for roasted chicken and root vegetables now, but would certainly benefit from some bottle age to develop some complexity and nuance. Rather well - behaved when compared to the others noted above, meaning I wouldn't mind more river stones and/or a little swamp water.

Imported by Dreyfus, Ashby and Co., New York, NY


~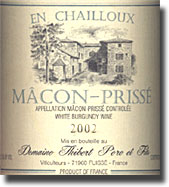 I first tasted Domaine Thibert's M

â

con-Priss

é

"En Chailloux" with the importer, J.C. Mathes of J et R Selections, and I loved it. So when The Psychopomp (aka Bill Schwab) rounded up the two latest vintages, we didn't need any coaxing to give them a try. The two Thibert Pouillys showed up on local retailers' shelves, and seemed like good bets to try as well.

2001 Domaine Thibert Pere et Fils M

â

con-Priss

é

"En Chailloux," 13% alc.: Although this may not be quite as good as the 2000 version, it still drinks well and gives pleasure. Medium straw in color, with clean aromatics of apple, pear, cream, honey and rainwater, and big expressive flavors that echo with a hint of sweet cream soda over the decidedly dry base; The Psychopomp added his impression of "toasted vanilla." This has a nice density to it without being in any way heavy, and finishes with some stony minerality. From 10 year old vines, planted in soil containing more limestone than clay; the wine saw no oak, instead spending 6 to 7 months in stainless steel vats.

2002 Domaine Thibert Pere et Fils M

â

con-Priss

é

"En Chailloux," 13% alc.: No doubt reflecting the quality of the vintage, this is definitely a step up from the '01. A pale to medium straw in color, it gives plenty of rich, ripe apple and pear flavors and aromas, accented with a note of lime, a bed of mineral underneath it all and a hint of detergent on the finish. It shows good acidity and has a very nice presence. Kim exclaimed, "This is so pretty," and she was certainly right about that.

1999 Domaine Thibert Pouilly - Fuisse Vignes Blanches, $29, 13% alc.: This wine smells and tastes "yellow," and it looks that way too, with its pale golden color; it offers bees wax, mineral and a note of oxidation over some rich, tart apple and pear underneath it all on both the nose and palate. There's still plenty of acidity here, so the wine is in no danger of fading anytime soon, but while I find it interesting and even enjoyable, ultimately, it's just a little too maderized for my tastes; I probably would have liked it more a year or two ago. Or, perhaps it was an off - bottle, but someone else will have to crack one to test that theory. From 50+ year old vines in the best hectare of the appellation, aged 12 months on lees in 2 to 4 year old oak barrels.

1999 Domaine Thibert Pouilly - Vinzelles, $18.99, 13.5% alc.: Medium straw in color, with bees wax, tart green apple, mineral and a little quince in flavor and aroma; this has a rich, round mouth feel, adequate acidity and a nice, if not overly long finish. A nice match for the usual culinary suspects, such as fish and fowl dishes, or good just to sip on its own. Not quite up to Thibert's M

â

con-Priss

é

, but just fine on its own. Sourced from vines averaging 40 years of age, located on 1 hectare (2.4 acres) with southeast exposure on marly, clay-limestone soil, adjacent to the AOC Pouilly-Fuisse; fermented then aged in oak foudres for 8 months.

Imported by J et R Selections, Mount Pleasant, MI


~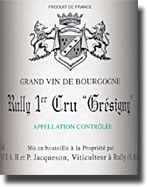 Our friend Gary Kahle, of Hand Picked Selections, has been telling us for some time now how good Jacqueson's Rullys are, but this is the first one we've tried, and it's a winner.

2001 H et P Jacqueson Rully "Gr

é

signy," $29.99, 13% alc.: Kim really likes this medium gold colored Premier Cru from Rully, Jacqueson's flagship white, and so do I. It offers up flavors and aromas of tart apple and pear, accented with a streak of butterscotch, the sweeter aspects of which are diffused by an underlying base of minerality and an element of honeycomb - beeswax, all with subtle, creamy overtones of oak. Medium full bodied, with excellent intensity, lemon squirt acidity and good length on the finish, where a little something like detergent emerges. As nice as it is now, this has the structure to improve over the next three to five years.

Imported by Hand Picked Selections, Warrenton, VA



Reporting from Day-twah,

Bastardo