a





e often enjoy interesting and/or excellent wines that, because they're not part of a larger tasting or thematic feature, might not otherwise be reviewed. But these wines are hardly what could be considered mere flotsam and jetsam, and thus the creation of this recurring page. We're always looking for new things to try, and that's mostly what we've tasted over the last few months. We did revisit one old friend, however, again, and again, and again…

One of the very best wines we've had this year is a 1982 Groth Napa Cabernet Sauvignon, a marvelous bottle by almost anyone's standards. So smooth, and still showing pure, lovely fruit, with no secondary flavors whatsoever, this is an ideal model for mature Napa Cabernet, and one that we enjoyed immensely, courtesy of Alan Kerr aka Canadian Zinfan, who also did us the honor of scribing his inimitable impressions.
Here's a not - so - short list of the rest of the best of what we've tasted lately: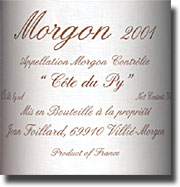 2001 Jean Foillard Morgon "Côte du Py," $25, 13% alc.: We tried this wine based on the strong recommendation of my friend and colleague Putnam Weekley, and it's something of a revelation. We've never been fans of Gamay, but then, we've never had the likes of this before. Our experience with quality Cru Beaujolais was pretty much limited to a few bottles of 2001 Chateau Thivin en Beaujolais Cote de Brouilly Cuvee Zaccharie Geoffray, a nice wine and no doubt, but not the one that would convert us. That was to remain for this one to do, and it has accomplished that task admirably. A slightly cloudy ruby garnet in color, it exudes a lovely perfume, and perfume is the only term that does these aromatics justice, a lovely perfume of sweet cherry, cranberry and strawberry, with spice and floral overtones, all of which echo and expand in the silky smooth flavors. In the mouth, this has a not - quite - delicate personality; I say not - quite - delicate because despite the silky texture and medium weight, there's a rich concentration to the flavors, leading into a long, lingering finish. The wine has structure, but it's almost hidden, such is its balanced and harmonious nature. This is real wine, one that relies on no gimmicks or tricks; it's all about good work in the vineyard and honest winemaking.

Imported by Kermit Lynch Wine Merchant, Berkeley, CA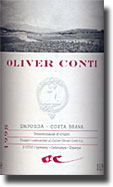 1998 Oliver Conti Emporda - Costa Brava, 70% Cabernet Sauvignon, 20% Merlot, 10% Cabernet Franc, $19.99, 13.5% alc.: A bit of the barnyard blows off the nose of this deep, dark garnet, leaving a soft leather, black olive and cocoa powder bouquet. The flavors pick up the ball and run with it big time, with the leather, olive and cocoa accents setting the tone for the expressive black currant, cassis and blackberry character of this dry, appealing Spanish claret. Moderate tannins turn somewhat drying on the finish, but as it opens in the glass, it becomes increasingly rich and harmonious. This is a deliciously interesting and enjoyable wine that can pair with a fairly wide range of food, and it should continue to improve over at least the next few years. The wine is supposed to retail for around $36-40, but because it didn't sell in this market, is being discounted heavily by the distributor. Tasted ten times in the last six months with consistent results; needless to say, we like this one a lot.
Click here for a good profile on this winery.

Imported by Veritas Distributors, Inc., Detroit, MI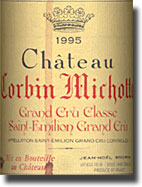 1995 Chateau Corbin Michotte Saint - Emilion, $38.99, 13% alc.: When we tasted this lovely Saint - Emilion recently with Alan Kerr, it had the disadvantage of being evaluated amongst a crowd of more fruit forward Californian reds, and didn't perform nearly as well as it did on its own a week earlier. It's showing just a hint of brick to its deep, dark garnet color, along with gorgeous flavors and aromas reminiscent of dark chocolate, black currant, black plum, cassis and notes of earth and tobacco. Smooth and velvety, with a dense, extracted (but not over – extracted) texture, this really opens beautifully over three hours or so. Just so impressive, this is one of the best wines we've had so far in '05, and it can easily go for another five, maybe even ten years in the cellar. Yowza!

Imported by Wine Warehouse Import, Los Angeles, CA



1998 Sine Qua Non E-raised California Red Wine, 14% alc.: Showing just a hint of rust to the dark garnet color, this delicious, Krankled Syrah gives very nice, moderately earthy plum, prune and black cherry flavors and aromas that are accented with smoke, pepper, and hints of leather and tar. The wine tastes like it came from older barrels, rather than younger, and as it opens, it develops even richer flavor. Balanced and harmonious, with an ever - so - slightly funky quality that actually adds to the appeal, rather than detracts, this is a Californian expression of Syrah that even a Franco - phile can enjoy. Very nice indeed! Sourced primarily from the Alban Vineyard in San Luis Obispo, and Bien Nacido and Stolpman Vineyards in Santa Barbara. Many thanks to our resident redneck proofreading pediatrician Greg Ellis aka Vin Pays Doc for this fine gift.

2002 Sean Thackrey Mendocino Sangiovese "Aquilla" Eagle Point Ranch, $45, 15.7% alc: This ruby dark garnet colored Sangio could be mistaken for Zinfandel in a blind tasting; it shows pretty, perfumed flavors and aromas of raspberry, black cherry and a perfectly integrated kiss of oak. The wine is nicely balanced, not too tannic, fairly dense (but not over - extracted), and rich but not jammy. It opens beautifully with air, not so much evolving as simply showing more and more of everything it has to offer. Much better behaved than the 2000 model, and not seeming to show the alcohol level that the label indicates, this is one that Kim and I like a lot, although we find the price point questionable.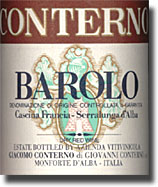 1994 Giacomo Conterno Barolo, $28.50, 14% alc.: Ruby garnet in color, showing just a hint of rust, this offers mushroom, tobacco, tar and a hint of olives over cherries on the nose, with earthy flavors that echo, with the emphasis on the mushroom and tobacco. Still somewhat tannic, but not to the detriment of drinking enjoyment now, with the requisite acidity and a long, earthy finish, this is smooth and lovely, and still on the way up. Another five years won't hurt it at all; it also could have used an hour in a decanter before we drank it. Excellent stuff for a 50th birthday celebration; we should have bought more at Binny's in Chicago last October.

Imported by Vin Divino, Chicago, IL

2000 Massolino Margheria Barolo, $63.99, 14% alc.: Ruby dark garnet, with a slightly smoky tinge, this one's all about dried cherries with earthy underbrush and tarry undertones that only accent, rather than dominate the character of the wine. Silky, medium – bodied and surprisingly approachable at this point, with tannins that make themselves known throughout, but show mostly on the finish. I had a glass of this on the night it was opened, then didn't get back to it for two days, and still, the wine was singing. Somewhat reminiscent of a middleweight red Burgundy, with its best days a ways down the road, when it should develop more nuance and complexity.

Imported by Domaine Select Wine Estates LLC, New York, NY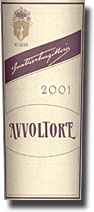 2001 Moris Avvoltore Maremma Toscana, 75% Sangiovese, 20% Cabernet Sauvignon, 5% Syrah, $55, 14% alc.: Like pouring a blend of motor oil and ink, this exudes effusive aromas of huge dense black fruits that follow through on the palate, and with air, fan out to show rich, steely blackberry and black currant adorned with supporting notes of cedar, dark chocolate, coffee and leather. Very smooth, yet dense and concentrated, this opens and opens, showing more and more of what it has; it doesn't so much evolve as simply expand in its generosity. This has the structure to take it well down the road, and yet it's already so good, with an hour's worth of air, I'd be hard pressed not to open another soon, just to show it off to friends. An exciting, dare I say, sexy wine.

Imported by J & J Importers, LLC, Bloomfield Hills, MI

1999 Sang des Cailloux Vacqueyras, $19.99, 13.8% alc.: There's still no rust showing in the deep, dark garnet color of this old friend, but it's finally coming around and entering a nice drinking window. It's tight when first poured, but with 45 minutes to an hour's worth of air, it really blossoms into a fine Vacqueyras. Giving grilled meat, black fruit and some barnyard and rotting vegetation on the nose when first poured, the funky notes mostly blow off to reveal a root beer - rock & rye - cola character. Big, rich and powerful in the mouth, the flavors follow through on the promise of the aromatics with plenty of structure and a nice finish. Still on the way up, with a good three to five years of improvement ahead of it, so why have we gone through six bottles since New Years? Must have had something to do with how well it's drinking already, because there sure hasn't been any Red Wings action to enjoy it with. I'll try to keep hands off that last bottle for a while, but...
Imported by Kermit Lynch Wine Merchant, Berkeley, CA

2001 Domaine Santa Duc Rasteau Les Blovac, $24.99: Deep, dark garnet in color, with a very expressive, deep, dark black currant, blackberry and iodine nose, and a little menthol lurking in the background. Big flavors echo, with a streak of leather throughout and tannins that don't intrude on tonight's drinking pleasure, but it will certainly improve with 3-5 years in the cellar. It turns a bit earthy on the finish, where the tannins show the most. I really like this, and so does Kim; it turns more and more leathery with air, and that's fine with us!

Imported by Robert Kacher Selections, Washington, D.C.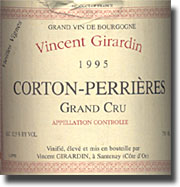 1995 Vincent Girardin Corton - Perrières, 12.5% alc.: Ruby garnet in color, with just the slightest hint of rust, this is rather stingy with its aromatics, but does offer straightforward earthy cranberry and cherry flavors that don't show much flair or complexity at first. However, it opens nicely with air, gaining notes of smoke, mineral and a little forest floor. Smooth on the palate, with moderate tannins and balanced acidity, this is a fine match for Kim's pork loin roast with haricot verts, sautéed mushrooms and caramelized onions over green lentils. The secret to enjoying this is giving it plenty of air; by the time we were on our last glasses, it was even more enjoyable than a '96 Domaine Drouhin Laurene and '98 Panther Creek Freedom Hill Pinot Noirs, both of which we've enjoyed on other occasions. (Interestingly, the Laurene came off tasting almost candied, and was our least favorite of the three Easter wines.)

Imported by Vineyard Brands, Inc., Chester, VT

1996 Chateau Prieure - Lichine Margaux, $27.20, 12.5% alc.: Dark garnet fading to pink at the rim, with just the faintest tinge of rust, this is pretty tight when first poured, but it opens steadily over a period of four hours, and by the last glass, it really sings. It shows flavors and aromas of tobacco, black currant, cassis, blackberry, earth - mineral and something like old barrels, for lack of a better description. Kim remarked that it "smells like a fresh cardboard box," and she didn't mean that unkindly, nor was she referring to any kind of taint. There's still a good dose of tannins on a medium full bodied frame here, so this is in no danger of fading any time soon; it'll probably drink well over the next decade. As it opens, it also develops notes of cedar and a subtle herbaceous quality that adds interest and complexity. Not great Margaux, but certainly very good Margaux, and one I really enjoy, especially at this price.

Imported by Seagram Chateau & Estate Wines Co., New York, NY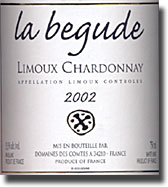 2002 La Begude Limoux Chardonnay, $13.99, 13.5% alc.: Medium straw, with softly herbal apple and pear flavors and aromas dosed with a good deal of mineral and some detergent on the fin; notes of lime and chalk emerge with air, and the rich fruit really shines in the mid - palate. Medium - bodied, with crisp acidity and a nice finish; very tasty, and an excellent QPR value. We've gone through several of these in the last few weeks, and it will certainly be one of our house whites over the summer months. Between this and the white Burgundies reviewed in last week's report, we've enjoyed more Chardonnay in the last couple of months than we've had in the last couple of years.

Imported by Langdon Shiverick Inc., Cleveland, OH

Finally, this wine has created something of a sensation over the last few months in the Detroit area. Retailers and customers alike have raved about it and bottles have been flying off of shelves wherever it's been stocked. Two reps that I've spoken with from AHD Vintners, the distributor handling the wine in this market, reported 100% sales rates; in other words, every retailer they tasted this with bought it, to the tune of 850 6-packs in less than two weeks. Putnam Weekley thought enough of this to have devoted an entire column to musings and ruminations about this single wine.


For those as of yet unfamiliar with Clos de los Siete, it's a joint project of five fairly high profile French investors (down from the original seven), headed by that international wine whiz bang Michel Rolland, who've sunk millions of Euros into creating a co-operative collection of Bodegas in the Mendoza region of Argentina. The wine is made from vines that were planted in 1999, and shows remarkable density such for such youthful provenance.

I had the opportunity to taste this with the distributor, and then I bought three bottles for further consideration. My notes are included here not because I'm a big fan, but simply to give my take on a wine that almost literally caused a feeding frenzy upon release in southeastern Michigan, and for weeks afterward as well.

2003 Clos de los Siete Mendoza, 40% Malbec, and 20% Cabernet Sauvignon, 20% Merlot, 20% Syrah, $15, 14.5% alc.: Opaque purple garnet in color, with little if any fading to pink at the rim, this is one seriously dense glass of wine. It exudes aromas of chocolate, mulberry, dark plum and even some ripe blackberry, with overtones of balsa or something reminiscent of a woodshop. The flavors echo and expand upon these themes, with a rich, dense, extracted character that seems almost plump. A few years worth of tannins show mostly on the finish, but can't detract from the engaging, in - your - face fruit forward profile of the wine. Unabashedly international in style, and if that's your bag, you'll love this; Michel Rolland bashers (and you know who you are) will have plenty, no, make that copious gobs of reasons for further naysaying. I can appreciate this for what it is, and yes, I can even enjoy it, else I wouldn't have brought some home, but ultimately, it's not what I'd want to drink with my steak or even my burger. It was a brief, though fun flirtation, but now I'll go back to the kind of wines I can drink every day, because there's something about this one that seems a little too "manufactured" to me.

Imported by Vins et Vignobles Dourthe


Reporting from Day-twah,

Bastardo