a




t seemed like an intriguing theme, especially coming from Jim Friedman, a man whose main wine proclivities are more along the lines of Bordeaux and Champagne, so when he flew the idea for an offline featuring highly rated Australian Shiraz amongst the southeastern Michigan contingent of the Mark Squires - eRobert Parker forums, more than a few people found it to be a juicy opportunity to try a cross section of delectables that don't often come their way. The event was ratings driven, calling for wines receiving 96 points or better according to Parker, and was held at the well appointed Wabeeck Country Club, in Bloomfield Hills, on a warm Saturday evening in mid - April.

And, while I'm not a numbers kind o' guy, I have enjoyed many a glass of fine Australian wine in my travels, so I had an idea that this might be worth showing up for, and not just to renew old acquaintances or make a few new ones.

24 wine lovers attended, and as always, it was a pleasure to tip glasses and trade tales of wine adventure with Friedman and his wife Faye, Dan Myers, Norton Delidow, Loren Sonkin (who drove up from Cleveland), Paul Ragheb and fiancé Amy, Donald and Bridget Solomon, Brad Baker, Jim Baker, Brad Cook and Charon McNabb, and last but never least, the irrepressible Karwyn Abrams.

We got things started with some lively conversation, hors d' oeuvres, a little bubbly and a few single bottles that folks brought along.

Laurent - Perrier Champagne Brut NV, 45% Chardonnay, 40% Pinot Noir, 15% Pinot Meunier, 1.5L, 12% alc.: Medium straw, with a fine bead, good froth in the mouth and delicious yeasty, smoky mineral and green apple flavors and aromas; there's good length to the finish of a sparkler that I could drink on a regular basis. Jim opened two of these, having aged them for five years.


Dan Myers, Jim Friedman and Loren Sonkin

2002 Torbreck The Factor Barossa, 14.5% alc.: Deep dark garnet, fading to pink at the rim, with perfumed black cherry, plum and blackberry aromatics accented with hints of chocolate and sea air; these impressions follow through on the palate, with a very smooth, yet dense texture, being rich, but not over the top. There's a good dose of tannins underneath all that fruit, and it throws a little heat, but all in all, this is a nice glass of wine.

1997 Penfolds Grange South Australia, 14.3% alc.: I don't know how this 94 point dog got in the door, but it wasn't hard to tell that this wouldn't last long, so I took a pour as soon as I could, and sure enough, the bottle was drained within half an hour. An inky dark garnet in color, with lovely blackberry and black plum flavors and aromas, shaded with notes of sea air, coffee and a nice kiss of sweet oak. Dan called the wine seamless, and I wouldn't disagree; despite still showing plenty of tannins, this is eminently drinkable, with its smooth, almost creamy texture. While not having the last pour of this, there was some fine sediment left in the bottom of my glass. One of the best damned aperitifs I've ever had, and to hell with the points, this was one of my two favorites of the evening!

2003 Kangarilla Road McLaren Vale Shiraz Viognier, 15% alc.: Dan called the dense color of this "impenetrable," adding that "the Viognier gives it a nice floral edge, reminiscent of d'Arenberg's Laughing Magpie," and again, he was right on with that assessment. Indeed, the Viognier is obvious, giving this overtones of honeysuckle and lilac, and complimenting the big sweet oak, blackberry and black plum character; it also throws a little sea air on the nose, and finishes with a note of blueberry. At first, there's a little something like old wood here, but it dissipates with air, proving not to be TCA, as Loren and this taster initially suspected. Many thanks to Alan Kerr for this very nice wine, which I snuck in the door, despite the fact that it ONLY received 95 points from Parker; it more than held its own against the higher rated (and priced) competition.

2002 Kaesler Stonehorse Barossa Shiraz, 15% alc.: A deep, dark garnet, giving some sea air and aquarium over sweet oak, blackberry and black plum, with hints of chocolate, coffee and tar. A nice wine that was perhaps somewhat lost in the crowd.


Brad Baker, Jim Baker and Paul Ragheb, with fiancé Amy

The Main Event


The seven wines served with dinner were poured in advance, giving them time to open with air. There were three bottles of each selection contributed, one for each table, with more than enough wine to go around. Dinner consisted of a Caesar salad to start, followed by a fine thick rib eye steak, served medium rare and accompanied by gratin mashed potatoes and asparagus spears. Without exception, each glass in the flight looked as if it held ink, rather than wine, and as said glasses were smallish, the aromatics of some may have suffered. I started off with the two I thought might be the least food friendly, based on previous experiences.

2002 Marquis Philips McLaren Vale Shiraz 9, 16% alc.: Big sweet oak dominates the plum and berry on the nose of this ooze monster, with more plum and berry on the palate, and noticeable heat. With just a little swirlatude, it takes on a vanilla milkshake quality, and indeed, Dan Myers found it somewhat reminiscent of J. Lohr Cabs from the '80s. Not totally disgusting, but I didn't finish my glass.

2002 Marquis Philips McLaren Vale Shiraz Integrity, 16% alc.: Not much on the nose, with hard dark fruit and big oak in the mouth, packin' serious heat. No mas for this taster, but it had its admirers.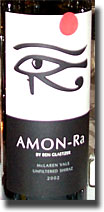 2002 Amon - Ra Barossa Shiraz, 14.5% alc.: Reticent aromatics, with relatively restrained, balanced spicy black plum and blackberry, showing no heat to speak of and no excess oak. Food friendly and very enjoyable; Loren agreed, calling it beautiful.

1999 d'Arenberg McLaren Vale Shiraz The Dead Arm, 14.5% alc.: Showing mostly sea air on the not - overly - exuberant nose, this fills out in the mouth, with black plum, black currant, and hints of chocolate, earth and mineral, being almost Rh

ô

ne - like compared to some of these. The oak is restrained, and the tannins are soft, making for a lovely glass of Shiraz. This was a big favorite at our table, and my wine of the night, along with the Grange. It's in no danger of fading any time soon, so drink or hold.

2001 d'Arenberg McLaren Vale Shiraz The Dead Arm, 15% alc.: This one has a little more of everything that the '99 shows; a little more on the nose, a little more oak, a little brighter fruit and of course, more tannins, all while maintaining the same essential flavor profile. Very nice with the rib eye, despite showing a little heat.

2003 Mitolo G.A.M. McLaren Vale Shiraz, 14.5% alc.: Paul Ragheb's fiancé' Amy described this as "like a botanical garden in my mouth," and while it doesn't give much on the nose, it is quite tasty, with a note of cloves over blackberry and black currant. Very smooth, and not too tannic, this is almost claret - like, and matches well with the rib eye. With a little air, an element of maple syrup emerges, adding complexity and interest.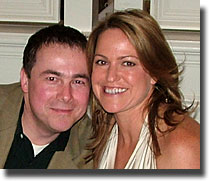 Brad Cook and Charon McNabb
2001 Torbreck Barossa Shiraz The Factor, 14% alc.: Restrained oak over a little tar and black fruit on the nose, with a lot more of everything on the palate; rich, medium full bodied, with a nice finish and just a little heat, this is fairly food friendly, with a slightly creamy quality and a bit o' chocolate as it opens.

With the exception of the two from Marquis Phillips, most of these paired better with food than I might have expected, and even though they aren't the style of wines that I would make a habit of drinking on a regular basis, I found a lot to like with several of of them. Obviously, not everything red from Down - under has to be an ooze monster.

We finished up with some sweet stuff, as I opted to take my tiramisu with coffee the next morning, rather than one of the following three selections.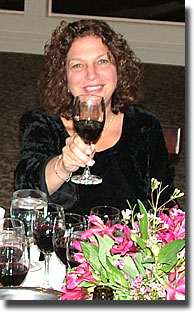 1996 d'Arenberg McLaren Vale Riesling The Noble, 10.5% alc.: Tawny amber in color, with lovely characteristics of petrol, apricot, white peach, honey and subtle herbal undertones; rich, sweet, but not cloying and not quite unctuous either. Very nice.

R.L. Buller Fine Muscat, 18% alc.: Tawny amber in color, this smells like maple syrup with alcohol, and tastes like it too. Thick, rich and unctuous.

R.L. Buller Fine Tokay, 18% alc.: Tawny amber in color, this smells like dry cat food with alcohol, and tastes like it too! Throws more heat than the Muscat.

Many thanks to Jim and Faye (shown at right) for organizing what was a very fine evening of wine, food and friendship. Thanks also to all who attended for their contributions, and to the staff at the Wabeeck Country Club, for their fine food and attentive care.



Reporting from Day-twah,
Bastardo