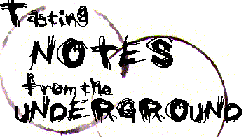 Red Wings and
Red Rhônes '02
Playoff Diary
Round 2


The Detroit Red Wings entered the 2nd Round of the 2002 Stanley Cup Playoffs with confidence and momentum after taking four straight games from the Vancouver Canucks, yet still feeling that they could play better. They'd have to against the St. Louis Blues, a team that looked dead in the water until the last month of the season, when they rallied to make the playoffs and gain the 4th seed in the Western Conference, at the expense of the Wings no less, whom they defeated in the final 2 games of the regular season. But all of that was past history for these two divisional rivals, and both teams were prepared for nothing less than all-out war on the ice.
Game 1 – Detroit Red Wings vs. St. Louis Blues, Thursday, May 2, 2002, Joe Louis Arena, Detroit, MI: The Red Wings shutout the Blues in the opening game of the series by a score of 2-0. Goals by Pavel Datsyuk and Brett Hull and at least 5 brilliant saves by goalie Dominik Hasek were the difference in the game, in which the Wings got all the breaks. Play was tentative, with tight checking throughout until the last minute of the 3rd period, when Blues forward Keith Tkachuk (gesundheit!) appeared to deliberately run into Hasek, precipitating a gathering of the clans in the Detroit end of the rink. Cooler heads prevailed and order was restored, but a tone was set that would surely carry over into Game 2.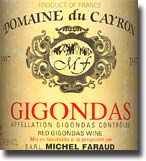 1997 Domaine du Cayron Gigondas, $18.99, 14% alc.: This producer is a favorite of ours, but I'm not sure how we missed this vintage until now. It has a surprisingly light ruby garnet color, or maybe not so surprising, considering the vintage. Whatever the case, the perfumed flavors and aromas are anything but light, showing off pretty, concentrated smoky cola, plum and red currant character, with overtones of coffee and cinnamon-nutmeg-like spiciness. There's lots of delicious full bodied fruit here, but also plenty of acidity; the first sip caused Kim to scrunch her face up and give a little shiver. It's somewhat reminiscent of the '97 Les Cailloux Châteauneuf du Pape in that regard, although not as extreme. There's still a bit of a tannic byte to it as well, but it can't quite restrain the long, lovely finish. Finally, after 3 ½ hours of air, it settles down some and really starts to sing. Give this at least another 3 years to mellow, and I think you'll be rewarded handsomely.
Imported by Kermit Lynch Wine Merchant, Berkely, CA
Game 2 – Detroit Red Wings vs. St. Louis Blues, Saturday, May 4, 2002, Joe Louis Arena, Detroit, MI: The Wings had the Saturday matinee game well in hand after 2 periods, leading 3-0 on goals by Steve Yzerman, Brett Hull and Luc Robitaille, the latter two on the power play. The Blues hurt themselves by taking stupid penalties, but still made it a close game with 2 goals in the 3rd from Scott Mellanby, the 2nd coming with only 41 seconds to play. Dominik Hasek was outstanding in goal, proving once again that Detroit made the right choice by acquiring him in the off-season.
I rarely drink any kind of alcohol in the afternoon, even when watching the Red Wings. Since the Red Rhône voodoo seemed to be working so well after 5 games, I decided to test its power and uncork a bottle the night before instead. Again, it appears that we have some STRONG mojo working here…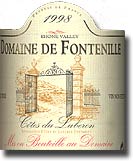 1998 Domaine de Fontenille Côtes du Luberon, $13.49, 13% alc.: I tasted the '93 version of this many moons ago in New Jersey, and loved it, so finding a recent vintage at Cloverleaf in Southfield was a pleasant surprise. Typically dark garnet, it has a striking nose of deep plum with violet overtones that follow through on the palate with lots of pepper and good acidity, finishing with drying tannins and a little astringency.
Kim: "This is like taking a taste of black pepper water. It's the most pepper I've ever tasted in a wine!"
Bastardo: "Don't you think the pepper tones down with some air?"
Kim: "I don't know if it toned down, or if my palate just got used to it. When I first tasted it with my virgin mouth, it was almost shocking, but now that my mouth is polluted, it's not so bad."
And she meant that in the kindest way!
This has an almost Bordeaux-like dryness to it that is quite attractive, even though it seems to be heavy on the Syrah. The pepper DOES tone down a lot with air, and as it opens, it just gets better and better. Kim doesn't dislike this, but she isn't nearly as enthusiastic about it as I am either. Given the cost with a case discount, this has excellent QPR, and I must have more!
A Peter Weygandt Selection: Imported by Weygandt-Metzler Importing, Ltd., Unionville, PA
So. If the mojo can extend its influence from the night before as it appears to have, could the effects be cumulative? I decided to test THAT theory a few hours after the game by opening not one, but two incarnations of some old favorites of ours. The setting was the '02 Flower Party.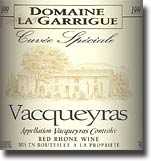 1999 Domaine la Garrigue Vacqueyras Cuvée Spéciale, $15.99, 13.5% alc.: Not quite an inky dark garnet, this has earthy leather, cola, smoke and Brasso® overtones that accentuate the rich, perfumed plum and blackberry bouquet. The flavors echo, but as I expected (based on past experience), this is fiercely tannic. However, 3 hours of air allow this to open into something like approachability. It's a big brawny brute of a thing, with good acidity and a fairly long finish, despite the tannic grip. After 4 hours of air, this opens up pretty well, and after 6, it's downright drinkable. I love a big rustic wine like this, but the gritty tannins need several years to settle down, develop and show it at its best.
An Eric Solomon/European Cellars Selection: USA Wine Imports, New York, NY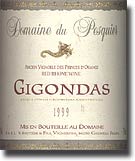 1999 Domaine du Pesquier Gigondas, $21.99, 14% alc.: This pretty ruby dark garnet may not be quite as deep in color as I would have expected, but the lovely perfumed smoky cola, blackberry and black currant flavors and aromas are all I could ask for, and more. More immediately accessible and elegant than the Vacqueyras, it's also a bit less tannic, with a little more acidity. Some underbrush-garrigue comes out with air, adding another subtle dimension to this very pretty southern Rhône. Give it 3-5 years or so to smooth out the tannins.
Newcastle Imports, Inc., Myrtle Beach, SC
Game 3 – St. Louis Blues vs. Detroit Red Wings, Tuesday, May 7, 2002, Savvis Center, St. Louis, MO: The mojo wasn't working on this night, despite a fine red Rhône that was sacrificed at Gang Central, as St. Louis scored a big 6-1 victory over the boys from Day-twah. The Red Wings power play went back into the toilet, while the Blues scored twice on theirs. To make matters worse, the enemy also scored a shorthanded goal. Keith Tkachuk (gesundheit!) had the hat trick for the bad guys.
1999 Paul Jaboulet Aine Crozes Hermitage Domaine de Thalabert, $19.99, 13% alc.: Dark garnet turning pink-y purple at the rim, this perennial Gang favorite features surprisingly accessible flavors and aromas of garrigue, chocolate, plum, mulberry and bacon. It shows a lot more fruit than these usually do, and little of the usual youthful astringency. It's not all that tannic, with good acidity, a smooth, almost creamy mouthfeel, and a reasonably long finish.
Have you ever smelled perfumed bacon? That's what this smells like after 4 ½ hours; then vigorous swirling produces a rather dusty character, making for a back-and-forth, split personality bouquet as it evolves in the glass. Hints of black cherry and tobacco also emerge on the palate with extended air.
Imported by Frederick Wildman and Sons, Ltd., New York, NY
Game 4 – St. Louis Blues vs. Detroit Red Wings, Thursday, May 9, 2002, Savvis Center, St. Louis, MO: The Wings took a 4-1 lead into the final 3 minutes of the game on goals from Brendan Shanahan, Jiri Fischer, Tomas Holmstrom and Steve Yzerman, then had to hold on for a 4-3 victory, as the Blues scored twice after pulling their goalie for an extra skater. The Blues lost the services of their captain Chris Pronger in the 1st period, when he sustained a season ending knee injury getting the worst of a hit aimed at Yzerman.
2000 Domaine du Cayron Gigondas, $21.99, 14% alc.: I got this pretty dark garnet directly from the source, in a manner of speaking, having stopped into Kermit Lynch's shop in Berkeley, CA, where it had just hit the aisle. We drank it with Bree while watching the game in Napa. It exudes a perfumed blackberry, black currant bouquet with hints of licorice that follows through on the palate with good acidity and a good brace of youthful tannins that can't completely restrain the reasonably long finish. It's full-bodied, but not ponderous, and some red currant character comes out with air. Bree really liked this, commenting, "Roasted; it seems hot, not in the alcohol sense, but sunbaked. In a way, it reminds me of Pagani with that upfront jammy fruit." A very nice Gigondas here, and it should be even better in about 5 years.
Imported by Kermit Lynch Wine Merchant, Berkely, CA
Game 5 – Detroit Red Wings vs. St. Louis Blues, Saturday, May 11, 2002, Joe Louis Arena, Detroit, MI: We couldn't watch this game; it wasn't televised on the Left Coast, and besides, we were trying to find our way through some 60 or so York Creek wines up on Spring Mountain. Still, I was happy to hear that the Red Wings prevailed, 4-0, with Brendan Shanahan scoring two goals, and Dominik Hasek pitching another shutout. Later that evening, we toasted the boys with a bottle of the 2000 Domaine le Sang des Cailloux Vacqueryas Cuvée Azalaïs that got the mojo working so well in Round 1. I'm happy to report that it showed every bit as well as the 1st time, and Bree, Alan Kerr and Delia Montesinos were all duly impressed.
The Blues were clearly out-gunned in this series, and their only hope, that of beating Detroit with great defense, went down the tubes with the loss of Pronger. Still, I like to think that the Red Rhône mojo continued to work a little magic on the boys' behalf as well. So while they've had some time to rest up for their 3rd Round opponents, I've been out and about gathering more bottles to conjure up more victories.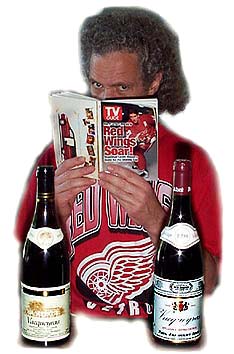 By Bastardo

1997 Domaine du Cayron Gigondas
1998 Domaine de Fontenille Côtes du Luberon
1999 Domaine la Garrigue Vacqueyras Cuvée Spéciale
1999 Domaine du Pesquier Gigondas
1999 Paul Jaboulet Aine Crozes Hermitage Domaine de Thalabert
2000 Domaine du Cayron Gigondas


Underground Index

Wine Probation © Defined
A Chat with J.C. Mathes of J et R Selections
More Red Wings &
Red Rhones '02-'03
Red Wings & Red
Rhones '02-'03
Playoff Diary '02
Welcome Home Stanley!!!
A Dandy Rhône and a Night at the Joe