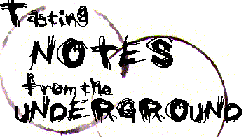 Ga-Ga for Gewürz!
1993 Domaine Zind Humbrecht Gewürztraminer Wintzenheim $17.99
1993 Domaines Schlumberger Gewürztraminer -Fleur de Guebwiller $21.99
Found the ZH while ratting around in the cellar of the Merchant of Vino in downtown Birmingham, for a reasonable price. Never had one before, so I snuck off of "Wine Probation" and brought one home, just to see what all of the buzz was about.
I pulled the Schlumberger from "the cellar" for comparison's sake (the same Fleur de Guebwiller that we enjoyed with The Artist last January, when we came up with the idea for the Gang of Pour).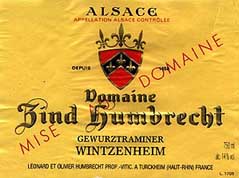 We tasted the Wintzenheim first, which was a mistake. Call this wine a gold, not a white; Madame L'Pour noted a tinge of pink to it. Almost spritzy at first, the pungent nose exudes tons of typically floral litchi-apricot aromas with an initial undertone of canned peas that blows off quickly. Very oily in the mouth, it's a little fat, and not too acidic. Aromas follow through in the flavors, with added accents of herb and mineral. A bit sweet on entry, this finishes dry, and continues to open with air.
Imported by Wine Market International Inc., Woodbury, NY.
Next, we poured the Schlumberger. A paler shade of gold, with the same basic flavor profile as the first, but muted by comparison. The nose is cleaner, with a hint of lime peel to it. It has lots of acidity, and isn't nearly as oily as the Wintzenheim. (Do I recall once remarking that it was the oiliest wine I'd ever tasted?! :-)
We opted for the Schlumberger to accompany tandoori chicken, and this time, we made the right choice, because it's great with food. As the expubidence of the ZH faded, the Schlumberger was appreciated for what it is, a balanced, beautiful Alsatian Gewürztraminer. It continued to open for over three hours, and it should improve for several years.
Imported by Maisons Marques & Domaines USA Inc., Oakland, CA.
Afterwards, we poured another glass of the ZH, and the comparative notes became quite apparent. The Guebwiller is a big wine, the Wintzenheim is HUGE! Overripe, over-extracted, and overblown, perhaps this is why ZH products have been described as being atypical of Alsatian wines. This is not to say that it's a bad wine; we both enjoyed it. However, while we clearly preferred the Schlumberger, Wine Spectator Bulletin Board stalwart Todd Serota recommends that we investigate the ZH line further, and we intend to do just that. We'll keep ya posted.
1991 Domaines Schlumberger Gewürztraminer-Fleur de Guebwiller
Found a few of these this summer, and enjoyed them almost as much as the '93. Pretty floral nose that's almost as oily as the flavors; both feature pungent apricot notes, with subtle hints of pineapples and herbs. Pale golden color, and a little fat in the mouth. Continues to open over three hours. Still has decent acidity, but at $17 per, I don't know why you wouldn't drink this up now. (We did!) Quite nice. Good QPR, for an Alsatian.
1994 Leon Beyer Gewurztraminer Alsace
Tasted this with "Avatar" and his buddy Brian recently, along with a '91 Schlumberger Gewurz.-Fleur de Guebwiller. The latter was an off bottle from others we've tasted, but not so the Beyer. Pale-to-medium gold, with plenty of the pretty floral fragrance that one expects from a good example of the varietal. Slightly oily in the mouth, with moderate acidity, it showed pungent flavors of apricot, pineapple, rose petal, and a little honey. A nice Alsatian Gewürz for $17.


The Drawing of the Threes
A Chat with J.C. Mathes of J et R Selections
More Red Wings
& Red Rhones '02-'03
Red Wings & Red Rhones '02-'03
Playoff Diary '02
Welcome Home Stanley!!!
A Dandy Rhône and a Night at the Joe