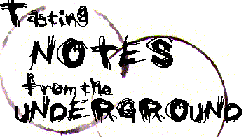 MORE GEWÜRZ NOTES
1988 Gewürztraminer "Hugel"
1989 Schlumberger Gewürztraminer Kessler Alsace Grand Cru $25.00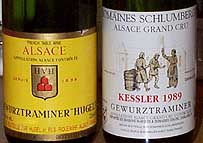 Following an e-conversation with fellow internet wine enthusiast Bruce L. regarding Alsatian Gewürz, he wondered if we'd care to engage in "an experiment," and swap bottles of wine. He wanted us to try the '88 Hugel Gewurz, which was just fine. In return, I sent him a bottle of the '91 Domaine La Garrigue Cotes-du-Rhone.
The Hugel is a pale gold, with mature flavors and aromas of apricot, rose petal, herbs, and wet stones, with muted litchi nuances that emerge with air. Soft, but not fat, this was quite pleasant, and went well with Madame's shrimp and scallop rice concoction.
Imported by Dreyfus, Ashby & Co., Inc.
After tasting this, I got an itch, so I pulled the Shlumberger Kessler from "the cellar" (the very bottle purchased at "the biker wine store" across the road from V. Satui, as noted in the Gang's Sonoma Saga). At first, this medium gold wine had a burnt smoke note that overwhelmed the apricot-litchi on the nose. This dissipated with air to become a nice nuance in the complexity of the wine. Rich, oily, fat and pungent, it's fairly sweet, with beautiful apricot-pineapple-litchi-honey flavors. Again, this opened with air; initially, the finish was a tad short, but after an hour or so, it had lengthened dramatically.
Bigger than the Fleur de Guebwiller or the Clos Grensbroennel, but not as overripe as the Wintzenheim, this is certainly the best wine of the six noted here, if not one of the best tasted this year. Gorgeous and decadent.
Imported by Maisons Marques & Domaines USA Inc., Oakland, CA
---
A Glass of Gewürz with Dolphin Girl
1994 Willm Clos Grensbroennel Gewurztraminer Reserve Alsace Grand Cru $14.99
Dolphin Girl stopped in a while back during fall break at Oberlin, and I pulled this from "the cellar" to try with her. It had been highly recommended by Canadian Zinfan during one of our trips to Byron, Ontario, and boy, did he hit it on the nose!
Pale to medium gold, this is ripe, oily, soft and slightly fat, with low acidity. The rich fruit exhibits very much the same floral (almost perfumed) litchi-apricot flavors and aromas as the Wintzenheim and Geubwiller, with a spicy smoky undertone that adds complexity. Finishes a little sweeter than those two, and went well with falafil. (Dolphin Girl's a vegetarian.) A very satisfying wine that was purchased as a closeout at the London, Ontario LCBO Vintages Outlet.
Such a deal!




The Drawing of the Threes
A Chat with J.C. Mathes of J et R Selections
More Red Wings
& Red Rhones '02-'03
Red Wings & Red Rhones '02-'03
Playoff Diary '02
Welcome Home Stanley!!!
A Dandy Rhône and a Night at the Joe