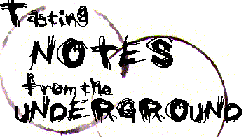 Red Wings and
Red Rhônes 2001

A Dandy Rhone and a Night at the Joe


I was being domestic and folding clothes, after half a day at school, and some errands. She had just come home from work, and we were enjoying a glass of wine, at the end of a long week.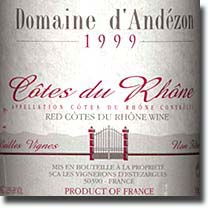 It was a 1999 Domaine d'Andezon Côtes du Rhône ($9.99, 13.5% alcohol), a pretty dark garnet libation that smells like nothing so much as a bottle of multiple vitamins, at first. But then it unfolds to a spicy plum/black currant/bitter chocolate/ iodine bouquet that echoes in the flavors, on a full bodied frame, with an added tarry note, significant tannins and good acidity. It opens nicely with air, but really needs a few years in the cellar to show its best.
The telephone rang, and she answered.
"Hi, Chuck. Yup, he's sitting right here."
She handed me the phone, and the voice on the other end said, "I guess you know what this call is all about."
"Yes, I do," I replied.
"So, do you want to go?"
"Yes, I do," I replied.
"OK, it's an 8 o'clock start, because of ESPN, or something. Meet me at the ghost of Joe Louis, in Cobo, at around 7:45. That should give us plenty of time to get to our seats."
"I'm there, dude!"
Chuck Palmer is an old friend who has some season tickets to Red Wings games at Joe Louis Arena, in Detroit. He treats me to a freebie or two every year, not only because he has a good heart, but also because it's a nice way for us both to remember his brother, George.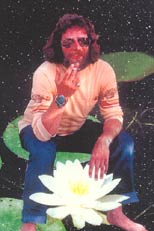 George (right) was probably the closest thing to a brother that I ever had myself. We went through a lot together, most of it good, except for that girlfriend of his that I stole back in the winter of '73. I was a little surprised when he showed up at my door six months later with a bottle of Schloss Schonborn Auslese and no hard feelings.
He always preferred the Rheins to the Mosels.
George was a rock 'n' roll guitar player; we used to sit in at each other's gigs whenever we could. We both had the hair and the beards, and apparently some people thought we looked a lot alike. I don't know how many times we were asked, "Are you guys brothers?"
Our response was always the same; he'd say, "Yeah, we're the Dubious Brothers," and I'd chime in, "I'm George, and he's George."
Anyway, I got hooked on hockey in '76, and George got caught up a few years later. From then on, we spent many an evening in front of the television (and occasionally at the Arena) rooting for the Wings, and enduring many sorry seasons before they finally found some success in the late '80s, and then, the '90s. He was right with me on that fabulous night when Yzerman and the boys won the Stanley Cup in June of '97, but he never got to see the repeat performance.
George was involved in a head-on collision a week before Thanksgiving later that year. The person in the van that he ran into said he was slumped over at the wheel. I never did find out whether he had a heart attack, went into a diabetic coma, or what, and ultimately, what difference does it make? When you're dead, you're dead.
And so, Chuck treats me to a freebie or two every year, and we have a great time, win or lose. This was a particularly important contest, with the Division leading but injury riddled St. Louis Blues, who were in the midst of a three game slide, and ahead of the Wings in the standings by the slimmest of margins, just one point. No Pronger, no MacInnis, no Demitra, no Nash, no Handzus. The Wings were healthy, as was demonstrated by the return of defenseman Chris Chelios, after a three-month absence with a major knee injury.
Things didn't look so good after Sergei Fedorov skated off late in the first period holding a towel to his bleeding face. He didn't return, and it was later announced that his nose had been broken in a head-on collision of his own with the Blues' Bryce Salvador. The score was tied 1-1 after one period, but then it was almost all Red Wings, who skated away with a 4-2 victory, and sole possession of 1st place in the division, for the time being, at least. The biggest cheer of the night went up for the captain Steve Yzerman, who scored his 13th goal of the season, and in the process, became only the 6th player in NHL history to collect 1,600 points in his career.
There's nothing like seeing NHL hockey live; it's fast, it's nasty, and they do it all on skates. You can't get anywhere near the same feel for the game watching it on TV. Afterwards, I thanked Chuck, drove home and poured myself another glass of the d'Andezon, in keeping with our Red Wings-Red Rhônes tradition.
Then, I sat down and wrote an appreciation of the last team in pro sports that I can still root for, my good friend Chuck, and "our" brother.
George would've have loved that game. He probably would have liked the wine too, even though it wasn't a Rhein or a Mosel.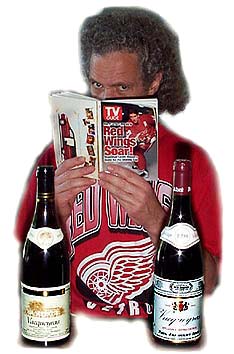 By Bastardo
More Recent Côtes du Rhônes:
1997 Coudoulet de Beaucastel Côtes du Rhône
1998 Coudoulet de Beaucastel Côtes du Rhône
1996 Coudoulet de Beaucastel Côtes du Rhône
1994 Domaine du Vieux Chene Côtes du Rhône Villages
1996 Domaine du Vieux Chene Côtes du Rhône Villages
1997 Domaine du Vieux Chene Côtes du Rhône Cuvee de la Haie aux Grives
1997 Domaine du Vieux Chene Côtes du Rhône Cuvee des Capucines
1998 Domaine "La Garrigue" Côtes du Rhône Cuvee Romaine
1999 Cuvee Selectionee par Kermit Lynch Côtes du Rhône



The Drawing of the Threes
A Chat with J.C. Mathes of J et R Selections
More Red Wings
& Red Rhones '02-'03
Red Wings & Red Rhones '02-'03
Playoff Diary '02
Welcome Home Stanley!!!
A Dandy Rhône and a Night at the Joe