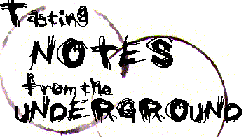 Red Wings and
Red Rhônes '02
Playoff Diary
Round 1- Part 1


The Detroit Red Wings finished the 2001-02 regular season with the best record in the NHL, going 51-17-10-4 (wins, losses, ties and overtime losses) for 116 points, but went without a victory in their final seven games, hardly looking like world beaters. True, they had rested many of the old legs and tried to heal the worst of the strains and bruises during that period, but knowledgeable hockey people will tell you that you can't just turn your "A" game on and off. And so this fan looked forward to the start of post season action with some concern, not the least of which was with regard to their 1st round opponent. The Vancouver Canucks, unbeaten in its last nine games, was the league's best team in the second half of the season, going 28-9-3-3 since Christmas.

How would the team with no less than seven future Hall of Famers fare against the upstarts from British Columbia? Could they regain their form of the first ¾ of the season and roll right along into the 2nd round, or had those old legs finally run out of gas, like many naysayers had predicted?
Game 1: Detroit Red Wings vs. Vancouver Canucks, Wednesday, April 17, 2002, Joe Louis Arena, Detroit, MI: The Wings picked up the intensity for the start of their playoff run, but in the end, their winless streak was stretched to eight games, and the Canucks eked out a 4-3 overtime victory. It looked like Detroit had the game well in hand after the puck went off a sprawling Igor Larionov at 1:55 into the 3rd period giving them a 3-2 lead, but Martin Dandeneau's clearing pass up the middle failed to get out of the Wing's end, and after a pin-ball scramble, Trevor Linden tied the game at 10:47. That led to overtime, where anything can happen, and it did, when Henrik Sedin's shot deflected off the hand of Larionov and into the Detroit goal at 13:59. Not the way the boys wanted to start the 2nd season, to be sure. As it happened, the evening's wine was far more satisfying than the game's outcome.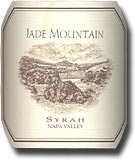 1997 Jade Mountain Napa Syrah, $24.99, 14.5% alc.: Late last December, we received an email from Douglas Danielak, Winemaker and General Manager at Jade Mountain Winery in Napa Valley. In it, he expressed surprise and pleasure at having discovered our ongoing "Red Wings and Red Rhônes" features, but was also somewhat chagrined that "...it seems that no one has tasted the California Rhône wine made by a grinding left winger from St Clair Shores (MI)," referring to himself, of course. He wondered if we had tried any Jade Mountain wines, and if we knew of any "good defensemen living near Napa for our hockey team."
As it happens, we don't see Mr. Danielak's wines in Day-twah as much as we once did, but those we had previously tasted some five years or so ago were quite good. I've kept on the lookout for them since then, and was recently rewarded by picking up a bottle of this deep, dark garnet Syrah at a local grocery store, of all places. Just shy of being inky, it exudes a pretty blackberry and plum bouquet that shows a hint of violets and a judicious kiss of sweet oak. These follow through on the palate with a good dose of earth and a smooth, plush mouthfeel that belies the substantial tannins and zippy acidity. As it opens, some spicy nutmeg and cinnamon adds complexity and character. Full bodied, yet without a bit of flab, this finishes much better than the Red Wings' big guns had been lately, making for one very tasty, satisfying Napa Syrah.
Game 2: Detroit Red Wings vs. Vancouver Canucks, Wednesday, April 19, 2002, Joe Louis Arena, Detroit, MI: The Wings didn't just look flat during the 1st 20 minutes of this all-but-must-win game, at times they looked inept, with passes that didn't connect and a goalie that wasn't living up to his stellar reputation. The Canucks didn't play that much better, they just got all the breaks going their way, much the same as Game 1. Some of the Detroit fans actually booed their home-town heroes after the 1st period, and Dominic Hasek received some sarcastic cheers for an easy save, after giving up a goal that should have never gone in. Down 2-0, with the fans chanting "Shoot the puck, shoot the puck," the Wings finally scored midway through the 2nd period on a pretty behind the back pass from Steve Yzerman to Nicklas Lidstrom, only to go back down by two. Yzerman, the best player on the ice for either team, scored in the third period after a heroic effort to maintain control of the puck behind the Vancouver net. That period was almost all Wings, except for Markus Naslund's late goal, giving the Canuck's another two-goal cushion. It was another puck that Hasek should have stopped, but at least he couldn't be blamed for the empty netter with just over a minute to play, giving the visiting team a 5-2 victory.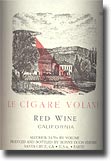 1999 Bonny Doon Le Cigare Volant, 36% Mourvedre, 34% Syrah, 30% Grenache, $29.99, 14.5% alc.: Sticking with the Left Coast Rhône theme, we decided on one from the original Rhône Ranger himself, Randall Grahm, this being his approximation of a New World Châteauneuf du Pape. Dark garnet, fading to a youthful pink at the rim, the spicy bubblegum, raspberry and black cherry bouquet isn't exactly reminiscent of a southern Rhône. Flavors generally echo, with some deeper darker elements of plum and underbrush. With its medium full body, sub-dude tannins, good acidity and decent, slightly tarry finish, this is a pleasant glass of wine, though not very Rhône-ish to my taste. And even with the 20% discount I received on the listed retail price, I feel that this lacks somewhat in depth and is overpriced for what's in the bottle. Scott "The Geek" Tobias and Kim found this more to their liking than did this taster.
So, two games into the playoffs, and my boys were in deep spit. Home ice advantage was gone, and they'd have to win at least two games in Vancouver. Not an impossible task, but the weapons that had accomplished so much during the regular season, the players who'd gotten them there, weren't performing up to their usual high level. The power play was in the toilet and the situation looked grim.
As I pondered these facts glumly, another thing occurred to me. Over the past few weeks, I hadn't stuck with what had worked all season either. I'd been drinking anything BUT my wines of choice during games, even opting once for a white wine! Having abandoned my beloved red Rhônes, had I, in the process, also abandoned the Red Wings? Was it too late to turn things around?!
A timely email from the gang at Cloverleaf Fine Wine and Spirits of Southfield, MI informing me of some new items in stock gave me the opportunity to find out...
Game 3: Vancouver Canucks vs. Detroit Red Wings, Sunday, April 21, 2002, GM Place, Vancouver, BC: The Wings finally got their 'A Game' dusted off, and skated away with a convincing 3-1 win on enemy ice. Steve Yzerman had a goal and an assist, and was again inspirational, as he continued to lead by example while playing on a very sore knee. Dominic Hasek also raised his level of play, making a number of excellent saves, including a huge stop on Todd Bertuzzi's penalty shot late in the 3rd period. The game was a fine match for the latest effort from one of our favorite southern Rhône producers.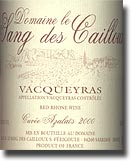 2000 Domaine le Sang des Cailloux Vacqueryas Cuvée Azalaïs, $19.99, 13.8% alc.: Turn to your friends in times of trouble, and the wines of this producer have been at the top of our list for some time now. Kim described this inky, opaque garnet as "almost black," and it has enticing aromas reminiscent of black currant, plum, iodine and licorice. Flavors echo and expand to include elements of earth, coffee, cola, root beer and some smoky grilled meat with extended air. This is remarkably smooth and approachable, despite youthful tannins, with good acidity and a finish that turns slightly stemmy but lingers long. It's everything you could want from a great Vacqueyras, and it will only get better. Drink it now, or drink it in 5 years.
Imported by Kermit Lynch Wine Merchant, Berkely, CA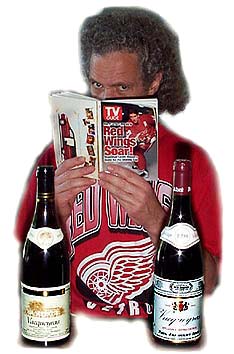 By Bastardo

1999 Bonny Doon Le Cigare Volant
2000 Domaine le Sang des Cailloux Vacqueryas Cuvée Azalaïs
Part 2
1997 Domaine le Sang des Cailloux Vacqueryas
1996 Les Cailloux Châteauneuf du Pape
1997 Domaine Bois de Boursan Châteauneuf du Pape
1997 Jaffurs Santa Barbara Syrah Bien Nacido
1998 Jaffurs Santa Barbara Syrah Thompson
1997 Paul Jaboulet Aine Crozes Hermitage Domaine de Thalabert


Underground Index

Wine Probation © Defined
A Chat with J.C. Mathes of J et R Selections
More Red Wings &
Red Rhones '02-'03
Red Wings & Red
Rhones '02-'03
Playoff Diary '02
Welcome Home Stanley!!!
A Dandy Rhône and a Night at the Joe