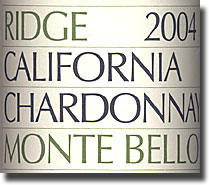 After tasting through some older wines from Ridge in October, I got a hankering to see what was new from one of our longtime favorite producers. We've not kept up with them as much as we used to, since the reds in particular seem to be going through some stylistic changes in recent vintages, and haven't always been to our liking. So, we collected several bottles, and tasted through them a few days after Christmas. Alan Kerr aka Canadian Zinfan made his annual holiday trek to Day-twah a few days after Christmas, and we didn't waste any time getting down to trying four of these, as well as a few other things. We were joined by Charter Gangster Scott "the Geek" Tobias, and we started things out with some bubbly.

Champagne Chartogne-Taillet Brut NV Cuvee Saint-Anne, 12% alc., $41, disgorged 07/2005: This medium straw colored Pinot Noir/Chardonnay blend shows an ample mousse and a fine, active bead; it offers yeasty, chalky, pungent yellow apple flavors and aromas. Alan commented, "I love that almost scrumpy cider apple" character. It has good weight, great balance and excellent acids and length, along with a rich core of fruit that has an almost sweet quality to it, but this is not a sweet wine. Well received all around; even Kim likes it! Find this wine

Terry Theiss Estate Selections, Michael Skurnik Wines, Syosset, NY

2004 Ridge Santa Cruz Mountains Chardonnay Monte Bello, 14.7% alc., $45: Medium straw to pale gold in color, with honeyed, spicy, toasty oak over rich, ripe pear with shades of praline, canned peas and some subtle minerality. Medium full to full bodied, viscous in texture, with good weight and acids. Alan added impressions of "smells like a daffodil, quite floral," calling it "one of the best Chardonnays I've had in a long time." The wine shows plenty of oak, but it's overpowered by the rich fruit, and will tone down with time in the bottle. Chardonnay from up on the Ridge has a good track record for aging well, so I'd have no qualms about laying this down for five years. Find this wine
1999 Schlumberger Pinot Gris Alsace Grand Cru Speigel, 13.5% alc.: The Geek described this pretty gold colored Gris as "almost like a dessert wine, but it's not sweet." Indeed, it's rich and very ripe, eliciting impressions from Alan of "molasses and orange dust," which he described to me as "boiled orange zest, blanched in a simple syrup, dried and pulsed." I always learn something about food when Chef Kerr comes around, and bonus, the wine is delicious! Find this wine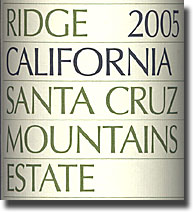 2005 Ridge Santa Cruz Mountains Estate, 58% Cabernet Sauvignon, 42% Merlot, 13.7% alc., $38.99: Deeply, darkly colored, made with fruit sourced from Monte Bello Vineyard, this gives a nice kiss of sweet oak over pure black currant and blackberry on the nose, accented with a note of cedar. The flavors echo and expand, with nice earthy undertones, and the wine is well-built, but like a swimmer, rather than a weight lifter or a football player. A big, beautiful California claret with 5-10 years of promise, one that Scott describes as "not a sentimental wine." Find this wine

2005 Ridge Napa Zinfandel Spring Mountain York Creek, 89% Zinfandel, 11% Petite Sirah, 14.5% alc., $29.99: With good, dark color, this actually shows a touch of Draper perfume," but not in the classic sense. Made very much in a claret style rather than a ripe one, and a little more "old school" in that sense, it exhibits blackberry and black raspberry flavors and aromas, and while it's very nice right now, it's structured for at least five years of improvement. A sleek wine, I like this as much for what it isn't as for what it is, and it matches up nicely with some medium rare grilled tri-tip steak. Find this wine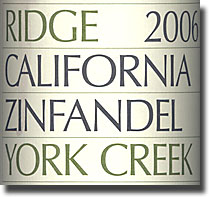 2006 Ridge Napa Zinfandel Spring Mountain York Creek, 99% Zinfandel, 1% Petite Sirah, 14.8% alc., $29.99: With good, dark color, this is rich and ripe without going over the top, offering creamy black raspberry and blackberry, along with what Alan describes as "spicy Madagascar green peppercorn and green tea." This one really shows its predominantly Zin character; it's creamy smooth with deceptive structure and very subtle earthy undertones for some years in the cellar. It may not last as long as the '05 noted above, but it's right there right now. Classic old school Zinfandel, but like so many of the current models, there's no real "Draper perfume" to be found here. Find this wine



~~~~~~~~


We tried eight other selections from Ridge in the weeks leading up to Christmas, and here are our impressions of those.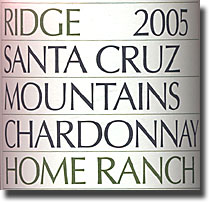 2005 Ridge Santa Cruz Mountains Chardonnay Home Ranch, 14.6%alc., $45: Medium straw to pale gold in color, with spicy sweet oak and a mélange of bright apple, pear, tropical fruit-pineapple and mineral flavors and aromas; shows power and intensity without any fat or excess weight. Full bodied and braced with excellent acids, this shows great potential for at least 3 to 5 years of aging and development. Just don't drink it too cold! Find this wine

2002 Ridge Santa Cruz Mountains Chardonnay Home Ranch, 14.8%alc., $45: With its pale gold color, this is a toned down version of the '05, and gives ample evidence of what as little of what as little as 3 to 5 years of bottle age will do. It shows spice, mineral and essentially the same mélange of apple, pear and tropical fruit as the younger version, ripe, but not as ripe. Full bodied, with zippy acidity, very good intensity and best of all, it's still on the way up. Find this wine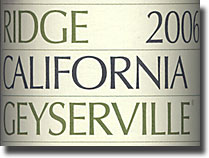 2006 Ridge Sonoma Geyserville, 70% Zinfandel, 18% Carignane, 10% Petite Sirah, 2% Mataro, 14.6% alc., $34.99: Showing an attractive garnet robe, this delivers pretty, velvet-like black raspberry, plum and lavender flavors and aromas shaded with some moderate Draper-esque perfume and a moderate sweetness as well, although this is indeed a dry wine. Very pleasurable on the palate and yet deceptively well structured for 5-8 years of aging. With fine balance and a lovely, refined, almost claret-like character, it's obviously Mr. Ridge, and while not the best Geyserville ever made, it's certainly quite harmonious and enjoyable. Find this wine

2006 Ridge Lytton Springs Dry Creek Valley, 80% Zinfandel, 16% Petite Sirah, 4% Carignane, 14.7% alc., $34.99: Showing a lovely dark color, this exudes a dusty, brambly black raspberry nose accented with some subtle mocha coffee and soft lavender, all of which carries over onto the palate. Very much in a claret-like style; earthy, and not as rich, ripe or intense as I expected, nor as much as the last several vintages. Still, there is a nice core of fruit here, with good depth and structure, a silky texture and good length. Rather atypical, to say the least, but quite enjoyable for what it is. Find this wine

2006 Ridge Zinfandel Paso Robles Benito Dusi Ranch, 100% Zinfandel, 14.6% alc., $29.99: Showing a lovely dark color nearly identical to the '06 Lytton Springs, with soft lavender over ripe raspberry and black raspberry on the nose. Rich, round and ripe on the palate, with plenty more of everything that the nose promises. Not quite as ripe as past vintages, but that's OK; this is another claret styled Zin, with no excesses and it's very food friendly. One taster commented that it "smells like France; herb de Provence." It exudes a lovely perfume with air, and pleases all who taste it on this occasion. Find this wine

2006 Ridge Sonoma Three Valleys, 80% Zinfandel, 10% Petite Sirah, 5% Carignane, 5% Grenache, 14.3% alc., $20: Clean dark color, with pretty black cherry, black raspberry and oak in good proportion on the nose, but no "Draper perfume" to speak of; flavors echo and expand, being smooth, balanced and structured for 3 to 5 years of aging, if not more. Medium full to full bodied, almost sleek; very nice, well proportioned and downright pretty, and in that way, very much in the Ridge tradition, but again, no real Draper perfume. Find this wine

2006 Ridge Sonoma Zinfandel Pagani, 88% Zinfandel, 7% Alicante Bouschet, 3% Petite Sirah, 2% Carignane, 14.8% alc., $30: This nice claret styled Zinfandel blend shows clean dark color and offers flavors and aromas of spicy black raspberry, pepper, bramble briar and judicious oak that accents rather than dominates; medium full to full bodied, with the structure for several years of development. Better than the underachieving 2005, but not up to the powerhouses that we remember from the early '90s. Find this wine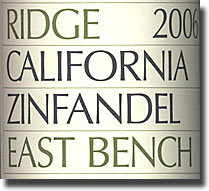 2006 Ridge Sonoma Zinfandel Dry Creek Valley East Bench, 100% Zinfandel, 14.9% alc., $29.99: Lovely dark color, with just a hint of the barnyard over nice black raspberry, blackberry and subtle oak in both flavor and aroma. Full bodied, but svelte, well proportioned and structured for several years of development. This has a nice ripe core of fruit, subtle earthy, brambly undertones and a pretty, if subtle perfume, but like the others, it's not what we've come to refer to over the years as "Draper perfume. Find this wine

There're some obvious common threads that run though all of the 2006 Ridge Zins and Zin blends that we tasted. First, they all show impeccable balance and a claret-like character, which is much to our liking, as opposed to the super-ripe that came into vogue in the mid-90s. They all show an attractive, even pretty personality that's very easy to cozy up to. And finally, not to beat the dead horse, but while these are delicious, none have that "Draper perfume" that first attracted us to vintages from the '80s and '90s. Having said that, I'd open one of these for anyone, anytime and feel confident that they would perform very well.

As for the Chardonnays, they do what Ridge Chards always have. They are very rich, but not fat or flabby, with excellent acids and underlying minerality that are found in too few others from California these days. In short, they're some of the only specimens from the Golden State that we care to indulge in.

Finally, our friends Shar Douglas and Ken Hebenstreit opened an old friend for us on New Years Eve, one that I was most interested in seeing how it was progressing. Happily, it's coming along quite well, thank you very much!

2001 Ridge Sonoma Zinfandel Sonoma Station, 84% Zinfandel, 8% Petite Sirah, 8% Carignane, 14.5% alc.: Deep, dark garnet color, fading to pink at the rim, and it's all Draper perfume on the nose. Yes! On the nose, there's sweet black raspberry, mulberry, notes of lavender and violets and perfectly integrated oak, with plenty more of the same on the palate underscored with a subtle earthiness. Ultra-smooth and all about balance, with silky tannins and unobtrusive acids; this is ready to go, so why wait any longer? Yumm. Find this wine

Reporting from Day-twah,

geo t.

Other Recent Wine Explorations
Red Wings & Red Rhônes 2008-09
"Breakfast" Wines from Chile and Argentina
A Hattrick in Triple Overtime Redux:
Recent Wines from Igor Larionov
Finding Hidden Bench

Back to the January 2009 Index
Back to the Underground Index

Back to the Top



© George Heritier January, 2009