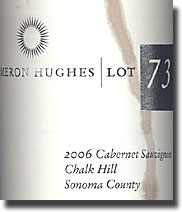 We got a few more things to try from those nice folks at Cameron Hughes…

2006 Cameron Hughes Lot 73 Chalk Hill Cabernet Sauvignon, 14.8% alc., $16: Inky, nearly opaque color, with flavors and aromas showing subtle chocolate, coffee and toast over ripe black currants, berries and plums. Full bodied, fairly dense, well structured and eminently drinkable poured straight from the bottle, with no decanting necessary; smoothes out even more with air, and stands up nicely to a flank steak with a hot marinade. Great QPR (quality-price ratio)! Available at selected Costcos, Sam's, Cost Plus World Markets and www.chwine.com. Find this wine

2007 Cameron Hughes Lot 91 Russian River Valley Chardonnay, 13.9% alc., $14: Medium straw color, with ripe apple and pear on the nose, but perhaps surprisingly, not as ripe on the palate; the pleasant apple, pear and canned sweet pea flavors show a little old wood, and little, if any overt oak. Good weight, depth and acids, but little flair here. However, it likes a little air, turning richer and rounder, and proving to be a straightforward, no-frills, food friendly Chardonnay that's not made to win big scores or awards, just to drink well in a variety of settings at a friendly price point. Available at selected Costcos, Sam's, Cost Plus World Markets and www.chwine.com. Find this wine

We got an email from the folks at Chateau Julien in California's Carmel Valley a while back asking if we'd like to try some of their wines, and never being ones to say no, we assented to the affirmative. Sure enough, we got a three pack a few weeks later that contained samples from their Barrel Selected Wine series. Interestingly, their "flagship varietal" is supposed to be Merlot, but they didn't send us one of those, but that's OK. Here's what we thought of them.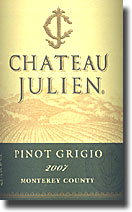 2007 Chateau Julien Monterey Pinot Grigio, 13.5% alc., $NA: Pale in the glass, with only a little more color than water, and all grapefruit and lime-citrus on the nose; the like flavors have a creamy quality and rather less acidity than one expects from this variety. There's enough there to work, it's just not very zippy. It gives the impression of barrel fermentation (the Barrel Selected Wine series would bear that out), and having undergone at least some malolactic fermentation. It has good weight, depth and balance, making for a creditable Cali-rendition of Pinot Grigio. Find this wine

2006 Chateau Julien Monterey Chardonnay, 13.9% alc., $15: Clean medium straw in color, and certainly not a flabby, over-oaked California Chardonnay; in fact it shows little, if any oak character, despite having spent 7 months in 1-year old French and American barrels. Showing pears and canned peas in both flavor and aroma, and "steely" according to Kim, this is not exactly restrained, but neither is it bright. With good weight, depth and balance, it's not very complex, but it is serviceable and correct for what it is. Find this wine

2005 Chateau Julien Monterey Cabernet Sauvignon, 13.5% alc., $15: Clean dark color, with a soft oak perfume over a red currant and berry nose, which fleshes out nicely on the palate, showing more of everything with some subtle tobacco in the background. Smooth in texture, with decent structure, medium full body and good length. This is made to drink in the near term, though a year or two in the cellar shouldn't hurt it at all. The "perfumed" character, while not overpowering, does get old after one glass for this lover of small batch, artisanal French wines, but Calo-philes will probably like it just fine. Find this wine

And, lest France be totally unrepresented…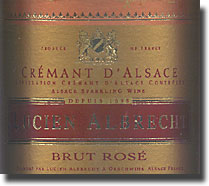 Lucien Albrecht Cremant d'Alsace Brut Rose NV, 12% alc., $17.99: Almost peach-like in color, so let's call it peach pink. It offers ample mousse and a fine active bead, with pretty strawberry and cherry flavors, subtle mineral undertones and excellent acids. The fruit here is rich, not as austere as some, or as I actually expected it to be; tasted blind, I probably wouldn't take this to be a Brut, but having said that, I like it just fine. Find this wine

Imported by Pasternak Wine Imports, Harrison, NY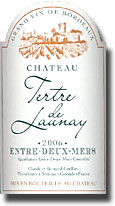 2006 Chateau Tertre De Launay Blanc Entre Deux Mers, 12.5% alc., $10.99: Pale to medium straw in color, this wine contains a high proportion of Muscadelle in the blend, which sets it apart from many other white Bordeaux. On the nose, it offers mineral, quince, under-ripe green apple and grapefruit in equal proportions, echoing and expanding on the palate with even more mineral. Medium to medium full bodied, with zippy acids and good depth and intensity, this is a great buy for so few dollars, and a fine match for shellfish, oysters and other seafood, as well as a variety of chicken dishes. We liked this so well, we went through better than a case in very short order. Time to order more, methinks! Find this wine

Imported by Europvin U.S.A., Van Nuys, CA

From the lands down under…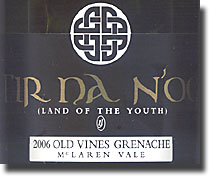 2006 Tir Na Nog (Land of the Youth) McLaren Vale Grenache Old Vines, 14.5% alc., $31.99: Shows good dark color, with pretty red and blue berries shaded with a little spice and sandalwood on the nose; flavors echo with balance and harmonious character. Full bodied, with balanced fruit, a silky elegance, solid, yet understated structure and restrained oak. A very nice wine, and I can't always say that about Aussie reds, but this one hits the mark on all levels, which is surprising, considering that we tried an earlier model a few years ago that was not at all to our liking, being much too much a gobby ooze monster. Find this wine

Imported by USA Wine West, Sausalito, CA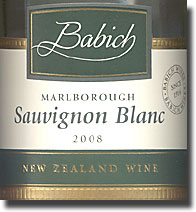 2008 Babich Marlborough Sauvignon Blanc, 13.5% alc., $14.99: We went through a boatload of the '98 and '99 versions of this wine back when they cost $9 and $10 respectively, but then the 2000 jumped by $3 for a wine that wasn't as good as its predecessors and we drifted away from it. I've since SOLD a boatload of this brand over the years at retail, but this was the first time we've tried it since 2001, thanks to some samples provided to us by our friend Jerome Smith, of Select Fine Wine. The price has jumped another couple of bucks in the interim, but considering that the interim is 7 years, I can live with that, especially with what's in the bottle.

Pale straw in color, this delivers grapefruit, gooseberry and hints of lime and jalapeno on the nose, all of which echoes nicely in the bright flavors, neither over the top nor reserved. Medium bodied and then some, with good intensity, acidity and length, this is solid Kiwi Sauvignon that gives us what we're looking for from one of these. Find this wine

2006 Babich Marlborough Sauvignon Blanc Black Label, 13.5% alc., $15.49: This medium straw colored Sauvignon takes us a little time to get used to, but when all is said and done, we like it. It offers intense gooseberry, grapefruit and fig flavors and aromas that are accented by an odd note of something like varnished mahogany or even a subtle plastic like character that is difficult to put a finger on. Medium bodied and more, with excellent cut and good length, it's just a bit different than any SB that we've had before, but that's not to say it's a bad wine by any means. Extended air helps it, as the "odd" note takes on almost Riesling-like petrol and mineral characteristics, and one wouldn't be doing the wine a disservice by decanting it for 15-30 minutes before serving. An intriguing wine, to say the least, but one that we enjoyed. Find this wine

2007 Babich Marlborough Chardonnay, 13.5% alc., $14.99: Pale to medium straw in color, with rich, ripe apple, pear and pineapple flavors and aromas that shine through on their own, thanks to the lack of any wood in their production. Medium to medium full bodied, with excellent acids and good intensity and length, this is very easy to enjoy, with or without food. Find this wine

2006 Babich Marlborough Pinot Noir, 14% alc., $15.99: Pretty ruby red in color, with a rich, expressive black cherry and Asian spice nose that gains an earthy base on the palate. Medium bodied at most, with medium intensity and good structure, this responds well to aeration, as the fruit turns richer and more harmonious, so for my tastes, it will benefit from 30 to 45 minutes in a decanter. Find this wine

Imported by Select Brokers, Manhasset, NY

The following two from Vineyards Brands are always welcome at our house; here are notes on a couple of the latest efforts from Villa Maria and Marques de Caceres.

2008 Villa Maria Marlborough Sauvignon Blanc Private Bin, 13% alc., $15.99: Pale straw in color, with fragrant, almost floral aromatics of grapefruit, gooseberry and a hint of boxwood. Flavors echo with an added note of garlic sweat and a wee bit of jalapeno. Medium to medium full bodied, with excellent acids and good intensity, this is, as always, a solid specimen of New Zealand Sauvignon at a fair price. Find this wine

2005 Marques de Caceres Rioja Crianza, 85% Tempranillo, 15% Garnacha Tinta & Graciano, 13.5% alc., $15.99: Ruby garnet color, with subtle oak over black cherry and blackberry aromatics that lead into earthy, brambly berry and cherry flavors. With good structure and decent concentration, this is always a solid Rioja, though seldom a great one. Crianza red wines are aged in oak barrels for 12 months and then in bottle for at least 14 months, depending on the date of release. Find this wine

Imported by Vineyards Brands, Inc., Birmingham. AL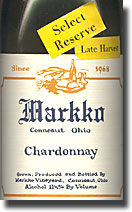 And finally, here's one from Ohio, of all places. This little gem was sent to us well over a year ago by Markko Vineyard owner-winemaker Arnie Esterer. It sat in the cellar for well over a year before I decided to see what was in the bottle; I guess I just wasn't that interested in trying a late harvest Chardonnay, which was mistake in retrospect.

1999 Markko Vineyard Late Harvest Chardonnay Select Reserve, 11.5% alc.: Bright gold color, with brilliant over-ripe pear and apricot that avoids going over the top and shocking the senses. Unctuous and balanced at the same time, with enough acids to keep everything moving right along. Crème brulée or a plate of fresh fruit would go nicely with this, but I really liked sipping it all by its lonesome. A true revelation to anyone who thinks that all Ohio produces for wine is Catawba, and a fine example of what LH Chardonnay can be. Find this wine

Reporting from Day-twah,
geo t.

Other Recent Wine Explorations
4 from Cos d'Estournel

Back to the November 2008 Index
Back to the Underground Index

Back to the Top



© George Heritier November, 2008