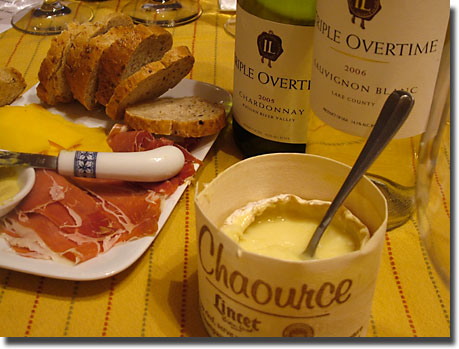 2006 Igor Larionov Select Wines Sauvignon Blanc Triple Overtime Lake County, 14.1% alc., $19.99: Nice medium straw color; rich and ripe, showing more tropical fruit such as mango and banana, rather than the more usual grapefruit and gooseberry, with good weight, acids and length. Delicious, if not exactly typical. Sourced from Lake County vineyards owned by Rudy Zuidema, of Ehlers Estate. Find this wine
2005 Igor Larionov Select Wines Chardonnay Triple Overtime Russian River Valley, 14.2% alc., $24.99: Pale to medium straw in color, with a pretty kiss of oak over well behaved Chardo-pear on the nose accented with subtle spice and mineral; flavors echo and expand on a medium full to full bodied frame with good acids and presence. Kim comments on a "creamy orange-sickle thing" that gives her pause, but I have no such reservations. This has a lovely elegance and finesse, yet shows impressive intensity right on through the long finish. If I'm going to drink California Chardonnay, I want it to be something like this little lovely. The wine was made by Dave Miner and aged 6-8 months in oak. Find this wine
2005 Igor Larionov Select Wines Pinot Noir Triple Overtime Sonoma Mountain, 14.7% alc., $19.99: Rob says this is "another one of Rudy's wines." With its slightly smoky ruby color, it exudes effusive aromas of smoky black cherries that are rich, but not quite candied. There's plenty more of the same on the palate, all with a solid earthy anchor. Medium full bodied, with an immediate presence that gets your attention, this is silky smooth and yet well structured, with very nice varietal character. Find this wine
2005 Igor Larionov Select Wines Cabernet Franc Triple Overtime Napa, 14.9% alc., $28.99: This pretty ruby garnet colored Cab Franc is a limited production wine from Steve Reynolds. The reticent nose barely hints at the full-bodied, slightly earthy black currant, plum and berry flavors; there's nothing "green" about this, and it only shows a subtle, but attractive herbaceousness. Rich and perfectly ripe, it is eminently drinkable now, and yet structured for some years of further development. Find this wine
2005 Igor Larionov Select Wines Cuvee GD Triple Overtime Napa, 67% Cabernet Franc, 22% Cabernet Sauvignon, 9-10% Merlot, 1-2% Petite Verdot, 14.5% alc., $24.99: This wine pays homage to Mike Davis' father George, who was instrumental in getting Mike involved in wine by introducing him to fine Burgundy and Bordeaux. Rob tells us that the Cabernet Franc comes from Reynolds, the Cabernet Sauvignon comes from Ehlers and the Merlot comes from Miners; Rudy made the wine. Showing good rich color, and again, not that generous on the nose at first, but giving more aromatically with air; the rich flavors strike a nice balance between intensity and finesse, offering rich currant, more red than black, with a mélange of red plum and red and black berry in support. Deceptively well structured for at least a few years of development, but so nice now, why wait? Find this wine

"These wines have soul." – Rob DeLaRosa
2006 Igor Larionov Select Wines Syrah Triple Overtime Dry Creek, 14.7% alc., $21.99: Clean and pretty dark color, with smoky oak and coffee that sets off the rich black plum nicely on the nose, and there's plenty more of the same in the mouth with some added earthy undertones. Rich, round, full flavored and full bodied, with good structure, fine length and again smoothly textured and more than merely approachable, this is downright drinkable. Find this wine
2005 Igor Larionov Select Wines Merlot Triple Overtime Napa, 14.9% alc., $24.99: Pretty garnet color, with pretty red fruit and subtle spice on the nose; on the palate, it's all about rich, round red plum, berry and currant, and when Kim mentions "cherry stick candy," we know exactly what she's talking about. Medium full to full bodied, with good structure and length, and while we all like this, it is a little one-dimensional, perhaps more like a blending component than a finished wine. Rob says that Rudy made this one. Find this wine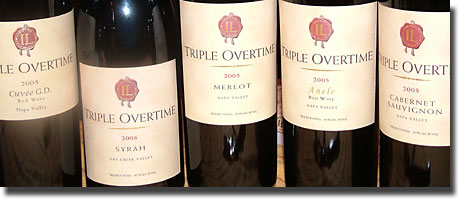 2005 Igor Larionov Select Wines Anele Triple Overtime Napa, 61% Cabernet Sauvignon, 21% Cabernet Franc, 18% Merlot, 14.9% alc., $24.99: Named for Igor's wife, this shows darker color than most of these. A subtle hint of bell pepper actually lends a complementary flair to the red currant and berry nose, along with hints of earth and smoke. Big flavors echo and expand with intense fruit and structure; rich, round and delicious, now and for some years down the road, this is a lovely and complete wine. Find this wine
2005 Igor Larionov Select Wines Cabernet Sauvignon Triple Overtime Napa, 14.9% alc., $24.99: Clean dark color, with a nice kiss of smoky oak over black currant, cassis and black berry, all pretty and stylish. The big, rich and intense flavors are all that and more, and this is probably the biggest, most structured (dare I say muscular?) of the bunch so far. At least three to five years of promise here, if not more, and well worth the wait, but that doesn't mean you can't open one tonight, give it some time in a decanter and enjoy it with some grilled, medium rare Delmonico Steaks, which I know Mr. De la Rosa would enjoy! Find this wine
"Igor and Mike trust their growers implicitly." – Rob de la Rosa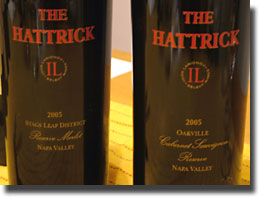 2005 Igor Larionov Select Wines Merlot Reserve The Hattrick Napa, 5% Cabernet Franc, 14.5% alc., $47.99: Made by Steve Reynolds, there were only 167 cases of this produced. It shows good, dark color, with a smoky oak nose and smoky red and black currant flavors accented with undertones of earth, mineral, toast and coffee. Big and built like The Commodores' Brick House, it's so rich in fruit that it drinks well now, but there's no reason to think that this isn't a 10-year wine. This is another one that begs for a medium rare steak, whether Delmonico, Rib Eye, New York strip or whatever. Find this wine

2005 Igor Larionov Select Wines Cabernet Sauvignon Reserve The Hattrick Napa, 14.5% alc., $56.99: Good dark color, with smoke and cedar on the nose and more of the same over black currant and blackberry in flavor, with accents of earth and mineral. With big structure, and great intensity and length, this clearly raises the bar for all the others here, and best of all, you can drink it now or you can drink it on its 10th birthday and beyond. Find this wine

These wines are excellent across the board. This is anything but a project that Larionov simply lends his name too without any actual participation. As Rob explains, "Igor and Mike trust their growers implicitly," but they also take part in all of the tasting and decision making for the final blends of every bottling they put out. Obviously, "The Professor" has a knack for more than just passing the puck and putting it in the net. Kudos to Igor Larionov, Mike Davis and company for producing such delicious wines and many thanks to Rob de la Rosa for tasting them with us.



Reporting from Day-twah,

geo t.

Other Recent Wine Explorations
Stratus-on-Niagara

Back to the November 2008 Index
Back to the Underground Index

Back to the Top



© George Heritier November, 2008