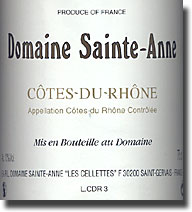 And so, another summer has passed, and this was a happy one in which each of the Detroit Red Wings took possession of the fabled Stanley Cup for a day to do with as they pleased, their reward as champions of the National Hockey League. Another season is now underway, and it seems that the best team on ice is only better, having absconded with two members of their vanquished foes, the Pittsburgh Penguins in the persons of Ty Conklin and the brilliant Marion Hossa. And, as always, we've renewed our tradition of watching our favorite team in sports whilst enjoying a glass or two of fine red wine from France's Rhône Valley.

We had chance to get a taste of a wine from a producer we've been impressed with in the past, and we liked this one so well, we went ahead and gathered the entire lineup for evaluation.

2006 Domaine Sainte Anne Cotes du Rhône Rouge, 12% alc., $13.99: With good dark color that fades to pink at the rim, this offers a hint of animal, some nice violet and a mélange of pretty red berries on the nose, before turning decidedly dry and earthy on the palate. Full bodied and balanced, with slightly astringent tannins, good acids and nice length, this is solid Cotes du Rhône that drinks well already and should get even better with at least 3-5 years in the bottle. Excellent QPR. Find this wine

2004 Domaine Sainte Anne Cotes du Rhône Villages Rouge, 14% alc., $15.99: Clean dark color, with just a hint of chocolate over pretty aromatics of red plum, berry and black cherry underscored with a note of earth; plenty more of the same on the palate, with the earthiness more pronounced and some leather as it opens. Full bodied, well structured and long on the finish, this is still on the way up and still at least 2-3 years from its peak, and might not get there until 2014 or so. This is a solid wine that performs well and does everything that it's supposed to, and like every good Rhône, it really likes air. Find this wine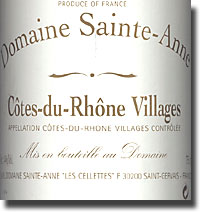 2005 Domaine Sainte Anne Cotes du Rhône Villages Rouge, 13.5% alc., $15.99: Clean ruby garnet color, not as dark as the '04, nor as generous on the nose, giving some dusty, earthy black fruit. It's not as expressive on the palate either, but still, it offers nice enough flavors of earthy red and black berry with no frills. Full bodied, with solid structure and presence and good length. This is real wine, with no pretense to anything more; to be fair, it only suffers in a side-by-side comparison to the previous vintage, because on its own, it's my kind o' red Rhône at a good price. It really wants a good cut of grilled medium rare beef or lamb. Find this wine

2006 Domaine Sainte Anne Cotes du Rhône Villages Rouge, 13.5% alc., $15.99: Deep, lovely color, with red plum, red berry and a note of violet on the nose; dry flavors echo with a nice earthy base and excellent balance. Not as big or muscular as the '04 or '05, but structured for 3-5 years in the cellar. Nice right out of the bottle and doesn't need much air to really please. Find this wine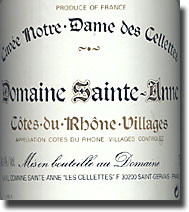 2004 Domaine Sainte Anne Cotes du Rhône Villages Cuvee Notre-Dame des Cellettes Rouge, 14% alc., $20.99: Clean dark color, with violets, black plum and blackberry on the nose; the slightly dusty, earthy flavors generally echo with less violets, some added forest floor and nice notes of leather and old wood. Fairly smooth, with good structure and length, this is coming into a nice drinking window, even if it still seems to be at least a few years from it's best. All in all, a very nice wine, made very much in what is obviously the "house style." Find this wine

2004 Domaine Sainte Anne Cotes du Rhône Villages Saint-Gervais Rouge, 14% alc., $25.99: Showing good dark color, with aromatics of smoky mahogany, truffles, violets and black fruit that carry over onto the palate so nicely, so expressively. Lovely balance on a full bodied frame, with good structure, silky tannins and a smooth texture. The smoky mahogany sets the tone here and tends to be the quality that lingers most on the finish. You'd expect the priciest wine in the lineup to drink the best, and this one does just that. Just a pleasure to sip and enjoy. Find this wine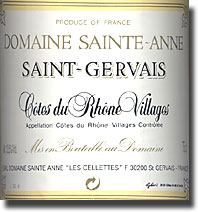 2005 Domaine Sainte Anne Cotes du Rhône Villages Saint-Gervais Rouge, 13.5% alc., $25.99: Deeply, darkly colored, with subtle smoke and earthy black plum, berry and currant in both flavor and aroma; full bodied, big and muscular, with the structure for at least another 5 years in the cellar, but still, it's already drinking pretty well. Find this wine

Imported by AHD Vintners, Ltd., Warren, MI

We've been fans of Alain Graillot Crozes Hermitage for many years now, but for the last several, we had to elsewhere to find some, because it wasn't being distributed in the Detroit area. Happily, things have changed, so as soon as I saw this one, I got a bottle to try, and wasn't disappointed in the least.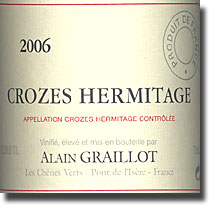 2006 Alain Graillot Crozes Hermitage, 13% alc., $30.99: Deep dark color to this one; charter Gangster Scott "the Geek" Tobias comments immediately on the "game and meat" character, and you can add some herbal underbrush and leather along with deep, dark, rich black plum and berry; there's actually a little more fruit and a little less earth than I expected, based on past vintages of this wine. Full bodied and well structured, yet quite approachable with an hour in a decanter; should be a 10-year wine, no sweat. With extended air, more herb, underbrush and leather emerge. Find this wine

Imported by Europvin U.S.A., Van Nuys, CA

2006 Eric Texier Cotes du Rhône Brezeme,12.5% alc.: Much better than most of the bizarre '99 versions of this bottling that we tried, this shows clean, dark color and weighs in at medium full to full in body, with nicely balanced earthy red and black berry, black plum and even some black cherry. There's good structure for at least a few years worth of improvement, but it's already drinking well. Not as muscular as many CdRs, but it compensates with a tasty, food friendly personality. Find this wine

Imported by Louis/Dressner, New York, NY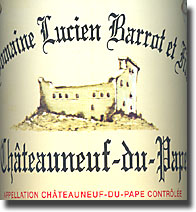 2005 Domaine Lucien Barrot et Fils Chateauneuf du Pape, 15% alc., $36.99: Good dark color here, with flavors and aromas of earth, iron, black plum and blackberry. Full bodied and muscular, with serious depth and intensity; the huge core of fruit vies for dominance with the rocks, dirt and underbrush. This is a BIG Chateauneuf du Pape with admirable charms, many layers of complexity and a long life ahead of it. Should be at its best between 2015 and 2020. Find this wine

2006 Domaine Lucien Barrot et Fils Chateauneuf du Pape, 15% alc., $38.99: Clean dark color, with smoky blackberry and plum shaded with undertones of earth and iron on both the nose and the palate; Scott "the Geek" Tobias offered impressions of cola and a ton of tobacco, adding that it's "the interaction of the fruit and tannins that make it remarkable. Not as big as the 2005 model, but still, it's full bodied, well structured, very good with some grilled lamb and almost shockingly approachable for so young a wine of this kind. It should age and improve easily for the next 5-7 years, and quite likely beyond. Find this wine

Imported by Europvin U.S.A., Van Nuys, CA

We got these next two wines in trade for some styro wine shippers, and I think we got the better of the deal.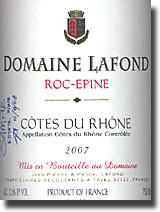 2007 Domaine Lafond Cotes du Rhône Roc-Epine, 70% Grenache, 30% Syrah, 13.5% alc., $12.99: Deep, dark color, with plenty going on in the aromatic department, including earth, animal, smoke, black plum and blackberry, and the big, dry flavors echo with the emphasis on the earth and black fruit. Full bodied, well structured and obviously a young wine; you can drink it now with some aeration and grilled meats or you can put it down for at least five years to hit its peak. Very good QPR here. Find this wine

2007 Domaine Lafond Lirac Roc-Epine, 13.5% alc., $18.99: Clean, dark color; not giving much on the nose, but a good dose of earth and underbrush over deep, dark black fruit on the palate, with some leather in support. No flair here, nothing very stylish, just a big, rock solid red Rhône structured for several years worth of aging and improvement in the cellar. More approachable on the 2nd day, but still, this is quite likely a 10-year wine. Find this wine

Imported by Wines of France, Mountainside, NJ

2005 Marc Kreydenweiss Costieres de Nimes Perrieres, 60% Carignan, 20% Syrah, 20% Grenache, 13.5% alc., $21.99: Good dark color, with nice, earthy, smoky black plum, black currant and black berry flavors and aromas, shaded with earth, underbrush and leather. Full bodied and structured for at least 3 years of improvement in the cellar. Really nice, and a wine that both Kim and I could get used to drinking on a regular basis. Find this wine

Imported by Wilson Daniels Ltd., Saint Helena, CA

Reporting from Day-twah,
geo t.

Other Recent Wine Explorations
"Breakfast" Wines from Chile and Argentina
A Hattrick in Triple Overtime Redux:
Recent Wines from Igor Larionov
8 from Cono Sur

Back to the December 2008 Index
Back to the Underground Index

Back to the Top



© George Heritier December, 2008