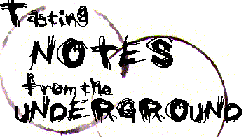 RED WINGS & RED RHONES
1990 Domaine La Garrigue Vacqueyras $10.99
1990 Paul Jaboulet Aine Vacqueyras $14.99
Come October, this taster's thoughts turn to Red Wings hockey and big red wines from France's Rhone Valley. While I never mind the Wings' season extending into June, as it did this past summer, the same can't be said for the enjoyment of the heavy traditional winemaking styles that are typical of the southern Rhone. There's something almost oppressive about these wines, for me, when consumed between the bookend holidays of Memorial and Labor Days. With the first inkling of autumn, however, a magical change seems to occur, when they regain all of their considerable charm and appeal.
So it was that the Madame and I reacquainted ourselves with these two "old friends" recently, as the leaves were beginning to show the range of color that makes this season the favorite of so many.

The Dom. La Garrigue is full bodied and heady, an inky, opaque garnet wine just starting to show a little brick tone to its color. It exudes pungent, slightly murky aromas of spicy, smoky black cherries and prunes, with a touch of raisins and a hint of mint. There is also a definite note of the barnyard here. (Madame L' disagreed here, saying it smelled of "women's powder room," not barnyard. What the hell does women's powder room smell like?!)

The nose echoes on the palate, with an added leathery tobacco element. Unfiltered and unfined, it is very dry, slightly coarse, and still has good tannins, so we gave it a good two hours to breathe before tasting, and it continued to open and improve in the glass. As it did so, it gained subtle nuances of nutmeg, brown sugar, and blue-raspberries. It will certainly improve with 3-5 years of further bottle aging.
The wines of Vacqueyras are required by law to contain at least fifty percent Grenache, with varying amounts of Mourvedre and Syrah added. I don't know about the exact percentages, but there seems to be little of the latter apparent here. Admittedly not for everyone, due to the slightly funky overtones, we like it just fine at our house. And, at $10 per, with case discount, it had very good QPR, but there hasn't been any in the Detroit area for the last few months, and, there're only two left in "the cellar."
As well as we like that one, the Jaboulet bottling is even better. Smooth, yet dense, with rich, clearly defined fruit, the color is still a deep dark garnet. The flavors and aromas have all kinds of things going on; smoke, meat, prunes, raisins, coffee, nuts, wood, pepper, and more than a hint of saddle leather. (Madame also noted "green beans and swimming pool", and as it opened, it did gain a bit of the Zinfan's "aquarium" nose.)
It was also very dry and continued to open and evolve for hours. Perfect for drinking now, or a few years down the road, but alas, this was our last.
Imported by Frederick Wildman and Sons, Ltd. New York, NY.
I've read of its availability in other areas, so if you run into this one, it's an excellent buy at $15 per. Both wines went very well with the Madame's superb lamb chops marinated in olive oil, garlic, and rosemary, along with garlic mashed potatoes, a mushroom vegetable melange, and her freshly baked bread.
The Wings looked good this October, too!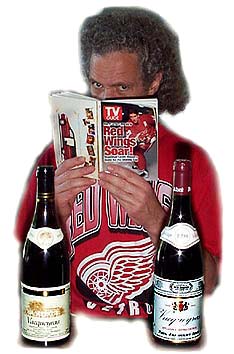 Underground Index

Wine Probation © Defined
A Chat with J.C. Mathes of J et R Selections
More Red Wings &
Red Rhones '02-'03
Red Wings & Red
Rhones '02-'03
Playoff Diary '02
Welcome Home Stanley!!!
A Dandy Rhône and a Night at the Joe