California market, a major coup for the first Michigan winery to achieve such placement. Ralph's supermarkets feature Gold Medal winners from this particular competition throughout its chain, and as a result of their showing, CGT has sold 720 cases for distribution in 130 Ralph's stores in the LA area, with an eye towards future placement in the San Francisco Bay area as well.

And as if that weren't enough to make everyone at CGT giddy with delight, there was the inaugural Riesling Rendezvous, held at Chateau St. Michelle in Woodinville, Washington on June 24-26 under the joint sponsorship of that winery and Dr. Loosen, one of the foremost Riesling producers in Germany. Conceived as "an event to bring together leading Riesling experts and producers to explore the versatility of Rieslings from around the world," more than a few eyes were raised in surprise by the Chateau Grand Traverse selections being poured, as recorded in the following testimonials:

"Categories aside, there were some wonderful Rieslings on display (220 of them, to be exact), and some were from surprising places. Chateau Grand Traverse in Michigan, for example, is making terrific Rieslings in a variety of styles." - Laurie Daniel, San Jose Mercury News

"Perhaps the biggest discovery at the conference for most attendees was the excellence of the Michigan wines - and that Chateau Grand Traverse produces about 65,000 cases." - Paul Franson, Wines & Vines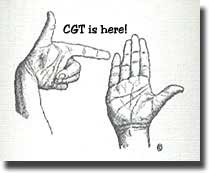 "Riesling's our main thing (and) it's really boom times for Riesling right now," Sean told us, adding that they're striving to produce even more. About 75% of the estate's 105 acres of vineyards is planted to that varietal (the oldest vineyards are 33 years of age), and this year they've contracted for around 50 tons from the Leonard and Eddie Ligon's farm. CGT purchased the Zafarana Vineyards and added that fruit to their 2006 harvest, and there are another 20 acres of new vines on a recently purchased 40-acre Old Mission Peninsula plot, planted to almost every clone of Riesling that Sean could get his hands on, as well as 1½ acres devoted to a Gruner Veltliner experiment.

"We're starting to understand what's going on with our vineyards," O'Keefe explained, referring to the soil in northern Michigan, and particularly on the Old Mission Peninsula, which can change dramatically within very short distances, due to the glacial activity of prehistoric times.

The winery is in the process of undergoing a $3-3 ½ million expansion, with a projected goal of producing 100,000 cases a year. 1,200 and 2,400 liter foudres have been purchased for the production of Auslese-type wines; some are traditional, having been prepared to remove any oak flavors and some have a light toast. Sean told us that the lightly toasted ones will probably be used for Chardonnay, Pinot Blanc and Pinot Gris for the first few years "until we feel that the flavors (are) right."

We spent about three hours over two days talking and tasting with O'Keefe; the first day was devoted to whites, while on the second, we explored some reds. During the opening session, we sampled some tank pours of Riesling, Pinot Blanc and Chardonnay that are slated for blending; then we sat down to taste through the current pale lineup. It should be noted that we liked what we tasted of the whites well enough to resample over the next two weeks in order to flesh out our notes, and without exception, our initial enthusiasm was reconfirmed, if not exceeded.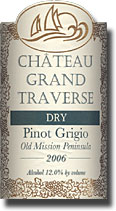 2006 Chateau Grand Traverse Old Mission Peninsula Pinot Grigio, 12% alc., $14.99: If I'd have been told even a year ago that I'd not only be drinking Michigan Pinot Gris/Grigio, but actually buying and enjoying it, I'd have just laughed and poured another glass of Muscadet. But after tasting impressive efforts from Left Foot Charley and Chateau Fontaine, this one comes along and gives further evidence that this is a varietal that can thrive on either peninsula, Leelanau or Old Mission. Medium straw in color, with fairly generous aromatics of apple and grapefruit laced with banana ("No, we did NOT use 71B yeast," Sean chortled...) that echo and expand on the palate with a subtle mineral undertone. Medium to medium-full bodied and almost plump in the mouth; Sean describes the fruit as "globby," and I think we're talking about the same thing there. Good acidity, presence and length, and both food-and-warm weather friendly; enjoy it with the catch-of-the-day from any Michigan lake or just sip and savor on a sultry summer afternoon or evening. Find this wine

(The following selection is NOT one of those that O'Keefe tasted with us, but notes are included here for what we think are good reasons; first, it's one that we've enjoyed on several occasions over the past year or so; second, it's still available at retail in the Detroit area and finally, it serves to provide some focus to the '05 version that he did pour.)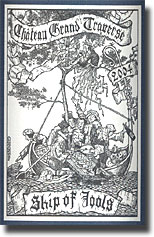 2004 Chateau Grand Traverse Old Mission Peninsula Ship of Fools White Table Wine, 40% Pinot Gris, 35% Pinot Blanc, 25% Chardonnay, 12% alc., $13.99: One of Sean's "specialty wines," sporting an individualized label with a humorous etching, this whole cluster pressed medium straw offers tart green apple and grapefruit flavors and aromas underscored with a nice chalky minerality and subtle herbal undertones; medium to medium-full bodied, bone dry and yet rich at the same time, with excellent intensity, bracing acidity and good length on the finish. One of the better dry Michigan whites that we've had, this pairs very well with a grouper sandwich at the downtown Traverse City restaurant Hannah, and it's nice enough that I bought more when we got back home, because it's getting very scarce around Traverse; the 2005 is the current vintage available at the winery. Speaking of which… Find this wine

2005 Chateau Grand Traverse Old Mission Peninsula Ship of Fools White Table Wine, 40% Pinot Blanc, 35% Pinot Gris, 25% Chardonnay, 12% alc., $13.99: Another medium straw colored blend, with a similar tart green apple, grapefruit and mineral personality to the '04, the main difference being that it's lower (but not deficient) in acidity; still, it's rich, round, food friendly, and, yes, bone dry. Find this wine
Silver Medal - 2007 San Francisco International Wine Competition

2006 Chateau Grand Traverse Old Mission Peninsula Dry Riesling, 12% alc., $9.99: Medium straw in color, with some subtle floral and lime nuances that adorn the green apple aromatics, and as this opens and warms in the glass, an unmistakable note of lanolin emerges; these impressions all follow through nicely on the palate, underscored with good minerality and driven along by excellent acidity on a medium to medium-full bodied frame. The lanolin, usually an attribute more associated with white Rhônes, doesn't exactly dominate the personality of the wine, but it does set a tone and adds a distinctive characteristic. One of the three best dry Rieslings from Michigan that I've had to date (those from Wyncroft and Left Foot Charley being the others), and an excellent QPR value. Find this wine
Gold Medal - 2007 Los Angeles International Wine & Spirits Competition, CA
Bronze Medal - 2007 San Francisco International Wine Competition

2006 Chateau Grand Traverse Old Mission Peninsula Semi-dry Riesling, 12% alc., $12.99: Medium straw color with a tinge of lemon; modest perfumed apple and peach aromatics echo and expand dramatically on the palate with undertones of lime, pine and some nice minerality. Medium bodied and then some, slightly oily in texture, with good acids and length; rich, delicious fruit with Kabinett levels of sweetness. All in all, a very enjoyable Riesling that I will buy more of for personal consumption. Find this wine
Silver Medal - 2007 Los Angeles International Wine & Spirits Competition, CA
Bronze Medal - 2007 San Francisco International Wine Competition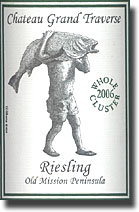 2006 Chateau Grand Traverse Old Mission Peninsula Whole Cluster Riesling, 12% alc., $14.99: Another one of Sean's special projects, and my favorite of the CGT Rieslings, this pale straw colored wine was made from hand selected grape clusters pressed whole without destemming or crushing, which then underwent a very cool (42º F) fermentation to draw the process out. Off dry, at under 1% residual sugar, it dishes out rich, generous red and green apple flavors and aromas shaded with a hint o' lime and good minerality; it's a bit more than medium bodied, with good weight and beautiful concentration. I love this wine. Find this wine
Gold Medal - 2007 Los Angeles International Wine & Spirits Competition, CA
Bronze Medal - 2007 San Francisco International Wine Competition

2006 Chateau Grand Traverse Michigan Late Harvest Riesling, Harvest Sugar 21.0º Brix, 4.6º Brix residual sweetness, 10.5% alc., $14.99: This wine is hugely popular in the Michigan marketplace, and CGT produces over 10,000 cases a year, but despite being released in the spring, it's an even bet that there won't be much around by Christmas. This year's model is medium straw in color, and offers apple, peach and apricot flavors and aromas with Spatlese levels of sweetness and enough minerality to add another dimension and keep it from being just another simple sweet white from northern Michigan. Rich, round and crisp, with good acids and length, this certainly would serve well as an after-dinner sipper, but for me, it is a wine to pair with some spicy Thai or Indian cuisine, or perhaps even better, some fresh pan fried northern Michigan trout. Best of all, a recent taste of the 2002 shows that it has the stuffing to age and develop with some time in the cellar, IF you can keep your hands off of it now. Find this wine
Gold Medal - 2007 Los Angeles International Wine & Spirits Competition, CA
Gold Medal - 2007 San Francisco International Wine Competition

Another one that Sean didn't pour for us, because there was none left at the winery, but we made other arrangements.

2005 Chateau Grand Traverse Old Mission Peninsula Edelzwicker, 12.8% alc., $12.99: This medium straw colored "Noble Blend" of Gewurztraminer, Pinot Gris, Pinot Blanc and Muscat is made in the classic Alsatian style, and after winning Platinum at the 2007 Los Angeles International Wine & Spirits Competition, it sold out in one day at CGT. Fortunately, there're still ample quantities left here in the Detroit area, so I ordered some up for my department, brought one home to try, and my better half and I quite liked what it has to offer. It definitely shows a Gewurztraminer-kind-of-personality, somewhat toned-down due to the inclusion of the other varietals, but still giving that distinctive "peachy-litchi" flavor profile, shaded with some subtle melon, apricot, mineral and a soft herbaceousness. Off-dry is the best way to describe this; it almost gives the impression of sweetness on entry, but it's not a sweet wine by any means. Medium to medium-full bodied, with a smooth texture that belies deceptive acidity and good length on the finish. Nice stuff here, and another one that I'll be taking more home myself. Find this wine
Platinum Medal, Best of Category - 2007 Los Angeles International Wine & Spirits Competition, CA

2005 Chateau Grand Traverse Old Mission Peninsula Dry Gewurztraminer, 500 ml, 13.5% alc., $10.99: Medium straw in color, with an effusively floral peachy, litchi nose, and with plenty more of the same on the palate, along with a note of rainwater, excellent minerality and acidity. Good weight and very good varietal character, being quite dry and quite delicious. We liked this well enough to bring four home from the winery.
Find this wine
Gold Medal - 2007 San Francisco Chronicle Wine Competition, CA


"I'm not saying that we can't make good reds, it's just not in our long-term interests to keep planting Pinot Noir and Cabernet Franc."


After tasting through the whites, we let Sean get back to work and went looking for some deep water to swim in (Haserot Beach on the Old Mission Harbor served very well in that regard). The next day, we returned late in the morning to see what CGT is doing with reds, and while they are quite pleasant and enjoyable, they don't move us in the same way that the whites do, and O'Keefe seemed to agree, telling us, "I'm not saying that we can't make good reds, it's just not in our long-term interests to keep planting Pinot Noir and Cabernet Franc." Here are our snapshot impressions of what he poured for us:

2005 Chateau Grand Traverse Old Mission Peninsula Gamay "Limited Bottling," $10.99: Ruby garnet in color and made in an easy quaffing style reminiscent of Beaujolais Villages; medium bodied, with bright black and tart cherries, some decent depth and a little earth underneath. A nice red quaffer. Find this wine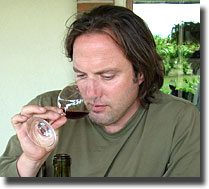 "Now, Pinot is something we're still working on," Sean said as he poured us a taste of the following wine. "We veer between the Germanic style and what I call the old Spaniard style that our winemaker (Bernd Croissant) does. We keep them fairly long in the barrels, more than most people do, so they're usually more mature when we release them. We're buying new red wine fermenters that remove the seeds. I think the green seeds contribute just a little bit in the lighter style of Pinot; in Pinot, ANY little thing is going to show up just like in a Riesling, so, we have to be a little more careful. The vineyards are finally getting mature now, which has helped a lot. I don't think we're going to beat out the Willamette Valley any time soon on a consistent basis, but that's fine."

2004 Chateau Grand Traverse Old Mission Peninsula Pinot Noir Reserve, $15.99: An even lighter ruby garnet color than the Limited Bottling Gamay, with a fragrant cherry, berry and plum personality; medium bodied, rich and round. Pretty nice stuff; saw all French oak, about 20% new, 20% 1st year, 20% 2nd year, 20% 3rd year and 20% 4th year. About this one, Sean explained, "We've been moving to older oak; we used to do all new oak and it just couldn't handle it." Find this wine


"Typically, we usually like to drink this about six years after it
was made, it's usually perfect right about then. For Gamay,
that's kind of odd, but…"

2004 Chateau Grand Traverse Old Mission Peninsula Gamay Noir Reserve, $15.99: This ruby garnet colored wine saw both French and American oak, and they pay compliments to the cherry and berry on the nose; darker on the palate, with some added black pepper, medium body, good acids, mild tannins and nice depth. Not an earth shaker, but perfectly enjoyable for what it is. Find this wine

2005 Chateau Grand Traverse Old Mission Peninsula Pinot Noir Barrel Sample: Sean admitted that he didn't know the exact provenance of this sample, and that it came from a random 2-year-old barrel, but it was actually quite tasty. It looks like rosé and smells like Spätburgunder (German Pinot Noir), with nice cherry and raspberry flavors and aromas and good intensity. As we sampled this, O'Keefe had the following observations:

"I think of Charlie Edson at Bel Lago and I like his philosophy. His thought is that a lot of guys are shooting for color at all cost, and it's actually diminishing the wine. I'm pushing Riesling, I'm not going to be the Jihadist (for) light Pinot Noirs in the country, but you know, Burgundy gets away with it, depending on what region you're at. I mean, obviously, they have the nuance and the history and the networking to sell it, but if we could develop a style here where we concentrate just on flavors and delicate aromas and not get so hell bent on color... I don't think we could out-Oregon or Russian River Valley those guys, and when we try to, it invites chicanery, with blends of Chamborcin and things to boost the color. I don't know if that's going on here, but I've had it in other regions. So I think Charlie's on to that, and it's not a popular style yet, but I think it's something that if you just keep at it and at it like we did with Dry Riesling, eventually, people are going to come around."

2005 Chateau Grand Traverse Old Mission Peninsula Gamay Noir Reserve Barrel Sample: Drawn from another random barrel, Sean speculated that it was from newer oak, and the toasty flavors and aromas seemed to bear that out; ruby dark garnet color, with toasty oak, toast, coffee and what Kim describes as explosive cherry in the mouth. Good tannins and depth.

2006 Chateau Grand Traverse Old Mission Peninsula Cabernet Franc Ligon Vineyard Barrel Sample: Ruby dark garnet color, with attractive cherry, berry and currant flavors and aromas. Sean said at the time that, to him, this still smelled just off the skins, like it was just pressed, adding that is the first vintage that they've worked with this Ligon fruit. "In the future, we'll probably be doing more of a traditional Bordeaux blend with Merlot and Cab Franc. It really comes down to when we taste it and make the call. When we get these small quantities, we'll probably make 300 cases of this at the most, 350 maybe. If we think it's that good on its own, we'll make a hundred cases, maybe 200... I won't know until next year."

A view of one of Chateau Grand Traverse's oldest vineyards and the west arm of
Grand Traverse Bay in the background

While we talked and tasted, Sean addressed one of the most formidable difficulties that any winegrower in the Grand Traverse area faces, that being the shorter growing season, telling us that it is most crucial during the period up until bloom. "We rush the bloom; where most people have a month and a half (to) two months, we have bud break… it depends on the year, usually in mid-May, and we get bloom usually in the second (or) third week in June, so we really have a short time; but then from bloom through veraision through harvest, it's longer and longer in(to) your growing season. The problem is not the quality of the grapes or the ripening of the grapes if you have the right variety plan; it's that we have a lot less time. The Germans have a whole month and a half to prune everything down and get everything shoot-positioned right."

O'Keefe says that one way to deal with the shorter season is through a combination of employing more workers and the use of "ingenious trellising" to improve quality. He also reiterated the importance of growing the right varieties for the region. "We most likely always have cool falls, with the exception of 2005 and 1998, and Riesling loves that. It can get down to 35 degrees at night, and when it warms up in the morning, it starts photosynthesizing again. Do that to Cabernet Sauvignon or other grapes and they just (say), 'All right, I know what's going on here, I'm shutting down to survive and I'm not putting any(thing) into sugar production.' We really are at the very tips of the warm areas where we can grow reds here. Pinot Noir is a little different; it ripens earlier, so we avoid the cool temperatures."

While it's not their main focus, CTG is redoing their red program, and according to Sean, will probably bring in an assistant winemaker in the next year or two who knows cool climate reds so that they can take them to the next level. "But it's never going to be our main thing," he admitted, "it's for Michigan consumption only, I mean really for our market. If somebody wants it, fine, but I strongly believe that the white wines from here are the ones that people anywhere would (say), 'Yes, I like that,' as long as they're priced right."

Frankly, from everything that we tasted (some selections multiple times), those whites are right there, right now, and yes, the reds are coming along nicely, and all offer excellent value at their price points. After 33 years in operation, Chateau Grand Traverse SHOULD be among the very best producers in Michigan, and they are. The 2006 whites are certainly the product of an exceptional growing year, but still, there is a consistency of quality that spans multiple vintages that gives us great optimism for the future at CGT, and we'll be following their progress closely. Stay tuned for further reports...

Reporting from Day-twah,

Bastardo

Other Recent Wine Explorations
Mr. Dan's Wild Ride

Red Wings and Red Rhônes Playoff Diary-Round Three
A Bunch O' Whites (& One Pinky)

Left Foot Charley
Red Wings & Red Rhônes Playoff Diary - Round Two
Red Wings & Red Rhônes Playoff Diary - Round One

Back to the August 2007 Index
Back to the Underground Index

Back to the Top



© George Heritier August, 2007