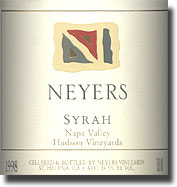 1998 Neyers Napa Syrah Hudson Vineyard, 14.5% alc.: Slightly rusty dark garnet color, with a hint of the barnyard on the nose that blows off quickly, leaving the expressive bacon, black olive, black plum and black berry aromatics to step up and shine; flavors echo loudly, with an overtone of eucalyptus and some underbrush in the background. Full bodied and well structured, but drinking beautifully, and with air, the components become even richer and more seamlessly integrated. At almost nine years old, this one is still on the way up, but I'd have a hard time keeping my hands off any that I had in my cellar, it's that good already. Find this wine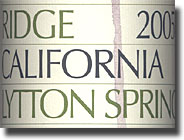 2005 Ridge Dry Creek Valley Lytton Springs, 77% Zinfandel, 17% Petite Sirah, 6% Carignane, 14.4% alc., $31.99: I'd been looking forward to my first taste of the newest vintage of this old favorite, and I'm sorry to report that I'm not happy with my initial impressions. Dark garnet in color, with toffee, chocolate and some briar on the nose, and plenty more of the same on the rich palate, but where is the signature Lytton Springs "zinberry" character and the Draper perfume? I keep waiting for it to emerge, and it never does; it has the kind of depth and structure that you'd expect from a Mr. Ridge, but this toffee-chocolate thing is not to my liking. With air, some Amador-like (?!) briar-bramble comes out more and more, but no real fruit character ever shows itself. The 2004 Lytton Springs seemed to show some of the same characteristics when we first tried it a little over a year ago, but that one was also anchored with a solid core of fruit. Hopefully, this is not an example of things to come from Ridge; if that were to be the case, it would signal a fundamental change in style, one not at all to my liking.
Jury's still out on this one; further investigations will be noted. Many thanks to Tim Thomas for bringing this one and a few alternates for us to ponder... Find this wine
The Main Event
~or~
"Gee, Georgie, where are ya gonna graduate FROM…?!"
The Bastille Day festivities got started right around 6 PM Saturday evening. Attendees included Tim, Cousin Larry, Steve and Robin Kirsch, Shar Douglas and Ken Heibenstreit and the enigmatic Madame Mystery. The repast featured a mixed grill of pork tenderloin, lamb chops, chicken breasts and flank steak utilizing various rubs and marinades, grilled prawns with a light touch of Sambuca marinade and lemon aioli dipping sauce, roasted rosemary and garlic potatoes, grilled hearts of Romaine lettuce with grilled red onions, tomatoes and fresh fava beans in a light vinaigrette. There were also sides of green beans dressed with olive oil and pine nuts, a baby beets, tomatoes and fresh mozzarella platter, Traverse City cherries and assorted artisan cheeses from Michigan and Wisconsin. Dessert (or for me, breakfast) was a delicious berry cake.

As the wine theme was simply (and obviously) French, Larry threw us a sneaky curve ball by starting us off with a nice little Prosecco. Here are my snapshot notes on the 13 wines
I tasted (there were one or two opened that I never got to.)

Adriano Adami Bosco de Gica Prosecco di Valdobbiadene Brut NV, 11% alc.: Medium straw color, with a moderately active bead; pungent minerality dominates the under-ripe, bone dry green apple and grapefruit flavors and aromas and that's a good thing in this case. Good acids, intensity of flavor and length. Find this wine

Imported by Dalla Terra, Napa, CA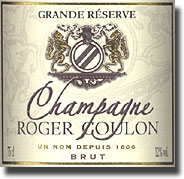 Champagne Roger Coulon Brut Grande Reserve, 12% alc.: Pale gold color, with good mousse and an active bead; flint and smoke on the nose carry over onto the palate to accent tart, slightly nutty, yeasty yellow apple. Rich and intense, with zippy acids (so much so that it still drank well the following day, even though the bubbles were pretty much gone). Find this wine

Imported by Elizabeth Imports, Denver, CO

2002 Luneau-Papin Muscadet Sèvre & Maine Sur Lie Le L d'Or, $14.45 – 17, 12% alc.: Medium straw color, with lots of minerality over under-ripe apple flavors and aromas, all shaded with a little sea air on the nose and some rainwater in the mouth; good weight and acids, and excellent length on the finish. I like how this is coming along since we first tried it a few years ago, but Larry thinks it's still a little tight, and he drinks more of these than we do. That's OK, we have a few more and we'll wait a while to try another. Classic Muscadet Sèvre & Maine Sur Lie. Find this wine

Imported by LDM Wines, Inc., New York, NY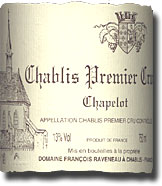 2001 Raveneau Chablis Chapelot, 13% alc.: Medium straw to pale gold in color; subtle lanolin and a good dose of chalk over under-ripe pear and apple flavors and aromas are more expressive on the nose than the palate. Interesting to taste at this relatively early period, but really in need of some serious cellar time. Find this wine

2005 Patient Cottat Sancerre Vieilles Vignes, 12.5% alc.: Medium straw color, with a big hit of boxwood (we won't call it cat pee on Bastille Day) over grapefruit and green apple, with good acids, weight and presence and plenty of underlying minerality. Classic Sauvignon character, just the way I like it. Find this wine

Imported by Vineyard Brands, Inc., Birmingham, AL

1993 Charles Joguet Chinon Clos la Dioterie, 12.5% alc.: Rusty garnet color, with lovely, mature earthy leather, red currant and cherry flavors and aromas, and somewhat Pinot Noir-like, as these often are; not the best Joguet Chinon we've had, but pretty good nevertheless. Find this wine

Imported by Kermit Lynch Wine Merchant, Berkeley, CA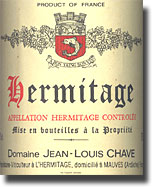 1988 J. L. Chave Hermitage, 13% alc.: Rusty garnet color, and all secondary all the time, with leather, Brasso and old wood throughout. Delightful. Find this wine

Imported by Gindy Imports, Ltd., Washington, D.C.

1996 Paul Jaboulet Aine Hermitage La Chapelle, 13.5% alc.: Dark garnet in color, and a little poopy on the nose at first, blowing off to reveal a note of sea air as it opens along with deep, rich Syrah character featuring black plum, blackberry and forest floor. Deep, dark and concentrated on the palate, following through on the promise of the aromatics with significant tannins still, and in no danger of fading anytime soon. Try again in five years or give it LOTS of air. Find this wine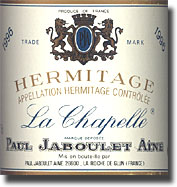 1994 Paul Jaboulet Aine Hermitage La Chapelle, 13% alc.: Slightly rusty dark garnet color, and not giving much on the nose; still not all that secondary yet, but not as bold as the '06 either (maybe these should have been sampled in reverse order…or not). With well behaved black fruit with restrained black olive and leather, this isn't a "big" Hermitage, but it is an enjoyable one on its own terms. Find this wine

Paul Jaboulet Aine Imported by Frederick Wildman and Sons, Ltd., New York, NY


1995 Jamet Côte-Rôtie, 12.5% alc.: Deep, dark garnet color, showing soft leather and some black olive over black fruit in flavor and aroma; well mannered, but no wallflower, and drinking nicely right now. Find this wine

Imported by Robert Kacher Selections, Washington D.C.

1995 Domaine André François Côte-Rôtie, 12.5% alc.: Almost the color of ink, with an iron, leather, black plum and blackberry personality; well mannered, yet well structured, and drinking well. Find this wine

Imported by World Shippers & Importers Co., Philadelphia, PA

1988 Château Rabaud-Promis Sauternes, 13.5% alc.: Rich golden color, with equally rich apricot, orange marmalade, orange blossom honey and confectioners' sugar aromatics that echo and expand on the palate with a dense, viscous, oily texture, serious intensity and a long lingering finish. Pretty good stuff, but the confectioners' sugar gets old quickly. Find this wine

Imported by Olinger Dist. Co, Inc., Indianapolis, IN

1997 Château de Fesles Bonnezeaux, 13% alc.: This amber gold botrytis-infected Chenin Blanc is a perfect example of why I'll always take Bonnezeaux over Sauternes; it explodes on the nose and palate with over-ripe apricot and orange blossom honey, but without the confectioners' sugar that beleaguers the previous selection. Rich and concentrated, with excellent acidity and endless length; huge, incredibly intense and still a killer dessert wine even two days after being opened. Find this wine

Imported by Frederick Wildman and Sons, Ltd., New York, NY

It was a most excellent Bastille Day celebration, and thanks to all for their participation and contributions. A special thanks goes to Steve for presenting me with my very own Communist Martyrs High School Athletic Dept. t-shirt! Holy Mudhead, Mackerel!





Reporting from Day-twah,
Bastardo

Other Recent Wine Explorations

A Mess o' Reds

Mr. Dan's Wild Ride

Red Wings and Red Rhônes Playoff Diary-Round Three
A Bunch O' Whites (& One Pinky)

Left Foot Charley
Red Wings & Red Rhônes Playoff Diary - Round Two
Red Wings & Red Rhônes Playoff Diary - Round One

Back to the July 2007 Index
Back to the Underground Index

Back to the Top



© George Heritier July, 2007