a





ver the past several months, we've taken a renewed interest in (gasp!) Napa Cabernet, especially those from the mountain vineyards of Pritchard Hill and Howell and Spring Mountains. One winery in particular from the latter locale, Schweiger Vineyards, has impressed us greatly with their impeccably balanced wines, so much so that when I heard that one of the proprietors was scheduled to be in our neighborhood, I went out of my way to meet her, not once, but twice.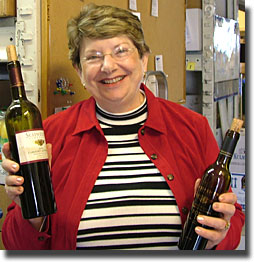 Sally Schweiger came to Day-twah as April turned to May, spending five days in the area promoting her family's wines, which had only three weeks before taken on a new Michigan distributor, Wines of Distinction - J & J Importers, based in Bloomfield Hills. I was pleased to have the opportunity to taste with Sally, courtesy of J & J reps Michael Korn and Judy Murdock; frankly, I needed no coaxing, having fond memories of the 1999 Schweiger Spring Mountain Cabernet Sauvignon we so enjoyed this past winter.

Schweiger Vineyards is a completely family - run operation, with proprietors Fred and Sally Schweiger managing the vineyards, winery and office, son Andrew Schweiger in charge of winemaking, daughter Diana Schweiger Isdahl handling Sales, Marketing and Public Relations and Andrew's wife Paula overseeing the Wine Club and Guest Relations. Everyone involved pitches in at the tasting room, and anywhere else as the need arises.

The Schweigers didn't come lately into the game with a large fortune at their disposal like some; Fred's parents, Tony and Theresa Schweiger, purchased 53 acres on Spring Mountain in 1960, when land was remarkably inexpensive by today's standards, and Fred bought another 8 acres in '61. Clearing for vineyards began in the late '70s, with the first vines planted in 1981 and the first harvest in '84. For the next 10 years, the Schweigers sold fruit to the likes of Joseph Cafaro, ZD, Newton and Stags Leap Winery. Then, in 1994, Schweiger Vineyards became a bonded winery and the family began bottling wine under their own label, while still selling grapes to contracted wineries. In 1999, the contracts expired, Andrew Schweiger took on the full - time responsibilities as winemaker, and the family began using all of their grapes for their own wines. In the vineyards, 25 acres are planted to Cabernet Sauvignon, five acres to Merlot, four to Chardonnay and a small block is devoted to Petite Sirah, with annual yields ranging from 1.5 to 3.5 tons per acre.


The Wines


2004 Schweiger Vineyards Sonoma Valley Sauvignon Blanc Uboldi Vineyard, $19.50, 13.5% alc.: Just released on May 1st, this is the only wine the Schweigers make using other than Estate fruit. Pale straw in color, it's patterned after New Zealand and Loire Valley models, offering pungent boxwood, cat spray, gooseberry and grapefruit aromatics, underscored with subtle oak, from its fermentation in three to five year old neutral French barrels. The flavors echo nicely, with good acidity, some added minerality and a good finish. Sally says it performs admirably in cutting through the creaminess of chicken Alfredo, and it presents a solid value for what's in the bottle.


2003 Schweiger Vineyards Napa Chardonnay Spring Mountain District, $30.00, 14.6% alc.: Barrel fermented with 25% new French oak and 75% 2-4 year old French oak, with 10% of the wine undergoing Malolactic fermentation, and aged sur lies for 10 months, this medium straw is balanced, elegant and refined; it comes off in more a Burgundian style than Californian, with lovely, somewhat restrained apple and pear flavors and aromas, accented with subtle spice and hints of mineral. It has a nice presence, finishes fairly long and should continue to develop and drink well over at least the next few years.

2000 Schweiger Vineyards Napa Merlot Spring Mountain District, $42 - 45, 13.9% alc.: This dark garnet colored claret - styled 100% Merlot saw 22 months in 60 gal oak barrels, 5% of which were new American, 65% new French, 25% two year old French and 5% two - four year old American. Again, this shows a sense of balance and elegance, with perfumed red currant, cherry and muted cocoa powder aromatics that echo on the palate with soft tannins and a nice finish. The oak is restrained and not at all dominant, seeming to express the character of the older barrels more than the new. It's rare that I enjoy Californian Merlot, but here is one that I could drink on a regular basis.

2000 Schweiger Vineyards Napa Cabernet Sauvignon Spring Mountain District, $26.99 - 48, 14.2% alc.: Dark garnet in color, and having spent 20 months in 60 gal oak barrels (5% new American, 65% new French, 28% 2 year old French, and 2% two - four year old American), this too has that claret character, with black and red currants, dusty dried herbs and a hint of dark chocolate, complimented by just the right kiss of oak (again, seeming more old than new), being balanced, not too tannic and restrained yet expressive at the same time. Cloverleaf Fine Wine's Chris Brandt exclaimed, "I can taste the mineral and soil," and indeed, these wines all seem to show a "sense of place." Very nice, a great bargain at the lower post - off price listed, and if it finishes just a bit short, that's a small complaint given the overall package.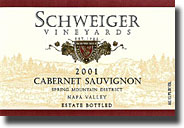 2001 Schweiger Vineyards Napa Cabernet Sauvignon Spring Mountain District, $43.99 - 46, 13.9% alc.: This dark garnet 100% Cabernet Sauvignon is a departure from previous vintages, having been given an extra year in barrel (32 months in 60 gal Oak barrels, 21% of which were new American, 54% new French, 20% two year old French, and 5% two - four year old American), and it shows in the overtones of coffee and toast that accent the cassis, blackberry, black currant and dark chocolate flavors and aromas. This features the richest fruit of the three reds, and yet it's still so balanced, with silky tannins and a long finish; it has power, weight and depth, without being at all overdone. And, as enjoyable as it is already, it can only develop and improve over at least the next decade.

Schweiger Vineyards Napa Cabernet Sauvignon Port IV Spring Mountain District, 19.3% alc.: Sally brought along some of this just for the fun of tasting it, since it's sold out; however, the Port V will be coming out in July or August. The rich, ripe grapes for this Solera blend (1997 - 2%, 1998 - 3%, 1999 - 27%, 2000 - 49%, 2002 - 19%) were picked at 28 brix, then fermented down to around 13 before being fortified with 143 proof double alambic distilled Pinot Noir brandy. Rich and delicious, this exudes lovely notes of white chocolate, red currant and cherry, along with whiffs of sea air - aquarium on the nose. It would go well with a variety of chocolate delectables, and would also pair nicely with a good Cohiba cigar.

~

Sally Schweiger is a delightful lady, friendly, articulate and down to earth. She jokingly calls herself the "Bubble Queen."

"My husband and son refuse to make it," she laughs, referring to sparkling wine, "because I'll drink it!"

Sally loves all things Schramsberg, and always travels with a stash of two or three bottles. No doubt she had some with her when she visited southeastern Michigan, promoting the wines that her husband and son do make. And no doubt she opened at least one of them to celebrate what was, by all accounts, a very successful trip.

With the exception of the Cabernet Port, I was able to taste through all of these on two separate occasions, with consistent impressions; if anything, I enjoyed them even more the second time. From what I hear, so did plenty of other people. The Schweigers haven't been all that happy with their past distribution in Michigan, but the folks at Wines of Distinction are determined to change all that, and represent them in a manner befitting wines of this quality.

Did I mention that the wines are very fine indeed?



Reporting from Day-twah,

Bastardo