2000 Edmunds St. John El Dorado Syrah "Wylie-Fenaughty," $34.99, 14.1% alc.: Dark garnet in color, fading to pink at the rim; aromas of sea air, dark plums and berries accented with hints of vanilla cream and subtle spice waft from the glass, following through on the palate with more of everything, and some added earth, smoke and even a note of shiso leaf, according to Bennett and Kim. Again, the wine shows excellent structure and length on the finish; Bennett noted that this one is riper than the Los Robles Viejos, adding that itís "ripe, with its toes on the line" of going over the top, but never crossing that line. I found it to be perhaps a little better behaved than that, but still, this is one very tasty and impressive wine, both for current consumption and/or for laying down for three to five years or more. Find this wine
These are both delicious wines; to me, they show no excesses of any kind, and perhaps best of all, they exhibit more earth and, dare I say it, terroir, than many from the left coast. In fact, these are two of the closest things to red Rhones from California that Iíve ever had the pleasure to taste. Next week, I think Iíll bring in the Ď01 Edmunds St. John California Syrah and give that a try, based on some favorable notes Iíve read lately.
All of the following wines were enjoyed with friends over the past few weeks, and as you will notice, Bennett either provided several of them from his cellar or insightful commentary on some that he didnít.

1994 Joseph Drouhin Chablis - Vaudťsir, 13% alc.: The last of three that weíve so enjoyed over the past few years, this one is showing a pale to medium golden color, and gives off a nice flint, matchstick and honeycomb combo on the nose; remarkably fresh in the mouth, it offers rich honeycomb and pear with hints of butterscotch, well integrated oak and less minerality initially than the previous two. However, with air, a streak of oily limestone emerges, adding to the complexity and appeal. Medium to medium full body, with excellent concentration, cut and length on the finish, this bottle would have continued to develop and improve for at least another three to five years, but it was very well received, and I have no regrets for having opened it. Find this wine
Joseph Drouhin Wines Imported by Dreyfus, Ashby & Co., New York, NY

1985 Jean-Marie Raveneau Chapelot, 11-14% alc.: Bennet Traub, who squirreled this medium straw away in his carry-on luggage to share with us, tells us that Chapelot is a "leux dit" of another Premier Cru vineyard in Chablis, Montee du Tonnerre, and it certainly pays testament to Raveneauís reputation for long lived wines. An initial big nutty hit on the nose subsides to take a back seat to the dominant flavors and aromas of limestone and under ripe apple, and a very subtle note of butterscotch gradually makes itself known with air; Bennett also mentions "almost a gout de petrol, kind of like an Alsatian Riesling," and after some swirlatude, I picked up on that as well. Medium to medium full body, and somewhat oily, with enough acidity to keep it moving right along and a nice long finish, this also seems very fresh in its own way, and provides a wonderful drinking experience, not to mention a most interesting contrast to the Drouhin Vaudťsir. Find this wine
Imported by Kermit Lynch Wine Merchant, Berkeley, CA
2003 Louis Michel Chablis Vallion, 12.5% alc.: Medium straw color, with a silky texture and a subtle, but lovely perfume; subtle herb, mineral and green apple on the nose, with flavors that echo and expand. Opens beautifully in the glass, with the stony minerality showing more and more, good cut and a long finish. I love this wine! Find this wine
Imported by Vineyards Brands, Birmingham, AL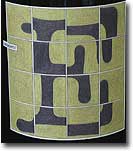 2002 Sine Qua Non Whispering E, 50% Roussanne, 31% Viognier, 19% Chardonnay (mostly Alban Vineyard fruit with a small portion of Stolpman Vineyard fruit), 14.9% alc.: Another wine squirreled away in Bennett's luggage, pale to medium gold, with a generous kiss of sweet toasty oak over ripe pear with a hint of banana and what he describes as "an almost gewurz-like spiciness;" big and oily, almost fat, yet with very good acidity, this does show some heat, but not excessively so. Mr. Traub speculates that this might work well with a mango salsa or chicken with a tangerine sauce, and he has a point. We simply sipped it all by its lonesome whilst firing up the grill for dinner, and all in all, found it to be quite enjoyable. Find this wine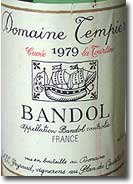 1979 Domaine Tempier Bandol Cuvee La Tourtine, 13% alc.: How does one describe a wonderful wine like this? Bennett, who opened this rusty ruby colored lovely for us, called it "a chameleon," saying that "it smells almost Burgundian," and in fact, itís hard to put a finger on any specific fruit flavors here; itís all about tertiary characteristics, with earthy, leathery mushroom being the most obvious. Tannins are fully resolved, and the wine shows impeccable balance and a wonderful presence, being right there, right now for optimum enjoyment. Easily one of the two or three best Bandols Iíve ever had the pleasure to taste, and maybe the very best; a most memorable wine. Find this wine
Imported by Kermit Lynch Wine Merchant, Berkeley, CA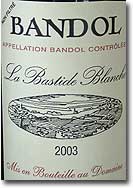 2003 La Bastide Blanche Bandol, $18, 14.5% alc.: Dark garnet color, with an earthy, sticksy black fruit nose; the very dry flavors follow through and flesh out with black currants and berries, hints of root beer-cola and some significant tannic structure. The wine opens and smoothes fairly quickly in the glass, becoming more harmonious, but while itís nice now with air, itíll be at its best on or around its 10th birthday. Find this wine
Imported by Weygandt-Metzler, Unionville, PA

1982 Chateau Latour a Pomerol, 12% alc.: Showing only some slight bricking to the dark garnet color, this offers up lovely flavors and aromas of earth, mahogany, old wood and tobacco-cigar box; at its peak, with tannins perfectly resolved and so smooth on the palate. Like with the Ď79 La Tourtine, the character is entirely secondary, or tertiary, with little in the way of any specific fruit that can be described, and yet this is rich, delicious and, in short, wonderful. Once again, many thanks to Bennett Traub for sharing this marvelous "old soldier." Find this wine
Imported by Dreyfus, Ashby & Co., New York, NY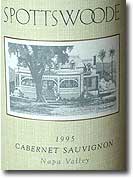 1995 Spottswoode Napa Cabernet Sauvignon, Margaret Marchak opened this deep dark garnet Napa claret for us all; itís all balsa and mahogany on the nose, which follow through on the palate with what Bennett describes as "raisins, prunes and currants," adding that itís "like a dry port in terms of taste, itís ripe, but not over ripe." Iím not sure I agree with the raisins and prunes, but then we all can have such different, subjective takes on a given wine that I wouldnít argue the point either. Tannins here are mostly resolved, with enough acidity to work just fine and very good length on the finish. This is not at all overblown, being very well balanced, with clean wood and as it opens, some old wood as well. I just love Napa Cabernet when it comes like this, and Iím happy to drink it any old time. Thanks, Margaret! Find this wine
1995 Beaulieu Vineyards Napa Cabernet Sauvignon Georges de Latour Private Reserve, 13.5% alc.: Ruby dark garnet color, with an effusive perfume of balsa and mahogany over cassis and black currant that Hostess X (who requested anonymity) described as "almost like a veneer;" these impressions follow through on the palate where the wine is silky, yet substantial and still well structured. With some air, this is downright delightful, and itís still on the way up, if this bottle is any indication. Find this wine

1997 Comte Georges de VogŁť Chambolle-Musigny, $57.99, 13.5% alc.: Bennett characterized this smoky ruby garnet as "surprisingly shy on the nose," and in fact, it didnít give much at all at first. However, with air, it offered more and more earthy plum and black cherry, shaded with some forest floor in both flavor and aroma. Soft, smooth and harmonious, if not particularly memorable, and not up to the price tag. Still, itís otherwise enjoyable, and if you happen to have some, give it an hour in a decanter before drinking. Find this wine
Imported by Dreyfus, Ashby & Co., New York, NY
2002 Mongeard Mugneret Grands-Echezeaux, 13.5% alc.: Ruby garnet in color, with a subtle smoke over perfumed black cherry, cola and Asian spice aromatics; more of everything in the mouth, with solid earthy undertones. Silky, yet substantial, with solid structure to take this well beyond its 10th birthday. The Asian spice complements the marinade used for the delicious medium rare lamb chops. Sexy and seamless, in the words of Hostess X, and a very lovely wine already, with a fine, fine future. Find this wine
Imported by Vineyards Brands, Birmingham, AL
Finally, we make something of a full circle with this report;
Kim brought the following wine back from her sojourn in San Diego a few weeks ago:


2004 Edmunds St. John El Dorado County Gamay Noir Bone-Jolly Witters Vineyard, approx. $17, 13.1% alc.: Ruby garnet in color, with solid Gamay character, featuring flavors and aromas reminiscent of cherries and mulberries, shaded with very subtle earth and underbrush. Medium full bodied and slightly tart in the mouth, with good concentration, structure and length, and while not that complex, whatís here is quite enjoyable for this taster. With only 185 cases made, I doubt that weíll see much more of this here in Michigan, unless someone else packs a few away in their carry-on luggage. Find this wine
Reporting from Day-twah,
Bastardo

Other Recent Wine Explorations
More Red Wings and Red RhŰnes 2006
Back to the Underground Index

Back to the Top



© George Heritier August, 2006