A Quirky Vertical | Virtual Angwin


ome of our friends are probably wondering, "What's up with Kim and Geo, they're drinking an awful lot of Left Coast Cabernet lately." And it's true, we're saving those red RhŰnes for whenever hockey may start up again, so as the weather turns frigid, we've found ourselves turning towards big reds of a different kind, critters that we've never explored as much as maybe we should have. And as it happens, over the last month or so, we've tasted through an accumulated vertical of Cabs from unrelated producers. We got our quirky little vertical started with two beauties that we enjoyed with Dan and Carol Myers in late November.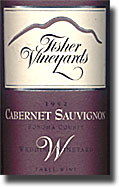 1992 Fisher Sonoma Cabernet Sauvignon Wedding Vineyard, approx. $25 in 1996, 13% alc.: This dark garnet Cabernet is showing no hint of rust as of yet, and drew immediate descriptors such as asphalt, tar, barnyard, leather and cedar, and these were indeed complimentary components to the considerable cassis and black currant character of the wine; there's a little chocolate and a nice kiss of oak here as well. It has a velvety texture, despite tannins that still need five years or so to tone down; Dan described it as "more like silk," explaining, "Velvet has a little more texture, silk just glides." Whatever the case, you probably get the picture; this is a lovely wine, and as it opens, it becomes even smoother, with the tar and asphalt layering into the background as it undergoes a continuous, marvelous evolution, showing more and more fruit, but never becoming a "fruit bomb." Great with a bite of Montgomery Farmhouse Cheddar, and even better with Dan's roasted root veggies and pan - seared filet mignon on a sliced baguette with caramelized onions and beurre de ma

Ótre d'h

Ű

tel.

1993 Robert Mondavi Napa Cabernet Sauvignon Reserve, 13.5% alc.: An inky purple garnet, this is a rougher wine than the Fisher, and despite the fact that it smoothes out nicely with extended air, it never does achieve the "silk" or "velvet" of the previous selection. Still, it shows plenty of black currant, cassis and plum, accented with notes of dark chocolate, saddle leather, cedar and a hint of mahogany; Dan added impressions of "bright cherries and a nice, sharp, tart spiciness." Another good match for the filet, this is a very fine wine on its own terms, and one that needs even longer to resolve the considerable tannins than does the Fisher, so there's no reason to be in any hurry to open one if you have any.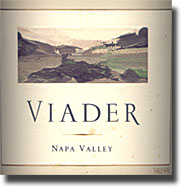 1994 Viader, 55% Cabernet Sauvignon, 45% Cabernet Franc, $33.99, 13% alc.: We liked this much better than one critic seems to have, based on a recent score of 82; we found nothing "oxidized" in our bottle, so the "cellar from heck" seems to be doing what it's supposed to. Dark garnet in color, slightly rusty at the rim, this shows tobacco and cigar box right away on the nose, with rich black currant, cassis, blackberry and plum jumping up to take over on the palate. Moderate tannins make this tasty right out of the bottle (we passed it back and forth for over half an hour), and while not quite velvety, the smooth texture adds to the pleasure. If there's a complaint here, it's that the finish fades a little sooner than I'd like, but it's a small complaint. More Bordeaux - like than your mainstream Napa claret, and all the better for it, this is a fine match for Kim's hearty beef stew with corn meal dumplings and sides of saut

ť

ed portabella mushrooms and acorn squash with melted blue cheese. It would appear that Delia Viader was right on the money when she advised drinking her wines either shortly after release or at 10 years of age.

1995 Arrowood Sonoma Cabernet Sauvignon Resťrve Speciale, $55: Dark garnet, with no rust to speak of, this didn't live up to expectations for such a highly regarded bottling. It shows black currant and blackberry flavors and aromas with a creamy overlay and what Kim described as "coffeed chocolate;" Alan Kerr added impressions of "coffee crisp and a cedary balsa thing." Fairly fruit forward with moderately tannins, on a medium to medium full - bodied frame, but without the depth or multi - dimensional qualities of the 94 Ridge SCM Cab tasted immediately before it, this is a nice Cab, but not a great Cab, causing Alan to observe "I'm a little surprised at the Reserve designation, it has good concentration, but little else." Is this at an awkward phase, or was it simply overwhelmed by the less prestigious Ridge SCM? We all felt it was the second choice.

1996 Stonestreet Legacy Alexander Valley Red Wine, 57% Cabernet Sauvignon, 26% Merlot, 17% Cabernet Franc, $59.99, 14.2% alc.: This deep, dark garnet hued Bordeaux blend is all about silk and elegance at this point; initially reticent on the nose, a bit of the barnyard blows off to reveal more and more cassis, black currant, cocoa powder and soft leather. Not quite understated, the flavors mirror these impressions, with fully resolved tannins and a fine, lovely balance. I'd recommend decanting this half an hour before drinking, not for any issues of sediment, but simply to allow the wine to open and show more of what it has to offer; the leathery quality in particular becomes more and more accentuated, adding greatly to the appeal. A very nice wine, although perhaps not for those who prefer a powerhouse style.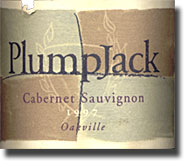 1997 Plumpjack Napa Cabernet Sauvignon Oakville, 13.8% alc.: A dense dark garnet turning pink at the rim, this one is really starting to come into its own, showing very appealing flavors and aromas of cassis, black plum and blackberry, with earthy undertones, a note of dark chocolate and more and more tobacco - cigar box as it opens. Medium full to full - bodied, it still has at least three to five years worth of tannins and a boatload of fruit to take it down the road, but it's not a fruit bomb, nor does it show any excessive oak. Pure, rich, delicious Napa Cabernet; I could drink this on a regular basis!

1998 Woodward Canyon Washington Cabernet Sauvignon, $54.99, 13.9% alc.: The only wine from Washington in our quirky vertical, this deep, dark garnet offers sweet oak, cassis and blackberry on the nose, with flavors to match, picking up added notes of white chocolate, coconut, dill and just a smidgen of bell pepper along the way. Itís pretty smooth on the palate, with soft tannins and good acidity, and if itís not a style that Iím wild about, it doesnít suck either. However, it IS overpriced for whatís in the bottle, IMNSHO.

1999 Schweiger Napa Cabernet Sauvignon Spring Mountain District, $45.99, 13.7% alc.: This deep, dark garnet colored Spring Mountain Cab is downright pretty, there's no other way for me to describe it. It's elegant, refined and very nicely balanced, showing lovely flavors and aromas of perfumed black cherry and cassis, accented with notes of subtle sweet spice, smoke and rock and rye. Medium to medium full - bodied, it's not a blockbuster by any means, it's just a pleasure to drink. It's food friendly, and while the fine tannins will certainly allow this to improve over at least the next few years, I'd have a hard time keeping hands off, it's so good already.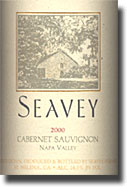 2000 Seavey Napa Cabernet Sauvignon, $72.99, 14.1% alc.: An inky purple garnet with a tight nose of cassis, black currant and a little bell pepper; the big, dense flavors echo and expand. Opening fairly quickly, it loses the bell pepper and gains something like shades of root beer, nutmeg and leather. Significant tannins put a bit of a crimp on the finish, but with air, this is not just very approachable, it's rich, concentrated and very tasty indeed, not at all overdone or over the top. It shows good varietal character and is very impressive, a real success given the vintage; I can only imagine what it'll be like in about five years or so.

2001 Phelan Vineyard Napa Cabernet Sauvignon, 14.2% alc.: A Bob Egelhoff - made wine, this deep dark garnet colored Cabernet has lots going on in the aroma department, including sweet oak, briar - bramble, cassis, blackberry, black cherry, toast and coffee; there's some good char on the oak, which turns sweet, but not quite sugary. full - bodied and assertive, the rich flavors echo, but are decidedly dry on the palate, with good structure that bodes well for aging into 2011 and beyond. As it opens, more oak shows on the nose. I made myself a note to try this again in five years to see where it's going.

2002 Worthy Napa Red Table Wine Sophia's Cuvee, $27.99, 14.6% alc.: This deep dark garnet Cabernet based blend from grapes that didn't make the cut for Bob Egelhoff's Axios (and indeed, was not made by Egelhoff), could almost be mistaken for Zinfandel or Syrah, it's so big and ripe. It exudes rich sweet spice, cassis, blackberry and black cherry with hints of chocolate, and the ample oak isn't what almost sends it over the top, it's the ripeness of the fruit. Substantial tannins, zippy acidity and the alcohol all give this a bit of a bite at first, but tone down with some air; still, this will be better three to five years down the line. It's a good bargain for those who like this kind of big, ripe wine, and while it's not a style I prefer, it's one that I can appreciate.

(Not Just) Flotsam and Jetsam


We've enjoyed some other Left Coast Cabs besides those in our "quirky vertical" lately; here are notes on five of them, and there is another whole page of selections exclusively from Howell Mountain.

1996 Burgess Napa Cabernet Sauvignon Vintage Selection, $29.99, 13% alc.: We've always liked Burgess wines, both early and late, so when I found a couple of these languishing down in the "cellar from hell," I immediately excavated them, and while they should have fared well to their tenth birthday and beyond, they didn't last two days at Gang Central. Dark garnet, with no rust to speak of, they show typical Burgess characteristics of cassis, black and red currants, sweet spice and undertones of earth, decaying vegetation, cedar and a hint of chocolate. Medium full - bodied, with moderate tannins and a nice finish, this needs a little air to lose some excess funk; then, it morphs into a balanced Napa Cab that performs very well, and I wish I had a few more down there. Hey, maybe I do...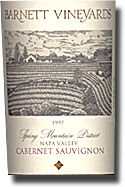 1997 Barnett Napa Cabernet Sauvignon Spring Mountain District, 13.8% alc.: I had the opportunity to chat with Fiona Barnett at a trade tasting in Dearborn a few months ago, while tasting through some of the Barnett wines. She was most gracious, and while the basic Napa Valley wines were pleasant, they weren't particularly memorable. The Spring Mountain Cab and Merlot were another matter however, so getting a chance to taste one with some age on it was a special treat. This deep, dark garnet doesn't give much more on the nose than some stingy black currant and cassis at first, but it gradually opens to reveal added impressions of blackberry, black plum and a little leather, all of which follow through in the deep, pure full - bodied flavors. Densely textured, this has at least five years worth of improvement ahead of it, but it's already so fine; it keeps opening more and more, becoming richer and sweeter, without ever falling into the "fruit bomb" category. A beautiful Cabernet that's already a joy to drink, and its best days are still ahead. Now, if only I could snag a glass of that Rattlesnake Hill sometime...

2000 Martin Ray Mariage Cabernet Sauvignon, 55% Napa, 23% Mendocino, 22% Sonoma, $16, 13.8% alc.: This deep, dark garnet proved to be the better wine of the two when compared with the '01 Provenance noted immediately below, because of its balanced fruit and structure. It features cassis, black currant and black cherry flavors and aromas, with a nice kiss of oak and little hints of earth. Medium full - bodied, with a smooth mouth feel and a decent finish, this is by no means a "great" Cabernet, just a solid, satisfying one, more food friendly and "correct" than the Provenance. A nice glass of wine to have with your porterhouse or standing rib roast; you could call this "real wine," because it tastes like wine, not chocolate or Port.
2001 Provenance Napa Cabernet Sauvignon Rutherford, $35, 14.5% alc.: A dark garnet in color that's typical of a strapping young Cab, this one exudes sweet oak, chocolate, confectioners' sugar and cherries on the nose; these characteristics follow through on the palate with the emphasis on the chocolate - cherry, and a good dose of tannins on the medium - full to full - bodied frame. It's fairly long on the finish, turning earthy on the end, and while it's not at all an unpleasant wine, neither is it what I want to drink with my New York strip.

2001 Fisher Napa Cabernet Sauvignon Coach Insignia, $62.99, 14.3% alc.: A deep, dark garnet, almost opaque in color, this includes some Merlot, Malbec, and Cabernet Franc in its composition, and exudes a fragrant perfume of pure Cabernet fruit reminiscent of black currant, cassis and black berry, all with a judicious kiss of oak. The rich flavors follow through with surprisingly soft tannins (especially after having the '92 Fisher Wedding Vineyard only a few nights before) on a medium full to full - bodied frame; subtle undertones of earth, spice and tobacco add some interest and complexity, and as it continues to open, it sweetens up some. Undeniably delicious, this is a solid Napa Cab that does everything it's supposed to, and will continue to do so over at least the next five to eight years. Still, it seems to lack the depth and nuance of the '92 Wedding, as well as the intangibles that make a "great" Cabernet, and thus worth the price of admission. MORE===>


A Quirky Vertical | Virtual Angwin