2003 Vincent Girardin Volnay Les Santenots, $49.99, 13.5% alc.: Ruby dark garnet in color, with subtle earth, forest floor and smoke over somewhat candied black cherry and a certain perfumed quality on the nose, and these impressions follow through on the palate. Medium to medium full bodied, very svelte and smooth, with medium tannins and good acids, but seems to lose a little something on the backside. I tasted through most, if not all of the Giradin '03 lineup about a year or so ago, and found them to be good, if lacking any extra dimensions that might add some excitement. This was one of those wines, and this sampling does nothing to change my mind in that regard. Perhaps some additional time in the bottle will help. Find this wine

Imported by Vineyard Brands, Inc., Birmingham, AL

~~~

We last tasted the 2001 Haut Bages Liberal with a few other '01 Bordeaux a few years ago, and at that time, I liked it quite a lot, so when I found a stash of that AND its predecessor from 2000, I couldn't resist the tasting opportunity. We started with the older model.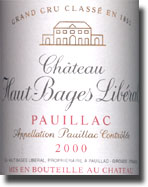 2000 Haut Bages Liberal Pauillac, $44.99, 12.5% alc.: Deep, dark garnet in color, this exudes a fragrant bouquet of black currant, cassis and blackberry that follows through and expands on the palate, where it gains some earth, tobacco and old wood. It has density without being over extracted in any way, and despite it relative youth and ample structure, it's not only approachable, it's downright drinkable. Best of all, it should continue to mellow and improve for at least another five years. Very nice indeed. Find this wine

2001 Haut Bages Liberal Pauillac, $29.99, 12.5% alc.: Another deep, dark garnet colored claret, this is rather stingy with its aromatics, grudgingly giving up some black currant, cassis and dark chocolate; these echo and expand on the palate with some tobacco and old wood on a medium full bodied frame. While the similarities to the 2000 are obvious, this one is less substantial in every way, lacking some of the weight and intensity of the earlier version. Still, it's drinking pretty well on its own terms, and has the structure to age and improve for another five years or so. Find this wine

Imported by Stacole Fine Wines, Boca Raton, FL
~~~

We were blown away by the 2001 Moris Avvoltore Maremma Toscana when we tried it a little over a year ago, so when I happened upon a bottle from the previous vintage, I didn't hesitate to pick it up, take it home and open it with the first grilled leg o' lamb we could get our hands on, sharing it and the following selection with our friend Deb Hart.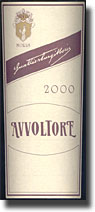 2000 Moris Avvoltore Maremma Toscana, 75% Sangiovese, 20% Cabernet Sauvignon, 5% Syrah, $45.99, 13.5% alc.: This deep dark garnet is every bit as pleasing as the '01 was; the lovely aromatics follow through onto the palate, offering earthy sticks, smoke, black currants and berries and dried sour cherries. With excellent structure, concentration and balance, this promises a lovely future, with at least three to five years of improvement, but it's already drinking like a dream. Find this wine

Imported by J&J Importers, Bloomfield Hills, MI

We sampled the next wine late during a gathering about a year and a half ago, and while we really liked it, we recorded no particular impressions beyond that. (The 2001 Poggio Bertaio Crovello, on the other hand, was duly noted, and quite enthusiastically so.) So, like with the '00 Avvoltore, when I saw this, I snatched it right up, and we enjoyed it on the same occasion as the previous wine.

2001 Poggio Bertaio Cimbolo Sangiovese Umbria, $28.99, 14% alc.: Slightly rusty dark garnet in color, showing earthy underbrush, "sticksy" dried sour cherries and dark chocolate flavors and aromas. It has a rich core of fruit, being nicely structured and well balanced, with excellent length on the finish. This lovely wine should improve for several years, but like the Avvoltore, it's already delicious, especially with that leg o' lamb. Find this wine

Imported by Vias Imports, Ltd., New York, NY
~~~

We've very much enjoyed Neyers wines for the past several years; the Zins are excellent, and the Hudson Vineyard Syrahs are as good or better. The following wine was the first Neyers Syrah that we've had that didn't have a specific vineyard designation, and I'll be dipped if it wasn't one of the best ones yet. We've tried it three times just to make sure, and loved it every time.

2002 Neyers Napa Syrah, $27.99, 14.5% alc.: Deep dark garnet in color, showing serious Syrah character, and even some northern Rhone-like nuances. Big black plums and berries accented with earth, smoke, leather and bacon on the nose and in the mouth; a soft kiss of oak adds to the package, rather than detracts. A dense wine, with good tannic grip, and yet it has a certain sleek quality to it as it opens nicely with extended air, lingering long on the finish. Very enjoyable already, with a fine future in store. Find this wine

~~~

We've been fans of Chateau d'Oupia Minervois for as long as we've been publishing the Gang of Pour pages, and we keep coming to their wines again and again, and we're never disappointed.

2003 Chateau d'Oupia Minervois, $9.35 – 11, 13% alc.: Dark garnet in color, with black berry, black plum and hints of iodine and black olive on the nose; rich flavors echo, though the iodine and olive aren't as upfront as in previous vintages. Full bodied, with earthy tannins to take it five years or more down the road, with a reasonably long finish, and just the subtlest hint of chocolate emerges with air. Not the biggest, thickest d'Oupia we've ever had, but still most enjoyable, and in fact, it does seem to put on a little weight as it opens. It also seems to have a little bit more of everything than the following vintage, and we really like that one too. Find this wine

2004 Chateau d'Oupia Minervois, $12, 13% alc.: Ruby dark garnet, with flavors and aromas of black plums, berries and currants and though there's not a lot of black olives, there's just enough to give this that typical d'Oupia character that we've come to know and love. Not as big, or as deep and dark as some of these have been in the past, only medium to medium full bodied, but it has an elegant feel to it, with moderate tannins, good acidity and a nice finish. I like this stuff a lot, it's real wine, and I'd much rather drink this than those $50 Oz or Cal fruit bombs. Find this wine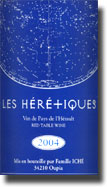 2004 Les Heritiques Vin de Pays de l'Herault, $8.99, 12.5% alc.: Also from André Iché's Chateau d'Oupia, this dark garnet is produced from old vine Carignan, and while it doesn't wow you with the first sip, it becomes increasingly engaging as it opens in the glass. Medium to medium full bodied, it offers solid, if unspectacular flavors of mulberry and blackberry shaded with a note of those d'Oupia olives, with modest earthy undertones. Moderate tannins make for an uncomplicated, drink-me-now kind of wine with a decent finish. I like this wine quite a bit, and I like it because it's unpretentious; it doesn't try to be anything other than what it is, that being real red wine at a really nice price, even for our neck of the woods. Find this wine

A Louis/Dressner Selection – Imported by LDM Wines, Inc., New York

~~~

Finally, Michele Rolland's 2003 Clos de los Siete Mendoza created something of a sensation (not to mention a feeding frenzy) when it was released; Putnam Weekley sang its praises loudly, Alan Kerr had some positive remarks and I found it to be pretty impressive myself – at least for the first couple of times I tasted it. When the '04 was released, I dragged my feet for a long time before finally bringing one home to try; I'd gotten a brief sample at work, was duly impressed and purchased accordingly for the department, but not for the home. When I finally caved in, I opened an '03 AND an '04 to taste side-by-side, and found that comparison most interesting.

2004 Clos de los Siete Mendoza, 50% Malbec, 30% Merlot, 10% Cabernet Sauvignon, 10% Syrah, 15% alc.: Deep dark garnet in color, with dusty cocoa over dark plums and berries on the nose, following through on the palate with the ripe fruit showing itself more and more with air. Good structure here, with at least a few years of improvement; smooth textured, sleeker, less in-your-face, not quite as plump as the '03, and the fruit's not quite as intense either. Is that a bad thing? Depends on your perspective, I suppose, but I like this one better than the '03; it seems more balanced, if still a bit manipulated. Every time I taste these wines, I have this perverse vision of Michele Rolland with a cell phone to his ear, barking, "Spoofalate!" Find this wine

Imported by Vins et Vignobles Dourthe

Reporting from Day-twah,
Bastardo

Other Recent Wine Explorations
More Red Wings and Red Rhônes 2006
Back to the Underground Index

Back to the Top



© George Heritier June 2006