5 from Volpaia
Picture courtesy of Lowell Boileau
We recently got our hands on the new vintages of red wines from the respected Tuscan producer Castello di Volpaia, and having had little experience with them, we were quite jazzed to try them out. Further stimulating our interest was the fact that they were made by renowned innovator Riccardo Cotarella, whose previous successes include Montiano and Montevetrano, not to mention his own family's Falesco estate. And so we assembled a crew of tasters that included Frank Joyce, Mary Ann Barnett, Alan Kerr, Lowell Boileau and Scott "the Geek" Tobias to see what the wines are all about, and I'm happy to report that we were most pleased with what we found.
2001 Castello di Volpaia Borgianni Chianti D.O.C.G., 90% Sangiovese, 7% Canaiolo, 3% Malvasia, $9.99, 12.8% alc.: Fermented in stainless steel for 10 days at 80-86º F; then left for another 8 days before the liquid is run off the skins before malolactic fermentation in "stainless steel containers." This dark garnet "basic" Chianti features flavors and aromas of black cherries and chocolate that Alan described as "earthy red cherries." It's not too tannic, with zippy acidity, good concentration, a fairly nice finish and if it's not that complex, what do you want for $10? A pleasant wine that should improve over the next few years.
2000 Castello di Volpaia Chianti Classico D.O.C.G., $18.99, 13% alc.: From the Piano al Prato, Campo a Pitti, Piaggia Delgli Albeti, Casetto and Santa Maria Novella Vineyards. The grapes were fermented in their own yeast at between 27 and 30º C for 14 days, and automatically punched down twice a day. After macerating on the skins for 10 more days, malolactic fermentation started, and in January and February the wine was transferred to Slavonian oak barrels ranging from 1,500 to 3,500 litres for 14 months. A little darker in color than the Borgianni, the rich dark cherry and blackberry character of this wine is accented with "a lot of mushroom, a little dried prune and chocolate," according to Mr. Kerr. The latter quality comes out more as it opens, and there's a good brace of tannins, but not so much that you can't drink and enjoy it now. The acidity is a little lower than in the Chianti, perhaps adding to the warm, velvet-y texture, and the nice finish shows hints of tar. Kerr and Frank like this, but wouldn't pay the cost; I like it too, and I might just buy a few.
1999 Castello di Volpaia Chianti Classico Riserva D.O.C.G., 90% Sangioveto, 10% Merlot / Pinot Noir / Syrah, $28.99, 12.8% alc.: From the Santa Maria Novella, Casavecchia, Campo a Pitti, La Docciola and Campo Alla Fonte Vineyards; sees essentially the same process as the Chianti Classico, except that maceration on the skins lasted 7 days and the aging in Slavonian oak AND small French oak barriques was for 2 years. Alan pointed out that this deep dark garnet has "a lot of structure," certainly more than the previous two. The stingy black fruit nose isn't showing much, but the flavors pick it up nicely, with impressions of dried cherries and black cherries shaded with floral tones of violets and little hints of licorice, and while the French oak is apparent, it's in nice proportion to the whole package. There are good tannins here, but they're refined, with no astringency, with zippy acidity and a nice finish. Deep, dark and delicious, with more red fruit emerging as it opens, this little lovely should go a good ten years, no sweat.
1999 Castello di Volpaia Balifico Toscana I.T.G., $45.99, 13% alc.: Sangioveto di Volpaia (a native clone) and Cabernet Sauvignon. Sees essentially the same process as the Chianti Classico, except that it macerated on the skins for 8 days and was aged in Allier oak barriques for about 18 months. Another deep dark garnet that's not giving much on the nose other than some heat and faint traces of mint, according to Kerr, this one fans out on the palate with flavors of red currant, black cherry, cassis, toffee and chocolate, along with hints of smoke and licorice. This is like velvet on the palate, with silky tannins and ample acidity that almost seems understated, and it finishes very nicely indeed. Beautifully structured and balanced, it's lovely to drink now, but has a promising future, and while the oak is again apparent, it's in proportion.
1999 Castello di Volpaia Coltassala Chianti Classico Riserva D.O.C.G., $45.99, 13% alc.: Sangioveto and Mammolo, no percentages given. Sees essentially the same process as the Balifico, except that it macerated on the skins for 10 days. Not as dark a garnet as the last two, and not as stingy on the nose either, though it's not exactly effusive, with red currant, black cherry and subtle chocolate aromatics that echo and expand on the palate with even more silky tannins than the previous selections; Frank noted a floral element, while Alan added impressions of a little spice and pepper. It's not quite as dense as the Balifico or the CCR, but it's more fruit driven than those, having excellent acidity and a long finish. It's the most "international" in style of the five Volpaia wines, and also the most elegant, and the clear favorite of most of the tasters (I may have preferred the Balifico slightly).
Despite the obvious aging potential, these are all eminently drinkable already, and paired admirably with a progression of marvelous food courses that included Kim's Pacchetti di Melanzane alla grigia (grilled aubergine parcels with mozzarella, tomato and basil), Bruscchetta Casalinga, Kerr's Il carpaccio fatto da Alan, (raw beef tenderloin), and Kim's Pollo al Chianti (chicken with Chianti, grapes and fresh bitter greens), and Il PolentaInfornato Col Pomodoro (baked polenta with tomato).
Castello di Volpaia wines are imported by William Grant and Sons, Inc., Edison, NJ.
A Horizontal of 2000 Ferraud Beaujolais
Our friends Errol and Patty Kovitch sent us an invitation to what they billed as their "1st Annual Beaujolais Party," to be held on March 29th, 2003. This intrigued me for a couple of reasons. First, Beaujolais isn't one of the "movers and shakers" in the world of wine, although I know folks who love the stuff produced there. Second, Errol is no newcomer to wine, so he must know something about this stuff, right?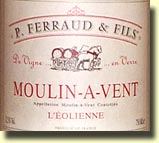 The wines themselves were a complete horizontal of the 2000 vintage produced by P. Ferraud & Fils, whom I'd never heard of before. As it turns out, neither had Mr. Kovitch; he ran into a deal at an LCBO outlet in Ontario and picked them up for $180 Canadian. He's not particularly familiar with the wines of Beaujolais, but reasoned that these would make for a good spring party (as opposed to a "tasting"), but, hairpin that I am, I brought along my pad and pen, and jotted down some impressions.
All 12 wines showed a consistent "house" style throughout, with most of the differences being in subtlety and nuance. P. Ferraud & Fils is one of the oldest firms in Beaujolais, having been established in 1882, and one of the few that still matures its wine in huge 6000 litre barrels, or foudres. Some of the wines come from family's own vineyards, while others are from domains and chateaux exclusive to Ferraud. I started with the simple Beaujolais and tasted through in the order suggested by the producer.
2000 P. Ferraud & Fils Beaujolais: Ruby red, a little darker in color than your average rosé, with the basic raspberry, cherry and strawberry profile that is found pretty much throughout the entire lineup; medium body, with a certain earthiness and light tannins that might benefit from a year or so in the cellar. Straightforward and pleasant, a decent wine to sip slightly chilled on a summer afternoon.
2000 P. Ferraud & Fils Beaujolais Villages: Slightly darker ruby garnet than the Beaujolais, with somewhat deeper flavors and aromas in the same basic profile, and some added mineral to boot. A little more of everything than the last wine.
2000 P. Ferraud & Fils Regnié Cuvée Antoine Ferraud: Ruby dark garnet, this is almost indistinguishable from the Beaujolais Villages, except for a silky elegance that the previous model doesn't have.
2000 P. Ferraud & Fils Chiroubles Domaine de La Chapelle des Bois: Ruby dark garnet, with a pretty floral perfume that adorns the black cherry, raspberry bouquet, and flavors to match. Silky smooth, with just a hint of earth; not too tannic, with perfectly balanced acidity.
2000 P. Ferraud & Fils Brouilly Domaine Rolland: Dark garnet, heavy on the black cherry on the nose, then back to the black cherry and raspberry profile on the palate. Again, a certain floral quality and a silkiness that makes this easy to like.
2000 P. Ferraud & Fils Juliénas Château d'Envaux: Ruby garnet, with an earthy black cherry and raspberry character that shows just a hint of underbrush that adds some complexity and interest. Again, not too tannic, nice acidity and silky smooth.
2000 P. Ferraud & Fils Cote-De-Brouilly Domaine Rolland: Ruby dark garnet, with earthy black cherry flavors and aromas, but without the floral quality of the Brouilly; doesn't finish all that long. A step up from the Beaujolais Villages, but perhaps a step down from the other cru wines.
2000 P. Ferraud & Fils Fleurie Domaine du Clos des Garands: Ruby dark garnet, somewhat floral black cherry and raspberry character with good concentration, silky tannins and a nice finish. Right there with the Brouilly as the best of the bunch so far.
2000 P. Ferraud & Fils Saint-Amour Domaine Toutant: Ruby garnet with a slightly smoky tinge, and a little more effusive bouquet than any of the previous wines. Somewhat floral black cherry character with a hint of mahogany, nice concentration and a silky texture; the most singular wine of the bunch, and neck and neck with the Fleurie and Brouilly as the cream of this crop.
2000 P. Ferraud & Fils Morgon Domaine de l'Evêque: Dark garnet; another one with aromatics that jump right out of the glass. Lots of fruit, with big black cherry flavors and aromas shaded with earthy undertones; a little more tannic than any of the others, and almost chunky by comparison.
2000 P. Ferraud & Fils Chénas Côte Remont: Ruby garnet, very floral with what seems to be a note of oak in the black cherry, raspberry and vanilla flavors and aromas. Not too tannic, with the most acidity of the bunch and a nice finish; very pretty.
2000 P. Ferraud & Fils Moulin-A-Vent L'éolienne: Ruby dark garnet, with nice round black cherry and raspberry flavors and a nose to match. Another silky wine, but maybe just a bit less intense and concentrated than the other cru wines. A trowel full of dirt adds interest.
I like these wines, especially the crus that are so noted. By and large, they're a different animal from what we're used to, and while I wouldn't make a steady diet of them, they're certainly a most refreshing change of pace. Kudos to the Ferraud family and the much maligned Gamay Noir varietal, and many thanks to the Kovitches for their generosity and warm hospitality.

5 QPR 2000 Bordeaux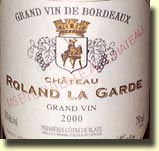 Our friends Shar Douglas and Ken Hebenstreit decided they wanted to check out some reasonably priced 2000 Bordeaux, and invited Kim, this taster and a few other friends to join in. The plan was to sample four or five bottles out of a mixed case in order to get an idea of what to buy more of for the cellar. Shar and Ken provided the wine, and Kim prepared the food. The wine prices ranged anywhere between $10 and $32.
2000 Château Recougne Bordeaux Supérieur, $9.99, 12.5% alc.: A deep dark garnet with a deep dark cassis, black currant, leather and lead pencil nose that carries over onto the palate with a bit of a tannic bite, but not so much that you can't enjoy it now, especially with air. As it opens, it gains notes of tobacco, bitter chocolate and "a sea breeze," according to Shar. Everyone liked this quite well, and of all the wines, this was the one that was the most traditional in style. Excellent QPR.
2000 Château Plaisance Primieures Côtes de Bordeaux, $14.99, 12.5% alc.: Another dark garnet, this shows black currant, plum and chocolate flavors and aromas, but doesn't have the quite the concentration or intensity of the Recougne; it also has a bit of the wet dog fur on the nose. Shar described it as "perfumed," while Kim called it "eminently drinkable," and while there are good tannins and acidity here, it's still very approachable, with a slightly creamy texture and a note of oak. It was also very well received, but I liked the Château Recougne a bit better.
2000 Château des Annereaux Lalande de Pomeral, $19.99, 12.5% alc.: This dark garnet was opened when another selection in about the same price range proved to be corked. Shar found it "a little poopy," but I didn't get any of that; to me, it was all about plum, red and black currants and a little pipe tobacco. Surprisingly, it's very approachable and not that tannic. You can really spot the merlot in this.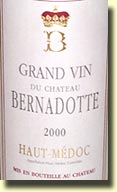 2000 Grand Vin du Château Bernadotte Haut Medoc, $24.99, 13% alc.: Kim described this deep dark garnet as having a "cherry stick nose," and it certainly is the most perfumed wine of the bunch, with perhaps the most approachable fruit. It's very pretty, with the cherry stick that Kim mentioned, red currant, a good dose of tobacco/cigar box and a nice kiss of sweet oak. Again, this is very approachable and not too tannic, having good acidity and a nice finish. It was my Wine of the Night, and a terrific match for Kim's grilled tapenade rubbed ribeye steak with cannellini beans and red wine sauce.
2000 Château Roland la Gard Premieres Côtes de Blaye, $23.99, 13% alc.: This inky garnet was a stand-in for yet another corked bottle (one costing around $36, no less, not that TCA discriminates against price points), and it proved to be as popular as just about any other selection of the evening. It features a gorgeous nose of perfumed plum, black currant, red currant and a nice note of chocolate, all of which follow through very nicely in the flavors. The significant tannins can't hide the lovely fruit; this could almost be mistaken for a Californian wine, and I don't mean that in a bad way.
It was a wonderful evening that left everyone glowing, all warm and fuzzy. It also left us with the distinct impression that there are some damned good 2000 Bordeaux out there. We KNOW the big guns are going to be killer, but we were most pleased to find some in this price range that showed so well.
This may call for some further investigation…
4 from Minervois
I've gotten to the point where my tastes have become very specific when it comes to QPR reds, and they're quite different from what they were even a year or so ago. Where once I really enjoyed things like the Rancho Zabaco Zinfandels and the bargain wines of Spain, they just don't do it for me like they used to. Now I like the dry reds from southern France, with little or no apparent oak, and those from Minervois stand out among them. Here're four of the best that I've found recently.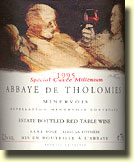 1995 Abbay de Tholomies Minervois Spécial Cuvée Millénium, 60% Syrah, 30% Grenache, 10% Mourvedre, $14.99, 12.5% alc.: I stumbled upon this whilst perusing the shelves of Rochester's (Michigan, not NY) Red Wagon during their big 25% off sale the day after X-mas, and I'm happy to say that it would have even been fine at the list price. The grapes that went into the making of this wine came from a centuries-old vineyard situated on a site that was once a monastery, and are grown naturally according to Biodynamic principles, without the use of chemicals. The resulting wine is fermented in Alliers oak, but this is no international wannabe. It's an almost inky dark garnet, showing little if any rust, and it exudes a big appealing olive, black currant and plum bouquet that all but explodes from the glass and carries over boldly onto the palate. Rich, concentrated and still fairly tannic, it's somewhat astringent on the fairly long finish; a note of iodine emerges as it smoothes out with air, but this one's still on the way up. Give it at least two or three more years.
Imported by International Gourmet Corp., Atlanta, Georgia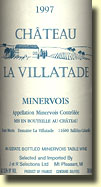 1997 Chateau La Villatade Minervois, $8.99, 12.5% alc.: I'm really sorry I picked up on this nice little number so late, as there were only a few left when I went back for more too many months after the first one I tried. I'd like to have a case of this stashed down in the cellar from heck. It's an ever so slightly rusty ruby dark garnet, with a very pleasant nose of black olives, black currant and plum, not unlike the Abbay de Tholomies, but with a certain soft coziness to it. Flavors generally echo, with at least a few years worth of tannins and zippy acidity. The finish is decent, if not overlong, and while no varietals are listed on the label, I'd be willing to bet that there's a good dose of Syrah in this. As you'd expect, it also softens as it opens, but another year or so won't hurt this at all. Very good QPR here; why didn't I buy more when I had the chance?!

Imported by J et R Selections, Ltd., Mt. Pleasant, MI

1998 Domaine La Combe Blanche Minervois "Cuvée Tradition," $11.59, 13% alc.: Comprised of 33% 100 year old Carignan, 33% 100 year old Cinsault, and 33% Syrah & Grenache, from mountain vines yielding less than 3 tons per acre, this spent 12 months in 1 and 2 year old French oak barrels. Another that I stumbled upon when there were only a few left on the shelves, this ever so slightly rusty dark garnet maintains a more or less similar profile to the other two, with it's deep, dark earthy black currant, plum, iodine and olive aromatics that show a noticeable note of the barnyard. These follow through on the palate with a big, chewy mouthful of rich, tannic fruit that lingers nicely, despite the ample tannins. There's a certain broad texture in the mouth, and I say that because the wine is still a little too young and rambunctious to be "smooth" just yet, but still, it washes over the tongue and down the gullet with a nice harmony to it. And like so many of the better reds from southern France, it just keeps opening and opening with air. This may well be a 10-year wine; it'll certainly be drinking even better by '05 or '06.

Imported by Hand Picked Selections, Warrenton, VA

1999 Chateau d'Oupia Minervois, $9.99, 13% alc.: We used to drink a lot of the '95 vintage of this wine back in '98 and '99; we also enjoyed their more prestigious Cuvée des Barons and Nobilis bottlings around then, but those dried up around these parts after the '92 and '91 versions respectively. Then, for some reason I stopped buying it altogether until just this past August, don't ask me why. That's when I was surprised to run into a cache of the '96, and decided to try it again, and guess what? It was good, really good. I went back and bought some more, we drank it up, and then I went back and bought the rest. We drank that up too, but I never did post any notes on the stuff. Don't ask me why.

Fortunately, another joint in the neighborhood has a bunch of the '99, so I've been buying that, and it's just about as good as the '96. In fact it's probably even a little less tannic than the older stuff; otherwise, they're very similar. The blend is 60% Carignane, 30% Syrah, and 10% Grenache; the wine is a deep, almost inky purple garnet in color, with flavors and aromas of black currant and black berries, accented with hints of black olives, dark chocolate and iodine. It has the tannins to go for at least a few years in the cellar, and yet it's drinking so well now that if you're like me, you may have a hard time keeping your hands off. It has good acidity, making it very food friendly, and yet I'm sitting here sipping some now as I type these notes enjoying it all by its lonesome. This is some rich, concentrated juice, almost more than one has a right to expect for the price, and it finishes quite nicely, topping off a very appealing package.

Like I said, don't ask me why I abandoned this old friend for so long; I'm just glad that I came back to it. The 2000 model is available now, and while it's good, it's not AS good as the '99, so if you can find any of the latter, by all means, buy it. Buy ALL of it!

A Louis/Dressner Selection – Imported by LDM Wines, Inc., New York, NY 10012

BACK TO THE INDEX