J. Lewis Cooper Co.'s whiz bang sales rep Matt Frederick dropped by recently with five generous samples from the portfolio of Palm Bay Imports, the Boca Raton, Florida wine importer of note. These weren't just any old bottles of cheap swill, but rather some serious selections from three respected Italian producers, so needless to say, Kim and I gave them our full attention.
Sella & Mosca is perhaps the finest wine producing estate on the island of Sardinia, with more than 1,200 acres under vine; their I Piani estate is the site of the second largest contiguous vineyard in Italy. Besides growing native grapes such as Vermentino and Cannonau, they also produce international varietals, as with the following offering.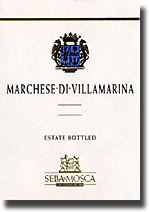 1999 Sella & Mosca Marchese di Villamarina, 100% Cabernet Sauvignon, $47.50, 12.5% alc.: This dark garnet colored Sardinian claret offers a generous nose of chocolate cherries and licorice that echoes and expands on the palate with subtle undertones of earth, sticks and underbrush, so while it is made in the "international style," it also reveals a sense of place. Medium full bodied, and well structured, yet smooth in texture, it shows some extraction and just a little heat on the reasonably long finish. All in all, interesting and quite enjoyable, if a wee bit heavy on the chocolate, but that's a minor complaint. From the Marchese di Villamarine single vineyard on the Sella & Mosca estate, originally planted in the late 1950s, and now gradually being replanted to maintain the overall longevity of these vines. Matured 18 months in small French oak casks, then spending 12 months in large oak barrels, followed by an additional 18 months in bottle prior to release. Find this wine
The late boxer and spaghetti western producer Italo Zingarelli bought the rundown Rocca delle Macie estate in 1973, and with his son Sergio, turned it into a first rate Tuscan wine producer. In 1984, they added the Fizzano estate to their holdings, supplying them with the fruit for one of the excellent wines noted below. Italo passed away in 2000, and now Sergio and his wife Daniela oversee the day-to-day management of the operation.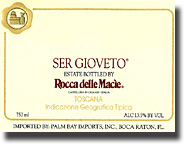 1999 Rocca delle Macie Ser Gioveto ® Toscana, 75% Sangiovese, 15% Merlot, 10% Cabernet Sauvignon, $38.99, 13.5% alc.: Named for Sergio Zingarelli, this dark garnet isn't showing a lot on the nose when first poured, but gives nice, earthy dried sour cherries with subtle sticky undertones in the mouth, being medium full bodied, with a nice Tuscan personality. No flash or extracted characteristics here, just a solid, well balanced, substantial wine that shows more earth and sticks with air, and that's a good thing. From the Rocca delle Macie Le Macie and Sant'Alfonso estate vineyards, with soil composed of calcareous limestone. Grapes are destemmed and softly pressed; fermentation is completed on the skins at 75º - 79ºF, with malolactic fermentation occurring in the spring. Aged 6-12 months in small 225L barriques made of French oak, and then further maturated in the bottle for about nine months prior to release. Find this wine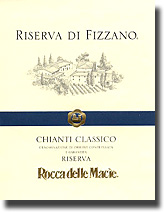 2000 Rocca delle Macie Chianti Classico Riserva di Fizzano, 85% Sangiovese Grosso, 10% Cabernet Sauvignon, 5% Merlot, $28.99, 13.5% alc.: Produced exclusively from Rocca delle Macie's Fizzano vineyard, this dark garnet grudgingly gives up some reticent licorice and black fruit on the nose, but on the palate, it's much more generous, with its sleek, lovely dried cherry, blackberry and black currant flavors, accented with earth, sticks and licorice and a nice, long finish. The good structure promises a nice future, but this wine is sexy already; excellent Chianti Classico Riserva, and its best days are still ahead. This wine is only made in "exceptional years;" after the traditional fermentation, it is matured in French oak barrels for over two years, and then spends close to a year in bottle before release. Find this wine
2000 Rocca delle Macie Roccato ®, 50% Cabernet Sauvignon, 50% Sangiovese Grosso, $45, 13.5% alc.: Like the other Rocca delle Macies tasted here, this dark garnet doesn't give much on the nose on this occasion, but it delivers plenty of earthy, sticky black currant, dried sour cherry and dark chocolate flavors that are dense and concentrated, but not over – extracted. It shows impressive structure (tannins show most on the long finish), and even with extended air, it's obvious that this is a big wine whose best days lie well ahead of it. While it's approachable now, and likes food to bring out its best, it really needs to be left alone until at least 2010, and probably well beyond. Sourced exclusively from the Rocca delle Macie estate vineyards in Castellina, in Chianti, and only made in the best vintages; the wine undergoes traditional maceration of the must for 15 days at 86°F, followed by 12 months in small 225L French oak barriques, and about one year in the bottle before release. Find this wine
With its winemaking history dating back to the 1700s, Col d'Orcia's reputation is firmly planted in their fine Brunello di Montalcino. However, they've also produced some of the best Cabernet Sauvignon in Italy for well over a decade now; sadly, the following example didn't seem to live up to that quality level.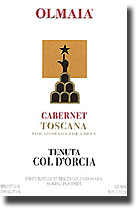 1999 Tenuta Col d'Orcia Olmaia ® Cabernet di Toscana, 100% Cabernet Sauvignon (Bordeaux clones), $76.99, 13.7% alc.: This deep, dark garnet colored Cabernet seems almost flat when tasted after the other four wines on this occasion; perhaps that's an unfair observation, but when the price tag is considered, I don't think so. It shows earthy black currant with some sea air on the nose, and these follow through on the palate with good structure, some added leather and mahogany, and with extended air, a note of tobacco. It seems to be missing something on the mid – palate, and isn't up to the rest of the competition in this group, giving the impression that it's quite overpriced for what it offers. Maybe it was just an off bottle, so the jury's still out on this one. Sourced from the south-southwest facing Bozzolino and Giardino vineyards, planted in 1984 in Sant'Angelo in Colle, a hilly area approximately 1,200 feet above sea level, near Montalcino in the province of Siena; the soil is medium weight with some calcareous pebbles. Grapes are fermented on the skins for 20 days in 150 hl stainless steel vats at a controlled temperature of less than 30ºC, and then aged in new French oak barriques (Allier, Tronçais and Blois) for 18 months, followed by for an additional 12 months in bottle before release. Find this wine
Reporting from Day-twah,
Bastardo

Other Recent Wine Explorations
All Pig Dinner at Five Lakes Grill
Cassoulet Fest with Wines From the Languedoc
Some New World Clarets and a Single Sauvignon
Back to the Underground Index

Back to the Top



© George Heritier April 2006