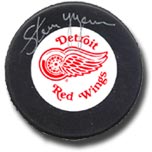 he Detroit Red Wings head into the 2006 Stanley Cup Playoffs having proven the pundits wrong, those so-called experts who
predicted that the boys wearing the winged wheel on their jerseys would finish well down in the standings in the "new" NHL. All the Wings did was win the Presidents' Trophy, given to the team with the best regular-season record and set a league record for road victories. Eight players had twenty goal seasons, and several set personal bests or passed league milestones, and at 42 years of age, Captain Steve Yzerman has looked like a kid of 35 over the last few months. But now the "new season" starts, with Detroit opening against the Edmonton Oilers in the first round. If the Wings can maintain their winning ways, they'll have home ice advantage all the way through the Stanley Cup Finals, but that's no small task. These are the playoffs and the playoffs are war on ice. As has become our tradition, we'll do our part by conjuring up some red Rhône mojo, which seemed to be pretty effective throughout this latest campaign. Here're our impressions of what we tasted over the last two months:
2000 Château de Montmirail Vacqueyras Cuvée des Saints Papes, $22, 13.5% alc.: This deep, dark garnet Vacqueyras is a bit tight on the nose at first, but the aromatics do open with air to show much of the big, rich dark plum and berry character with earth, iron, garrigue and chocolate accents that the flavors so generously offer. A big dose of tannins can't clamp down completely on the impressive fruit, and the wine already shows a delicious depth of flavor, getting better and better with air, but of course, it has years of improvement left ahead of it. A 10-year wine and more from a producer whose wines we've greatly enjoyed in the past. Find this wine
Imported by J et R Selections, Mount Pleasant, MI

2001 Melodie d'Amour Cotes du Rhône Villages Chusclan, $14.99, 13.5% alc.: We liked the 2000 version of this wine just fine, and we like this dark garnet even better, if perhaps for unlikely reasons. It offers earthy plum, prune and underbrush on the nose, with plenty more of everything in the mouth, plus some understated chocolate - cocoa and a decidedly smoky quality that emerges with air. The smooth texture here belies the solid structure, and there's good length on the finish, and while this is another 10-year wine, it too gets better and better with air. What I like most about this is the toned-down chocolate-cocoa doesn't dominate like it did with the 2000; it shows better balance and a more traditional character, and I'll always take that over a milkshake or a candy bar. Find this wine

Imported by A French Paradox, Inc., Peoria, IL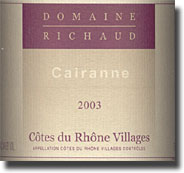 2003 Domaine Richaud Côtes du Rhône Villages Cairanne, $32, 14% alc.: This deep, dark garnet shows marvelous concentration without being at all over the top, delivering a complex mixture of earthy, rich black plums and berries, iron, smoke, garrigue and some subtle leather. The wine shows excellent balance and structure, with significant tannins that clamp down some on the long, dusty finish. Easily a 10-year wine, and just as easily one of the best Rhônes we've had so far in '06, so good in fact, that I won't even gripe about the price tag. A blend of "Grenache, Syrah and Mourvèdre from poor, stony clay-limestone mid-slope plots" according to the Louis/Dressner website. Find this wine

2004 Domaine Richaud Côtes du Rhône Villages Terre d'Aigues, $21, 13.5% alc.: This dark garnet doesn't give much more on the nose than some earth and a little cola, and in the mouth, the fairly bright fruit seems to indicate a good dose of Grenache, with blackberries, raspberries and strawberries all wrapped around a solid, earthy core. Medium full bodied, with good concentration, medium tannins, good acidity and a decent finish, this gets better and brighter as it opens. As I suspected, the Louis/Dressner website confirms that the wine is "from younger Grenache and Carignan vines growing on alluvial soil along the river Aigues." Nice stuff. Find this wine

Domaine Richaud Wines are Louis/Dressner Selections – Imported by LDM Wines, Inc., New York, NY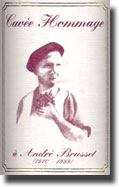 2000 Domaine Brusset Côtes du Rhône Villages Cairanne Cuvée Hommage à Andre Brusset, 13.5% alc.: Dark garnet, fading to pink at the rim, with stingy aromatics that don't give much indication of the nice earthy leather, dark plum and soft underbrush flavors that follow; medium full bodied, with moderate tannins, fairly low acidity and a fairly long finish. Rustic, much more so than the following wine, and I like that, because it's my kind of southern Rhône, and it's ready to drink now and over the next few years. My only problem with this is the wholesale price, which is downright stupid, in my not so humble opinion, and would necessitate a retail tariff in excess of $40. When I told that to the importer-distributor who was floating this and the following wine to gauge interest, he said he'd rethink it and get back to me. I'm still waiting after more than a month…Find this wine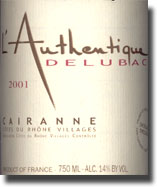 2001 Domaine Delubac Côtes du Rhône Villages Cairanne l'Authentique, 14% alc.: Another dark garnet, fading to pink at the rim, showing only a little earth and petroleum (?) on the otherwise reticent nose; Kim described it as "freshly dug potatoes and dirt." Brighter and livelier in the mouth than the Domaine Brusset, with earthy, somewhat smoky dark plums and berries, nice spicy accents, good tannins and zippy acidity. This smoothes out with air as the acids tone down, and after three hours, it evolves into a very nice southern Rhône in a style that I favor, but it's not close to peaking yet, so give it another three to five years if you happen to run into it. The suggested wholesale price warrants a $29 – 30 retail price, which again, is pushing it, if you ask me. Still waiting for those adjusted prices…Find this wine

2003 Domaine Berthet-Rayne Châteauneuf du Pape, $29.99, 14.5% alc.: Dark garnet in color, and though not giving much on the nose when we tried it, the flavors are much more generous, with earthy black plums and berries accented with cola, smoke and earthy mineral. Good structure bodes well for several years of aging and improvement, and like many good Rhônes, it opens and improves with air, smoothing out and offering more of everything. This will likely never be a "great" Châteauneuf du Pape, but it's already a pretty good one, and worth the price tag. Find this wine

Imported by Eagle Eye Imports, Bloomfield Hills, MI

1999 Domaine de l'Espigouette Côtes du Rhône Villages, $10.49, 13.5% alc.: Dark garnet color, with leather, smoke, cola and dark berries and plums on the nose; flavors echo loud and delicious, with good structure and a finish that lingers longer than one has a right to expect for so few greenbacks. It really opens with only half an hour in the glass, turning rich, ripe and spicy, and displaying classic Côtes du Rhône Villages character. This one already gives much pleasure, but its best days are yet to come.
Find this wine

Imported by J et R Selections, Mount Pleasant, MI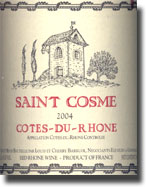 2004 Saint Cosme Côtes du Rhône, $17.99, 13.5% alc.: Dark garnet color, fading to pink at the rim, with a reticent nose of ripe meat and red fruit; on the palate this is all about earth, iron and black plums, currants and berries, with none of the chocolate previously noted in the last few vintages. An initial rough, burry quality smoothes out with air, and this has the structure to improve for four or five years. I was going to say that it's a solid, if unexceptional CdR, but once again, it continues to open with air, getting better and better; perhaps the best way to describe it is to say that it's not flashy, it's just real wine. I'd like it even more for a few dollars less, but hey, this is Michigan. Find this wine
Imported by The Stacole Company, Boca Raton, FL

2004 Domaine de la Mordorée Côtes du Rhône, 14.99, 13.5% alc.: Ruby dark garnet color, with perfumed red berries and plums shaded with violet overtones; the earthy flavors echo, gaining a note of cocoa and a hint of dog fur. Medium full body, with a decent finish, but seems to lack character, coming off a bit simple, with too much cocoa for my taste. This is a good $8 – 9 Côtes du Rhône, but for this price, spend a buck more and get yourself an Domaine le Couroulu Vacqueyras (sorry, the price of that one went up since we reviewed it, but it's still worth it). Find this wine

Imported by Kysela Pere et Fils, Ltd., Winchester, VA

GO RED WINGS!!!
Reporting from Day-twah,
Bastardo

Other Recent Rhône Explorations
Red Wings and Red Rhônes: The Boys Are Back In Town!
Back to Red Wings and Red Rhône 2005-06 Index
Back to the Underground Index

Back to the Top



© George Heritier January 2006