Menu
Intro

Portland, Oregon:
Double J's Old Hill Ranch Roundup

Cristom Vineyards

Ann Arbor, Michigan
MoCool 2001

Ogier Tasting

Cleveland, Ohio
Larry & Mary Meehan
North Carolina:
Greg Ellis, High Point

Jim Cowan, Banner Elk

Detroit, Michigan:
Back at Gang Central
Dinner with Bree
We took it easy the day before Bree's return to California. 12 hours on the road back from Banner Elk the day before had left us in a lazy mood, and we didn't do much, other than to visit a couple of fine food markets. Allan had designs on preparing a sumptuous feast that evening, and it needed seafood in order to be Pinot friendly. However, as soon as we returned to Gang Central, Kim ordered up a glass of white wine, and the prime candidate was a bottle that Bob Cuozzi had gifted to Allan the day before. It proved to be the perfect opening salvo in a veritable volley of wonderful wines we enjoyed that evening.
1992 Kalin Cellars Livermore Semillon, 12.5% alc.: After only a few sips, Bree called this medium straw "a very good example of an idiosyncratic California white," and it was indeed delicious, with a nice apple/pear bouquet with a hint of beeswax. These impressions carry over on to the palate, where they gain wet stone and toasty, spicy notes, good acidity and a nice long finish. It opens and intensifies with air, causing Allan to utter in admiration, "Nobody's doing anything like this in California."
Except for Kalin Cellars, of course!
Bree's first course was pan-seared tuna on a bed of various lettuce and greens, fresh tomatoes and green beans, with wasabi mayo. It was delicious, and only made more so when paired with the following wine.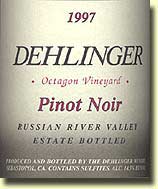 1997 Dehlinger Russian River Valley Pinot Noir Octagon Vineyard, 14.5% alc.: This ruby dark garnet features a gorgeous smoky black cherry/cinnamon Pinot perfume that screams Russian River Valley. Full, rich flavors echo with good acidity and a long finish. Nicely oaked to compliment the smooth, velvety mouthfeel, and still on the way up with some silky tannins left to resolve, this gains hints of vanilla/maple syrup/sea air. Bree had this to say about the wine: "No doubt about where this is from, and it still has the power to go for a minimum of three more years."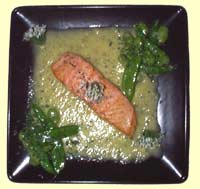 For the second course, Allan recreated the dish he prepared the first evening we spent with him three summers ago, a lovely poached salmon on a fava bean puree with tarragon beurre blanc and pea pods. I set two glasses for each of us at our places, and we enjoyed and compared the following two wines, both of which are a darker garnet than most Pinot Noirs.
1999 Rochioli Russian River Valley Pinot Noir East Block, $85, 14.2% alc.: A little barnyard blows off the nose, leaving the requisite smoky Rochioli black cherry/chocolate/maple syrup perfume, with flavors to match. Even way too young, this is wonderful stuff to experience already.
1999 Rochioli Russian River Valley Pinot Noir West Block, $65, 14.2% alc.: A little less ebullient on the nose than the East Block, big sea air dominates the lovely smoke and spice over black cherry. Flavors echo loudly, and big chocolate and maple syrup comes out with air, but not too big! Bree calls this "the wild child."
Both are deep, dark, intense, and yet silky smooth, despite tannins and acidity that will hold and improve them for years. Kim and I preferred the East Block ever so slightly, while Bree is hot for the West, but there's not a lot to choose between one over the other. "These are absolutely wonderful wines," Allan exclaimed, "I won't touch another for years."
Given that, Kim and I are especially grateful to him for sharing these with us.
I decided that the time had come to open something to have with the fruit cups that we were having for desert, something that had been languishing in the cellar for six years, and somewhere else for far longer than that.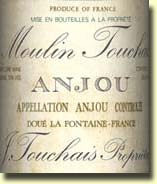 1959 Moulin Touchais Anjou, $75, 13% alc.: I picked up this light amber colored desert wine at Marty's in Boston with the intent to try it soon, and for whatever reason, it just never got opened until now. Made from Chenin Blanc, it only cost as much as it did because I bought it such a relatively late date, and OK, maybe I got hosed a bit, I don't know. I had been so impressed with a '64 that we'd had with friends a few days before, I simply had to have it. My first impression when we opened this was that it smelled like wood, but it wasn't. Kim suggested "something sweet sour, like a rinsed out milk jug that had been sitting for a few days," and maybe she had something. With a little air, the nose became light, clean and refreshing, despite a slight lingering mustiness, with a nice soft caramel quality. Vibrant flavors of peaches, apricots and stones, along with a unique blend of spices and caramel kept opening and opening as long as there was some left to drink, with excellent acidity and a very nice finish. Not a heavy wine at all, but rather a wonderful middleweight champion that was not only a real pleasure to enjoy, but also to share with Allan, who has shared so many treasures with us, but has probably never had anything quite like this.
By the time we had finished that, Bree was done in and retired for the evening, but Kim and I decided to have a little something more, something that had been gifted to us four years ago or so by our friend Joe Czerwinski. Yes, we were being bad, but I took quite legible notes, so I KNOW that we enjoyed it!
1988 Chateau Climens Sauternes-Barsac, 375 Ml., 14% alc.: This golden/amber elixir is an explosion of oak/apricot/brown sugar/honey/caramel and small stones on the nose and palate, and don't you dare ask me how I know what SMALL stones taste like! I just do. This has an oily viscosity that belies the brisk acidity, and the finish goes on and on. Much like the '86 version that wowed me so at Bree's Lost Vineyards tasting, this was an oak bomb, and we loved it.